October is Winter's Favorite Appetizer
So forgive me for asking an intensely personal question. Is this your first Minnesota winter? (Cue the maniacal laughter). Nothing to worry about! It gets a little chilly with a few flurries from time to time. Extra flurries! With appropriate clothing choices and a little common sense you can not only survive, but thrive!
On second thought, just go for survival.
The average frost in the metro usually arrives around October 3; the first hard freeze (at least 3 hours colder than 28F) a week or two later. We'll see our first flurries this month; an average October brings about half an inch of slush. Every now and then we have a Halloween blizzard! The weather is rarely…dull. No
kidding, Paul.
After an obligatory 6 hours of dry weather, more showers arrive this afternoon into early Thursday. Just plain old rain for most of Minnesota, but a coating of slush may delight winter fans from Grand Marais to Grand Portage.
We should salvage an OK Sunday, and I see a streak of sunny 60s on tap for next week!
---
200 Year Flood Event Near Duluth. Star Tribune reports; here are a few excerpts from a recent post: "Enough rain fell in a six-hour period across parts of Northeastern Minnesota and Northwestern Wisconsin Monday morning that a hydrologist with the National Weather Service here says it qualifies as a 200-year event… Three to five inches fell across parts of northern Pine, southern Carlton and Douglas counties, Gohde said, an area more prone to flash flooding due to the terrain… Drivers should watch for road closures and shoulder washouts in western Douglas County and to "turn around, don`t drown when encountering flooded roads," the weather service said…"
---
---
Mild Bias Into Mid October. The forecast for mid-month includes a zonal, west to east wind flow aloft, which would favor average or slightly warmer than average temperatures in about 2 weeks. Spasms of chilly air are coming, but no prolonged outbreaks of numbing air. Not yet.
---
Does 5G Wireless Technology Threaten Weather Forecast Accuracy? A story at The Washington Post's Capital Weather Gang is cause for concern; here's an excerpt: "…These highly technical analyses concluded that if deployed widely and without adequate restrictions, telecommunications equipment operating in the 24 GHz frequency band would bleed into the frequencies that NOAA and NASA satellite sensors also use, significantly interfering with the collection and transmission of critical weather data. The NOAA report, for example, warns of a potential loss of 77.4 percent of data coming from microwave sounders mounted on the agency's polar-orbiting satellites. This issue has been percolating in scientific and communications policy circles for months but will come to a head in late October, when nations gather for the World Radiocommunications Conference in Egypt. That is when countries will agree to guidelines governing the use of the 24 GHz band of spectrum, which the FCC auctioned off for about $2 billion beginning this past March…"
Image credit: "Hurricane Dorian, near peak intensity when it hit the northwest Bahamas." (NOAA/RAMMB).
---
The History of Ancient Hurricanes is Written in Sand and Mud. How do scientists know what happened before weather satellites and even telegraphs? It's all about the sand, according to a post at InsideClimate News: "When a hurricane strikes the coast, it leaves behind a lasting imprint on the landscape. It might seem small, a layer of sand at the bottom of a lake or pond, but it's a record that's helping scientists document thousands of years of hurricane history in areas around the world. With that record, scientists are able to analyze how hurricane behavior over time has lined up with ocean temperature changes, providing new clues to how climate change may influence extreme storms in the future. Over the past year and as a student fellow in 2017, I have been working with Woods Hole Oceanographic Institution scientist Jeffrey Donnelly, who uses sediment cores—tubes of sand and mud layers that are extracted from coastal lake beds—to track ancient cyclones in the Atlantic and, recently, in the islands of the South Pacific…"
Image credit: "Hurricane Lorenzo on Sept. 28, 2019, became the strongest hurricane on record in the eastern-most Atlantic Ocean as it headed toward the Azores. Earlier in the month, Hurricane Dorian hit the Bahamas as one of the strongest recorded Atlantic hurricanes to make landfall." Credit: NASA Worldview
---
7 Weather-Related Phobias and What Causes Them
. A post at
ThoughCo.
will have you wondering how many of these phobias you suffer from; here's an excerpt: "
Nearly ​one-third of the U.S. population experiences astraphobia, or a fear of thunder and lightning. It is the most common of all weather fears, especially among children and pets. While it is easier said than done, keeping distracted during thunderstorms is one of the most effective ways to ease anxiety.
.."
File photo: NOAA.
---
Chinese Leaders Can't Control the Weather For Their Big 70-Year Bash. But They're Still Trying. The Washington Post takes a look at attempted weather modification on a grand scale: "...But not even the Chinese Communist Party can control the weather — although it is trying. In the weeks leading up to Tuesday's anniversary events, authorities have turned to their usual playbook to make sure the capital's often-smoggy skies are blue for the huge military parade through Tiananmen Square, complete with fighter jets streaking multicolored smoke trails. Trucks have been banned from Beijing since Aug. 20, and all construction in the city center was forced to halt before Sept. 1. Industrial companies within 300 miles of Beijing were asked to "voluntarily" control emissions or stop production. Mining activities, especially drilling and blasting, have been suspended until Oct. 7, and no one in Beijing is allowed to set off fireworks..."
---
Praedictix Briefing: Issued Tuesday, October 1st, 2019:
Typhoon Mitag has weakened a little over the past 24 hours, with sustained winds of 75 mph as of 5 PM Tuesday local time. The system is bringing heavy rain and strong winds across eastern China this morning U.S. time, with wind gusts over 50 mph reported in Shanghai.
This system will start to move to the northeast over the next few days, bringing the system into South Korea either late Wednesday or Wednesday Night, and then into northern Japan late this week. Heavy rain and strong winds will be possible in Seoul Wednesday Night into Thursday, but the center of Mitag will pass south of the city.
---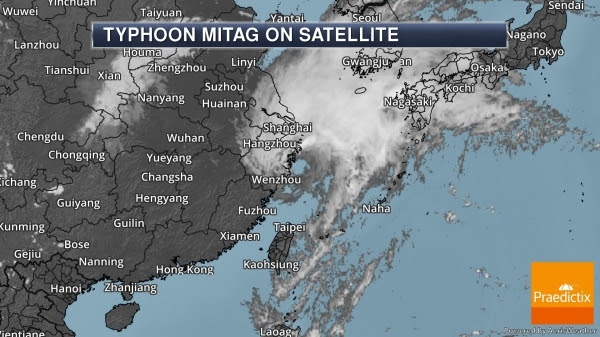 Mitag On Satellite. Typhoon Mitag is sitting just off the eastern China coast this morning, bringing heavy rain and strong winds to the region. Shanghai's Pudong airport reported a wind gust of 56 mph Tuesday evening (local time). Mitag is a bit weaker versus this time yesterday, packing sustained winds of 75 mph (the equivalent of a Category 1 hurricane) as of the 5 PM local time update. The center of system was located about 180 miles south-southeast of Shanghai, China, and moving to the north at 17 mph.
---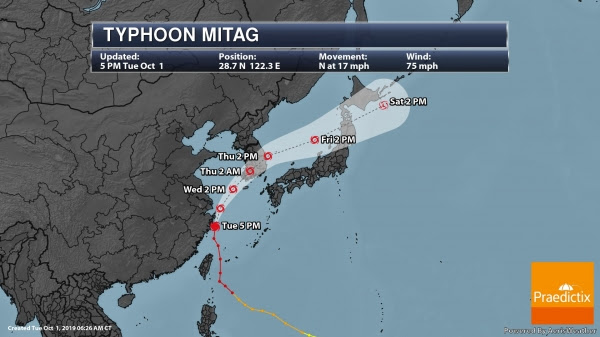 Mitag Track. The center of Mitag will continue to move close to – if not over – eastern China and Shanghai Tuesday Night into the first part of the day Wednesday, bringing more heavy rain and strong winds to the region. Over the next few hours it should start to move in more of a northeasterly direction, taking the system away from China through the day Wednesday and into portions of South Korea either late Wednesday or Wednesday Night. This storm will also continue to weaken during this time, becoming a tropical storm Tuesday Night, with continued weakening expected through the end of the week. While the center of Mitag will pass south of Seoul Wednesday Night into Thursday, heavy rain of 2-4" and some stronger wind gusts up to around 35-40 mph will be possible. This system will then move into northern Japan late this week, north of Tokyo.
---
Rain Threat. Several inches of rain will continue to be possible along the path of Mitag across eastern China, South Korea, and northern Japan this week. This could cause the potential of flash flooding and mudslides, especially in areas of higher terrain.
D.J. Kayser, Meteorologist, Praedictix
---
600 People Still Missing in the Bahamas Weeks After Hurricane Dorian. CNN reports.
---
World's Shipping Companies Cheating on Emissions Regulations–By Polluting The Ocean: Climate Nexus has more perspective: "Thousands of ships are using devices that enable them to cheat on emissions measurements by dumping pollution directly into the ocean, The Independent reports. According to the report, global shipping companies have spent more than $12 billion outfitting more than 3,750 ships with open-loop scrubber devices, which extract sulphur from ship exhaust and expel it into the sea. The International Council on Clean Transportation estimates that for every ton of fuel burned, each ship creates around 45 tons of contaminated, acidic ocean water, filled with carcinogens and heavy metals. "Imagine how far $12bn could have gone if it was applied towards developing and deploying technologies for zero-emission vessels," ICCT researcher Bryan Comer told The Independent." (The Independent)
---
Good & Bad News at Tesla: Climate Nexus has links and headlines: "Tesla is edging close to delivering 100,000 cars in the third quarter of 2019, an email sent by CEO Elon Musk to employees Friday reveals, as it rallies employees and company resources to potentially deliver a record number of cars today. This push doesn't come without some related drama over the company's treatment of its workers: a judge ruled Friday that Tesla violated labor laws in a tweet Musk sent in May of 2018 that the judge said was equivalent to "threatening employees" who were working to unionize. Tesla may not be the only big player working through tangles of consistently delivering large amounts of electric vehicles to customers: Amazon's announcement last week that it would order 100,000 electric trucks from startup Rivian has residents of Normal, Illinois looking to the Rivian factory there as a potential new hot spot of EV production, Crain's Chicago Business reports." (Car deliveries: Electrek, Bloomberg. Tweet: Reuters, Time, CNN. Rivian: Crain's Chicago Business)
---
A Wandering Mind: How Travel Can Change the Way You Think. I've noticed it myself. The more you travel and meet new people in new circumstances the more accepting you become of people who have different customs and beliefs. A post at Farnam Street has some good advice; here's an excerpt: "…Here are some goals we can construct from Wollstonecraft's approach to travel:
Try to actively know the place you are in. Observe the customs. Interact with the locals.
Learn the whys behind the observation. Explore the history. Ask questions. Try to understand the answers in relation to what you are experiencing now, setting aside any previous assumptions.
Notice how the journey is affecting you. What memories surface? What new insights do you have? Are your opinions and beliefs challenged?
Don't plan out every detail. Explore. The map is not the territory..."
---
Minnesota is Still Snickers Territory. Hey, the data is the data. Blame Google.
---
A Self-Driving Garbage Can? And why the heck not – just in case you forget it's trash day (again). Gizmodo has the tantalizing details: "Despite what the inventors of the world want you to believe, not everything in your home needs to be intelligent, automated, and motorized—except your garbage cans. The inventor of the SmartCan wants to ensure you'll never again forget it's trash day, because these cans automatically drive themselves to the curb for you. This is the innovation the world needs. Invented by Andrew Murray and currently in development at the company he founded, Resi, the SmartCan is one of those rare home-focused robots that could, like robovacs, actually deliver some genuinely useful functionality—not just questionable uses like entertainment or companionship..."
Image credit: SmartCan.
---
.59″ rain fell at MSP yesterday.
35.6″ of rain has fallen so far in 2019 in the metro, 10.25″ wetter than average, to date.
65 F. high on Tuesday in the Twin Cities.
65 F. average high on October 1.
50 F. high on October 1, 2018.
October 2, 1953: A record high of 90 for the St. Cloud area is recorded in 1953 (and later tied in 1992). Minneapolis also sets a record that same day in 1953 with a high of 89 degrees.
October 2, 1849: Persistent rain at Ft. Snelling accumulates to 4 inches in one and a half days.
---
WEDNESDAY: Dry start, PM showers. Winds: NE 10-15. High: 56
THURSDAY: Damp start, then slow clearing. Winds: NW 8-13. Wake-up: 47. High: 57
FRIDAY: Plenty of sunshine, a nice Friday. Winds: SE 7-12. Wake-up: 42. High: 59
SATURDAY: Periods of rain. Have a Plan B. Winds: S 10-15. Wake-up: 48. High: 62
SUNDAY: Windy and dry. More clouds than sun. Winds: NW 10-20. Wake-up: 50. High: near 60
MONDAY: Mix of clouds and sun, seasonable. Winds: NW 10-15. Wake-up: 41. High: 61
TUESDAY: Blue sky, trending milder. Winds: S 8-13. Wake-up: 47. High: 66
---
Climate Stories….
The Climate Crisis is Global, But These 6 Places Face the Most Severe Consequences. Here's an excerpt from a post at TIME.com: "…The places with the least level of economic development are certainly in line to feel the impacts with the greatest degree, partially just due to their geographic fate — or their location — but more so based on the socio-economic and governance factors," says Smith. Many developing countries are also uniquely vulnerable, says Kelly Levin of the World Resources Institute, "their livelihoods are dependent on natural resources. And if those natural resources are affected by climate change, their ability to feed their families and make a living is significantly impacted." To get a sense of the challenges different regions are facing, TIME spoke to experts about six countries and cities will be be particularly affected by climate change..."
---
Americans Fear Climate Change, and the Cost of Fighting It. Let someone else pay for it right? The dirty little secret is that we're already paying more for insurance related to an uptick in extreme weather events. More of us will be experiencing climate blowback in the years to come. Bloomberg Opinion has the post: "More people are coming around to the idea that climate change is really bad news. A recent Washington Post poll found that 38% of Americans now consider climate change a crisis, with another 38% calling it a major problem. And denialism is in retreat — an overwhelming majority, and even 60% of Republicans, admit that the problem is manmade. The question is what Americans would be willing to do to tackle the problem. The same poll found that only 37% believed that major sacrifices would be necessary, with 48% saying they would be minor. As for what sort of sacrifices people are willing to make, the poll found majorities opposing even minor financial burdens on the middle class..."
---
Restoring Forests for the Sake of Climate Habitats. AP has an effective photo essay; here's a snippet: "…The impact could be great: A recent study in the journal Science projected that if 0.9 billion hectares (2.2 billion acres) of new trees were planted — around 500 billion saplings — they could absorb 205 gigatonnes (220 gigatons) of carbon once they reached maturity. The Swiss researchers estimated this would be equivalent to about two-thirds of man-made carbon emissions since the start of the Industrial Revolution. Other scientists dispute those calculations, while some fear the theoretical promise of tree-planting as an easy solution to climate changes could distract people from the range and scope of the responses needed. But all agree: Trees matter..."
Photo credit: "This April 3, 2019 photo shows the destruction of the jungle caused by illegal miners in Peru's Tambopata province. Earlier in the year, Peru's government launched "Operation Mercury" in which police and military troops build makeshift bases inside the Amazon jungle to chase away thousands of illegal miners who deforested the tropical forests in search for gold." (AP Photo/Rodrigo Abd)
---
Climate Risk in the Housing Market Has Echoes of Subprime Crisis, Study Finds. What can possibly go wrong? The New York Times reports: "Banks are shielding themselves from climate change at taxpayers' expense by shifting riskier mortgages — such as those in coastal areas — off their books and over to the federal government, new research suggests. The findings echo the subprime lending crisis of 2008, when unexpected drops in home values cascaded through the economy and triggered recession. One difference this time is that those values would be less likely to rebound, because many of the homes literally would be underwater. In a paper to be released Monday, the researchers say their findings show "a potential threat to the stability of financial institutions." They warn that the threat will grow as global warming leads to more frequent and more severe disasters, forcing more loans to go into default as homeowners cannot or would not make mortgage payments…"
File image: NOAA.
---
Could Flooding Cause The Next Recession? Climate Nexus has more perspective: "Banks are shifting mortgages for homes in flood-prone areas to the federal government, putting taxpayers on the hook for billions of dollars in damages as climate disasters continue to amplify, new research suggests. A working paper released today from two economists finds that in areas that experienced at least $1 billion in disaster-related damages between 2004 and 2012, mortgage lenders increased sales to government entities Fannie Mae and Freddie Mac, allowing them to skirt responsibility in the case of default. The paper's authors found that the chance of a foreclosure is nearly 4 percent higher for mortgages originated in the first year after a hurricane. The risk of the mortgage market to climate change and flooding "could be as large as the losses due to the subprime crisis," Wharton economist Susan Wachter told the New York Times." (New York Times $)
---
---
Greta Thunberg Isn't Alone. Meet Other Young Activists Leading the Environmentalist Fight. CNN.com has the post: "Greta Thunberg has become a household name since she began her climate strikes in 2018, inspiring thousands of students to walk out of class and demand action on the climate crisis. The 16-year-old Swede recently appeared on "The Daily Show with Trevor Noah," met with Barack Obama and delivered a fiery speech this month to world leaders at the United Nations. Greta Thunberg got the world's attention. But are leaders really listening? And she has company. Around the globe, young people are sounding the alarm on climate change and environmental issues by organizing rallies and confronting policymakers. Meet five others who are leading the fight..."
---
"They're Scared". Parents Back Child Climate Activists With Hope. A story at Thompson Reuters Foundation caught my eye: "...The Climate Psychology Alliance, a UK-based group of psychologists, has warned children are increasingly suffering anxiety and grief about climate change, and advised parents to acknowledge their fears and offer them support in taking action. The American Psychological Association said they were aware of reports of growing "eco-anxiety" in children, but research was needed to establish how common it is. Youth climate advocacy group, Sunrise Kids, arranged an event on Thursday on the sidelines of the United Nations' key annual meeting for worried adults to discuss "parenting in the age of climate crisis". Many echoed a desire to not frighten their children when talking to them about climate change..."