78 F. high yesterday at KMSP.
79 F. average high in the Twin Cities on September 20.
72 F. high on September 20, 2015.
September 21, 2005: An unusually intense late season severe weather event affects parts of central Minnesota and west central Wisconsin during the late afternoon and evening hours. Baseball-sized hail, damaging thunderstorm winds, and tornadoes result from several supercell thunderstorms. The most widespread damage occurs across the northern and eastern portions of the Twin Cities. Three tornadoes rake across parts of Anoka and northern Hennepin counties, including an F2, but the tornado damage is overshadowed by the widespread extreme wind damage associated with the rear flank downdraft of the supercell. In addition to the severe weather, many locations received substantial amounts of rain. Many streets and underpasses in the northern Twin Cities metro area were flooded Wednesday night, where radar precipitation estimates were in excess of 3 inches.
September 21, 1994: 1/2 inch hail in Blue Earth County results in $6 million in crop damages.
September 21, 1924: Very strong winds occur in Duluth, with a peak gust of 64 mph.
2 to 4 Inches of Rain by Sunday? Flash Flood Risk
At yesterday's Association of Minnesota Emergency Managers I asked what keeps these professionals up at night.
The answers surprised me.
From Beltrami County: high winds impacting our forests. The Bemidji area experienced 4 separate storms packing 80-100 mph winds in July. From Ramsey County: ice. A major freezing rain event could paralyze the metro with power outages lasting days, even weeks.
Dan Luna, heading up the Twin Cities National Weather Service, worries about a 1965 Fridley-like tornado outbreak. "If an EF-4 tornado hits the metro and we do everything right – the warnings are accurate – will the public do the right thing?" Luna asked.
Roving gangs of thunderstorms may squeeze out 2-3 inches of additional rain by Thursday night; as much as 3-6 inches south/east of MSP. The result: an elevated risk of urban and river flooding, and that's why a Flash Flood Watch is posted until Thursday evening.
Yes, it's a little unnerving tracking flooding storms in late September, when we should be watching the leaves change color.
Some of this moisture is from Tropical Storm Paine, which hit Baja California. Paine, as in Paine in the … Doppler.
---
4km NAM Future Radar courtesy of NOAA and AerisWeather.
---
Another Volatile Pattern. The heaviest rains are forecast to fall south and east of the Twin Cities between now and Thursday night, but the immediate metro may still see some 2-3″ amounts – heaviest rains probably south metro, according to the Twin Cities National Weather Service.
---
Key Take-Aways from NOAA. Here are a few bullet points highlighting major points about the ongoing flood threat from the local Twin Cities office of the National Weather Service:
Potential Impacts

: Flooded roads, rising rivers, urban flash flooding.

Timing

: Southern Minnesota tonight, central/southern Minnesota and western Wisconsin Wednesday through Wednesday evening, southeastern Minnesota and Wisconsin Thursday.

Amounts

: Widespread 2 to 4 inches, locally 6+ inches – especially in the Moderate Risk area for flash flooding shown below.

Forecast Confidence

:  High for potential impacts and timing.  Moderate for location of heaviest rain/flood risk and amounts.
The Flash Flood Watch is in effect until Thursday evening. Here are more details on the flood risk from NOAA:
FLOOD WATCH
NATIONAL WEATHER SERVICE TWIN CITIES/CHANHASSEN MN
700 PM CDT TUE SEP 20 2016

...MULTIPLE ROUNDS OF HEAVY RAINFALL WILL BRING AN INCREASING
RISK OF FLOODING THROUGH THURSDAY...

.A FLASH FLOOD WATCH REMAINS IN EFFECT FOR MUCH OF EASTERN AND
SOUTHERN MINNESOTA AS WELL AS WEST CENTRAL WISCONSIN FOR TONIGHT
THROUGH THURSDAY. THE WATCH AREA IS ALONG AND SOUTH OF A LINE FROM
SPRINGFIELD TO APPLE VALLEY TO EAU CLAIRE.

RAINFALL AMOUNTS ARE FORECAST TO RANGE FROM 2 TO 5 INCHES ACROSS
SOUTH CENTRAL MINNESOTA TO PORTIONS OF WEST CENTRAL WISCONSIN
ALONG AND SOUTH OF I-94. TWO TO 3 INCHES SHOULD FALL FURTHER
NORTH ACROSS CENTRAL MINNESOTA AND THE REST OF WEST CENTRAL
WISCONSIN. LOCALLY HIGHER AMOUNTS ARE LIKELY...PARTICULARLY ACROSS
SOUTHERN MINNESOTA.

CONFIDENCE WITH THE HEAVY RAINFALL POTENTIAL IS FAIRLY HIGH. THE
PATTERN FOR MIDWEEK CLOSELY MIMICS SEVERAL HIGH END RAINFALL
EVENTS IN THE PAST...INCLUDING SEPTEMBER 23 2010 WHERE RAINFALL
TOTALS OF 5 TO 8 INCHES FELL ACROSS ALL OF SOUTHERN MINNESOTA.
MAJOR FLOODING RESULTED.
---
June Drags On. The warmth is nice, but the potential for a major flooding event in late September is a little odd.  Once again the maps look more like June than September. Models print out nearly 3″ of rain by Sunday in the Twin Cities. Some communities will see significantly more than that. Model data: Aeris Enterprise.
---
Soil Moisture: Off The Scale. Recent heavy rains have left the topsoil over much of central and southern Minnesota and western Wisconsin very wet; in the 99th percentile according to NOAA NCEP. The implications of this? Rain won't be able to soak into the ground, but almost immediately run off into streets and streams, increasing the potential for flash flooding.
---
Aeris Weather Briefing: Issued Tuesday, September 20th, 2016:
A period of very wet weather is setting up

tonight

through

Thursday

across parts of the upper Midwest. The target of heaviest rain currently is from southern Minnesota and west-central Wisconsin, but the axis could still shift slightly.
At least 2-5" of rain will fall across portions of Minnesota and Wisconsin between

tonight

–

Thursday

along a stalled frontal boundary, with isolated higher amounts possible.
This will lead to the potential of flash flooding in the region as well as rising lake and river levels.
---
Stalled Front. A warm front will be lifting northward into southern Minnesota and Wisconsin tonight. That will be the initial trigger for showers and thunderstorms with a very moisture-rich environment. The front will stall across the region Wednesday into Thursday, leading to rounds of training thunderstorms (areas of heavy rain that move over the same region within a short amount of time). This will heighten the threat of excessive rain amounts and flash flooding. Graphic credit: Aeris Mapping Platform (AMP).
---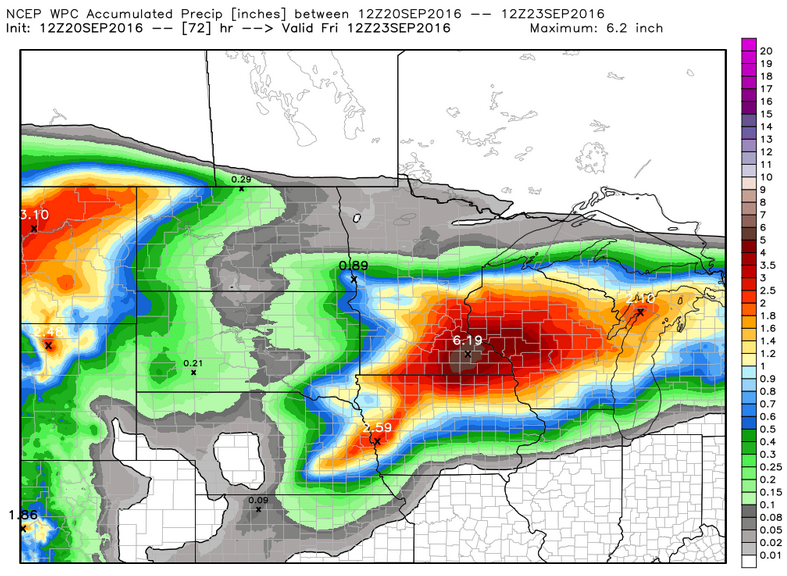 Three Day Rain Totals. This forecast from the Weather Prediction Center shows the greatest rainfall totals over the next three days across southern Minnesota and west-central Wisconsin, with at least 2-5" of rain falling. Some spots, especially where training storms do develop, have the potential of 6" or more falling within mainly a 24-48 hour period. Map credit: WeatherBell.
---
Wiggle Potential? In the bullet points at the top, I mentioned that the axis of heavy rain could still shift a little bit. This is one model, the American NAM, showing that potential with the heaviest rain totals a bit further north, across parts of central Minnesota and Wisconsin. This would be due to the associated warm front lifting further north before stalling out.
Because of the uncertainty in the placement of the front, local weather service offices are holding off on issuing Flash Flood Watches at this moment. However, I would expect watches to be issued later today across southern Minnesota and western Wisconsin.
---
Flash Flooding Potential. The heaviest of the rain across the upper Midwest is expected to occur Wednesday. Due to this, the Weather Prediction Center has outlined areas across parts of southern Minnesota, western Wisconsin, and far northern Iowa under a "moderate" threat of excessive rainfall that could lead to flooding. Map source: NOAA.
---
One Hour Flash Flood Guidance. This product of the National Weather Service shows the average amount of rain that would need to fall over a certain county in a given time period for flash flooding to occur. Many areas over southern Minnesota and parts of Wisconsin would need less than two inches of rain within an hour for flash flooding to occur. Map credit: NOAA.
---
Three Hour Flash Flood Guidance. Many of the same areas would need about 2" of rain within a three hour period for flash flooding to occur. That is even less in the Twin Cities metro, with an average of about 1.6"-1.8" needed for flash flooding to occur. With training thunderstorms expected over the next 72 hours, it is likely we will see Flash Flood Warnings issued, especially on Wednesday.
---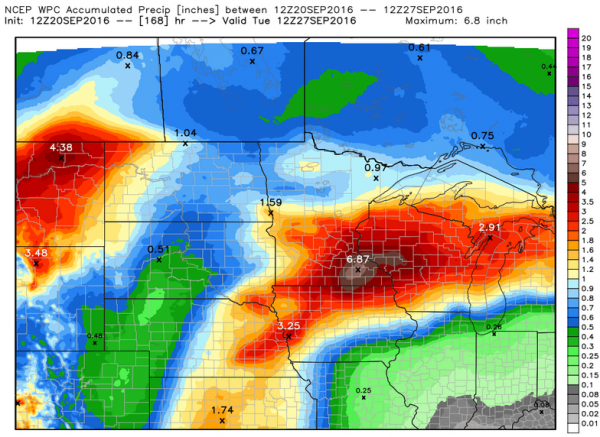 Not The End Of The Rain. Unfortunately for the region, this won't be the end of the rain for the week, as another storm system will move in over the weekend, bringing the potential of another couple inches of rain with it to parts of the upper Midwest.
Summary. A warm front will be lifting northward tonight across the upper Midwest before stalling out across portions of southern Minnesota and central Wisconsin. With a very moisture-rich environment, rounds of heavy rain are expected along and near that frontal boundary, with at least 2-5" of rain expected. Isolated 6"+ are possible, especially over southeast Minnesota. Due to the expected excessive rain amounts, flash flooding can be expected across this region, especially on Wednesday. Facilities across these areas that normally experience problems during flash flood scenarios should be on alert for issues over the next few days.
D.J. Kayser, Meteorologist, AerisWeather
---
Spurts of Warmth. With record rains, flooding and farmers increasingly concerned about getting out into their fields for a successful harvest I'm actually looking forward to puffs of cooler (drier) Canadian air in the coming weeks. Saturday looks like the next warm day with highs near 80F in the Twin Cities.  ECMWF data: WeatherBell.
---
The Standoff Between Big Oil and Big Corn
.
The New York Times
reports: "
A decade ago, lawmakers in Washington tried to address a trifecta of thorny challenges with one simple fix that has turned out to be anything but easy to assess. The problems: an overreliance on foreign oil, rising greenhouse gas emissions and tepid economic growth. The solution: the Renewable Fuel Standard, commonly known as the ethanol mandate. Enacted in 2005 and expanded two years later, the legislation required that refiners blend an increasing amount of biofuel into the gasoline that powers most American cars.
.."
Illustration credit: Minh Uong/The New York Times.
---
Is Environmental Destruction a Crime Against Humanity? Here's a snippet from The Washington Post: "This week, the International Criminal Court announced that it would give special consideration to pursuing crimes involving environmental destruction and land grabs. The announcement, made in a policy document released by the ICC's prosecutor on Thursday, appeared to show a deliberate expansion in focus for The Hague-based court, which was established by the Rome Statute in 1998 to investigate war crimes and crimes against humanity when national governments were unable to do so…"
Photo credit: "Cambodian land rights activists shout slogans during a protest in front of the Phnom Penh municipal court on Aug. 22 to demand the release of two prominent activists who were sentenced to six days in jail." (Tang Chhin Sothy/AFP).
---
General Motors Pledges 100% Renewable Power For It's Facilities by 2050. Here's a clip from Ars Technica: "Last week, GM announced a plan to move its 350 facilities in 59 countries to renewable energy by 2050. The auto company has been one of the more pioneering players among the world's top automakers when it comes to reducing fossil fuel consumption. GM is responsible for the Volt and the upcoming all-electric Bolt, which will have more than 238 miles of range and will cost somewhere around $30,000 to $35,000 after federal and state incentives have been applied. Those two factors make the Bolt the only car in production from a major manufacturer that could rival the also-upcoming and all-electric Tesla Model 3…"
---
Toyota Is Using Sewage Sludge to Power Its New Electric Car.
Interesting, but I think I'll pass. Here's an excerpt at
Quartz
: "…
But Toyota thinks it may have found a solution. For unlimited clean energy, it's turning to one of the dirtiest places there is: the toilet. In Fukuoka, Japan, the automaker is converting human waste into hydrogen to fuel the Mirai. The process is pretty simple. At a wastewater treatment plant, like the Fukuoka City Central Water Processing Plant, sewage is separated into liquid and solid waste. The solid waste, called sewage sludge, is exactly what it sounds like: a foul-smelling, brown lump. Most sewage sludge is thrown in landfills
…"
Photo credit
: "
Highest of tech; powered by human waste
."
(Reuters/Gary Cameron)
---
Bank of America Pledges To Go "Carbon Neutral" by 2020. To save the Earth, or because it's good PR? Perhaps, but more important to the bottom line, shareholders and employees they're doing it to become more resilient – and save money. Details at Business Green.
---
The good news is that there is a global abundance of private capital. To unlock these riches, governments must create conditions that encourage private investment in clean technologies and sustainable development. With smart, well-designed and coordinated policies, financing models and instruments like bonds and incentive programs, countries have the potential to solve some of the planet's most pressing environmental challenges while still maintaining economic growth. That is why it is essential for world leaders meeting in New York this week for Climate Week to stay focused on building an international consensus around "green finance.
.." (
Illustration credit
:
Mikel Jaso).
---

Mendota Heights Makes Changes to Solar System Ordinance. Lillie Suburban Newspapers has the story: "Residents of Mendota Heights who wish to use alternative energy systems will now have fewer steps to go through for their roof-mounted solar energy units. At the Sept. 6 meeting, the Mendota Heights City Council approved amendments to the current ordinance governing the installation of solar panels. Nolan Wall said the council adopted an ordinance in September 2015, which created standards for alternative energy systems. "The intent with that ordinance was to ensure the same standards are applied to each solar energy system," Wall said. Ultimately, this was to encourage sustainable practices that did not adversely impact the community..."
---
This Harvard Professor Explains Why We Were Born to Resist Working Out. Here's an excerpt from The Washington Post: "…But you can stop berating yourself now. You may just be giving in to humans' evolutionary instinct to be lazy. At least that's the theory of one Harvard professor who believes our ancestors exerted so much energy hunting and gathering that they sought rest whenever they could. We are predisposed to want to conserve energy. Daniel Lieberman, an expert in human evolutionary biology, posed in a 2015 paper, "Is Exercise Really Medicine? An Evolutionary Perspective," that it's not our natural inclination to exercise for health alone…"
---
The 20 Happiest States in the USA. Here's an excerpt from Conde Nast Traveler: "There's an ongoing debate about which U.S. city is friendliest: Savannah? Charleston? The saga continues. But what about the happiest states in America? The experts over at personal finance website WalletHub analyzed the 50 states and the District of Columbia across 28 key metrics of happiness, including emotional health, income level, social connectivity, and sports participation rates. Here's what they found in terms of overall rank:
1. Utah
2. Minnesota
3. North Dakota
4. Hawaii
5. Colorado
---
---
TODAY: Flash Flood Watch. Heavy showers and T-storms. Winds: E 10-15. High: 73
WEDNESDAY NIGHT: T-storms, locally heavy rain with a flash flood risk. Low: 62
THURSDAY: Rain, heavy at times. Lingering flood risk. Winds: NE 8-13. High: 69
FRIDAY: More showers and T-storms. Winds: E 10-20. Wake-up: 58. High: 66
SATURDAY: Some warm, sticky sun, T-storms late. Winds: SE 10-20. Wake-up: 62. High: near 80
SUNDAY: Showers, storms taper, PM clearing possible. Winds: W 8-13. Wake-up: 63. High: 72
MONDAY: Sunny and dry. It's a miracle. Wake-up: 56. High: 71
TUESDAY: Plenty of sun, still very pleasant. Wake-up: 52. High: 72
---
Climate Stories…
An Open Letter From Members of the National Academy of Science. 375 members of the NAS signed this letter yesterday; here's an excerpt at responsiblescientists.org: "…The political system also has tipping points. Thus it is of great concern that the Republican nominee for President has advocated U.S. withdrawal from the Paris Accord. A "Parexit" would send a clear signal to the rest of the world: "The United States does not care about the global problem of human-caused climate change. You are on your own." Such a decision would make it far more difficult to develop effective global strategies for mitigating and adapting to climate change. The consequences of opting out of the global community would be severe and long-lasting – for our planet's climate and for the international credibility of the United States…"
---

Climate Disruption is Fueling Stronger Storms. Friend and colleague Jeff Masters is staring at the same weather maps I am; here's an excerpt of an interview with PRI, Public Radio International: "I don't recognize the climate anymore," says Jeff Masters, the director of meteorology for Weather Underground. "I look at the weather maps in the morning, sometimes afraid of what I'm going to see. It's just gotten so insane. The climate of the 20th century is gone. The climate I knew is not here anymore. We're in an entirely new climate regime, and it is extremely intense." Climate scientists have been reluctant to attribute any one storm to the effects of climate disruption, but this may soon start to change. After historic rains fell on parts of Louisiana — an estimated 7.1 trillion gallons, three times as much as Hurricane Katrina — NOAA published a report which said that climate change made the storm at least 40 percent more likely today than a hundred years ago…"
---
Is The Media Scaring the Public Too Much About Climate Change and Extreme Weather? Jason Samenow weighs in at Capital Weather Gang: "The media has gone overboard in calling attention to links between climate change and extreme weather, contend two scholars in the United Kingdom. They argue that journalists are oversimplifying connections between weather and global warming and are resorting to scare tactics that are distracting the society from being prepared for extreme weather. The hype is responsible for a counterproductive and paralyzing "atmosfear," they claim. But their contention of a media-induced "atmosfear" goes too far. It's possible to both plainly and carefully communicate how climate change is affecting extreme weather while also stressing the importance of extreme weather preparedness, irrespective of climate change…" (File image: Capital Weather Gang).
---
He's Watching the World Melt. CNN reports: "…For more than four decades, Divoky has spent his summers (mostly alone) on Cooper Island, north of the Alaska coast. He's watched the Arctic melt, and he's seen how those changes have devastated the black guillemot, a tiny bird he studies. He doesn't like to see this monumental shift in the Arctic reduced to a matter of square miles or kilometers, as it of course was last week when the US National Snow and Ice Data Center announced Arctic sea ice hit a near-record minimum on September 10. To him, it's about the dead birds he has to pluck from their nests and carry in his pockets. It's about the polar bears that now swarm his camp looking for food. It's about the fact an island once surrounded by ice is now surrounded by the sea…"
Photo credit: Friends of Cooper Island.
---
Reframing Climate Change as a Public Health Threat. Here's an excerpt from an article at undark.org: …"The climate change dialogue is really important, but it can be very hard for Americans to connect with emissions reductions and carbon taxes," said Katherine Burke, deputy director of Stanford University's Center for Innovation in Global Health, who joined a panel discussion on Adaptation, Carbon Sequestration, and Public Health. "I really think that health can put a human face on climate change and can engage our leaders and the public in a much more personal way..."
---
Scientists Published Climate Research Under Fake Names. Then They Were Caught. The Washington Post explains: "The scientists briefly known as Den Volokin and Lark ReLlez thought they had found something big. It was not data wrung from a clever experiment or a lucky field observation. Instead, the pair had constructed a model, a mathematical argument, for calculating the average surface temperature of a rocky planet. Using just two factors — electromagnetic radiation beamed by the sun into the atmosphere and the atmospheric pressure at a planet's surface — the scientists could predict a planet's temperature. The physical principle, they said, was similar to the way that high-pressure air ignites fuel in a diesel engine…"
Graphic credit: "A figure from the withdrawn study, arguing that the model accurately predicts planetary temperatures." (Courtesy of Ned Nikolov).