The Big Melt
Forget your second-string shoes. You'll need scuba gear to get around town the next couple of weeks. Puddles have morphed into ponds. The mere act of crossing the street has become a sad You Tube Moment. This is what progress looks like.
The sun is as high in the sky as back in late September; almost 3 hours of additional daylight since December 21. Snow melts from the bottom up, even on a day with sub-freezing highs.
Sadly (for all of us) liquid water expands when it re-freezes at night, helping to carve out potholes big enough to camp out in. Suggestion: borrow a friend's car to run errands.
We cool off into the 20s today, but temperatures brush 40F again Thursday and Friday, again a couple days next week. No big spikes or dips – no reruns of the Polar Vortex (until 2018 I pray).
The pattern isn't ripe for heavy snow or rain; ECMWF guidance hinting at a couple inches of slush next Tuesday, but no whoppers brewing.
Chicago & Detroit will see near-blizzard conditions today; at 84 inches the Motor City is closing in on the snowiest winter on record.
Lake Superior ice cover peaked at 95.7 percent. Back in 1996 Superior was 100 percent ice-covered.
Yes, it can always be worse.
---
Almost Average. You know it's been a rough winter when people are walking around in shirtsleeves when it reaches the 40s, and when meteorologists are happy to babbling about "average temperatures". The normal high now is 39F, and after a chilly day today we bounce above the 40F mark Thursday and Friday. ECWMF guidance shows cooler weather next week, but no hint of anything subzero. Graph: Weatherspark.
---
Peering Over The Horizon. No fast-forward spring this year (a good thing in terms of spring river flooding risk), but GFS guidance continues to show a run of 40s in late March, possibly a 50F high or two around March 22. Circle your calendar.
---
Backwards Winter of 2014: More Snow In New York City Than Anchorage? The snowfall numbers above are as of Tuesday, March 11. Detroit will pick up another 5-7″, taking them over 90″ for the winter, on their way to the snowiest winter on record? Chicago will add 3-6″, making it the 3rd snowiest winter. Our 58″ seems almost reasonable by comparison. In today's edition of Climate Matters we asked WeatherNation viewers for subtle signs of spring. We got more than we bargained for: "WeatherNationTV Chief Meteorologist Paul Douglas goes over your Facebook comments about the sluggish start to Spring. We're all dreading it, yet *another* winter storm is forecast to impact the Ohio Valley and parts of the Northeast Tuesday night through Thursday. Hurry up Spring!"
---
Alerts Broadcaster Briefing: Issued early Wednesday morning:
* Heaviest snow impacts Chicago between now and 8 AM Wednesday, but strong winds behind the storm will trigger blowing/drifting into early afternoon as temperatures tumble into the teens with a wind chill near zero at times. I expect 4-6″ in Chicago, only 1-2″ closer to Libertyville and Waukegan, but as much as 8″ possible on the south side. Expect widespread delays and cancellations at O'Hare and Midway today.
* South Bend picks up closer to 8-10″ of snow with near blizzard conditions during the morning hours Wednesday.
* Detroit will pick up 6-10″ of snow with widespread impacts on travel, land and air. The heaviest snow is over by mid afternoon.
* Cleveland is expecting 7-12″ of snow with serious blowing and drifting into the afternoon hours as sustained winds top 30 mph. Conditions slowly improve during the day Thursday.
* Blizzard Warnings are now posted for Buffalo and Rochester, New York, expecting 12-18″ of snow with white-out conditions from Wednesday evening into early Thursday.
---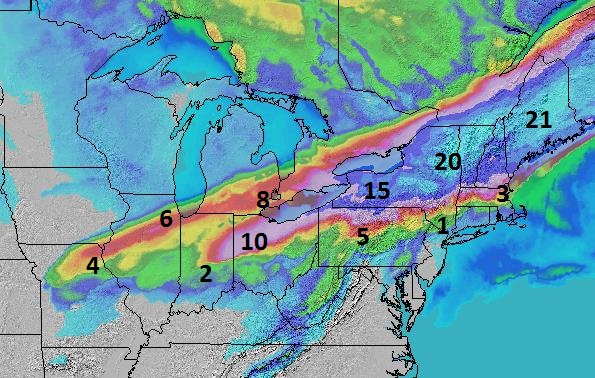 Snowfall Overview. The models have come into alignment, showing the heaviest amounts of snow from South Bend and Toledo to Detroit, Cleveland and much of upstate New York and northern New England. This will be a plowable to crippling storm for a time this morning in Chicago and Detroit, a crippling event for Buffalo, Rochester, Syracuse and much of New England. Map: NOAA and Ham Weather.
* Boston will see heavy rain, ending as a couple inches of snow Wednesday night.
* New York City sees showers, even a thundershower later today, a few hours of snow Wednesday night as temperatures drop sharply.
---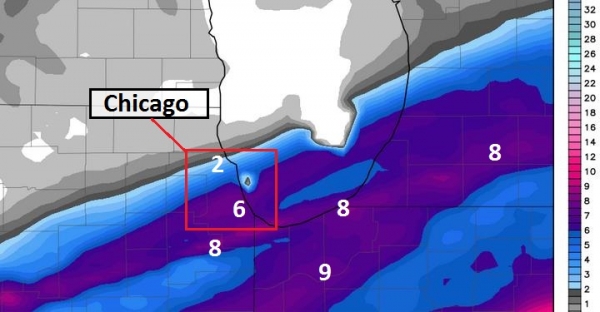 Chicago: Heaviest Amounts South Side. As we predicted a couple days ago, the heaviest snow bands are still expected south of The Loop, with some 8-9″ amounts possible near Joliet, Kankakee and Chicago Heights. It may be tough measuring that snow as it blows around today – I still expect enough (4-6″) for widespread delays and cancellations at ORD and MDW. Travel on Chicago's expressways will fall somewhere between treacherous and ridiculous. Expect gridlock, especially for the AM commute Wednesday. WRF data above: Weatherbell.
---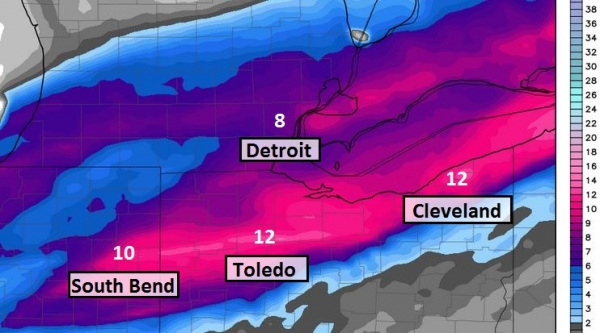 January Flash-Back. The heaviest snow band may pass just south of Detroit, but I still expect debilitating amounts of snow and wind in the Motor City, as much as 8″ on the south side. As much as 10-12″ may fall from near South Bend and Toledo to Cleveland by Wednesday afternoon. Factor in sustained winds of 30 mph and visibilities dropping under 1/4 mile, and near-blizzard conditions may result: most cities seeing a 3-6 hour burst of heavy snow morning and midday, with snow falling at the rate of 2″/hour.
---

BPI Timeline. Here is Alerts Broadcaster's proprietary Blizzard Potential Index solution, showing the rapid eastward progression of today's storm. Expect lowest visibilities in Detroit, Toledo and Cleveland late Wednesday morning, with blizzard conditions spreading into Buffalo, Rochester, Syracuse and the Finger Lakes region of upstate New York by late afternoon and evening. BPI outlook: Ham Weather.
---

Swath of Wintry Mayhem. Here's an overview of where the worst travel conditions will be today, the bright red areas showing blizzard or near-blizzard conditions. Most cities will only see 4-6 hours of heavy snow, but strong winds behind the storm will spark blowing and drifting into the afternoon and evening hours today. Expect significant improvement Thursday. BPI summary above: Ham Weather.
---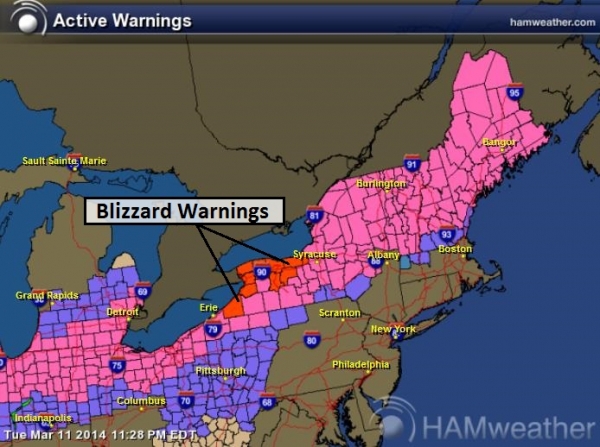 Blizzard Warnings. NOAA has upgraded the Winter Storm Warning to a Blizzard Warning for Buffalo and Rochester, with no travel advised later today and tonight as visibilities drop to near zero at times.
---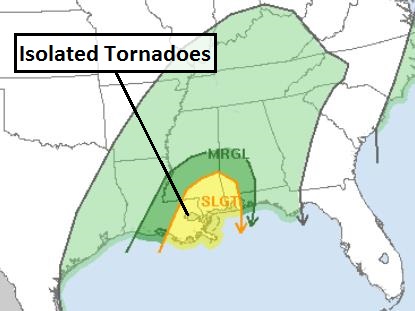 Slight Severe Thunderstorm Risk. On the warm side of the storm there may be sufficient instability and wind shear for a few supercell thunderstorms, capable of large hail and damaging (straight-line) winds. The threat of tornadoes is low, but not zero. The threat area includes Roanoke, Richmond, Washington D.C., Baltimore, Harrisburg and Philadelphia. Expect severe storm watches to be issued by afternoon for this region with warnings likely as a squall line pushes east by the dinner hour.
We'll keep you posted with situation reports during the day Wednesday as the storm unfolds. Good luck – be safe out there.
Paul Douglas – Senior Meteorologist – Alerts Broadcaster
---
Climate Change Could Bring More Of These Winters. Or not. Too early to tell, but please get us go a few winters without a strongly negative AO or Arctic Oscillation: lighter winds allow the Polar Vortex to drop south, and linger indefinitely. Here's a clip from The Winnipeg Free Press: "…Again, the cold weather this winter was due to southern excursions of the polar vortex, the big air mass that always swirls around the Arctic. The cold air's southern journeys were made possible by a meandering jet stream, a flow that usually functions like a big waistband that holds the nasty stuff back. Some climatologists theorize the weird wiggling of the jet stream might be caused by a warming Arctic atmosphere, itself the result of a loss of summer sea ice. But the cause-and-effect relationship between a warming Arctic and wandering jet stream is not conclusive, so it's too soon to blame this terrible, nasty winter on climate change…"
---
Almost A Record on Superior. According to NOAA's Great Lakes Environmental Research Laboratory the all-time record for ice cover on Lake Superior was 100% in 1996. Lake Michigan just broke the all-time record, set in 1977.
---
Peak Lake Superior Ice Cover. According to data from NOAA CoastWatch Lake Superior ice cover peaked at 95.74% in early March.
---
Historical Perspective. The trend in (most) recent winters has been for less ice on Lake Superior, at least since the mid-90s. Check out the NOAA data for yourself here.
---
Here Comes El Nino; Good News For U.S. Weather Woes. Maybe the headline should come with a question mark instead of a period. El Nino often brings flooding rains for the west coast; but fewer hurricanes in the Atlantic and Caribbean. AP and Ravalli Republic have the story; here's the intro: "Relief may be on the way for a weather-weary United States with the predicted warming of the central Pacific Ocean brewing this year that will likely change weather worldwide. But it won't be for the better everywhere. The warming, called an El Nino, is expected to lead to fewer Atlantic hurricanes and more rain next winter for drought-stricken California and southern states, and even a milder winter for the nation's frigid northern tier next year, meteorologists say. While it could be good news to lessen the southwestern U.S. drought and shrink heating bills next winter in the far north, "worldwide it can be quite a different story," said North Carolina State University atmospheric sciences professor Ken Kunkel. "Some areas benefit. Some don't…"
---
Aging El Nino Buoys Get Fixed As Weather Forecasts At Risk. With an El Nino warming phase brewing (52% probability by late summer and autumn) NOAA doesn't want to be flying blind. Here's an update from a story at Bloomberg: "The National Weather Service is set to start repairing 70 towering buoys used to track El Nino and La Nina patterns, whose damage has led scientists to warn the accuracy of forecasts is in danger. The Tropical Atmospheric Ocean Array, deployed after a 1982-83 ocean warming caught governments by surprise and caused at least $8.1 billion in damage worldwide, is designed to help predict developments that can alter global weather. The system has degraded to about 40 percent effectiveness, a victim of age, vandalism and neglect, according to the National Oceanic & Atmospheric Administration…"
Photo credit above: NOAA "A TAO buoy seen next to a NOAA research ship, which was used for maintaining the buoy array across the Pacific Ocean."
---
When Lightning Strikes, Instruments On The Space Station Will See It. Redorbit.com has an intriguing article, focused on lightning detection from low-Earth orbit. Here's an excerpt: "…A sophisticated piece of flight hardware, called a Lightning IMaging Sensor (LIS), was developed by researchers at NASA's Marshall Space Flight Center and launched into space in 1997 as part of NASA's Tropical Rainfall Measuring Missions (TRMM). The sensor, used to detect and locate lightning over the tropical region of the globe, undertook a three year primary mission to return data that could be used to improve weather forecasts. LIS continues to operate aboard the TRMM satellite today…"
Image credit above: "A sprite glows red (inset) in this image captured by astronauts on the International Space Station on April 30, 2012." Credit: Image Science & Analysis Laboratory, NASA Johnson Space Center.
---
A sophisticated piece of flight hardware, called a Lightning Imaging Sensor (LIS), was developed by researchers at NASA's Marshall Space Flight Center and launched into space in 1997 as part of NASA's Tropical Rainfall Measuring Mission (TRMM). The sensor, used to detect and locate lightning over the tropical region of the globe, undertook a three year primary mission to return data that could be used to improve weather forecasts. LIS continues to operate aboard the TRMM satellite today.
Of course, the researchers responsible for building LIS in the 1990s built a spare unit as a precaution. That other unit is now being brought into play as well. The second LIS sensor is scheduled to launch aboard a Space Exploration Technologies (SpaceX) rocket to the International Space Station (ISS) in February 2016.
Read more at http://www.redorbit.com/news/space/1113087592/lightning-imaging-sensor-on-the-international-space-station-030514/#vIbIeTr1CGIC7kx1.99
New Ozone-Destroying Chemicals Found In Atmosphere. Scientists say these new chemicals, greenhouse gases, are 7,000 times more powerful than CO2. Here's a clip from The Guardian: "Dozens of mysterious ozone-destroying chemicals may be undermining the recovery of the giant ozone hole over Antarctica, researchers have revealed. The chemicals, which are also extremely potent greenhouse gases, may be leaking from industrial plants or being used illegally, contravening the Montreal protocol which began banning the ozone destroyers in 1987. Scientists said the finding of the chemicals circulating in the atmosphere showed "ozone depletion is not yesterday's story…"
Image credit above: "The ozone hole reached its biggest extent for the year on 26 September, 2013." Photograph: NOAA.
---
How It's Possible To Lose An Airplane In 2014. Reality trumps fiction – you can't make this stuff up. What happened to the Malaysian 777? Great question. Wired.com asks the rhetorical question; here's an excerpt: "…The most chilling thing about this is the fact the plane seemingly vanished without a trace. The captain, who had more than 18,000 hours of flight time, gave no warning, issued no mayday. There was no indication anything was amiss. This is not terribly unusual, because a flight crew's first priority in an emergency is dealing with the situation at hand. "Aviate, navigate, then communicate" is the mantra. Airline pilot and blogger Patrick Smith says the radio silence "doesn't startle me…"
Photo credit: Pedro Moura Pinheiro/Flickr
---
Safe Skies. According to The Economist, in spite of a recent tragedy, air flights are getting safer: "…On a per passenger-mile basis, an individual is about 180 times more likely to die in a car than on a plane, according to America's National Safety Council (though these types of travel are not in direct competition)…"
---
Compound In Fruits And Vegetables Prevents Symptoms Of Alzheimer's In Mice. Some interesting details in an article at Gizmag; here's an excerpt: "Alzheimer's disease represents the most common form of dementia, with the early stages of the disease generally characterized with short term memory loss and learning difficulties that increase in severity as the patient progresses in age. Scientists at the Salk Institute for Biological Studies, California, have discovered that with regular treatments of the antioxidant fisetin, they were able to prevent memory loss in mice with genetic mutations linked to Alzheimer's…"
Photo credit above: "A compound commonly found in fruit and vegetables, including apples, grapes and strawberries, has been found to prevent Alzheimer's disease in mice." (Photo: Shutterstock).
---
Equations Are Art Within A Mathematician's Brain. I can tell you from first-hand experience that I suspect this to be the case. Sadly it's never happened to me (although I have had a few epiphanies balancing my check book). Scientific American has the story; here's an excerpt: "When mathematicians describe equations as beautiful, they are not lying. Brain scans show that their minds respond to beautiful equations in the same way other people respond to great paintings or masterful music. The finding could bring neuroscientists closer to understanding the neural basis of beauty, a concept that is surprisingly hard to define. In the study, researchers led by Semir Zeki of University College London asked 16 mathematicians to rate 60 equations on a scale ranging from "ugly" to "beautiful..."
Image credit above: "Euler's Identity, which relates the three fundamental constants e, pi and i, was rated the most beautiful of a set of 60 equations by mathematicians." Quinn Dombrowski/Wikimedia Commons.
---
Why We Hold Grudges About Little Injuries But Forgive Big Ones. Here's an excerpt of an interesting story at io9.com: "…A team of scientists from UCLA, Harvard, and the University of Virginia conducted a series of experiments that showed the people are bad at predicting how hurt will affect them over time. We tend to assume the more painful injuries, the major ones, or the ones committed by loved ones, will cause the most pain over time. In a preliminary study, the team had people rate how they thought they would feel both when a series of unpleasant things happened to them, and a week afterwards…"
---
44 F. high in the Twin Cities Tuesday.
39 F. average high on March 11.
31 F. high on March 11, 2013.
13″ snow on the ground at KMSP as of Tuesday evening.
---
TODAY: Sunny and brisk. Winds: NW 10. High: 26
WEDNESDAY NIGHT: Clear and chilly. Low: 17
THURSDAY: Partly sunny. Mild and March-like again. High: 43
FRIDAY: More clouds than sun, turning cooler by afternoon. Wake-up: 30. High: 40
SATURDAY: Mix of clouds and sun. Wake-up: 18. High: 29
SUNDAY: Sunny start, wet snow at night? Wake-up: 8. High: near 30
MONDAY: Early slush, then clearing. Wake-up: 25. High: 38
TUESDAY: Chance of snow, mainly southern MN. Wake-up: 28. High: 37
---
Climate Stories….
Actually, You Can Link Specific Weather Events To Climate Change. Billmoyers.com has the article, which orginated at The Guardian. Here's a clip: "…The research that links global warming to particular extreme weather events is called attribution and has already notched up notable successes. The Oxford team showed in 2011 that climate change was loading the extreme-weather dice as far back as 2000, in a study that showed serious flooding in England that year was made two to three times more likely by man-made greenhouse gas emissions. The killer heat waves in Europe in 2003 and 2010 were also made far more likely by global warming, similar research has demonstrated, while another new study shows how Hurricane Katrina would have been far less devastating had it happened 100 years ago…"
Photo credit above: "In Louri village in the Mao region of Chad, climate change has meant that the normally once-a-decade droughts are now coming every few years. November 2, 2012." (AP Photo/Rebecca Blackwell).
---
Arctic Sea Ice Season Shortened By 5 Days Per Decade. Northern latitudes are warming much faster than mid latitudes, just like climate models predicted they would. Here's an excerpt from Nature World News: "The Arctic sea ice season is shortening by five days per decade, with the appearance of sea ice becoming delayed by warmer weather, according to new research. Writing in the journal Geophysical Research Letters, University College London Earth sciences professor Julienne Stroeve and her colleagues report their analysis, which used satellite data, indicates that the Arctic Ocean is absorbing more of the Sun's energy in the summer, leading to a delayed appearance of autumn sea ice…"
Photo credit above: "The Arctic sea ice season is shortening by five days per decade, with the appearance of sea ice becoming delayed by warmer weather, according to new research." (Photo : NASA/Goddard Space Flight Center).
---
Model Behavior. Here's an excerpt from an article (and PDF paper link) at neweconomics.org: "Every day, major economic decisions are made based on advice no more accurate than a coin flip. But when it comes to climate change, sceptics and media are fuelling distrust in forecasts that now have a 20-year track record of accuracy. It's time to end the double standard in how our most important decisions are made.."
* Tweet above courtesy of Simon Donner.
---
As Temperatures Climb, So Does Malaria. Warming has implications for various diseases, with malaria at or near the top of the list. Here's an excerpt from Scientific American: "Warming temperatures expand the risk area for malaria, pushing the disease farther uphill in afflicted regions, according to a new study. Infecting more than 300 million people each year, malaria emerges from a tapestry of temperature, rainfall, vectors, parasites, human movement, public health and economics. Fighting the disease involves pulling on all of these threads, but scientists have a hard time figuring out which ones are the most important to predicting where the disease will go…"
---
The Pentagon's Guide To Overcoming Climate Denial. Motherboard has an analysis of the Pentagon's latest 2014 Quadrennial Review and implications – here's an excerpt: "…Forget the climatologists, for a second, ye of little faith in the scientific method, and let the military explain, in its own words, verbatim, what climate change is, and why we should be very worried about it. Here, let's allow the Pentagon to teach us about climate change:
Climate change poses another significant challenge for the United States and the world at large. As greenhouse gas emissions increase, sea levels are rising, average global temperatures are increasing, and severe weather patterns are accelerating. These changes, coupled with other global dynamics, including growing, urbanizing, more affluent populations, and substantial economic growth in India, China, Brazil, and other nations, will devastate homes, land, and infrastructure.
Climate change may exacerbate water scarcity and lead to sharp increases in food costs…"
Photo credit above: US Navy/Wikimedia.
---
GAO: Climate Change Threatens Energy Infrastructure. The ironies never cease. Kitsap Sun has the story; here's the introduction: "Oil refineries and drilling platforms in the U.S. are vulnerable to sea level rise and greater storm surge. Fuel pipelines, barges, railways and storage tanks are vulnerable to melting permafrost and severe weather. Warming seas and water shortages put nuclear and other electric power plants at risk. Power lines can be blown away by hurricanes and other extreme weather. In other words, all the infrastructure Americans rely on to heat their homes, power their lights and fuel their trains, trucks and cars is becoming more and more exposed to failure in a changing climate…"
---
Notes From The Arctic: Dr. Jason Box On Winter, 2014. Peter Sinclair has an interesting video and interview with "Chasing Ice" creator and scientist Jason Box. Here's an excerpt at Climate Crock Of The Week: "Dr. Jason Box, Chief Scientist of the Dark Snow Project, and a researcher formerly of the Byrd Polar Center at Ohio State, now with the Geological Survey of Denmark and Greenland – has spent the last week in Svalbard, a group of Islands high in the arctic, controlled by Norway. I asked him to chat by skype and update us on the intense winter of 2013 and 14, the "cold continents warm arctic" paradox, and the 'ridiculously resilient ridge" that continues to deliver punishment on both sides of the Atlantic."
---
Polar Vortex Emboldens Industry To Push Old Coal Plants. Bloomberg has the story; here's the introduction: "The polar vortex may give new life to aging coal and nuclear power plants in the U.S. Masses of arctic air rolling down from the North Pole have driven electricity prices to more than 10 times last year's average in many parts of the country and have threatened some cities with winter blackouts. They've also emboldened energy companies to call for extending the lives of older and dirtier coal plants, as well as aging nuclear reactors…"
Photo credit: Daniel Acker/Bloomberg. "Despite a concerted campaign by environmentalists and public health experts to stanch its use, coal, the most plentiful and cheapest fuel in the world, is proving globally resilient."