24 F. high in the Twin Cities Tuesday.
36 F. average high on November 25.
40 F. high on November 25, 2013.
November 25 in Minnesota Weather History. Source: MPX National Weather Service:
2001: A strong low pressure system developed in Colorado on the 25th, reached eastern Iowa during the evening of the 26th, then moved into eastern Wisconsin late on the 27th. It produced a wide swath of heavy snow across much of central Minnesota into West Central Wisconsin. Storm total snowfall of 8 inches or more was common, with a large area exceeding 20 inches. Specifically, Willmar picked up 30.4 inches, New London saw 28.5 inches, Collegeville had 23.4 inches, Litchfield and Granite Falls received 22 inches, 14 inches at Canby, 10.7 inches at Springfield, 11 inches at Long Prairie, 12.5 inches at New Hope, 15 inches at Milaca, 11 inches at Wild River State Park, and Milan had 20 inches. A convective snow band set up across this area on the 27th and remained nearly stationary for over 12 hours, resulting in the extreme storm totals. From 8 am on the 26th to 8 am on the 27th, Willmar received 21 of its 30.4 inches, setting a record for most snowfall in Willmar in a 24 hour period. Visibilities were frequently below 1/4 mile during the storm, and winds remained in the 15 to 30 mph category. The heavy wet snow downed numerous power lines, and at one point, at least 20,000 customers were without power in the Minneapolis-St. Paul metropolitan area. Over one thousand traffic accidents were noted across the entire area. Most were minor, but one accident claimed two lives when a car spun out and collided with a semi near Mora.
1995: A narrow band of five to eight inches of snow fell from west central Minnesota around Canby and Granite Falls to east central Minnesota. This included much of the Twin Cities metro area.
1965: Snowstorm across northern Minnesota. 14.7 inches of snow fell at Duluth, and 13.6 inches at Grand Rapids.
1896: Severe Thanksgiving day ice storm over southwest and central Minnesota. 1.42 inches of rain at Bird Island and 1.20 inches of rain at Montevideo. The ice caused a great deal of damage to trees and shrubs.
Could Be Worse
"Reflect upon your present blessings, of which every man has plenty; not on your past misfortunes of which all men have some" wrote Charles Dickens.
Add weather to a list of things to be grateful for in 2014.
Today's clipper may drop a quick inch or two, just enough to grease up a few roads for commuting and Thanksgiving travel. It'll be a puny pile compared to the Nor'easter slushing up New England with as much as a foot of snow later today and tonight. Great timing!
Hang onto your lunch because big temperature swings are brewing over the next 1-2 weeks, as a scuffle between Arctic air and Pacific air plays out directly overhead. 30-45 degree gyrations in temperature will result in strong winds and very rapid changes. Exhibit A: we go from teens Thanksgiving Day to near 40F Saturday; back into the teens Monday, before a fleeting warm front direct from Vancouver thaws us to near 50F next Tuesday.
The pattern favors frequent invasions of Canadian air for the Great Lakes and New England, spinning up a parade of coastal storms out east. But I see an increasingly milder bias as Pacific warmth pushes farther inland during December.
Symptoms of a developing El Nino? I'm starting to think so.
---
Winter Weather Advisory. The Twin Cities National Weather Service has issued a Winter Weather Advisory for nuisance to plowable amounts of snow over southern Minnesota, as much as 3-5″ south/west of MSP. Details:
* MAIN IMPACT...TRAVEL MAY BE HAZARDOUS WEDNESDAY. EXPECT THE
POSSIBILITY OF SIGNIFICANT DELAYS FOR THE BUSIEST TRAVEL DAY OF
THE YEAR.
* SNOW ACCUMULATION...2 TO 5 INCHES...WITH THE HEAVIEST TOTALS IN
THE FAR SOUTHWEST TWIN CITIES SUBURBS AND THE LIGHTEST AMOUNTS
IN THE NORTHERN AND EASTERN TWIN CITIES SUBURBS.
* TIMING...ACCUMULATING SNOW DEVELOPING AROUND 6 AM AND CONTINUING
THROUGH MID AFTERNOON.
---
Potentially Plowable. A fast-moving clipper pushes a shield of light snow across the state today, the best chance of accumulating snow south of I-94. A few inches may pile up, as much as 2-3″ for parts of the Twin Cities metro. Roads will be slick out there, but hopefully MnDOT will keep freeways wet/slushy with temperatures in the 20s.
---
60-Hour Snowfall Potential. NOAA's 4 km NAM product shows the streak of heavy snow spreading up the Appalachians into the Delaware Valley, the Hudson Valley and much of New England later today, brushing Philadelphia, New York City and Boston with plowable amounts of snow in the suburbs. A clipper spreads ligher snow into Minnesota; significant amounts from Yellowstone into Montana and Idaho as Pacific moisture sweeps inland. Graphic: HAMweather.
---
Alerts Broadcaster Briefing. Issued Tuesday morning, November 25, 2014.
* Conditions deteriorate as the day goes on Wednesday as a classic Nor'easter pushes up the coast, dropping a band of very heavy wet snow.
* Washington D.C. and Baltimore may avoid the heaviest amounts, but a plowable snowfall is expected from the suburbs of Philadelphia to New York and Boston Wednesday night, tapering off Thursday morning.
* Travel will be impacted for a 24-36 hour period from midday tomorrow into Thanksgiving morning; some power outages are expected, especially from the Hudson Valley of New York into the Berkshires of Massachusetts, even the western suburbs of Boston.
---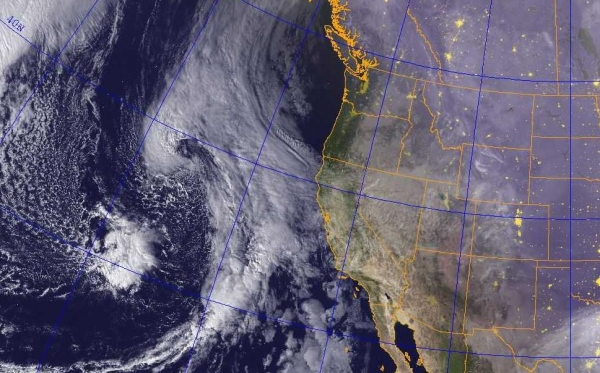 A Troublesome Front. Tropical moisture is lurking just offshore, the latest surge of Canadian air spinning up a coastal storm tomorrow, pushing right up the front with heavy rain and some icing along the coast, heavy wet snow just inland.
---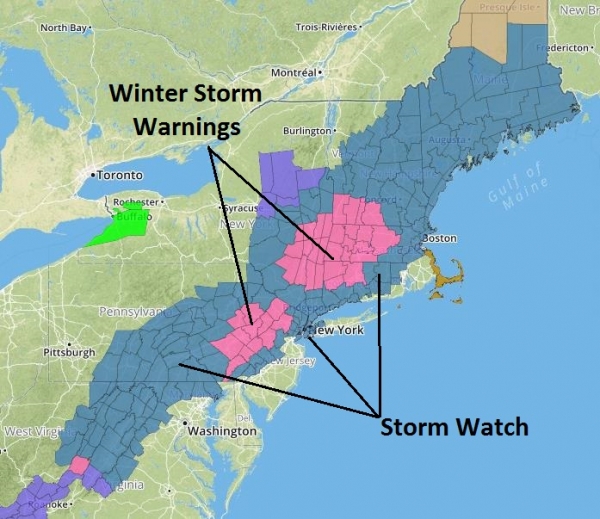 Current Watches and Warnings. NOAA has issued a Winter Storm Watch for Philadelphia, New York and Boston. Winter Storm Warnings, meaning treacherous conditions are imminent, have been posted from Reading and Allentown, PA into northern New Jersey and much of interior New England, including Poughkeepsie, Albany and Worcester, Mass, where some 10-12″+ amounts are possible. This will be a heavy, wet snow, capable of power outages at the height of the storm Wednesday night. Note: Flood Warnings remain posted for the Buffalo area until late afternoon today; many rivers and streams are still out of their banks, although it appears a worst-case scenario will be avoided.
---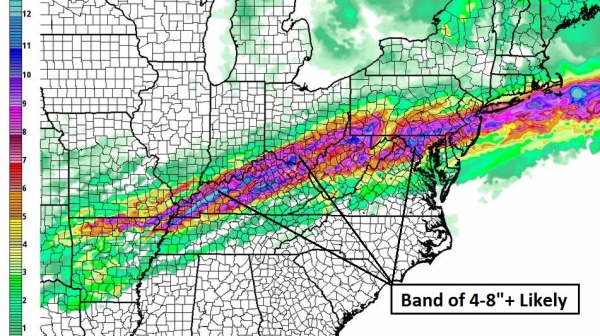 Snowfall Overview. Alerts Broadcaster internal models show a significant stripe of plowable snow from the hills of Virginia into southern and eastern PA, much of northern New Jersey and southeastern New York State, and interior New England. Map: HAMweather.
---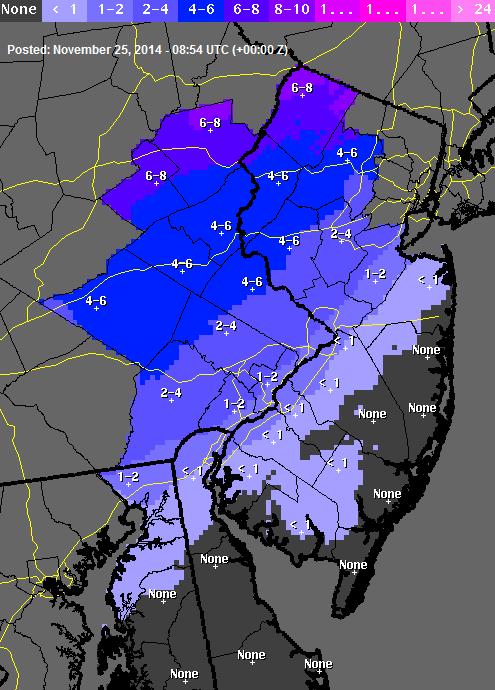 High-Resolution Detail. Metro Philadelphia may see a mix of snow, ice and some rain, keeping overall amounts in the 1-3″ range, but much more significant snowfall totals are likely in the Lehigh Valley, from Allentown and Bethlehem into northern New Jersey Wednesday afternoon and night. Image: NOAA.
---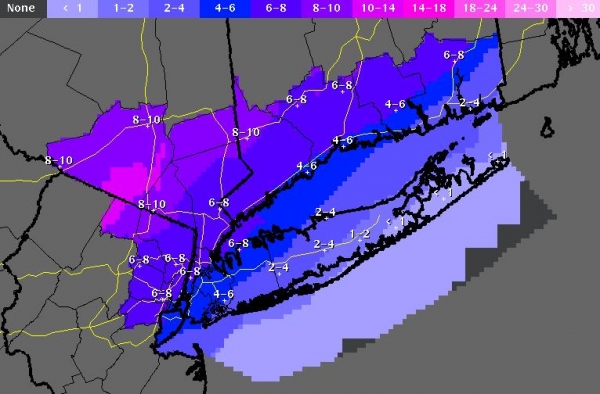 New York City Slush-Fest. A cold rain in New York will quickly change over to sleet and wet snow midday Wednesday; all snow Wednesday afternoon and night, with a potential for some 6-8″ amounts, maybe 10″ north and west of Westchester county, New York. Flights should get in before noon Wednesday but after noon tomorrow all bets are off. I could see sporadic power outages in the northern/western suburbs of New York Wednesday afternoon and night.
---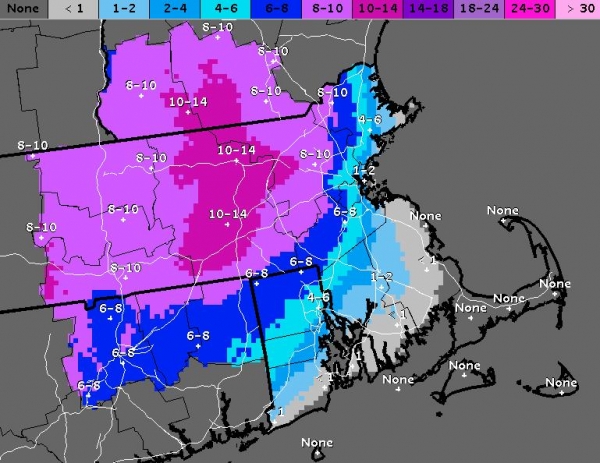 Boston On Edge. The heaviest snowfall amounts are likely west of Boston, closer to Worcester, where some 10-15″ totals are possible by Thursday morning. But the western suburbs of Boston, west of I-95, may pick up 6-8″ of snow, most of that coming Wednesday afternoon and night. Conditions rapidly improve Thanksgiving Day as the storm accelerates toward the Canadian Maritimes.
Overview: Mother Nature has a wicked sense of humor. Today is the second most-traveled day of the year, and (right on schedule) here comes the first significant Nor'easter of the season from New York to Boston. This storm will impact facilities from midday tomorrow into Thursday morning; the heavy, wet nature of the snowfall may bring down trees and powerlines – I could see sporadic power outages, especially from the Hudson Valley into the suburbs of Boston and Portland, Maine.
Paul Douglas – Senior Meteorologist – Alerts Broadcaster
---
Thanksgiving Day Climatology. Here's an excerpt of a post from the Minnesota Climatology Working Group: "… Looking at the past 141 years, it is a little more likely to have a minimum at or below zero on Thanksgiving Day, as it is to have a maximum of 50 or above. Below-zero lows have occurred nine times in the past 141 years. The coldest Thanksgiving Day minimum temperature was 18 degrees below zero on November 25, 1880. The coldest high temperature was one below zero on November 28, 1872. The last time it was below zero on the morning of Thanksgiving was in 1985, with eight below zero…"
Photo credit: 1955 Turkey Race courtesy of the Minnesota Historical Society.
---

Distribution of Thanksgiving Day Highs Since 1882. Media Logic meteorologist D.J. Kayser put together a graphic putting Turkey Day highs into perspective. It looks like this will be the 20th Thanksgiving since 1882 with a high in the teens. For more good historical information on Thanksgiving Day climatology in the Twin Cities click over to his blog here.
---

Thanksgiving Lows In The Twin Cities. There have been only 9 Thanksgivings with subzero wake-up temperatures since 1882; statistically we're much more likely to wake up to 20s at KMSP.
---
No, It Won't Be This Cold. We'll wake up to single digits Thursday morning, colder than average, but not the crazy-cold of 1880 (or 1985 for that matter).
---
Atlantic Hurricane Season Stays Quiet As Predicted. Here's a wrap-up of yet another fairly tame, benign Atlantic hurricane season, courtesy of NOAA. The Pacific was another matter altogether: "…A combination of atmospheric conditions acted to suppress the Atlantic hurricane season, including very strong vertical wind shear, combined with increased atmospheric stability, stronger sinking motion and drier air across the tropical Atlantic," said Gerry Bell, Ph.D., lead hurricane forecaster at NOAA's Climate Prediction Center. "Also, the West African monsoon was near- to below average, making it more difficult for African easterly waves to develop." Meanwhile, the eastern North Pacific hurricane season met or exceeded expectations with 20 named storms – the busiest since 1992…"
---
Potential for El Nino Continues To Rise. The Australian Bureau of Meteorology has gone from alert to watch, placing the odds at an El Nino warm phase in the Pacific at 70% Who cares? Well, if El Nino does kick in this winter there's a higher probability of more of a zonal, west to east flow, alternating with the Canadian smacks, meaning a somewhat lower risk of the jet stream getting stuck in a polar holding pattern similar to last winter. Source: NOAA CPC.
---
Record Drought Reveals Stunning Changes Along Colorado River. National Geographic has a story worth your time; here's an excerpt: "…According to modern tree-ring data (unavailable during the dam-building epoch), the previous millennium experienced droughts much more severe than those in the first 14 years of the 21st century. Many climate scientists think the Southwest is again due for a megadrought. The Bureau of Reclamation's analysis of over a hundred climate projections suggests the Colorado River Basin will be much drier by the end of this century than it was in the past one, with the median projection showing 45 percent less runoff into the river…"
Map credit above: Virginia W. Mason, NG Staff Source: Bureau of Reclamation, National Park Service.
---
Social Media Rescues Snow-Bound Stations. Local television stations in Buffalo were at a distinct disadvantage trying to cover last week's 5-8 foot lake effect snowfall; reporters and live trucks unable to get into the most impacted neighborhoods on the south side of the city. TVNewsCheck has an article focused on social media, how trapped, marooned residents provided much of the content stations relied on to tell the story; here's an excerpt: "…As the snow piled up, the stations went wall-to-wall with their coverage, but were short-staffed (like many viewers, reporters and producers were trapped in their homes) and unable to put ENG vehicles on snow-clogged streets. "The old style of newsgathering was not going to happen. We knew that from the start," Woodard says, who gave up getting into work after six hours that day…"
---
Politicians, Please Stop Blaming Meteorologists For Inept Storm Responses. Because crap flows downhill and it's easier to kick the local National Weather Service or TV meteorologists for not forecasting an apocalyptic 7-8 feet of snow. The forecast called for 1-3 feet, as meteorologist Eric Holthaus points out in Slate: "…Cuomo said that "no one had an idea" that Buffalo was in for such a wallop and that the National Weather Service "was off" on its forecasts. Well, Mr. Governor, the National Weather Service wasn't off. In fact, if you look back at official forecasts in the days and hours leading up to the first flakes, it was pretty much spot-on—nailing the 5-inch-an-hour superstorm of snow the city received in the initial stages of a double-whammy snowstorm that produced up to 88 inches. Instead, highways were left open and commuters traveled to work—only to be frozen in place for most of the rest of the day..."
---
Why Do We Force Weather Forecasters To Lie To Us? Lie is such a strong word; we phrase the forecast, especially for summer weekends, knowing how weather forecasts are consumed at home, and it's better to err on the side of caution (and slight pessimism). Here's an excerpt from io9.com: "…Nate Silver examined this in his books, The Signal and the Noise, and found that weather channels to this because, "People don't mind when a forecaster predicts rain and it turns out to be a nice day. But if it rains when it isn't supposed to, they curse the weatherman for ruining their picnic." Yes, we're wrong to act out at forecasters, but is a little bias so bad? There's a reason people will assume that the worst-case scenario will always happen. Not only are they prepared if things go south, they get a little bump of happiness if things work out better than expected…"
---
Why There Should Be A Pen On Your Thanksgiving Table. It's easy to miss the forest through the trees – part of the human condition, I guess. Here's an excerpt from Huffington Post: "…Just this small stunt — the physical action of jotting down a couple of things you're happy to have in your life — has been shown to reinforce happy thoughts. Our brains have a tendency to focus on the negative, so this action helps to stop our thoughts from going down a dark path and bring them back on a happy trail…."
---
Our Bodies Need 8 Glasses of Water Every Day, Even In Winter. This was a good reminder of the need to stay well hydrated, yearround. Here's an excerpt from The Houston Chronicle: "…In summer, when it's hot out, people perspire and become thirsty. In winter, people rarely perspire and rarely feel thirsty. As a result, less urgency is felt in winter to drink the eight glasses of fresh water a day recommended for health and hydration. Don't be fooled, warns fresh water advocate Sharon Kleyne. Winter weather is often more dehydrating than summer weather and maintaining daily hydration is just as important…"
---
TODAY: Periods of light snow; coating to 2″ possible. Slick spots. Winds: N 10. High: 28
WEDNESDAY NIGHT: Flurries taper, turning colder again. Low: 6
THANKSGIVING: Thank your furnace. Sunny and extra-brisk. Feels like -5F. High: 17
BLACK FRIDAY: Coating of snow, then a bit milder. Wake-up: 12. High: 29
SATURDAY: Mostly cloudy, almost tolerable. Wake-up: 25. High: near 40
SUNDAY: Windy and colder. Feels like -10F. Wake-up: 18. High: 20 (falling)
MONDAY: Sunny, comfortably numb. Wake-up: 5. High: 19
TUESDAY: Windy and milder again. Hang on. Wake-up: 16. High: 48
---
Climate Stories…
Americans Would Rather Adapt To Extreme Weather Than Curb Climate Change. Yes, the pragmatist in me tells me that it may come to this – easier adapt than mitigate. But adapting to rising sea level, more frequent and severe drought, diminishing water supplies and frequent extreme floods will require a level of innovation that simply doesn't exist today. Here's a clip from The Christian Science Monitor: "Americans generally may be more ready to adapt to extreme weather and climate events, which are projected to become more frequent with global warming, than to curb greenhouse-gas emissions driving the long-term warming trend. That is the implication of a new study exploring the relative influence that extreme events, a person's spot on the political and ideological spectrum, as well as gender, age, education, and perceptions about the existence and causes of global warming have on their views on the subject…" (File photo: AP).
---
The Impacts of Temperature Anomalies and Political Orientation on Perceived Winter Warming. A link to the paper from Nature Climate Change is here.
---
Both Beautiful and Disturbing: New NASA Visualization Shows Carbon Dioxide Emissions Swirling Around The World. Discover Magazine has the story and animation; here's a snippet: "…Courtesy of the NASA Goddard Space Flight Center, the visualization — produced by an ultra-high-resolution computer model and spanning May 2005 to June 2007 — shows weather patterns sweeping plumes of carbon dioxide into the atmosphere. In the Northern Hemisphere, major sources of human-caused emissions are concentrated in North America and Asia, especially China, as well as Europe…"
---
Obama's Climate Change Envoy: Fossil Fuels Will Have To Stay In The Ground. Good luck with that. And if you want to know why there's so much manufactured doubt and controversy follow the money. Trillions of dollars of carbon still in the ground, and the biggest, richest companies that have ever existed have every intention of harvesting that coal, gas and oil. Their share price (and long term viability) depends on it. Here's a clip from an article at The Guardian: "The world's fossil fuels will "obviously" have to stay in the ground in order to solve global warming, Barack Obama's climate change envoy said on Monday. In the clearest sign to date the administration sees no long-range future for fossil fuel, the state department climate change envoy, Todd Stern, said the world would have no choice but to forgo developing reserves of oil, coal and gas..." (Image above: Clean Technica).
---
What People Think About Climate Change Around The World, In One Map. The Washington Post has the map and story – here's an excerpt: "This map, from Sophie Yeo at Responding to Climate Change, rounds up surveys and polls from around the world since 2009 that look at views on climate change from abroad. For example, some 84 percent of people in Argentina think climate change is caused by humans, according to a poll from marketing research firm Ipsos MORI..."
---
Nebraska Farmers Union President Says Climate Change Must Be Taken Seriously
. Here's a snippet from a story at
The Nebraska Radio Network
: "…
Hansen says there's no doubt those impacts are still being felt. "We've already seen very substantial changes in property and casualty losses, especially in the Midwest," Hansen says. "As you study loss ratios and loss experiences and go through the actuarial tables, we're already seeing an impact." Hansen says agriculture is in a good position to help battle the negative effects of climate change by storing and utilizing carbon credits
…"
Photo credit
above: John Hansen, president, Neb. Farmers Union.
---
Climate Change Is An Obvious Myth.
How Much More Evidence Do You Need. The aliens living on the dark side of the moon told me so. Here's an excerpt from a bit of satire, courtesy of
The Guardian
: "…
Then there's this "extreme weather" nonsense. I've not noticed any changes in the weather outside of the norm. Clueless clime change believers keep telling me it's a global change so that doesn't mean anything, but I LIVE ON THE GLOBE, so I'd notice any changes wouldn't I? Duh! But there haven't been any changes, obviously. There are no more storms now than there was when I was a kid. I barely get struck by lightning more than once a month, maybe every three weeks at most, and it's never done me any harm and I'll kill anyone who says otherwise!
…"
---
This Is The Dystopian World We Are Leaving For Today's Teenagers. Here's a clip from a story at Think Progress: "…In Latin America and the Caribbean, these heat extremes and changing rain patterns could lead to a 70 percent fall in soybean crop yields and up to 50 percent for wheat by 2050 without further adaption efforts. In the Caribbean, tropical storms and sea level rise will impact everything from tourism to security. Across the Middle East and North Africa, scarce water resources will be further stressed, which could increase the outbreak of conflicts in the already fraught region. Similar challenges with water availability and food production are expected in Eastern Europe and Central Asia…"
---
How To Talk About Climate Change at Thanksgiving: Recipes For Good Conversations. Aaron Huertas has some good advice in The Equation, at The Union of Concerned Scientists; here's an excerpt: "…Instead of having an argument, ask them where they read or heard a given point. Tell them you heard something different somewhere else. Don't be defensive or aggressive about it. This isn't about proving you're right. It's about sharing perspectives. Keep asking questions. You'll probably find that someone's skepticism toward climate science stems from a negative attitude about climate policy and politics rather than substantive objections to the science. Similarly, a lot of people who accept the science are depressed about our prospects for dealing with climate change…"
Image credit above: "Some people love it; others dread it, but make no mistake: Thanksgiving is as American as apple pie and it's one of the few chances we have to come together as families." (Norman Rockwell's Freedom from Want, via Wikipedia.)
---
In Metro Houston, An Uphill Fight To Build a Texas-Size Defense Against The Next Big Storm. Here is the latest installment in an impressive series from Reuters on how America is more vulnerable than ever to sea level rise; here's a clip: "…As previous articles in this series showed, the threat of rising seas is not an alarmist prediction. It is already a reality, resulting in increased tidal flooding and worsening storm damage along much of the U.S. coast. And even as the water has risen, subsidies for flood insurance, utilities and disaster bailouts are encouraging development along some the nation's most at-risk shores. For places like the Texas Gulf coast, which on average gets slammed with a major hurricane every 15 years, higher waters mean a storm today will tend to be much more dangerous than one of equivalent strength several decades ago…"