Breaking News: It Often Cools Down in September
It's easy to look out the nearest window (Amish Doppler) and make assumptions. "OMG. A FREEZE for the northern half of Minnesota Friday night! My favorite plants may freeze their buds off!!"
Does this mean an early winter, or an especially rough winter lurks in our near-future? No. Not necessarily.
A lower sun angle, coupled with longer nights will send increasingly chilly airmasses south of the border. This is perfectly natural. We call this "autumn". There's no reason to panic.
Case in point, last year the first 32F at MSP didn't arrive until October 27, leading many to believe we might have an easy winter. 78.3 inches of snow later, most people would agree that last winter was more challenging than most.
A passing shower may dampen your sidewalk today; the next push of chilly air strong enough to keep most of the rain over Iowa tomorrow.
Saturday still looks nice, with intervals of cool sun, but showers may sneak in again late Sunday. A surge of warmer air sets off numerous showers and T-storms next week. No need to water anytime soon.
First frost in the metro? Probably the second week of October.
---
Saturday AM Frost/Freeze Up North. That may be it for the growing season over roughly the northern half of Minnesota by late Friday night. Metro temperature bottom out in the mid to upper 30s with a frost possible far outlying suburbs. Map: Praedictix.
---
---
---
Low Confidence Extended Outlook. Yesterday's GFS model showed a zonal, west-to-east flow across much of America, hinting at seasonable temperatures. Today's run looks considerably chillier, from the Midwest into New England for the second week of October. Place your bets.
---
Dangerous Super Typhoon Trami May Slam Into Japan This Weekend. Here's an excerpt from a post at Capital Weather Gang: "Talk about no rest for the weary. Super Typhoon Trami, the third western Pacific storm this month to reach Category 5-equivalent status, is packing a punch with winds sustained at nearly 150 mph. It may slam into southern Japan this weekend as a weaker, though still formidable, typhoon. Since achieving elusive Category 5 status Monday, Trami has since fluctuated in intensity as a shortwave trough approaches from the northwest. This dip in the jet stream has siphoned drier air into the northwestern limb of the storm, eroding some of its "fuel" and knocking it down a peg to a Category 4-equivalent. Still, Trami remains a force..."
Image credit: "A view of Super Typhoon Trami from the International Space Station." (Alexander Gerst)
---
Hurricane Trami Threatens Japan by Weekend.
Praedictix Briefing: Issued Wednesday, September 26th, 2018:
Trami is a strong typhoon sitting across parts of the western Pacific. As of late

Wednesday

local time, Trami was the equivalent of a Category 3 Hurricane with sustained winds of 120 mph and moving to the north-northeast at 5 mph.
While Trami is slow-moving at the moment, it will pick up forward speed as we head toward the weekend. The forecast path of the system would bring Trami across Japan still as a typhoon through the weekend and into early next week, with most of the nation in the cone of uncertainty over the next five days. Trami would bring the potential of damaging winds, heavy rain leading to flash flooding and landslides, as well as storm surge along the coast of Japan late this week (across southern regions) into early next week.
---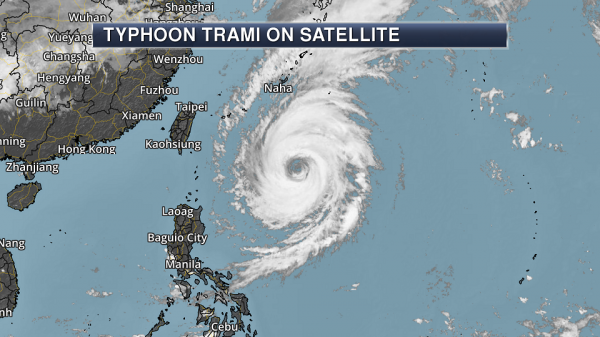 Trami On Satellite. While Trami reached Super Typhoon status yesterday, the system has since weakened out over the western Pacific. As of 6 PM local time Wednesday, Trami was the equivalent of a Category 3 Hurricane with sustained winds of 120 mph. The system was moving to the north-northeast at 5 mph.
---
Trami Track. Trami will continue to move very slowly through Thursday, keeping the strong system over open waters. By the end of the week, Trami will start to pick up forward speed, impacting Japan's Ryukyu Islands from Friday into the weekend. Eventually, this system will turn north and northeast, bringing Trami into mainland Japan – including Tokyo – late in the weekend or early next week still at typhoon strength. Trami would bring the potential of damaging winds, heavy rain leading to flash flooding and landslides, as well as storm surge along the coast of Japan late this week (across southern regions) into early next week.
Image credit: AerisWeather and Praedictix.
---
Potential Strongest Wind Impacts. On the current track of Trami, the strongest wind impacts – typically along the path and on the east side of the system – could be across areas like Tokushima, Wakayama, Kobe, Osaka, and Kyoto. These areas would currently have the highest potential of hurricane-force (74+ mph) winds that could knock out power.
---
Heavy Rain Potential. Heavy rain will be a threat with Trami as well, with areas along the path of the system potentially picking up 3-12″+ of rain. This could lead to flash flooding and mudslides.
D.J. Kayser, Meteorologist, Praedictix
---
Battered But Not Broke: Rural Janesville Man Knocked Down by Tornado Loses House. The Mankato Free Press has the story: "Andrew Storjohann doesn't remember the tornado obliterating the garage in which he was standing. He recalls the basketball hoop and then a few tree branches falling down as a storm moved in Thursday evening while he watched from the garage of his rural Janesville home. His next flash of memory was lying on the ground and looking up at the sky. His memory gets foggy again as he apparently realized he had just been struck by a tornado and called for help. Storjohann's home on 405th Avenue northwest of Janesville was destroyed by what the National Weather Service has confirmed was an EF1 tornado…"
Photo credit: "The tornado tore the roof off of Andrew Storjohann's home and most of his belongings were destroyed or damaged either by the tornado or the rain." Photo by Pat Christman. The Free Press.
---
Carolina Pollution from Hurricane Florence Visible from Space. Here's a clip from an explainer at Charlotte Observer: "A NASA satellite is tracking flooding in the Carolinas following Hurricane Florence, and its images show dark, polluted water flowing from rivers into the Atlantic Ocean. Nearly 8 trillion gallons of rain fell across North Carolina during the storm, according to the National Weather Service in Raleigh's estimate. That rain led to catastrophic flooding across the state, and has polluted rivers, streams, creeks and their outflows along the coast, NASA's satellite images show. One image captured on Sept. 19 shows the New River, White Oak River and Adams Creek south of Cape Lookout and the deeply discolored water that appears dark brown — or even black…"
Image credit: "A NASA satellite is tracking flooding in the Carolinas after Hurricane Florence and its images show that rivers and streams near the coast and spilling dark, discolored water into the ocean." By Joshua Stevens.
Read more here: https://www.charlotteobserver.com/news/local/article218934685.html#storylink=cpy
Read more here: https://www.charlotteobserver.com/news/local/article218934685.html#storylink=cpy
---
Florence's Soggy Mess: Headlines and links courtesy of Climate Nexus: "Hurricane Florence was one of the United States' rainiest storms in the past 70 years, second only to Hurricane Harvey, the AP reported Tuesday. Per the AP, scientists agree that "climate change likely boosted rainfall totals for both storms." Days after the storm, the impacts of all this water are still being felt: in South Carolina, officials urged nearly 8,000 living in Georgetown County to evacuate this week as rivers bordering the area continued to rise." (Rainfall total: AP. SC: Reuters, NBC, AP)
September 12 image above: NOAA and AerisWeather.
---
Power Outages During a Hurricane Can Be Deadly. Solar Can Fix That. Mother Jones has an interesting angle; here's a clip: "…The upside of solar is that it easily lends itself to decentralized power and micro-grids that could maintain the power for more people in the wake of a disaster. Solar is "an easy distributed resource and obviously a clean one," Vermont Law School's Institute for Energy and the Environment Director Kevin Jones says. But the downside is that on its own it doesn't lead to a more resilient a power grid, unless it is combined with advanced battery technology that allows people to disconnect from the grid to become self-reliant. Consider those fire stations: For a microgrid, panels on the roof had to be hooked up to long-lasting storage options. The combination of battery storage and solar could mean that "you have additional resilience when the grid goes down," Jones notes…"
Photo credit: Jim Wyss/TNS via ZUMA.
---
Will It Ever Stop Raining? The short, polite answer is no. A warmer, demonstrably wetter atmosphere coupled with the possibility that warm season systems are moving slower, more prone to stalling, may be amping up rainfall amounts. Here's an excerpt from The Atlantic: "…Dallas-Fort Worth has received four times as much rain as normal this month, breaking a 1932 record. Washington, D.C., has not only seen a top-five September for rainfall, but a record-challenging year. The nation's capital has seen almost twice as much rain in 2018 as famously dreary London. And large swaths of the Appalachians are likely experiencing their wettest-ever September. Of course, cities across southeastern North Carolina also just had their rainiest month ever, as a set of 1877 records buckled under the endless torrents of Florence. Wilmington, North Carolina, was already enduring a wet year—it surpassed its annual average rainfall totals all the way back in early August—before it saw 30 inches of rain in this month's storm…"
Photo credit: "A car washed away by flood waters remains partially submerged in the torrential rains that followed Hurricane Florence." Jonathan Drake / Reuters.
---
Great Lakes Cleanup Comes With an Economic Ripple Effect. The Star Tribune reports: "Turns out, cleaning up a lake can help spruce up a city. Federal money poured into environmental restoration of the Great Lakes will benefit regional economies more than threefold, including the twin port cities of Duluth and Superior, Wis., a study released Tuesday says. Every dollar of the Great Lakes Restoration Initiative, which the federal government funded to the tune of $1.4 billion between 2010 and 2016, will spur an additional $3.35 in economic activity by 2036, research led by the University of Michigan found. Nearly half the projected boost would come from increased tourism, with much of the rest from new waterfront real estate and commercial development as well as rising home values and an improved quality of life, which attracts and keeps young people in Great Lakes communities, the study found…"
Photo credit: AARON LAVINSKY – Star Tribune. "Waterfront recreation and hotel rooms have boomed in Duluth in the last decade."
---
Urban Bees Are Living Healthier Lives Than Rural Bees. I had no idea, but a story at Quartz set me straight: "Bumblebees are making it in the city. Research published in the Royal Society B found that bumblebees living in urban areas experience healthier lives than their counterparts in rural habitats. Their colonies are larger, better fed, and less prone to disease. Urban colonies also survive longer than their country cousins. Researchers raised colonies of wild-caught bumblebees 1 in agricultural and urban environments. Every week, the researchers would count the bee population in each hive three times. This is what they observed…"
Image credit: "Flight of the bumblebee." Reuters/Lisi Niesner.
---
Millennials Are Causing the U.S. Divorce Rate to Plummet. A story at Bloomberg caught my eye: "Americans under the age of 45 have found a novel way to rebel against their elders: They're staying married. New data show younger couples are approaching relationships very differently from baby boomers, who married young, divorced, remarried and so on. Generation X and especially millennials are being pickier about who they marry, tying the knot at older ages when education, careers and finances are on track. The result is a U.S. divorce rate that dropped 18 percent from 2008 to 2016, according to an analysis by University of Maryland sociology professor Philip Cohen…"
---
Hotel Workers Fret Over a New Rival: Alexa at the Front Desk. Robotics, automation and computerization are in the process of disrupting the hotel industry (along with Airbnb.com). Here's a clip from The New York Times: "…You are not going to stop technology," said Unite Here's president, D. Taylor. "The question is whether workers will be partners in its deployment or bystanders that get run over by it." Unlike manufacturing workers, whose jobs have been lost to automation since as far back as the 1950s, workers in the low-wage portion of the service sector had remained until now largely shielded from job-killing technologies. Many earned too little to justify large capital costs to replace them. A typical hotel or motel desk clerk earns just over $12 an hour, according to government data; a concierge just over $13.50. And many of the tasks they perform seemed too challenging to automate. Technology is changing this calculus..."
---
Dunkin' Donuts is Officially Dropping "Donuts". Say it isn't true – another sign of The Apocalypse. CNN Money explains: "Starting in January, Dunkin' Donuts will drop the "Donuts" from ads, packages and signage at new and remodeled stores, as well as its social media accounts. The makeover is part of Dunkin' Brand's efforts to relabel itself as a "beverage-led" company that focuses on coffees, teas, speedy service and to-go food including -— but not limited to — doughnuts. Dunkin' says that beverages, especially coffee, make up 60% of the company's US sales. "Our new branding is one of many things we are doing as part of our blueprint for growth to modernize the Dunkin' experience for our customer," said Dunkin' Brands (DNKN)CEO David Hoffmann in a statement Tuesday…"
---
62 F. high yesterday in the Twin Cities.
67 F. average high on September 26.
65 F. high on September 26, 2017.
September 27, 1942: Minneapolis has a high temperature of only 40 degrees.
September 27, 1898: A heat wave produces highs of 91 degrees at Beardsley and 90 at Moorhead.
---
---
THURSDAY: Breezy, stray shower. Winds: NW 10-15. High: 63
THURSDAY NIGHT: Frost and freeze up north. Clear and chilly. Low: 42
FRIDAY: Jacket weather. Risk of a shower. Winds: NW 10-15. High: 54
SATURDAY: Frosty early up north. Partly sunny and cool. Winds: SE 5-10. Wake-up: 37. High: 54
SUNDAY: Some AM sun, more showers late. Winds: NE 5-10. Wake-up: 43. High: 56
MONDAY: Damp. Steadier rain possible. Winds: E 10-15. Wake-up: 46. High: 55
TUESDAY: Milder with showers, storms late. Winds: SE 8-13. Wake-up: 47. High: 62
WEDNESDAY: Showers and T-storms, some heavy. Winds: SW 10-15. Wake-up: 54. High: near 70
---
Climate Stories…
Observed and Future Warming. Carbon Brief has an interactive website that allows you to pick a GPS location or town, and see not only observed/historical warming, but projections for future warming, based on various greenhouse gas emission levels. Check it out.
---
---
Hurricane Florence: When Climate Change Meets Bad Policy. Rolling Stone describes a perfect storm of foul weather and antiquated policy: "…In another misguided policy, North Carolina actually banned state officials from taking predicted sea-level rise into account in its coastal management strategy. An exhaustive 2010 report warned of sea level rise and the potential dangers from hurricanes, yet local lawmakers rejected the findings, prioritizing real-estate development in what they failed to acknowledge was a vulnerable region. Not surprisingly, this short-sighted planning happened after climate-denying Republicans gained control of the governorship and the state legislature in 2012. North Carolina is facing a potential environmental disaster, on several fronts. Scientists and environmentalists have known the dangers for years..."
---
Florence Floods Damaged Thousands More Homes Because of Sea Level Rise, Study Shows. News & Observer has the story: "Scientists at First Street Foundation (FSF) — a technology nonprofit dedicated to increasing awareness of sea level rise — used data from the National Oceanic and Atmospheric Administration, U.S. Geological Survey, the National Weather Service, local governments, the U.S. Department of Agriculture, U.S. Army Corps of Engineers and more to determine sea levels and the number of homes affected by Florence storm surge. Their work shows that sea level rise since 1970 led to greater damage — 11,000 more homes affected, they say…"
---
Shipping's New Arctic Routes Won't Thaw Cold Economic Reality. A post at The Wall Street Journal caught my eye; here's an excerpt: "When the Venta Maersk sailed out of Vladivostok late last month, the container ship was laden with far more than just a load of seafood. With its route across Russia's frigid Arctic coast, the vessel also carried the promise of a new route across the globe that would shave time off major trade lanes and cut the shipping industry's rapidly rising fuel bills. The reality for vessel operators is more complicated, however, and the economic and operating barriers to predictable, scheduled services may be more difficult to break through than the fast-melting ice along the Arctic Circle. Arctic routes are drawing greater attention as the global climate warms up and polar ice recedes, potentially opening new paths between Asia, Europe and North America. The Northern Sea Route, a mostly frozen seaway, is considered a likely lane because it already is used in warmer seasons to move part of the country's massive energy exports..."
Photo credit: "The Venta Maersk in the Russian Port of Vladivostok as it prepared to set off on its Arctic voyage last month." Photo: yuri maltsev/Reuter
Read more here: https://www.newsobserver.com/news/local/article218944875.html#storylink=cpy
---
Conservative Principals Are Not Incompatible with Climate Concerns. Amen. Here's an excerpt of an Op-Ed at TheHill: "…The same challenges that caused conservatives to raise their noses to clean energy can now be applauded as prime examples of what conservatives like to see in the economy: breakthrough innovations, market-driven competition, and consumer choice. Obvious economic benefits aside, renewable energy is also able to offer a unique approach to energy independence, and maybe more importantly, national security. Indeed, the green energy we see today is in no way the same technologies we saw break into the scene 20 years ago. Self-sufficiency is one of many things to highlight about renewables, which should be of particular interest to the right. In few other sectors do we have the opportunity to pursue American independence the way we do through a diverse and reliable energy portfolio…"
---
Meet the "Climate Refugees" Who Already Had To Leave Their Homes. The Guardian reports; here's an excerpt: "…A lot of younger people have moved away as you can't put every house on 15ft stilts. You couldn't get the school bus down the flooded road. [The tribe] made the decision to relocate and managed to get a grant from the federal government in 2016 to start that process. We looked through sites and we now have somewhere about 30 miles away – construction will begin be sometime at the end of next year for 150 lots. It's very slow. It's been frustrating and also scary because of the risk of hurricanes. The plan is to rebuild the community, make it what it was. There are still some people who are not ready to move, especially older people, and you have to be respectful of people's wishes. My grandma is 92 and she's never lived anywhere else but the island – for her to move to a new community is a big ask. We are called climate refugees, but I hate that term. "Refugee" suggests something with no clear plan or action but we have a clear plan and are doing this as a unified tribe…"
Photo credit: "Scenes from the disappearing bayou in Isle de Jean Charles, where the tribe has been awarded $52m to resettle on higher ground." Photograph: Charlie Varley for the Guardian.
---
As Oil Companies Pledge Action on Methane, Melting Arctic is Spewing Emissions: Climate Nexus has the headlines and links: "In the wake of the Trump administration's dual moves to roll back restrictions on methane emissions in fossil fuel production this month, a coalition of oil companies, including ExxonMobil and Chevron, are pledging efforts to reduce methane emissions from natural gas extraction. The pledges would amount to a more than 20 percent reduction in emissions by 2025. The move may be too little, too late for polluters: the Washington Post published a report Monday on methane lakes in Alaska, where concentrations of the gas, caused by swiftly-melting permafrost, are bubbling to the surface of the water. Research shows that methane releases from these lakes could help double the amount of methane in the atmosphere by the end of the century, and scientists worry some of these lakes demonstrate deep geologic thawing of previously-uncovered fossil fuels." (Coalition cuts: WSJ $, Reuters, Houston Chronicle $, Axios. Lakes: Washington Post $. Commentary: Houston Chronicle, Chris Tomlinson column $)
Image credit: Environmental Defense Fund.
---
I Tested Out the Ridiculous Fashion Climate Change Will Force On Us. Staying cool (and waterproof) may become more of a challenge, according to a post at Vice: "…Fortunately, for all our faults, mankind's adaptivity remains one of our greatest attributes. If there's no way to unfuck this climate situation, we'll undoubtedly find ways to carry on in spite of it. While the greatest minds on the planet toil away fighting climate change and mitigating its worst effects, ordinary people will have more mundane concerns. That brings me to my latest project: How do you stay cool when the world around you is getting incredibly hot? On a particularly toasty weekend in LA, I tested out a variety of heat-beating techniques and products. Whether traditional, novel, simple, high-tech, free, or prohibitively expensive, I pseudo-scientifically analyzed how they'd fare at keeping things chill once we're all living in a Mad Max dystopia…"
Photo credit: Erik Abriss.