Juggling Weather Models – Latest on "Florence"
As meteorologists, we know the models are going to be wrong. The trick, the "art" is to identify the weather model that is LESS WRONG under specific conditions.
My team looks at as many models as possible before reaching a consensus. It's great when the models agree (our confidence levels go up) but that rarely happens in real life.
When it rains – it pours, and that certainly applies to the current pattern. Tropical Storm Olivia will hit Hawaii today, Tropical Storm Isaac is pushing into the Caribbean, but the big story (I suspect for the next few weeks) is "Florence".
We tend to favor ECMWF (European) guidance, especially with tropical systems. Yesterday's run suggests a slight southward shift in the track, which may threaten Myrtle Beach and Charleston, with flooding rains for Atlanta and Nashville days after landfall.
Updates on the blog.
It's 'Beauty and the Beast' in the weather department – our streak of sunny 80s spills into the weekend, when a few stray T-showers may pop up on radar, but most of us won't get wet until a real cool front shows up next Tuesday.
---
---
---
Still Lukewarm. We'll have a temperature correction next week (60s and low 70s) but the 2-week GFS forecast still looks fairly mild for most of the USA, downright hot over the southwestern states.
---
Potential for "Catastrophic Flooding" With Hurricane Florence. Here's a clip from an update at Capital Weather Gang: "…The National Hurricane Center is warning of an "extremely dangerous" triple threat in the Carolinas and Virginia:
A "life-threatening storm surge" at the coast — a rise in ocean water over normally dry land.
"Life-threatening freshwater flooding from a prolonged and exceptionally heavy rainfall event" from the coast to interior sections.
"Damaging hurricane-force winds" at the coast and some distance inland.
Like Hurricane Harvey, which stalled over Texas in 2017, Florence could linger over the Southeast for several days after landfall, unloading 15 to 20 inches of rain and isolated amounts to 30 inches. The Hurricane Center said this "could produce catastrophic flash flooding…"
---
1.5 Million Flee "Worst-Case Scenario" Hurricane Florence. The Daily Beast has more information on the mandatory evacuations underway in the Carolinas: "…Florence, which may have strengthened to near Category 5 strength, is expected to make a direct hit in the northernmost part of South Carolina or North Carolina. Rather than continuing to churn north along the coast, the hurricane is expected to strike the coast head-on and move inland, allowing it to dump vast quantities of water—perhaps more than 30 inches in places—as it slows down. That direct-hit trajectory is also likely to increase storm surge on the coast. Landfall is expected Thursday evening, at which point a surge is predicted that could exceed North Carolina's record of 18 feet, which has stood since Hurricane Hazel in 1954. "This will be a worst-case scenario storm," a spokesman for the Program for the Study of Developed Shorelines said…"
---
Praedictix Briefing: Issued Tuesday afternoon, September 11th, 2018:
Key Messages:
Hurricane Florence remains a MAJOR Category 4 hurricane that will bring life-threatening and catastrophic impact to the Mid-Atlantic U.S. The latest track still shows a landfall risk along the Carolina coasts. Florence is expected to make landfall as a MAJOR hurricane

Friday

.
Latest model runs are adding some uncertainty to Florence's path, which is why it's important to recognize that anyone in the forecast cone needs to be prepared for the worst. Last minute track changes in a hurricane are not uncommon and a lot can change in the next 24-48 hours, which is why it's important to keep monitoring the updates and stay alert.
Update on watches and warnings: Hurricane Warnings have now been issued for South Carolina and North Carolina. Tropical Storm Watches have now been issued in Virginia with Storm Surge Warnings in effect from South Carolina to North Carolina along the coast.
Mandatory evacuations for entire South and North Carolina coasts and "Zone A" in Virginia. More than 1 million people ordered to evacuate ahead of Hurricane Florence. State of Emergency declared for the Carolinas, Virginia, Maryland, and DC.
A tropical wave entering the Gulf of Mexico from the Yucatan is showing signs of organization and has a 70% chance of cyclone formation in the next 5 days. A tropical depression is likely to form by

Thursday

night. Locations in Texas and Louisiana will need to monitor the development of this system.
Tropical Storm Isaac continues its western track and will struggle to intensify. Regardless, a Hurricane Watch is in effect for Guadeloupe, Martinique, and Dominica. A Tropical Storm Watch is in effect for Antigua, Montserrat, and St. Kitts and Nevis.
Tropical Storm Olivia is speeding up and closing in on the Hawaiian islands with increasing winds and showers beginning to impact the area.
---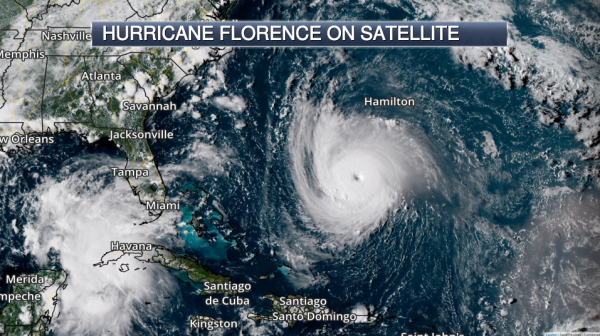 Hurricane Florence Tuesday Afternoon Update. Hurricane Florence underwent a full eyewall replacement cycle but still remains a very steady, powerful hurricane. In fact, the latest update shows slight strengthening. The 5 PM update keeps Florence as a strong Category 4 with maximum sustained winds of 140 mph and WNW movement at 17 mph. The NHC has not made any significant changes to the forecast track for now. During the next 24 hours, Florence will remain in a very favorable environment which gives rise to concerns with further strengthening. It is imperative to understand the MASSIVE size of Hurricane Florence. This is a hurricane that is several states wide. Its impact will be far and wide with hurricane-force winds extending 60 miles out from the center and tropical storm conditions extending 150 miles. This is NOT a small hurricane.
Image credit: AerisWeather.
---
Florence Track. There is little change in the NHC's latest forecast track for Hurricane Florence. West-northwest/north-west movement is expected to continue through early Thursday with a significant decrease in speed Thursday night into Friday. Weather conditions will deteriorate rapidly Thursday for Mid-Atlantic coast–especially in the Carolinas. Further strengthening is expected through tomorrow with some weakening occurring Thursday. Regardless, Florence is projected to make landfall as a major hurricane with catastrophic and life-threatening impacts to the Mid-Atlantic coasts. Map: NOAA NHC.
---
Day 3 to 5 Uncertainties. Weak steering currents through the weekend are making this forecast challenging as Florence approaches land. The afternoon run of the European model, notorious for its Sandy forecast, is showcasing an interesting turn of events with the hurricane's track. The model above shows stalling off the coast of the Carolinas with a southern track before working into South Carolina/Georgia. It must be mentioned that this is NOT an official forecast track, but rather one of many models analyzing the hurricane. However, it is worth mentioning as it showcases the possibility of changes in the track and the uncertainties that still exist. This is why no one in the general path of the storm can rest easy. This particular model run would be a worst-case scenario for flooding and storm surge in the Carolinas. Map: weathermodels.com.
---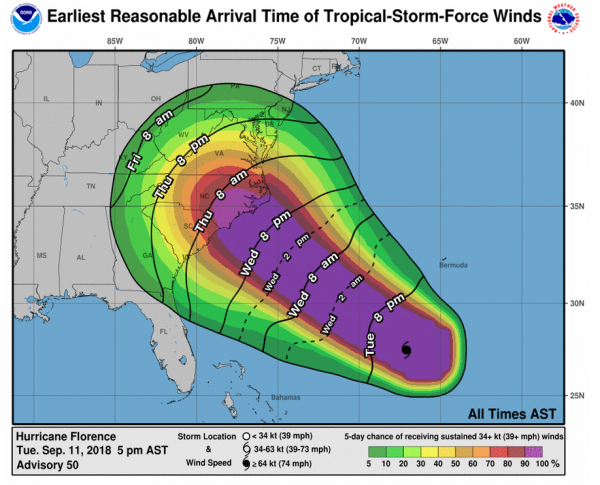 Florence Timing. Florence is a very large hurricane with hurricane and tropical storm conditions extending well beyond the eye. Weather conditions will rapidly deteriorate in the Mid-Atlantic late Wednesday/Thursday with the outer bands beginning to affect the region. Tropical storm conditions will begin as early as Wednesday night for the Carolina coasts. 
---
Tropical Watches and Warnings. Hurricane-force winds are likely along the South Carolina and North Carolina coasts. Damaging winds will also spread well inland into portions of the Carolinas and Virginia. The National Hurricane Center has issued tropical watches and warnings for the Mid-Atlantic coasts:
A Hurricane Warning is in effect for…
South Santee River South Carolina to Duck North Carolina
Albemarle and Pamlico Sounds
A Hurricane Watch is in effect for…
Edisto Beach South Carolina to South Santee River, South Carolina
North of Duck North Carolina to the North Carolina/Virginia border
A Tropical Storm Watch is in effect for…
North of the North Carolina/Virginia border to Cape Charles Light Virginia
Chesapeake Bay south of New Point Comfort
A Hurricane Warning means that hurricane conditions are expected somewhere within the warning area. A warning is typically issued 36 hours before the anticipated first occurrence of tropical-storm-force winds, conditions that make outside preparations difficult or dangerous. Preparations to protect life and property should be rushed to completion. A Hurricane Watch means that hurricane conditions are possible within the watch area. A watch is typically issued 48 hours before the anticipated first occurrence of tropical-storm-force winds, conditions that make outside preparations difficult or dangerous. A Tropical Storm Watch means that tropical storm conditions are possible within the watch area, generally within 48 hours.
---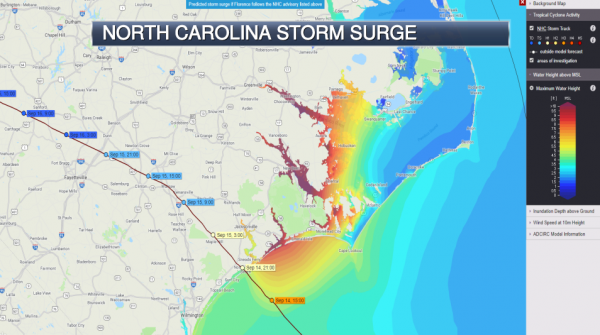 Florence Storm Surge. The combination of a dangerous storm surge and the timing of the tide will result in rapidly rising waters along the coast. As Florence approaches, walls of water will back build into the sounds of the Mid-Atlantic resulting in dangerous flooding. With the anticipated slowing of Florence as it makes landfall, the storm surge is considered to be one of the most dangerous aspects of this hurricane with life-threatening conditions expected.  The worse flooding will occur along the immediate coast where onshore winds are occurring. Large, destructive waves are expected.
Cape Fear to Cape Lookout, including the Neuse and Pamlico Rivers…9-13 ft
North Myrtle Beach to Cape Fear…6-9 ft
Cape Lookout to Ocracoke Inlet…6-9 ft
South Santee River to North Myrtle Beach…4-6 ft
Ocracoke Inlet to North Carolina/Virginia Border…4-6 ft
Edisto Beach to South Santee River…2-4 ft
---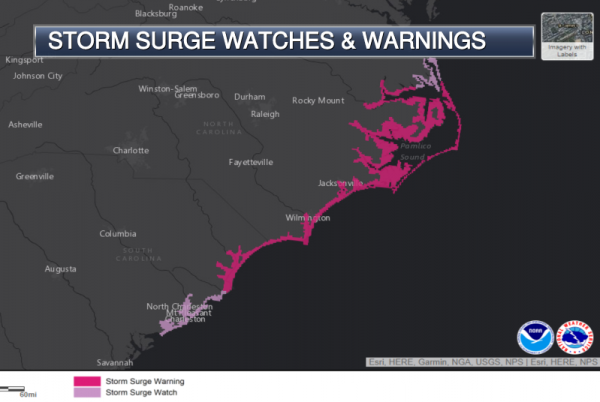 A Storm Surge Warning is in effect for…
South Santee River South Carolina to Duck North Carolina
Albemarle and Pamlico Sounds, including the Neuse and Pamlico Rivers
A Storm Surge Watch is in effect for…
Edisto Beach South Carolina to South Santee River South Carolina
North of Duck North Carolina to the North Carolina/Virginia border
---
Florence Flood Threat. Hurricane Florence will bring torrential downpours to the Mid-Atlantic region. Note that the slow progression of the storm, once it approaches land, could easily result in catastrophic flash flooding and significant river flooding throughout the Mid-Atlantic. This impact will linger into early next week. A general total of 15 to 25 inches of rain will be possible with isolated higher amounts up to 35 inches expected. This would mean a half a year's worth of rain (or more) in just a matter of days for the area.
---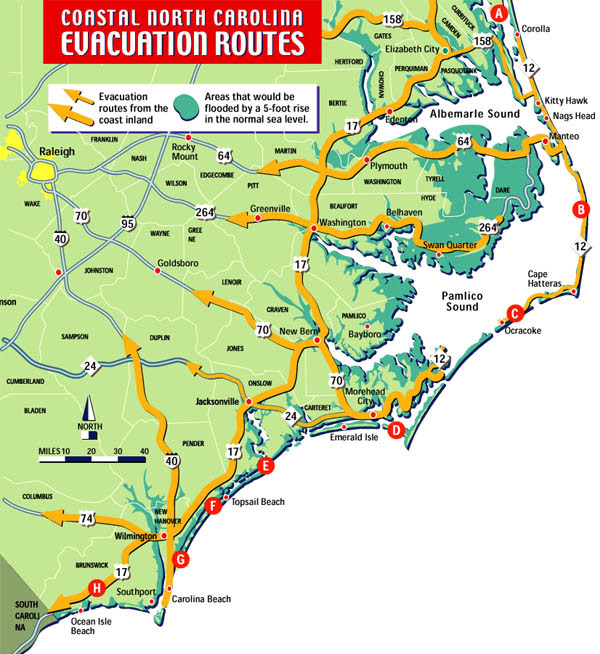 Credit: Red Cross
Florence Preparations. Mandatory evacuations have been ordered for the entire coasts of North and South Carolina today. According to FEMA, more than a million people are under mandatory evacuations with many others urged to evacuate voluntarily. The U.S. Coast Guard will be shutting down ports in Wilmington and Morehead City in North Carolina on Wednesday. Governor Ralph Northam has ordered mandatory evacuations for the lowest-lying areas of coastal Virginia the eastern shore as of 8 AM today. A State of Emergency has been issued for South Carolina, North Carolina, Virginia, Washington DC, and Maryland. Officials urge everyone in the affected areas to prepare for Florence and specifically mentioned preparing for power outages that could last days and possibly weeks.
---
Hurricane Isaac. Isaac is having a difficult time staying organized in a high-shear environment but remains a tropical storm as of the 5 PM NHC update. A westward track is expected, though strengthening is not likely at this time. Confidence is fairly high on the general track of this storm and little changes are expected with future updates. Isaac will be at or near hurricane intensity as it approaches the Lesser Antilles on Thursday.
A HURRICANE WATCH IS IN EFFECT FOR…
GUADELOUPE
MARTINIQUE
DOMINICA
A TROPICAL STORM WATCH IS IN EFFECT FOR…
ANTIGUA
MONTSERRAT
ST. KITTS AND NEVIS
---
Cyclone Formation Likely in the Gulf of Mexico. As if we didn't have enough to talk about, the NHC has increased the likelihood of a tropical cyclone forming in the Gulf of Mexico this week. A tropical wave near the Yucatan has a 70% of cyclone formation and will likely become a tropical depression by Thursday night as it tracks into the Gulf. Locations from Northeastern Mexico to Texas and Louisiana should monitor the system closely this week.
---
Tropical Storm Olivia. Olivia will work into the Hawaiian islands tonight as it continues to track west. It is expected to turn west-southwest with a direct track through Hawaii into Tomorrow. Maximum sustained winds are near 60 mph with some weakening forecast in the next 48 hours. Regardless, Olivia is expected to maintain its strength as a tropical storm as it impacts Hawaii. Tropical-storm-force winds extend outward up to 90 miles from the center. High terrain on the islands could see very high gusts. Tropical storm conditions are expected tonight for many of the islands. Rainfall between 5 and 10 inches is expected with localized higher amounts of 15 inches possible. Life-threatening flash flooding is possible. Large swells and dangerous surf will be a danger in the next few days, especially along exposed east-facing shores.
Susie Martin, Meteorologist, Praedictix
---
---
---
Hurricane Harvey Spurred the Spread of Dangerous Diseases. Learn the lessons of previous tragedies, right? A story at NexusMedia caught my eye: "… Hurricane Harvey dumped 50 inches of drenching rain, wrecking buildings and infrastructure. But it also brought hidden dangers lurking in the urban floodwaters. These came from deadly bacteria present in untreated sewage that leaked from wastewater treatment plants and toxic chemicals that spilled from more than 40 petrochemical plants and refineries in the Houston area. This week, experts and advocates advocates spoke about the myriad dangers of flooding as part of the Freedom to Breathe Tour, a cross-country campaign calling attention to issues of climate, environment and social justice in cities across the United States. "It's not just the flooding," said Robert Bullard, a professor of urban planning and environmental policy at Texas Southern University in Houston, who talked with advocates about the risks of extreme weather. "It's also the industrial pollution and the impact of having so many industries located adjacent to residential areas, and the potential for having accidents…"
Photo credit: "Houston after Hurricane Harvey, August 31, 2017." Source: Technical Sergeant Larry E. Reid Jr., U.S. Air Force
---
Is the "Heat Day" the New Snow Day? Schools closing early because of extreme heat and humidity? Here's an excerpt from The New York Times: "…But "heat days" might soon become just as regular an occurrence. With extreme temperatures blanketing towns in New Jersey, Connecticut and New York this week, schools in dozens of districts across the region where air conditioning is not always the norm closed early or canceled after-school activities. On Thursday, as temperatures climbed above 90, more than two dozen New Jersey districts dismissed students early. Dozens of schools in Connecticut, including those in West Haven, Milford, Naugatuck, Waterbury, Bristol and Farmington, did the same. And in New York, at least two districts closed schools early, with a number of others canceling after-school sports…"
---
The Cost of American Retreat. The Wall Street Journal has a must-read story; here's the intro: "The liberal world order established by the United States a little over seven decades ago is collapsing. This should not be surprising. It was always a historical anomaly. The long period of prosperity, widespread democracy and peace among the great powers was a dramatic departure from the historical norm. It certainly was not where the world had been heading before 1945. Less than 80 years ago, liberalism outside North America was on its death bed. Dictatorships were thriving, the great powers were fighting their second global conflagration, and acts of unspeakable inhumanity were being committed in the very heart of Western Judeo-Christian civilization and in the ancient civilizations of the East. The very idea of progress seemed absurd..."
---
What Cyber-War Will Look Like. The Scholar's Stage takes a look at a hypothetical scenario: "…Finally, a swatting campaign, especially if conducted in tandem with other attacks of a similar nature, could have a demoralizing effect on both the citizenship and the leadership of the enemy. The effect on the leadership is especially interesting to contemplate. Obviously decision making will be hampered if important decision-makers have to spend time in a crisis convincing policemen that there is actually no hostage crisis in their house, finding a way to pay for lunch now that their credit cards don't work, or investigating the rape threats being sent to their teenage daughters' Instagram. Less clear is how psychologically damaging this might be. The political and military leaders of many countries are not used to having their families targeted in times of war. It may very well break their nerve–especially on the short term. In the long term, however, it will likely just embitter enemy leadership and give them a very personal reason to stay committed to the fight..."
---
Americans Expect to Get Their News From Social Media, But They Don't Expect It to be Accurate. A sobering thought, backed up by recent polling, highlighted at Nieman Journalism Lab: "Lots of news on social media? Yep. Lots of accurate news on social media? Nope: That's the mindset of the typical U.S. news consumer in 2018, according to a new Pew Research Center report on news use on social media platforms. Around two-thirds of U.S. adults say they get news from social media. (That figure is just about flat compared with 2017.) But 57 percent say they expect the news on social media to be "largely inaccurate." (Pew interviewed 4,581 U.S. adults.)…"
---
If You Want to Spot a Narcissist, Look at the Eyebrows. Say what? Try to follow along this post at Big Think: "…Fortunately, new research has provided an excellent clue for identifying the narcissists lurking among us: the eyebrows. A study by Miranda Giacomin and Nicholas O. Rule has shown that bushier eyebrows are associated with higher levels of narcissism. There are a few different flavors of narcissism, but this study examined the classic type: grandiose narcissists. They're the kind that craves attention, are extroverted, have a high opinion of themselves, and fail to recognize their inner emptiness. According to Giacomin and Rule's results, this type of narcissist has far more distinctive eyebrows than non-narcissists..."
---
---
83 F. maximum temperature yesterday in the Twin Cities.
74 F. average high on September 11.
82 F. high on September 11, 2017.
---
WEDNESDAY: Warm sunshine. Winds: S 10-20. High: 82
WEDNESDAY NIGHT: Partly cloudy. Low: 65
THURSDAY: Ditto. Sticky sunshine for everyone! Winds: S 10-20. High: 84
FRIDAY: Still muggy, isolated T-shower? Winds: SW 5-10. Wake-up: 68. High: 82
SATURDAY: Humid sunshine south, T-storms north. Winds: S 7-12. Wake-up: 70. High: 85
SUNDAY: Peeks of sun, stray T-shower. Winds: S 10-15. Wake-up: 69. High: 83
MONDAY: Hazy sun, last balmy day in sight. Winds: S 10-20. Wake-up: 68. High: 83
TUESDAY: Early storms, then clearing & cooler. Winds: NW 10-15. Wake-up: 58. High: 69
---
Climate Stories…
A Link Between Florence and Climate Change? Oceans are warming, this warming overlaid over natural, cyclical warming phases in the Atlantic and Pacific. A warmer ocean can, in theory, fuel stronger hurricanes, but the link is still tenuous – there's a much stronger correlation between warmer/wetter air and heavier rainfall events. Here's an excerpt from NBC News: "…But there's no evidence that climate change is making hurricanes more frequent? There is not. Unfortunately, the existing modern records of hurricanes are only of good quality for about 60 years. Because hurricane activity varies so much from year to year, then it's not long enough to say for sure if there is a clear trend upward due to global warming. There has been an enormous amount of research on whether TC numbers or strength will increase in the future because of global warming. But the results of those studies are mixed and sometimes contradictory, so we can't make a conclusive statement yet..."
---
Cape Town is an Omen
. More cities are poised to run out of drinking water in a warming world, according to an article at
The Atlantic
: "…
As a result, Cape Town is already facing the kinds of resource crunches that will define a hotter Earth. It joins other metropolises of South and East facing similar fates. Environmental think tanks and journalistic outlets have published lists of cities that look likely to run out of water in the near future: São Paulo, Brazil, which faced its own Day Zero situation just a few years ago; Bangalore, India; Beijing, China; Cairo, Egypt; Mexico City; and—surprisingly, given its climate—Moscow, Russia. While each city has a very different set of reasons for its water woes, ranging from pollution to poor infrastructure to poor planning to desertification and drought, they all share a common challenge: Climate change will likely make the task of providing water harder, the populations thirstier, and the people angrier, even as many of the cities grow
…"
---
The Most Ambitious Climate Plan in History.
Fee and dividend.
Fortune
takes a look at how it might work: "…
Even if all nations meet their Paris commitments, the best studies indicate that far greater emissions reductions will be necessary for the world to maintain global temperatures below the agreed-upon 2 degrees Celsius threshold. The goal of U.S. climate policy should therefore be to exceed Paris. We believe the most politically viable way to accomplish this is a plan co-authored by former Republican Secretaries of State James Baker and George Shultz. The Baker-Shultz plan is based on a gradually rising fee applied to all carbon emissions, with all the revenue rebated directly to the American people. A family of four would receive approximately $2,000 per year in "carbon dividends.
.."
---
The Most Honest Book About Climate Change Yet.
Honest, and sobering.
The Atlantic
explains: "…
Nearly every book

about climate change that has been written for a general audience contains within it a message of hope, and often a prod toward action. Vollmann declares from the outset that he will not offer any solutions, because he does not believe any are possible: "Nothing can be done to save [the world as we know it]; therefore, nothing need be done." This makes Carbon Ideologies, for all its merits and flaws, one of the most honest books yet written on climate change. Vollmann's undertaking is in the vanguard of the coming second wave of climate literature, books written not to diagnose or solve the problem, but to grapple with its moral consequences. It is also a deeply idiosyncratic project: Vollmann's idiolect is obsessive, punctilious, twitchy, hyperobservational, and proudly amateurish. The data he presents are at times revelatory
…"
Photo credit
:
Michał Klimczak.
---
Is There Reason for Optimism on Climate Change?
Yale Insights
has food for thought: "…
Many governors, mayors, and business leaders across the country believe that the climate change problem is real and demands attention. So they are launching initiatives to reduce the emissions that they might be seen as responsible for and to advance adaptation agendas. They are thinking about how to engage their workers, in the case of companies, and citizens, in case of cities and states. One of the important things about that 2015 Paris Agreement was the overt recognition that the prior strategy of global climate change action centered on national governments being in charge, and being the ones doing the work, wasn't working. The 2015 agreement shifted from a top-down approach to a much more bottom-up implementation strategy. I think this is one of the reasons to remain optimistic
…"