51 F. Twin Cities high yesterday.
48 F. average high on March 29.
64 F. maximum temperature on March 29, 2016.
March 30, 1938: Springtime flooding hits Warroad and Grand Marais
Minnesota: Land of Low Weather Expectations
"Springtime is the land awakening. The March winds are the morning yawn" said Lewis Grizzard in "Kathy Sue Loudermilk, I Love You".
Hawaiians brag about palm trees and a sweet, lukewarm breeze. Californians can be major league weather snobs. Floridians LOVE to talk about the weather – until hurricane season rolls around.
Minnesota? We are often ankle-deep in mud, with dust blowing in our face. We're happy when the weather isn't trying to murder us.
Think about it, Minnesota temperature extremes range from -60F to 115F. 98.6 inches of snow in the metro 1983-84. 110 Minnesota tornadoes in 2010. Welcome to the Super Bowl of Weather.
Our weather remains relatively benign into next week as tornado-producing storms pinwheel well south of the state. Showers taper early today; glimmers of sun Friday and Saturday before a few lonely showers sprout Sunday. ECMWF guidance hints at showers the middle of next week – maybe 60 degrees the second week of April.
Precipitation since January 1 is running an inch below average at MSP. Remind me not to whine about a soaking rain anytime soon.
---
Super Bowl of Weather. The graphic above shows Minnesota's most eye-opening weather extremes, courtesy of the Minnesota DNR. The only thing that's changed is record annual precipitation, which was broken in 2016: 56.24″ in Waseca. Details here.
---
---
---
Storm Chaser Deaths are Rare, But Just How Safe is Tornado Hunting? I've been "chasing" in Oklahoma numerous times, with a very healthy respect for mesocyclones and tornadoes, but scared out of my mind about traffic jams on country roads and people driving like possessed alcoholics when a funnel or tornado is sighted. There is such a mad, reckless rush to get to the scene and get the money-shot. USA TODAY has more details on the recent, horrific death of 3 storm chasers in Texas: "…During severe weather outbreaks, the Plains or South can become clogged with scores of vehicles crammed with scientists, weather enthusiasts, tourists and thrill seekers, all armed with mountains of electronics to hunt tornadoes. The greatest danger lies in those reckless few who take lots of risks and have little to no scientific training. "Extreme (or "outlaw") storm chasing has become relatively widespread, likely in part because of what people routinely see in entertainment media," storm chaser and retired National Weather Service meteorologist Charles Doswell noted on his blog last year. "It's not reflective of the majority of chasers, but extreme chasers apparently like to think of themselves as 'above' most other chasers," he said. "The whole notion of being an 'extreme' chaser is considered in those circles as a badge of honor, worn with pride by those willing to do virtually anything to catch a sensational event, right up to the edges of death..."
Photo credit: "Texas Department of Public Safety troopers investigate a two-vehicle crash that left several storm chasers dead Tuesday , March 28, 2017, near Spur, Texas. Tornadoes had been reported nearby at the time of the crash and heavy rain had been reported in the area, according to the National Weather Service." (Photo: Ellysa Gonzalez, AP)
---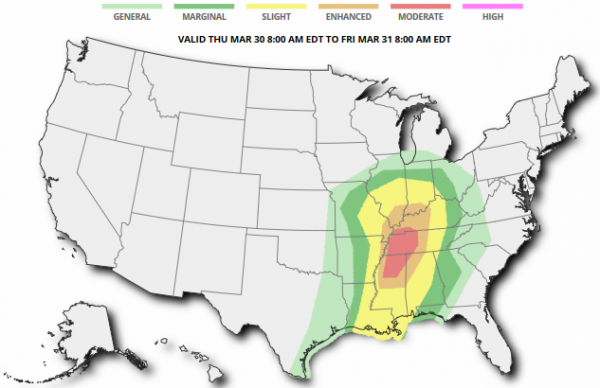 Moderate Risk Today. Severe weather will continue east into the day Thursday, with already a Moderate Risk of severe weather in place from southwest Kentucky to northern Mississippi. This includes the cities of Clarksville (TN) and Tupelo (MS). The environment will continue to be ripe for severe weather as we head into the afternoon and evening hours, with the potential of strong tornadoes, very large hail, and damaging winds.
---
Thursday Storm Timing. Already by the mid-afternoon hours on Thursday our guidance is showing that storms will be redeveloping from southwestern Kentucky through central Mississippi. These storms will continue to move east into the evening hours, impacting areas like Nashville and Louisville around 9 PM. These storms will be capable of large hail, damaging winds and a few tornadoes. In the Moderate Risk area, we will be watching the potential of a few strong tornadoes as well as very large hail (2"+ in diameter). Source: meteorologist D.J. Kayser, Praedictix.
---
---
30 Second vs. 1 Minute Visible Imagery for Severe Convection. A new image every 30 seconds with GOES-16? Amazing. Here's an excerpt at Satellite Liason Blog: "An SPC Day 1 Moderate Risk for severe thunderstorms was issued for March 28, 2017 as yet another potent shortwave trough moved through the southern Plains. SPC requested GOES-East Rapid scan mode, and both GOES-16 mesoscale sectors were moved over the moderate risk area, meaning 30-sec imagery was available. (Above) is a side-by-side comparison of GOES-16 0.5 km visible 30-sec imagery and 1-min imagery. The scene is of rapidly developing convection among mature storms. Overshooting tops and above-anvil cirrus plumes are apparent, indicators of strong-to-severe convection.  When compared side-by-side, the 30-sec imagery does indeed have a slightly smoother appearance..."
---
---
---
GOES-16 Experimental Imagery. These visible images are from yesterday at 1:30 PM EDT, courtesy of College of DuPage. Required disclaimer: "This is our experimental GOES-16 data viewer. This page, it's features and contents are currently in a phase of rapid and active development. Nothing you see here is final, and is certainly open to suggestion from our users as we move forward. The data from GOES-16 is in a provisional state and we are doing our best to keep pace with it as it comes in. Because of this, there may be periods of time where this page experiences errors or downtime that may last an unknown amount of time. Our intent is to provide the data in a usable fashion as quickly as possible and keep it running as smoothly as we can. We thank you for your support and patience during this process. Enjoy this wonderful new data!"
---

Rocky Mountain Snow – Tornado Risk Mid South. A tale of two seasons on today's weather map with storm #1 pushing a squall line of severe T-storms towards Memphis and Nashville, a few rotating mesocyclones capable of spawning large, violent, long-track tornadoes. Meanwhile storm #2 pushes snow across the Rockies. At the rate we're going some ski resorts will have runs open into July. 12 KM NAM Future Radar: NOAA and Tropicaltidbits.com.
---
---
Shovel-Worthy Snow Storm Brewing for New England. The pattern is not being kind to New England, where spring is still more theory than reality. Models continue to push heavy, wet snow across northern  Michigan and Ontario into New England by Friday with some one foot plus amounts possible Albany and Worcester to Manchester and Burlington. Boston may see a plowable 3″+ accumulation of cement-like slush, but New York City should be spared.
---
The Cusp of Spring. No heat spikes on the horizon in the Twin Cities, but temperatures are forecast to trend a few degrees above average for the next 15+ days; highs mainly in the 50s with a shot at 60F by the second weekend of April. Considering we could still be knee-deep in snow I'm not complaining. Twin Cities ECMWF numbers: WeatherBell.
---
6 Life-Threatening Tornado Myths Debunked. Here's an excerpt from MSN.com: "…Another myth that could prove deadly is that seeking shelter under an overpass is safe. Experts warn that an overpass is not a safe shelter if a tornado is approaching. "Winds will actually funnel under the bridge and accelerate, which can cause the car to be pulled out," Warren said. Debris is another concern as the tornado can slam cars and other objects underneath bridges. If you happen to be caught on the highway and cannot get out of the path of a tornado, Warren said, seeking shelter in a ditch or remaining in your car is safer than being under an overpass…"
---
Another Tornado Record's In Sight as Thunderstorms Boom. The most active tornado season in 5-6 years? Probably. Here's an excerpt from The Washington Post: "…The atmospheric moisture across the southern U.S. in January was more typical of April, Marsh said. A confirmed tornado touched down in central Massachusetts in February, a first, while there was still snow on the ground. The peak of tornado season varies across the country. Activity is concentrated in the Southeast early in the year, drifting into the Great Plains' "Tornado Alley" in May and June before heading into the Northeast by early summer. The U.S. has more tornadoes than any other country, according to a report by Lloyd's of London. The nation averages about 1,200 tornadoes a year, with the storms killing as many as 60 people and injuring 1,500, Lloyd's said. Tornado "outbreaks," or storm systems that spin out multiple funnels in a limited time and area, are becoming more frequent in the U.S., according to study published in the journal Science in December. Still, the trend isn't consistent from what some models predicted would result from global warming, the study found…"
---
---
---

Forecasts For This Past Winter Were Mostly Awful. Blame the Fickle Pacific Ocean. We were supposed to slide into a La Nina cooling phase, but in recent months the pattern has resembled a severe El Nino pattern with wave after wave of Pacific moisture slamming the west coast. Here's an excerpt of an explainer from Jason Samenow at Capital Weather Gang: "Predicting the weather for winter many weeks before it begins is hard. If any season proved there is a long ways to go in perfecting such long-term outlooks, this winter was it. I am not aware of any outlet in the government, media or private sector which nailed the 2016-17 winter outlook. In fact, some forecasts predicted the opposite of what happened. The National Weather Service and The Weather Company probably had the best outlooks of those I reviewed although they were far from perfect. Across all of the various outlooks, the forecast errors were linked to a Pacific Ocean that did not behave as expected. Storms traveling across it were supposed to mostly pass to California's north. Instead, time and time again they hit the Golden State head-on, unloading historic amounts of rain and snow, while flooding much of the rest of the nation with abnormally warm air..."
Photo credit: "Chairlift buried in snow, Feb. 22, 2017 at Squaw Valley Alpine Meadows, Calif." (Squaw Valley Alpine Meadows Resort)
---
A Century-Old Arctic Shipwreck Could Help us Predict Extreme Weather
.
FiveThirtyEight
has a fascinating tale: "…
Today, the Jeannette's recovered logbooks tell incredible stories about life, death, Arctic temperatures, fear and boredom. The records, which originally existed only in federal archives, are now available to anyone who wants to read them on a website called Old Weather. Old Weather is a gathering place for more than 4,500 citizen-sleuths who are helping climate scientists map our planet's ancient weather patterns, for free, one logbook at a time. These volunteers read and transcribe notes from sailors, hoping to map the mostly unknown history of our planet's weather patterns. According to Kevin Wood, an Old Weather co-founder, examining the past in this way is key to understanding the earth's future
…"
---
More Than Any Other Industry, Science Makes America Great. I couldn't agree more. Here's the intro of a must-read story at GOOD: "There is perhaps no community that deserves more credit for "making America great" than our scientists, whose innovations have contributed trillions of dollars to the U.S. economy, launched the world's most advanced military force, and saved millions of lives. In case you need it, here's a refresher on the greatest hits: Benjamin Franklin deepened our understanding of electricity; Thomas Jefferson's weapons technology helped us win the Revolutionary War; then there was Eli Whitney's cotton gin; Robert Fulton's steamboat; Thomas Edison's light bulb, phonograph, and literally a thousand other patents; the Wright Brothers' airplane; Henry Ford's Model T; and—for better or worse—the massive team of scientists on the Manhattan Project team, responsible for the atom bomb and nuclear energy. Oh, yeah, and we landed on the moon. Skip ahead to the internet, which was developed largely by American scientists and engineers in collaboration with the Department of Defense..."
Photo credit: "There's a reason we put a scientist on our $100 bill."
---
More U.S. States Embracing Batteries to Store Renewable Power. Energy storage is the "missing link" in clean, renewable power, making sure there is a sufficient supply of electricity when the sun doesn't shine or the wind doesn't blow, an electronic shock-absorber of sorts. Here's an excerpt from Bloomberg: "…Rapidly falling battery prices along with increasing support from regulators has spurred the growth. There are 140 policies and regulations pending nationwide for utility-scale energy storage systems, according to GTM Research. Oregon, Massachusetts and New York City have followed in the footsteps of California by mandating deployments of batteries, and Utah's legislature last year passed a bill that lets utilities invest in storage projects. "The plummeting costs of actual battery systems is opening up a lot of opportunities to take a hard look at the technology," Daniel Finn-Foley, an analyst at GTM, said in an interview. "We see a lot of interest from utilities looking to deploy pilot projects..."
File photo: Greentech Media.
---

Minnesota Should Not Be Affected by Trump's Rescinding Clean Power Plan. Star Tribune reports: "President Donald Trump's efforts to roll back clean power standards will probably have a minimal effect on Minnesota, since state policy — combined with changing energy economics — has already been leading utilities away from coal. As expected, Trump on Tuesday signed an executive order aimed at rescinding former President Barack Obama's climate-change initiatives, including the Clean Power Plan. But many utilities in Minnesota are already on a clean-power path. "They are going to make the [carbon] reduction that would be required under the Clean Power Plan anyway," said Will Seuffert, executive director of the Minnesota Environmental Quality Board, which coordinates environmental policy across state agencies..."
Photo credit: "Xcel Energy has switched on 160 megawatts of solar power in the past few months, including a massive project in Chisago County." Source: Aaron Lavinsky, Star Tribune.
---
---
3 Reasons Impact Investors Aren't Sweating Trump's Climate Policies. Check out an interview at NextBillion at the University of Michigan: "…No question, we're in unprecedented and unpredictable territory with our new administration," Pfund said in an interview recorded at The Economist's "Impact Investing: Mainstreaming Purpose-Driven Finance" event last month. "However – and I'm not alone in saying this – what happens in Washington is not going to stop this trend toward innovation and sustainability. And that's because the costs are in our favor." The global cost of solar, wind and batteries is on a dramatic downward trajectory, she said, which has transformed them from an expensive, alternative solution to a "mainstream, cost-competitive approach to developing your grid." And as the market has taken the reins from the government, the fate of sustainable energy solutions has moved largely beyond Trump's reach. "This really doesn't have to do with politics. It has to do with what's cheap, what's high-performing, and what fits into the grid of the future..."
---
California is Shattering Solar Records. This Bill Could Take Renewable Energy to the Next Level. The Desert Sun reports: "A month ago, California broke its all-time solar record, with nearly 8,800 megawatts of solar power flooding the state's main electric grid on a Friday afternoon. The record stood until the following Wednesday, when more than 9,000 megawatts of solar powered the Golden State, according to the California Independent System Operator, which runs the grid. That record didn't even last 24 hours. With the costs of solar continuing to fall, and wind still one of the cheapest sources of new electricity around, California should have no problem hitting its 50 percent clean energy target by 2030…"
File photo: Zuma Press.
---

Clean Energy Employs More People Than Fossil Fuels in Nearly Every U.S. State. Here's a clip from ThinkProgress: "Nationally, clean energy jobs outnumber fossil fuel jobs by more than 2.5 to 1, according to a new Sierra Club analysis of Department of Energy jobs data. And when it comes to coal and gas — two sectors President Donald Trump has promised to bolster through his upcoming executive order on energy regulation — clean energy jobs outnumber jobs dealing with those two fossil fuels by 5 to 1. "Right now, clean energy jobs already overwhelm dirty fuels in nearly every state across America, and that growth is only going to continue as clean energy keeps getting more affordable and accessible by the day," Sierra Club executive director Michael Brune said in a statement…"
Photo credit: AP Photo/Ross D. Franklin.
---
Why Utilities Don't Think Trump Will Stop the Clean Energy Transition. Here's an excerpt from Utility Dive: "…That attitude is shared not just by market observers, but by electric utilities themselves. According to Utility Dive's fourth annual State of the Electric Utility Survey, the sector plans to keep moving steadily toward a cleaner, more distributed energy future — no matter what happens with the Clean Power Plan. Early in 2017, Utility Dive surveyed more than 600 electric utility professionals across the United States. The results indicate that utilities expect to source more power from renewables, distributed resources and natural gas in the coming years, while coal continues to decline…"
---

Donald Trump and the Myth of the Coal Revival. Coal is coming back! And in other news check out my new bell bottoms and 8 track tape player. It's like – so cool! Here's an excerpt from The New Yorker: "…Indeed, economists have projected that the cost of implementing the C.P.P. would be recovered in public-health benefits alone, since it would reduce soot-and-smog-forming emissions. This is especially true for communities downwind of coal plants, which have been suffering for decades. According to the E.P.A.'s own estimates, the C.P.P. would help prevent as many as thirty-six hundred premature deaths, seventeen hundred heart attacks, ninety thousand asthma attacks among children, and three hundred thousand missed workdays and school days every year. A study published in January in Environmental Science & Technology suggests that low-income communities will bear the brunt of Trump's changes. But one of the co-authors, Noelle Selin, told me that no one will be completely immune. "All of us will see air-quality decline," she said. "Particularly in the northeast U.S..."
---
Ad Trust Rises as News Trust Sinks. I really hate my spam. A significant percentage of consumers believe advertisements are now more credible and believable than news? I have some spam I'd like them to examine for me. Here's an excerpt from Axios: "A new survey finds that 61% of people trust the advertising they see, an 11% jump from March 2014, according to eMarketer. In addition, 72% of respondents also said the ads are "honest," a 16% increase over the past two years. Other studies have indicated that ad trustworthiness depends on the medium. Some studies show people are less likely to trust digital ads vs. traditional print or television ads. Why it matters: The most recent Gallup poll on trust in media shows that 68% of Americans don't trust the news – the lowest rate ever measured..."
---
A Publisher's Survival Guide for the Platform Era. If you're in the new or legacy media business check out this post at Medium: "Earlier today I gave the opening keynote at the Digiday Publishing Summit in Vail, Colorado. We all know that we're in the midst of an ever-changing media environment where threats to our business models are everywhere. The bad news for the industry is that Google and Facebook are a glaring duopoly, digital ad revenue models are under attack and other revenue streams haven't materialized at scale. Believe it or not, there's hope on the horizon. The digital revolution is really just getting started. Think about this — the transition to digital advertising, with 65% of total spend spend on traditional media, has a long way to go. While Google and Facebook may have won Round 1, the real fight is coming up, as $250 billion in brand advertising locked up in TV and print floods into digital across the coming years. Publishers were built for brand advertising, with great content, beautiful environments and strong trusted brands..."
---
The Squid & the Whale
. Here's an interesting take on the evolving competition between uber-platforms Netflix and Amazon at
500ish Words
: "..
As crazy as it may sound right now, I believe the only company with a real shot at disrupting the change Netflix has wrought on Hollywood is… Amazon. These are the two most interesting companies thinking about content in the right way for the 21st century. Apple, Google, Hulu, and the like are all starting to come around. But these are the key players here, right now. The squid and the whale…A third would be Tesla. But seeing as I don't own a Tesla, I do not interact with the brand on a daily basis. I am interested in a Model 3, as is seemingly everyone. But I'm still not sure it will tempt me to buy my first new car in well over a decade… Anyway, I'm more interested in Tesla the power company, versus Tesla the car company. And I think they're just now inching into that world.
.."
---
---
"My Phone is My TV!" Check out this story at TVNewsCheck.com: "…As one might expect, popularity of viewing on digital devices is even higher among millennials. When asked to evaluate the statement "My phone is my TV," a whopping 40% agreed. That's in contrast to the average of 27% from all smartphone users. Today's consumers are shifting from "best screen available" to "best experience available." It follows, says Magid, that stations need to consider complimentary extension offerings as well as stand-alone digital products. Magid reiterated that only 30% of consumers who plan to discontinue their cable or satellite TV service consider cost as the chief reason for doing so. Other reasons included control, convenience, customization and other features that align with SVOD services…"
---
At BlackRock, Machines Are Rising Over Managers to Pick Stocks. Think automation, robotics and AI is only a threat to blue collar factory jobs? Think again. The New York Times has the story.
---
Why You Should Be Walking 7 Miles a Day – At Least
. Does driving 7 miles a day count? Here's a snippet from
Esquire
: "…
But walking any amount lessened the risk, putting the mail carriers at an advantage. Mail carriers who walked more than three hours a day had no heightened risk for heart disease at all—their BMIs, metabolisms, cholesterol levels, and blood sugar levels were normal. So, according to this (small, limited) study, 15,000 steps keeps people healthy. For those curious, 15,000 steps is equivalent to about seven miles of walking. Easy. People can get 15,000 steps a day "by walking briskly for two hours at about a four-mile-per-hour pace," lead researcher Dr. William Tigbe told The Times. (An average walking pace is three miles per hour.) Another totally realistic suggestion was "a 30-minute walk before work, another at lunch, and multiple 10-minute bouts throughout the day.
.."
---
Frogpocalypse Now
. What is the deal with cane toads in south Florida? Feeling better about Minnesota's mosquitoes after reading a story at
Outside Online
: "…
Cane toads have these things going for them: they are bigger than other toads (the biggest cane toad on record weighed 5 pounds 13 ounces, almost as much as a Kalashnikov rifle); they lay huge numbers of eggs, perhaps 30,000 in a breeding season (the southern toad, a species they appear to be displacing in Florida, lays about 4,000); and they are highly poisonous (their venom, carried in glands in their shoulders, kills animals, and could kill a person, though so far no Floridian is known to have been poisoned by it). On top of all that, they can eat almost anything. All amphibians are carnivorous, but cane toads stretch the description. Besides insects, they vacuum up snakes, worms, grubs, snails, mice, small rats, bats, young birds, other amphibians (sometimes their own young), pet food, and garbage. They differ from most other frog species in that they can identify food that is not moving
…"
Image credit
: Simón Prades.
---
Spiders Could Theoretically Eat Every Human on Earth in One Year. Have a nice day! God how I hate spiders. Here's a vaguely terrifying clip from The Washington Post: "….The world's spiders consume somewhere between 400 million and 800 million tons of prey in any given year. That means that spiders eat at least as much meat as all 7 billion humans on the planet combined, who the authors note consume about 400 million tons of meat and fish each year. Or, for a slightly more disturbing comparison: The total biomass of all adult humans on Earth is estimated to be 287 million tons. Even if you tack on another 70 million-ish tons to account for the weight of kids, it's still not equal to the total amount of food eaten by spiders in a given year, exceeding the total weight of humanity..."
---
The Oldest Living Things on Earth? Atlas Obscura has a fascinating list; here is one entry located here in the USA: "…Named, obviously, after the Biblical figure that lived for 969 years, the Methuselah Tree grows in the Methuselah Grove, which is in Inyo National Forest's "Forest of Ancients," where it is surrounded by other ancient trees. The exact location of the tree, though, is kept secret to protect it against vandalism. When Edmund Schulman annd Tom Harlan took samples from the famous tree in 1957, the discovered it was 4,789 years old. It is estimated that the tree germinated in 2832 BCE, making Methusela one of the oldest know living trees and non-clonal organism in the entire world. A germination date of 2832 BCE makes Methuselah older even than the Egyptian Pyramids..."
---
---
TODAY: Damp AM, clearing PM. Winds: NE 10-15. High: 49
THURSDAY NIGHT: Partly cloudy and chilly. Low: 34
FRIDAY: Mix of clouds and sun. Winds: NE 7-12. High: 53
SATURDAY: Peeks of sun, drier day of weekend. Winds: W 5-10. Wake-up: 37. High: 56
SUNDAY: Early sun, few PM instability showers. Winds: S 7-12. Wake-up: 41. High: 55
MONDAY: Partly sunny and dry for Twins Home Opener. Winds: SE 7-12. Wake-up: 40. High: 56
TUESDAY: Blue sky lingers, promising. Winds: E 8-13. Wake-up: 41. High: 57
WEDNESDAY: More showers arrive, cool and damp. Winds: E 10-15. Wake-up: 40. High: 54
---
Climate Stories…
Half in US Are Now Concerned Global Warming Believers. The headline makes it sound like a religion – which it is most definitely not. I believe in God; I acknowledge the data, the evidence, the trends which all point to a gradual man-made warming of the atmosphere, cryosphere (poles) and oceans. Science is never settled, we continue to test the theories, and multiple strands of evidence all point in the same direction. Here's an excerpt from Gallup: "With a record number of Americans sounding the alarm on global warming, the share of the U.S. population that Gallup categorizes as "Concerned Believers" on climate change has consequently reached a new high of 50%. This is up slightly from 47% in 2016 but is well above the 37% recorded only two years ago. While the half of Americans classified as Concerned Believers take global warming very seriously, the other half are split between what Gallup calls "Cool Skeptics" and the "Mixed Middle." The percentages of Americans falling into these last two groups have declined in recent years as the ranks of Concerned Believers have swelled…"
---

Climate Executive Order Leaves Communities More Vulnerable to Disasters. Here's an excerpt from Vox: "…Trump's move to pull back the federal government's consideration of climate change in planning may prove to be a shot in the foot. "Given the president's focus on building infrastructure and his desire to cut federal spending, many analysts said it would make sense for him to maintain or even expand programs to reduce the cost of disasters," Bloomberg's Christopher Flavelle writes. Why spend money on developments that may get washed away in a future flood? Extreme weather events are expected to become more frequent and unpredictable in the future, and increase in severity. And the cost of climate-related disasters — like hurricanes, floods, and tornadoes — is higher than ever. What's more, as the country grows wealthier, disasters are going become even costlier…" (Image credit: NOAA).
---
Energy Plan Rollback: More Illnesses, Disasters Possible, Experts Say. USA TODAY reports: "…Burning fossil fuels such as coal, oil and gas has caused global temperatures to rise to levels over the past several decades that scientists say cannot be explained by natural cycles. Though the plan was primarily aimed at reducing carbon dioxide and methane emissions — which are invisible and odorless and don't necessarily harm human health directly— it also served to reduce the more traditional air pollution that's associated with burning coal. "Anyone who values wildlife, clean air and clean water will be hurt by this plan to let dirty companies pollute our climate and exploit our beautiful public lands," said Kierán Suckling, executive director of the Center for Biological Diversity. Trump's order attempts to roll back Obama-era policies on power plant emissions limits, coal mining on federal lands and regulations on fracking and methane..."
---
---
Does the New Environmental Executive Order Threaten National Security?
TheHill
has additional perspective: "
In March 2013, four-star Admiral Samuel Locklear III sat down with a Boston Globe reporter in a Cambridge hotel. As head of the Pacific Command, Admiral Locklear commanded the 400,000 troops stationed in the Pacific Command, stretching from California to India to Korea. The admiral had to worry about North Korea's nuclear capabilities, tensions between China and Japan over the South and East China Seas and typhoons in the Pacific. But when reporter Bryan Bender asked him what was the biggest long-term security threat in the Pacific region Admiral Locklear gave a two-word answer: "climate change." He explained, "If it goes bad, you could have hundreds of thousands or millions of people displaced and then security will start to crumble pretty quickly
…"
---
China Poised for Leadership on Climate Change After U.S. Reversal. If we're not careful America will miss out on an (inevitable) clean energy revolution. Turns out there are far fewer professional climate skeptics in China, according to a story at National Geographic: "…While Trump's order casts uncertainty over U.S. efforts to rein in emissions, China, the world's largest emitter of greenhouse gases, has not paused in its drive to ramp up renewable energy and curb its use of coal. It just halted the construction of 103 new coal-fired power plants, and its energy agency at the start of the year announced plans to pour more than $360 billion into renewable energy by the end of the decade. As part of the Paris agreement, China aims to peak its carbon emissions and get a fifth of its energy from non-fossil sources by 2030. Some reports suggest it is already ahead of schedule on the former…"
Photo credit: "Workers install solar panels on a rooftop in Wuhan, China, in a country where renewable energy is booming." Photograph by Giulia Marchi, The New York Times, Redux. 
---

A Faith-Based Program to Care for Earth. Here's an excerpt of a book review from the Pittsburgh Post-Gazette: "…Their book is thick with supporting data on the warmest years on record but the tone and cadence, if not the content, can sound downright Trumpian. Take this passage from Mr. Douglas: "Wet areas are getting wetter, dry areas are trending drier. You've heard the expression 'weather on steroids'? We're turbocharging the storms that would have formed anyway — loading the dice in favor of more extreme weather events." Weather is local. Climate change is global. While there's no silver bullet to stem it, this book makes a case for "silver buckshot — hundreds of new technologies and viable, cost-competitive clean-energy alternatives, which will gradually, methodically wean us off fossil fuels, employ more Americans, and jump-start a sputtering, rudderless economy." That's not the message from the White House or from legions of Trump supporters in coal country, but other conservatives are pushing for a revenue-neutral carbon tax…"
---
Climate Change Skeptic Group Seeks to Influence 200,000 Teachers. Here's an excerpt from PBS Frontline: "Twenty-five thousand science teachers opened their mailboxes this month and found a package from the Heartland Institute, a libertarian think tank that rejects the scientific consensus on climate change. It contained the organization's book "Why Scientists Disagree About Global Warming," as well as a DVD rejecting the human role in climate change and arguing instead that rising temperatures have been caused primarily by natural phenomena. The material will be sent to an additional 25,000 teachers every two weeks until every public-school science teacher in the nation has a copy, Heartland president and CEO Joseph Bast said in an interview last week. If so, the campaign would reach more than 200,000 K-12 science teachers…"
Image credit: "The Heartland Institute says it will send the book "Why Scientists Disagree About Global Warming" to every public school science teacher in the nation." (Brenna Verre, FRONTLINE)
---
Mental Health and our Changing Climate: Impacts, Implications and Guidance. Sign up for a webinar at Climate for Health: "Mental Health and Our Changing Climate: Impacts, Implications, and Guidance chronicles the impacts of climate change on Americans' health and psychological well-being, including increases in stress and anxiety, loss of community identity, heightened aggression and violence, and many others. It builds from our 2014 Beyond Storms and Droughts research, and is intended to further inform and empower health and medical professionals, community and elected leaders, and the public. The report discusses the pathways through which these and other impacts on human well-being will arise, why some communities will be hit harder than others, and how psychological impacts interact with physical health..."
---

"We are in a Race Against Time": Louisiana Governor Urges $50 Billion Coastal Plan. Here's an excerpt from NOLA.com: "…This is a plan for all of Louisiana, not just one agency and not just for the coast," Edwards said. "Implementing this plan will reduce risk and build and sustain land for the benefit of all of our people, our economy and our ecosystem for generations to come. "We are in a race against time to save our coast, and it is time we make bold decisions now. I look forward to discussing these plans with the Legislature." The 2017 rewrite of the plan promises to reduce hurricane storm surge damage by $8.3 billion each year through 2067, and to create 800 more square miles of coastal wetlands and dry lands than if the plan is not implemented…"
---

When Is It Time to Retreat from Climate Change? America already has its first climate refugees, due to rising seas, land subsidence and coastal beach erosion in Alaska and Louisiana. This is a question that will be asked with greater frequency and urgency in the years to come. Here's an excerpt at The New Yorker: "…In a paper published today in the journal Nature Climate Change, a trio of Stanford researchers examined twenty-seven recent cases of managed retreat affecting twenty-two countries and 1.3 million people. They found that, regardless of a country's wealth and level of development, relocations are most likely to happen when a government and its citizens are in accord. In the early two-thousands, for instance, the Dutch farming community of De Noordwaard was "de-poldered"; its seventy-five households were moved, its protective dikes were lowered, and its land was allowed to flood. Residents who initially opposed the retreat came around after repeated inundations, and the government's initiative helped not only them but also many thousands of others downstream. Likewise, after the Australian state of Queensland suffered a series of catastrophic floods in late 2010 and early 2011, more than two hundred and fifty people in the Lockyer Valley chose to leave, first with local government support and later with assistance from the state and national governments…"
Photo credit: "An aerial view of Isle de Jean Charles, in southern Louisiana." Photograph by William Widmer, REDUX. 
---
Trump Moves Decisively to Wipe Out Obama's Climate Change Record. Here's a snippet from The Washington Post: "President Trump will take the most significant step yet in obliterating his predecessor's environmental record Tuesday, instructing federal regulators to rewrite key rules curbing U.S. carbon emissions. The sweeping executive order also seeks to lift a moratorium on federal coal leasing and remove the requirement that federal officials consider the impact of climate change when making decisions. The order sends an unmistakable signal that just as President Barack Obama sought to weave climate considerations into every aspect of the federal government, Trump is hoping to rip that approach out by its roots. "This policy is in keeping with President Trump's desire to make the United States energy independent," said a senior administration official who briefed reporters on the directive Monday evening and asked for anonymity to speak in advance of the announcement…"
---
Exxon Urges Trump to Keep U.S. in Paris Climate Accord. Here's an excerpt at Financial Times: "ExxonMobil, the largest American oil group, has written to the Trump administration urging it to keep the US in the Paris climate accord agreed at the end of 2015. In a letter to President Donald Trump's special assistant for international energy and the environment, Exxon argues that the Paris accord is "an effective framework for addressing the risks of climate change". The letter was sent last week, but has emerged as Mr Trump is preparing to announce executive orders beginning a rollback several of Barack Obama's climate policies, while leaving the question of Paris open. Trump administration officials have said a decision on participation in Paris is still "under discussion", and have been soliciting views from US energy companies…"
---
Northwest Governors Vow to Resist Plans to Gut Climate Change Rules. Northwest Public Radio has more information: "The Trump Administration is expected to announce plans to reverse drafts of Obama-era climate change policies this week. Governors and mayors along the West Coast have stated their opposition to the move. Oregon Governor Kate Brown and Washington Governor Jay Inslee declared Saturday their intention to forge ahead with regional climate change efforts. Speaking at the Washington State Department of Commerce in Seattle, Inslee and Brown said they wouldn't allow the White House to derail climate change policies and programs the region has put in place. Inslee said he assured a United Nations climate conference in New York Thursday that the West Coast states would not reverse course. "The West Coast is going to move forward to beat climate change," Inslee said…"
Image credit: "Oregon Governor Kate Brown and Washington Governor Jay Inslee said they plan to "fight back" against President Trump's environmental rollbacks." KING5 TV, Seattle.
---
A Building Boom and Climate Change Create an Even Hotter, Drier Phoenix. The Los Angeles Times reports: "This sprawling metropolis morphed in a matter of decades from a scorching desert outpost into one of the largest cities in the nation. Today, Phoenix is a horizon of asphalt, air conditioning and historic indifference to the pitfalls of putting 1.5 million people in a place that gets just 8 inches of rain a year and where the temperature routinely exceeds 100 degrees. Now, however, the city faces a reckoning. It is called climate change, and it is expected to further expose the glaring gap between how the city lives and what it can sustain. The future, scientists say, will be even hotter and drier, the monsoons more mercurial. Summertime highs could reach 130 degrees before the end of the century — think Death Valley, but with subdivisions…" (File photo: Greater Phoenix Chamber of Commerce).
---
Finding Common Ground on Climate Issues. Here's an excerpt of an Op-Ed at newsminer.com in Fairbanks, Alaska: "…An independent study of this type of revenue-neutral fee and dividend found that it would significantly reduce harmful carbon emissions while creating millions of jobs and preventing thousands of premature deaths by improving local air quality. Every American would get an equal share of revenues from the carbon fee, and a large majority of Americans would actually come out ahead, with dividends larger than increased fees. It would be hard to find a more effective, efficient and fair way to start mitigating climate pollution at the national level. The political situation has made it hard for Republicans to speak up on climate change. But climate change has not always been a partisan issue, and there's no reason it should be. Responsible use and protection of natural resources is important to many conservatives. And it would be foolish to think only Democrats want a healthy environment for their children and grandchildren..." (File photo: Media Matters).
---

CO2 Spike. NASA has more details on carbon dioxide measurement and trends.