A Cold Silver Lining to the First Frost/Freeze?
So why does a high temperature of 50 degrees feel so much better in March than late September? From 90s to a frost and freeze – in 2 weeks! Welcome to the Land of Low Weather Expectations.
The first real cold front of the season is always an unexpected slap across the face. Summer's warm embrace turns into a shove, the hypnotic spell of heat, haze and humidity broken. The seasons march on, and many of us have trouble keeping up.
Look at the bright side: this morning's frost/freeze means less ragweed, fewer mosquitoes, and the promise of diminishing yard work in the weeks to come.
Am I grasping at straws? Why should today be any different.
Clouds increase and thicken today; the best chance of showers tonight into Sunday. Rain tapers Monday and we dry out Tuesday, before a surge of milder air sets off thunderstorms, and a chance of 70s close to home next Wednesday. What a manic time of year.
Speaking of disruption, moisture from Hurricane Rosa, near Baja Mexico, may spark severe flooding near San Diego, Phoenix and Las Vegas next week; possibly a year's worth of rain.
---
Photo credit above: Praedictix (and Twins) meteorologist Todd Nelson.
---
Hurricane Rosa. Friday PM Geo-color visible satellite image of Category 4 Hurricane Rosa courtesy of NOAA and AerisWeather.
---
---
---
---
---
Predicted Rainfall by Tuesday Morning. This is from the 00z NOAA NAM run, showing over an inch of rain for eastern Iowa – a few inches over southern Wisconsin. Map: pivotalweather.com
---
Fall Color Update. A low sun angle and colder weather is accelerating the colors up north. The Minnesota DNR has the latest fall color report here.
---
Wisconsin Color. Not to be outdone, the leaves are ripening nicely over northern Wisconsin. Click here for the latest details.
---
---
Praedictix Briefing: Moisture from "Rosa" Poses Flood Risk Southwest USA.
Issued: Friday, September 28th, 2018:
Trami remains a strong typhoon sitting east of Taiwan. As of late

Friday

local time, Trami was the equivalent of a Category 2 Hurricane with sustained winds of 105 mph and moving to the northwest at 8 mph.
Trami will start to move to the north and northeast with a little bit more forward speed and some slight strengthening over the next couple of days. The forecast path of the system would bring Trami across Japan as a typhoon through the weekend and into early next week, impacting the Ryukyu Islands over the next couple days before reaching mainland Japan

Sunday

. This system will bring the potential of damaging winds, heavy rain leading to flash flooding and landslides, as well as storm surge along the coast of Japan into early next week. This includes Tokyo where strong winds and heavy rain will be possible

Sunday

into early

Monday

.
We're also tracking Tropical Storm Kirk which has moved into the eastern Caribbean, as well as Major Hurricane Rosa which will help bring heavy rain to parts of the Southwest U.S. early next week.
---
Trami On Satellite. Trami remains a strong typhoon sitting east of Taiwan that will threaten lives across the Ryukyu Islands and mainland Japan over the next several days. As of 6 PM local time Friday, Trami was the equivalent of a Category 2 Hurricane with sustained winds of 105 mph. The Shimojishima Airport has already reported a wind gust of 66 mph. Trami has picked up a little forward speed over the past 24 hours, now moving to the northwest at 8 mph.
---
Trami Track. Trami will start to move to the north and northeast with a little bit more forward speed and some slight strengthening into the weekend. Trami will continue to impact the Ryukyu Islands over the next couple of days, reaching mainland Japan as the equivalent of a Category 3 hurricane with sustained winds between 115-120 mph Sunday afternoon. Trami will bring the potential of damaging winds, heavy rain leading to flash flooding and landslides, as well as storm surge along the coast of Japan into early next week. This includes Tokyo where strong winds and heavy rain will be possible Sunday into early Monday, with the worst conditions (including potential wind gusts of 50-65 mph) expected late Sunday into Sunday Night. Graphic: AerisWeather and Praedictix.
---
Potential Strongest Wind Impacts. On the current track of Trami, the strongest wind impacts – typically along the path and on the east side of the system – could be across areas like Okinawa and the Ryukyu Islands, Wakayama, Tsu, Nagoya, and Maebashi. It would appear the worst conditions would be expected west of Tokyo at the moment. These areas would currently have the highest potential of hurricane-force (74+ mph) winds that could knock out power, and winds could easily be over 100 mph according to the latest forecast.
---
Heavy Rain Potential. Heavy rain will be a threat with Trami as well across Japan, with areas along the path of the system potentially picking up 3-12″+ of rain. This could lead to flash flooding and mudslides.
---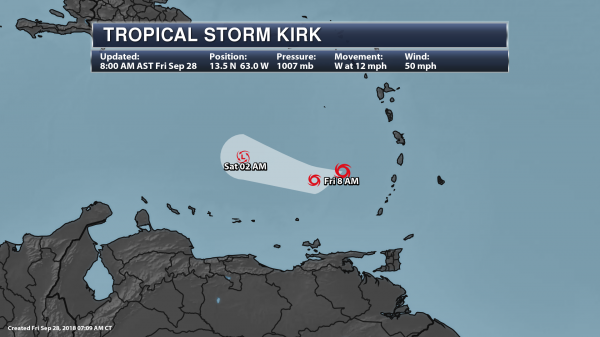 Kirk Moves Into The Caribbean. In the Atlantic, we are tracking Tropical Storm Kirk which has been bringing the Lesser Antilles tropical storm conditions. As of the 8 AM AST update from the National Hurricane Center, Kirk had winds of 50 mph and was 140 miles west-southwest of St. Lucia, moving to the west at 12 mph. Kirk is not expected to last much longer as a named system, dissipating in the next 36 hours. Tropical Storm Warnings continue to be in place for St. Lucia with Tropical Storm Watches for St. Vincent and the Grenadines. Total rainfall amounts of 4-6" are possible across the northern Windward and the southern Leeward Islands with up to 10 inches across Martinique and Dominica.
---
Hurricane Rosa. Still a Category 4 as of late yesterday, Rosa is expected to weaken over colder Pacific Ocean water – but moisture leftover from the storm may flood portions of the southwestern USA early next week.
Friday morning image: AerisWeather.
---
Tracking Rosa. In the eastern Pacific, we're tracking Major Hurricane Rosa, which as of this morning has sustained winds of 145 mph making it a Category 4 hurricane. As of the 2 AM PDT update, Rosa was located 640 miles southwest of the southern tip of Baja California and moving to the west at 7 mph. Rosa is expected to turn more to the northwest today, followed by a turn to the north Saturday and to the northeast Sunday into Monday. This path – along with gradual weakening expected through the weekend – would have Rosa approaching northern Baja California early next week as either a strong tropical storm or low-end hurricane.
---
Southwest Heavy Rain Potential. As Rosa approaches Baja California and the Southwest late this weekend and into next week, moisture will be streaming into parts of the Desert Southwest. This will bring the potential of heavy rain across the region, especially across parts of Arizona. The rainfall forecast over the next seven days shows the potential of at least 1-3" of rain through the middle of next week including in areas like Las Vegas and Phoenix. This heavy rain will have the potential to lead to flash flooding.
D.J. Kayser, Meteorologist, Praedictix
---
The Difficulty of Counting the Death Toll From Hurricane Florence. The New Yorker delves into the complexities of calculating how many people really died from Florence: "… As of Wednesday afternoon, government officials across North Carolina, South Carolina, and Virginia had established a death toll of forty-nine, though information about directly and indirectly related deaths was not yet complete. The N.C.H.S. published the guidelines as "inconsistencies in reporting" had made "it difficult to generate reliable and accurate mortality statistics," which were crucial in "helping the nation, states, and cities become better prepared" for disasters. A spokesperson from the Centers for Disease Control and Prevention wrote in an e-mail, "Better data helps public health officials and emergency response and recovery workers plan for future events, determine risk factors, and save lives." But some public-health researchers have suggested that, even with the new guidelines, fatalities from storms are being underestimated. John Mutter, a disaster researcher at Columbia University who studied the death toll of Hurricane Katrina, said, "We need to rethink what we mean by disaster-related mortality and not just look at the week immediately following the event for related deaths..."
---
---
Carolina Pollution from Hurricane Florence Visible from Space. Here's a clip from an explainer at Charlotte Observer: "A NASA satellite is tracking flooding in the Carolinas following Hurricane Florence, and its images show dark, polluted water flowing from rivers into the Atlantic Ocean. Nearly 8 trillion gallons of rain fell across North Carolina during the storm, according to the National Weather Service in Raleigh's estimate. That rain led to catastrophic flooding across the state, and has polluted rivers, streams, creeks and their outflows along the coast, NASA's satellite images show. One image captured on Sept. 19 shows the New River, White Oak River and Adams Creek south of Cape Lookout and the deeply discolored water that appears dark brown — or even black…"
Image credit: "A NASA satellite is tracking flooding in the Carolinas after Hurricane Florence and its images show that rivers and streams near the coast and spilling dark, discolored water into the ocean." By Joshua Stevens.
---
Rare "Medicane" Threatens Northern Africa and Southern Europe. CNN has the details: "People in Greece and Turkey are bracing themselves for a rare and powerful hurricane-type storm in southern Europe's Mediterranean region, due to hit this weekend. The storm, often called a "Medicane" (Mediterranean + hurricane) has features similar to hurricanes and typhoons. According to a study published in 2011, only about 1-2 "Medicanes" occur per year. These powerful storms usually happen during the months of September and October, when sea surface temperatures in the Mediterranean are still quite warm, although they can occur at any time of year. The current storm, called Zorba, triggered flash flooding across Tunisia and Libya over the past few days before moving north over the Mediterranean towards Europe..."
---
In the Heart of the Corn Belt, An Uphill Battle for Clean Water. Yale E360 has the story; here's a clip: "…For the last decade, Iowa has been the first or second biggest contributor to the toxic dead zone in the Gulf, an area about the size of New Jersey where few living creatures can survive because the pollution has deprived the water of sufficient oxygen. Climate change is exacerbating the toxic stew: Hotter temperatures are turning river waters into what David Cwiertny, director of the Center for Health Effects of Environmental Contamination (CHEEC), at the University of Iowa, in Iowa City, describes as "a breakfast buffet for micro-bacteria and algae." But long before the waters of northern and western Iowa reach the Mississippi, they pass through the more densely populated towns and cities of Iowa and leave their legacy in the water that millions of Iowans rely on to drink..."
---
Read more here: https://www.charlotteobserver.com/news/local/article218934685.html#storylink=cpy
Read more here: https://www.charlotteobserver.com/news/local/article218934685.html#storylink=cpy
---
Urban Bees Are Living Healthier Lives Than Rural Bees. I had no idea, but a story at Quartz set me straight: "Bumblebees are making it in the city. Research published in the Royal Society B found that bumblebees living in urban areas experience healthier lives than their counterparts in rural habitats. Their colonies are larger, better fed, and less prone to disease. Urban colonies also survive longer than their country cousins. Researchers raised colonies of wild-caught bumblebees 1 in agricultural and urban environments. Every week, the researchers would count the bee population in each hive three times. This is what they observed…"
Image credit: "Flight of the bumblebee." Reuters/Lisi Niesner.
---
6 Factors Disrupting Media Bundles. Do you still have cable or satellite TV? Or are you spending much/most of your time streaming Netflix, Hulu or Amazon? Barclays has an interesting post; here's an excerpt: "…Major internet companies have entered the premium video market, offering free content made possible by their use of customer data to drive people to transactions (see Advertising's new rules of engagement). The rebundling of video content into streaming services further accelerates internet-based companies' ability to divert more of the $62.1 billion spent on TV advertising in the US into online advertising (see Why TV advertising may be headed toward a cliff). Thus, most emerging video services are wholly or partially ad supported. Going forward, we believe internet-based video bundles will fall into one of three camps: no advertising support (subscription-based services like Netflix and HBO Now); partial ad support (Hulu and YouTubeTV); and full ad support (currently dominated by YouTube)…"
---
Millennials Are Causing the U.S. Divorce Rate to Plummet. A story at Bloomberg caught my eye: "Americans under the age of 45 have found a novel way to rebel against their elders: They're staying married. New data show younger couples are approaching relationships very differently from baby boomers, who married young, divorced, remarried and so on. Generation X and especially millennials are being pickier about who they marry, tying the knot at older ages when education, careers and finances are on track. The result is a U.S. divorce rate that dropped 18 percent from 2008 to 2016, according to an analysis by University of Maryland sociology professor Philip Cohen…"
---
80,000 People Died of Flu Last Winter in U.S., CDC Says. Star Tribune has the troubling details: "An estimated 80,000 Americans died of flu and its complications last winter — the disease's highest death toll in at least four decades. The director of the Centers for Disease Control and Prevention, Dr. Robert Redfield, revealed the total in an interview Tuesday night with The Associated Press. Flu experts knew it was a very bad season, but at least one found the size of the estimate surprising. "That's huge," said Dr. William Schaffner, a Vanderbilt University vaccine expert. The tally was nearly twice as much as what health officials previously considered a bad year, he said. In recent years, flu-related deaths have ranged from about 12,000 to 56,000, according to the CDC. Last fall and winter, the U.S. went through one of the most severe flu seasons in recent memory. It was driven by a kind of flu that tends to put more people in the hospital and cause more deaths, particularly among young children and the elderly…"
Photo credit: Ted S. Warren – Associated Press. "In this Feb. 26, 2015 photo taken through the eyepiece of a microscope, human cells infected with the flu virus glow green under light from a fluorescence microscope at a laboratory in Seattle. The U.S. government estimates that 80,000 Americans died of flu and flu complications in the winter of 2017-2018 – the highest flu-related death toll in at least four decades."
---
Study Links Restricting Screen Time For Kids to Higher Mental Performance. As I read this report…on a screen. Food for thought with a story from The Washington Post: "Parents who possess the resolve to separate their children from their smartphones may be helping their kids' brainpower, a new study suggests. Children who use smartphones and other devices in their free time for less than two hours a day performed better on cognitive tests assessing their thinking, language and memory, according to a study published Wednesday in the Lancet Child & Adolescent Health. The study assessed the behavior of 4,500 children, ages 8 to 11, by looking at their sleep schedules, how much time they spent on screens and their amount of exercise, and analyzed how those factors affected the children's mental abilities..."
Image credit: UnityPoint Health.
---
56 F. high yesterday in the Twin Cities.
66 F. average high on September 28.
75 F. high on September 28, 2018.
September 29, 1876: An abnormally cool day occurs, with a high of 45 in the Twin Cities (normally the high should be 65 this time of year).
---
---
---
SATURDAY: Increasing clouds, stray shower possible. Winds: SE 7-12. High: 52
SATURDAY NIGHT: Better chance of a shower. Low: 43
SUNDAY: Gray, more numerous showers. Winds: N 5-10. High: 53
MONDAY: Still soggy, period of rain expected. Winds: NE 7-12. Wake-up: 45. High: 53
TUESDAY: Partly sunny, a much nicer day. Winds: SE 7-12. Wake-up: 46. High: 63
WEDNESDAY: Milder, showers and T-storms. Winds: SW 15-25. Wake-up: 56. High: 76
THURSDAY: Peeks of sun, cooler and drier. Winds: N 7-12. Wake-up: 52. High: 61
FRIDAY: A cold rain possible. Winds: NE 10-20. Wake-up: 44. High: 49
---
Climate Stories…
Harvey, Florence and the Climate Change Connection. Are we inadvertently "juicing" hurricanes? Here's an excerpt from Christian Science Monitor: "…This fall, we got the first taste of more immediate attribution when scientists from Stony Brook University, the Lawrence Berkeley National Laboratory, and the National Center for Atmospheric Research released a forecast, and maps, just before Florence was scheduled to make landfall. One of the biggest factors they attributed to human-caused climate change: the extreme rainfall which, in the end, was responsible for the devastating flooding – similar to Harvey last year in Houston. Indeed, one preliminary report put Florence just behind Harvey as the second-wettest storm in 70 years. An average of 17.5 inches fell over a region of 14,000 square miles. In Harvey, 25.6 inches fell over that same area. Several peer-reviewed studies in the past year, using a range of methods, all found that climate change significantly increased the amount of rain that flooded Houston…"
Photo credit: Jason Lee/The Sun News/AP. "The Polo Farms neighborhood in Longs, S.C., was largely submerged September 24, 10 days after Hurricane Florence hit the Carolina coast."
---
Trump Administration Sees a 7-Degree Rise in Global Temperatures by 2100. The Washington Post reports: "Last month, deep in a 500-page environmental impact statement, the Trump administration made a startling assumption: On its current course, the planet will warm a disastrous 7 degrees by the end of this century. A rise of 7 degrees Fahrenheit, or about 4 degrees Celsius, compared with preindustrial levels would be catastrophic, according to scientists. Many coral reefs would dissolve in increasingly acidic oceans. Parts of Manhattan and Miami would be underwater without costly coastal defenses. Extreme heat waves would routinely smother large parts of the globe. But the administration did not offer this dire forecast as part of an argument to combat climate change. Just the opposite: The analysis assumes the planet's fate is already sealed…"
Photo credit: "Firefighters from Brea, Calif., inspect and cut fireline on Aug. 1, 2018, as the Ranch Fire burns near Upper Lake, Calif. A day earlier, it and the River Fire totaled more than 74,000 acres." (Stuart W. Palley/For The Washington Post).
---
The Climate-Change Debate Has Shifted, Not Ended. Eric Roston reports for Bloomberg: "Is there still a debate over climate change? Yes and no. As a scientific matter, the issues of whether it's happening and who's to blame are long settled. But there's no end to debates about what to do about it. Arguments about the need for and costs of action are playing out against a nonstop, live-on-TV drama of the massive storms, record wildfires and deadly heat waves already fueled by global warming. What's new in the climate debate? For one thing, there's been a revolution in renewable energy. The price of wind and solar has plunged in a way even its most ardent backers wouldn't have dared dream 20 years ago. Bloomberg NEF projects that by 2050, renewable power will produce two-thirds of the world's electricity, the same fraction that fossil fuel produces today. The world's biggest polluter, China, is taking far more aggressive action to reduce greenhouse gas emissions than was expected even a decade ago…"
Photo credit: "Alex Wroblewski – Bloomberg.
---
Fingerprints Everywhere: 2018. Climate Signals dives into "attribution"; linking specific extreme weather events with a warmer, wetter, more volatile climate system: "…The report is limited to detection and attribution studies on climate impacts in the United States and studies of global significance. It does not assess the robustness of the statements or methods used by individual studies. Studies of global significance include those attributing global warming to changes in large-scale dynamic and thermodynamic processes that have complex and far-reaching impacts, such as long-term global temperature rise and atmospheric moisture increase. It also includes studies on changes with global implications, such as ice sheet melt and Arctic sea ice decline. Finally, studies of global significance include those on topics of general concern, such as coral bleaching in the Great Barrier Reef, a world heritage site. It does not include studies of primarily local significance outside of the United States. The report is a response to the need to better understand the breadth, depth and character of the research identifying the influence of human-caused global warming on observable impacts…"
---
Spotlight on Sea Level Rise. Here's an excerpt from a post from the European Space Agency: "…The 25-year record of altimetry data allows scientists to determine trends. For example, between 1993 and 2018 the global ocean rose 3.2 mm every year, on average. But, altimetry measurements also reveal that the over the last five years the global ocean has risen, on average, 4.8 mm a year. Anny Cazenave from the Laboratoire d'Etudes en Géophysique et Océanographie Spatiales said, "Satellite altimeters are an essential tool for monitoring sea-level rise. We use reference missions such as the CNES–NASA series of Jason satellites along with other missions such as the Copernicus Sentinel-3 mission to gather a time series of data to understand how sea level is changing in the long term. "This information shows that sea level has been rising at an average rate of about 3 mm a year since these records began in 1993. However, recent re-analysis of our records has shown that sea-level rise is accelerating because of global warming..."
---
Will It Ever Stop Raining? The short, polite answer is no. A warmer, demonstrably wetter atmosphere coupled with the possibility that warm season systems are moving slower, more prone to stalling, may be amping up rainfall amounts. Here's an excerpt from The Atlantic: "…Dallas-Fort Worth has received four times as much rain as normal this month, breaking a 1932 record. Washington, D.C., has not only seen a top-five September for rainfall, but a record-challenging year. The nation's capital has seen almost twice as much rain in 2018 as famously dreary London. And large swaths of the Appalachians are likely experiencing their wettest-ever September. Of course, cities across southeastern North Carolina also just had their rainiest month ever, as a set of 1877 records buckled under the endless torrents of Florence. Wilmington, North Carolina, was already enduring a wet year—it surpassed its annual average rainfall totals all the way back in early August—before it saw 30 inches of rain in this month's storm…"
Photo credit: "A car washed away by flood waters remains partially submerged in the torrential rains that followed Hurricane Florence." Jonathan Drake / Reuters.
---
Observed and Future Warming. Carbon Brief has an interactive website that allows you to pick a GPS location or town, and see not only observed/historical warming, but projections for future warming, based on various greenhouse gas emission levels. Check it out.
---
---
Hurricane Florence: When Climate Change Meets Bad Policy. Rolling Stone describes a perfect storm of foul weather and antiquated policy: "…In another misguided policy, North Carolina actually banned state officials from taking predicted sea-level rise into account in its coastal management strategy. An exhaustive 2010 report warned of sea level rise and the potential dangers from hurricanes, yet local lawmakers rejected the findings, prioritizing real-estate development in what they failed to acknowledge was a vulnerable region. Not surprisingly, this short-sighted planning happened after climate-denying Republicans gained control of the governorship and the state legislature in 2012. North Carolina is facing a potential environmental disaster, on several fronts. Scientists and environmentalists have known the dangers for years..."
---
Florence Floods Damaged Thousands More Homes Because of Sea Level Rise, Study Shows. News & Observer has the story: "Scientists at First Street Foundation (FSF) — a technology nonprofit dedicated to increasing awareness of sea level rise — used data from the National Oceanic and Atmospheric Administration, U.S. Geological Survey, the National Weather Service, local governments, the U.S. Department of Agriculture, U.S. Army Corps of Engineers and more to determine sea levels and the number of homes affected by Florence storm surge. Their work shows that sea level rise since 1970 led to greater damage — 11,000 more homes affected, they say…"