81 F. high temperature at KMSP Tuesday.
78 F. average high on August 30.
81 F. high on August 30, 2015.
7.82″ rain in the Twin Cities in August.
4.93″ wetter than average since June 1.
Comfortably Cool and Dry Weather Into Saturday
The proliferation of Texas-size storms in the tropics got me thinking about relative risk. As much grief as we get for our winters, when was the last time you had to evacuate your home because of bad weather? Red River flooding? Maybe. But snowstorms, even blizzards don't create the kind of dislocation and dollar loss that a tropical storm or hurricane does.
NOAA has analyzed all billion-dollar disasters in the U.S. since 1980. Minnesota has experienced 26 such events, compared to 43 in Florida and 83 in Texas – much higher numbers because both states are in "Hurricane Alley". Safest state in the USA? Maine.
A tropical storm should hit Florida's Panhandle Thursday before churning up the Carolina coast.
We salvage 4 more dry days in a row with a comfortable Canadian breeze and daytime highs mostly in the 70s. Friday and Saturday look like the sunniest, driest (nicest) days of the holiday weekend. T-storms prowl the state Sunday and Monday; have a Plan B ready to go, just in case.
And the truth? All those cold fronts inoculate Minnesota from the wildest storms on Earth.
---
Billion-dollar U.S. Weather Disasters: 1980-2016, courtesy of NOAA NCDC.
---

Monday Night Flash Flooding in Foley. Check out the Facebook post from the Foley Police Department – glad everyone is OK up there after crazy rains the other night!
---
---
Dry Into Saturday. Cram your lake-time into Friday and Saturday, because showers and T-storms return Sunday and Labor Day (of course).  Models hint at another 1-2″ rain early next week. Just when you thought it couldn't get any wetter. Model data: Aeris Enterprise.
---
Break From The Heat. No more (stinking hot) weather looking out 2 weeks or so. We cool off into late week before warming up a bit in time for Labor Day. Typical weather for early September. Source: WeatherBell.
---
Two "Unprecedented" Hurricanes Are Churning Toward Hawaii. Gizmodo has details: "In what's being hailed a meteorological first, two back-to-back hurricanes are marching toward Hawaii, both of them threatening torrential rains and rip-roaring winds this week. The closer of the two, hurricane Madeline, could break a second meteorological record as the first hurricane to strike the Big Island since bookkeeping began in 1949. Rumbling west at approximately 9 mph, Madeline is currently packing Category 3 windspeeds of 120 mph. Its latest track has the storm passing south of the Big Island on Thursday…"
Graphic credit: Aeris AMP.
---
Aeris Weather Briefings: Issued Tuesday morning, August 30, 2016
* Confidence levels grow (7 out of 10) that a strong tropical storm will reach Florida north of Tampa (Big Bend area) Thursday with moderate impacts.
* Greatest risk is inland flooding from 6-12″ rains associated with this tropical system. River and urban flooding is likely.
* 1 in 3 chance this system could strengthen into a weak Category 1 hurricane before landfall on Thursday.
* Sustained winds of 40-60 mph may create minor/moderate problems with power outages in Ocala and Gainesville to Daytona Beach and Jacksonville.
* Second system (Tropical Depression Eight) brushes Outer Banks of North Carolina with 40 mph winds and heavy rains next 36 hours.
* Generally speaking – we are heading into a busy tropical period. NOAA's GFS model brings a hurricane close to the East Coast by the second week of September. Conditions are ripe for more tropical close encounters, even a few more direct hits over the next 2 weeks.
---
Brewing Tropical Storm. The tropical depression (nine) in the Gulf of Mexico is packing 35 mph sustained winds. When winds reach 39 mph we'll have Tropical Storm Hermine, which should begin recurving toward the north and northeast within 24 hours, on a track which should take it into the Big Bend Region of Florida's Gulf Coast. Map courtesy of Aeris AMP. Details via NOAA NHC:
HAZARDS AFFECTING LAND
----------------------
RAINFALL:  The depression is expected to produce additional rain
accumulations of 2 to 4 inches over western Cuba through 

Wednesday

,
with maximum storm total amounts up to 12 inches.  These rains
could cause life-threatening flash floods and mud slides.  Storm
total rainfall amounts of 5 to 10 inches are possible over much of
the Florida peninsula through 

Friday

 morning, with isolated maximum
amounts of 15 inches possible.  This rainfall may cause flooding
and flash flooding.
---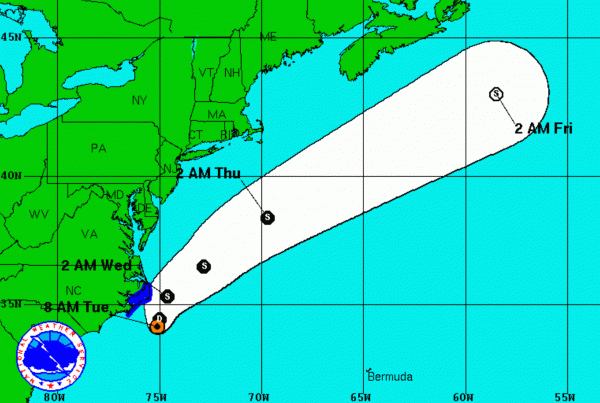 Tropical Depression Eight. Another system scheduled to intensify to tropical storm status (either Hermine or Ian, depending on timing), Tropical Depression Eight is producing 35 mph winds, already impacting the Outer Banks of North Carolina with 20-40 mph winds and pounding surf. Minor flooding is possible from Cape Hateras to Duck, Corolla and Virginia Beach close to high tide. Map: NOAA NHC.
---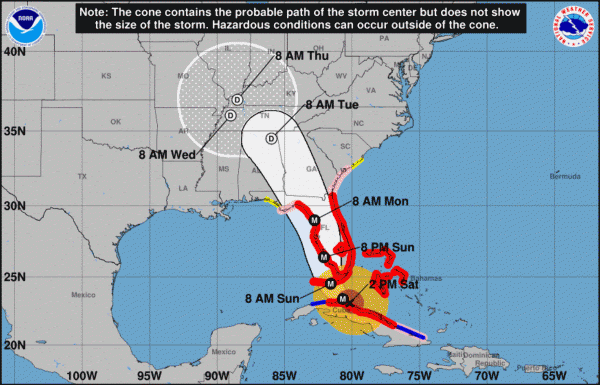 Official NOAA Track. The system in the Gulf of Mexico is forecast to reach central and northern Florida during the day Thursday as a moderate to strong tropical storm, before accelerating out to sea over the weekend.
---
Strong Model Consensus. The spaghetti plot of hurricane models has pretty well converged on a coherent solution that brings the center of the tropical storm over northern Florida within 72 hours.
Map credit: Tropicaltidbits.com
---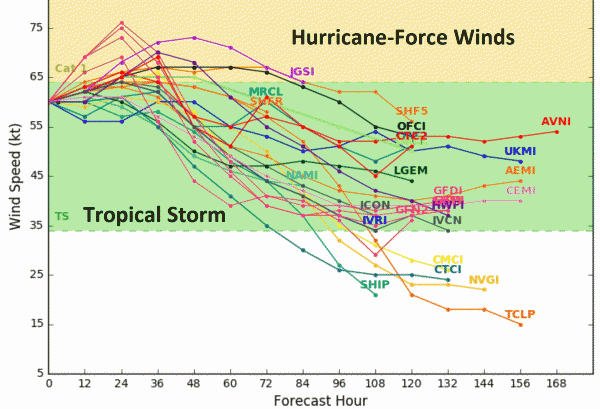 Intensity Forecast. A majority of models pull Hermine (or Ian?) into Florida as a healthy tropical storm with sustained winds  of 45-60  mph. There's at least a 1 in 3 chance that the storm will reach Category 1 hurricane status before landfall on Thursday.
---
Thursday Morning: HWRF Solution. NOAA's high-resolution hurricane model brings a ragged eye ashore over a lightly-populated region of Florida early Thursday, tropical storm force winds as far south as Tampa/St. Pete and even Orlando. Tropical storm conditions move rapidly across Ocala and Gainesville toward Tallahassee and Jacksonville. Map credit: WeatherBell.
---
Thursday Morning: ECMWF Solution. Meteorologists exhale (slightly) when models agree, and we now have fairly strong agreement between NOAA and European models, showing landfall well north of Tampa on Thursday. The biggest risk is inland flooding (river and urban) with rainfall amounts as high as 10-15″.
Map credit: WSI.
---
Tropical Storm Impacts. Our internal guidance shows a potential swath of minor to moderate damage from Tampa and Orleando to Ocala, Gainesville, Daytona Bbeach and Jacksonville, where I do anticipate sporadic power outages and disruptions to transportation, especially Thursday.
---
Predicted Storm Surge. With a strong counter-clockwise flow the highest storm surge will come south/east of the storm's track, with greatest impacts north of Clearwater, where a 6-8 foot surge can't be ruled out. A surge of 3-6 feet in the Tampa Bay area may create problems and lowland inundation, especially close to high tide.
---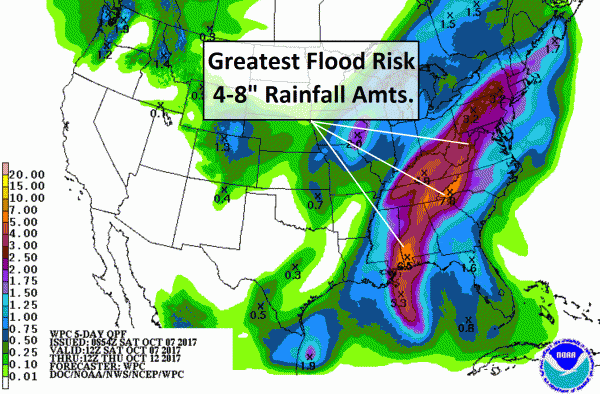 Biggest Risk: Inland Flooding. With Gulf of Mexico water temperatures in the 85-90F range and near-record amounts of water vapor available, extreme rainfall amounts are expected across central and northern Florida, and then coastal Georgia and the Carolinas with these 2 tropical systems. Flash flooding is likely, even imminent. If you live in an area prone to flooding odds are you'll experience more flooding over the next 72 hours.
---
Best-Case Scenario. The nighttime NASA satellite image tells the tale of population density in Florida. With the exception of the Everglades, the Big Bend area of northwest Florida is perhaps the most lightly-populated – no major cities along the coast. This may reduce damage somewhat, but I don't want to underestimate impacts from river and urban flooding associated with this storm.
Summary: a tropical storm will reach northern and central Florida by Thursday. Preparations should accelerate today; with conditions rapidly deteriorating late Wednesday as the storm approaches. Another update Wednesday morning.
Paul Douglas, Senior Meteorologist, AerisWeather
---
Why Long-Range Model Forecasts for the Tropics Can't Often Be Trusted: A Case Study. Good, timely perspective from The Weather Channel; here's an excerpt: "…While numerical modeling and meteorology have advanced the past few decades, any model forecast beyond 5-7 days should be taken with a large grain of salt. This is particularly true in the tropics, where data to feed the forecast model's initial guess of the current state of the atmosphere is typically more sparse. Forecasts for tropical cyclones at any stage of their lifetime extend out only to five days because the science hasn't advanced enough to be greatly accurate beyond that time frame, although we are getting there…"
Map credit above: GFS forecast, valid Sunday evening – courtesy of WSI.
---
7 Big Changes Since Katrina Made Landfall. Jason Meyers has some interesting nuggets at WFTS-TV in Tampa: "…More storms, hurricanes and large hurricanes formed that year than any other year in recorded history. Half of the six most intense hurricanes on record formed in 2005. Most of the storms formed earlier than previous storms in the past, and the season lasted all the way into the next year while most seasons end at the end of November. Since all those records have been broken, it's been a long, relatively quiet decade where the United States has been lucky enough to avoid anything close to Katrina…"
---
Foggy Forecasts: Meteorologists Chat About How Tough It Is To Predict a Hurricane. Here's an excerpt of an interesting dialogue at FiveThirtyEight moderated by Eric Holthaus: "…Lanza: Only thing I'd say is just to remind people to try not to get too much heartburn over every zig and zag they see shared by people/media regarding the models. Some situations, you simply don't know where things are going to end up, and you just have to be prepared to act over a broad area with a plan. Hurricanes are a part of life here, and this won't be the last storm we get. Be aware, and have a plan. Eosco: I echo this. Stay hurricane strong by preparing before a storm. One last comment is that social media is a wonderful place to have a dialogue, but we must remember that it is part of a public sphere. The scientific community should discuss all of this, but give care to how it is discussed. Don't overhype. When the next big one does hit, we want folks to listen..."
---
First Two Weeks of Football Practice The Most Dangerous for Heat-Related Illness. Coaches should pay attention to a story out of The University of Georgia: "As the college football season heats up, a new University of Georgia study finds players are more likely to suffer from heat-related illness during the first two weeks of practice, especially those in the Southeast. The four-year study evaluated the rates of exercise-related heat illness among NCAA football players at 60 colleges across the U.S. Bud Cooper, associate clinical professor in the department of kinesiology at UGA's College of Education, said the results show the need for players to get acclimated to the environmental conditions during the first two weeks of practice-especially during hot weather. "Environmental stress, especially hot weather, can be a key component when assessing this stress," said Cooper, the lead author on the study. "Certain variables can be manipulated to reduce that risk…" (File image: annarbor.com).
---

Historic August Flood Caused by "Seemingly Innocuous" Disturbance, Louisiana's Climatologist Says. Here's an excerpt of a story at Baton Rouge Business Report that caught my eye: "…To be classified as a 1,000-year flood event, 21.3 inches of rainfall is required, Keim says. Some areas in the Baton Rouge area far exceeded that. Watson received a whopping 31.39 inches of rain. The Brownfields area saw 26.8 inches, and Denham Springs had 25.5 inches. Keim says nine recording stations exceeded the 1,000-year flood mark. It was the heaviest rainfall on record in the history of Louisiana. "Not only did we beat the record—we crushed it," Keim says. A flood of this magnitude originating from a small tropical wave is very unusual, Keim says, but the high moisture in the atmosphere from the Gulf of Mexico and the high humidity enabled the system. It was able to take the moisture in the atmosphere and bring it to the ground, he says…"
---
Poisonous Algae Blooms Threaten People, Ecosystems Across U.S. KQED and NPR have an eye-opening story that makes you want to stay out of the water; here's a clip: "Serious algae outbreaks have hit more than 20 states this summer. Organisms are shutting down beaches in Florida, sickening swimmers in Utah and threatening ecosystems in California. The blooms are a normal part of summer, but the frequency, size and toxicity this year are worse than ever. And water managers are rattled. "Everyone's on edge with the cyanobacteria," says Bev Anderson, a scientist with the California Water Resources Control Board. Emails reporting outbreaks of cyanobacteria — or blue-green algae — fill Anderson's inbox every morning…"
Photo credit: "Officials found the toxin microcystin in the blue-green algae present at Discovery Bay, Calif. For people exposed to the toxin, symptoms include dizziness, rashes, fever, vomiting and in more unusual cases, numbness." Lesley McClurg/KQED
---
Welcome to the Anthropocene. TIME has the story; here's the intro: "The Earth has entered a new geological epoch defined by human impact, scientists say. Humanity's influence on the Earth is so great, an entirely new geological epoch called the Anthropocene should be declared, according to scientists from the Working Group on the Anthropocene, who recommended the change to the International Geological Congress in Cape Town on Monday, the Guardian reported. The Anthropocene epoch should begin in about 1950, as man-made developments ended the geological time defined by the current epoch, the Holocene, the scientists said…"
---
The $8 Trillion Fight Over How To Rid America of Fossil Fuels. Bloomberg reports: "…His conclusions pivot on the price of—and estimated need for—nationwide electricity storage. Assume that the U.S. needs enough backup for just one day: Then renewables and batteries are already cheaper than carbon-free nuclear reactors. Posit two days worth of storage, or, as others have argued, a week: In that case, nuclear, which is economically prohibitive today, becomes far and away the cheaper option, Heal says. That leaves a range of answers to his main question. The investment to make sufficient electricity to power America, with an 80 percent cut in greenhouse gas emissions by 2050, would cost anywhere from $1.28 trillion to $5.28 trillion…"
---
It's Not Just Solar Panels. Electric Cars Can Be Contagious Too. Vox reports: "We already know that solar power can be contagious. Studies have found that if you install a rooftop solar system, it increases the odds that your neighbors will too. Now along comes tantalizing evidence that electric vehicles have a similar dynamic. When charging stations are more visible, people become much more likely to consider buying a plug-in car:
Placing charging stations at workplaces, where cars spend much of their time, will be uniquely powerful. When a workplace installs a charging station, employees are 20 times as likely to buy a vehicle with a plug, according to a survey from the U.S. Department of Energy.
Graphic credit: "Contagion, contagion everywhere!" (Shutterstock).
---
When the Bible quotes God declaring "Let there be light," it wasn't exactly referring to solar power. But across Minnesota, there's been an unprecedented surge in religious congregations installing rooftop solar panels, subscribing to off-site solar "gardens" and urging their faithful to do the same. The most ambitious project is slated for this fall at Shiloh Temple International Ministries in north Minneapolis, which will build a solar garden on its roof, make energy available for up to 40 neighbors, and be part of a solar installation job-training program for lower-income workers…"
Image credit
: Jerry Holt, Star Tribune. "
Maniya Dorsey, 9, toured Ten K Solar in Bloomington with her church group last week
."
---
John Skipper is Steering ESPN Through Turbulent Times. Here's an excerpt from The Washington Post: "…But the business model upon which ESPN was built may be going away. Millennials especially are deciding they don't need cable and are instead turning to on-demand services and buying their programming a la carte. ESPN's subscription numbers are dropping, a trend that is costing Disney, its parent company, hundreds of millions of dollars. "The whole industry is struggling with the right answer," said Rich Greenfield, a media analyst with BTIG Research. "We have all these people growing up and deciding they don't need to spend the money. The tide is going out on the whole sector..."
Photo credit: "ESPN President John Skipper during a news conference in New York in 2014." (Mark Lennihan/Associated Press).
---
9 Incredible Meteorite Craters That Look Straight Out of "Deep Impact". Or Pink Floyd's "Dark Side of the Moon". Atlas Obscura has the list: "The human species may not (yet) have encountered extraterrestrial life, but our planet is pockmarked with the scars of alien visitors of a different sort: the giant rocks that have come hurling out of space over the millennia, hitting the Earth's surface with such force a gaping hole is left behind as a cosmic souvenir. There is a certain unearthly beauty to these meteorite craters dotting the planet. In fact their unique geology has been used as an analogue for outer space to help astronauts train for the Moon landing or missions to Mars. Others have given rise to gorgeous lakes and ancient cults or wiped out the dinosaurs and other forms of life on the planet..."
Photo credit:  Stephan Ridgway/CC BY 2.0
---
Not a Drill: SETI Is Investigating a Possible ET Signal from Space. I have my doubts, but I wonder: would confirmation of an alien world trigger better behavior on this planet – or sheer anarchy? Here's a hair-raising article at Observer: "An international team of scientists from the Search for Extraterrestrial Intelligence (SETI) is investigating mysterious signal spikes emitting from a 6.3-billion-year-old star in the constellation Hercules—95 light years away from Earth. The implications are extraordinary and point to the possibility of a civilization far more advanced than our own. The unusual signal was originally detected on May 15, 2015, by the Russian Academy of Science-operated RATAN-600 radio telescope in Zelenchukskaya, Russia, but was kept secret from the international community. Interstellar space reporter Paul Gilster broke the story after the researchers quietly circulated a paper announcing the detection of "a strong signal in the direction of HD164595..."
Photo credit: "The RATAN-600 Radio Telescope in Russia." (Photo: Wikimedia Commons).
---
* Then again, this "bafflng signal" may be none of the above, according to this thread.
---
The Pentagon's Plan For Any Future Alien Visit (or Invasion) is Underwhelming. So says the author of a story at Mother Jones: "…How would you plan for the arrival of an advanced civilization without any understanding whatsoever of their capabilities, technology or intentions?" He added that his sense was that the government had "little if any idea" of what we'd be up against and "whatever it is would be so far beyond us it would look and appear magical or spiritual, totally beyond our ability to cope with or resist if hostile. If such an event occurred we'd simply have to muddle through as best we could."  "Meanwhile," he says, "DoD has an overflowing plate already and I suspect the Joint Staff has little patience for such seemingly unlikely, open-ended and ill-defined scenarios..." (Image credit here).
---
What Aliens Just Wouldn't Get About The Human Race. CNN takes a crack at a long list.
---
Map Shows Most Popular Language In Each State Besides English and Spanish. Here's an excerpt from wideopencountry.com: "…This map created by Ben Blatt, of Slate, shows the most common languages in every state after English and Spanish. To create the map, Blatt examined data from the Census Bureau's American Community Survey, which, in part, gathers information about the languages most commonly used in American households. Survey participants are given a blank box to write in their language rather than choose from a list of languages. For more information about how Blatt compiled each language, check out Blatt's full article here..." (Map credit: Ben Blatt/Slate).
---
Surgeons Want to Transplant a Human Head – Really – and a Russian Is Offering His. Here's an excerpt of a bizarre and troubling story at The Washington Post: "…Sam Kean's story about the project, published in the Atlantic magazine, is deeply weird. Canavero says the transplant could happen as early as 2017 and has a "90 percent plus" chance of success. If it does take place, it would require 80 surgeons and cost tens of millions of dollars. Many scientists and ethicists have derided the project as "junk science" that raises false hopes. One says that if Spiridonov dies — a not-unlikely outcome — the doctors should be prosecuted for murder…"
Photo credit: "Valery Spiridonov, who has a disease that is usually fatal, has volunteered to have his head transplanted to another person's body." (Maxim Shipenkov/EPA).
---
TODAY: Comfortable sunshine, crisp breeze. Winds: N 7-12. High: 78
WEDNESDAY NIGHT: Clear and cool. Low: 55.
THURSDAY: Plenty of sun, good fair day. Winds: SE 5-10. High: 76
FRIDAY: Sunny with a mild breeze. Winds: S 10-15. Winds: S 10-15. Wake-up: 57. High: 78
SATURDAY: Partly sunny, last dry day in sight. Winds: S 10-20. Wake-up: 59. High: 79
SUNDAY: Sticky with showers and T-storms. Winds: S 10-15. Wake-up: 62. High: 76
LABOR DAY: Intervals of sun, nagging thunder risk. Winds: SW 7-12. Wake-up: 63. High: 82
TUESDAY: Unsettled, more showers and storms. Winds: S 10-15. Wake-up: 65. High: near 80
---
Climate Stories…
NASA: Earth is Warming At A Pace "Unprecedented in 1,000 Years". The Guardian explains: "The planet is warming at a pace not experienced within the past 1,000 years, at least, making it "very unlikely" that the world will stay within a crucial temperature limit agreed by nations just last year, according to Nasa's top climate scientist. This year has already seen scorching heat around the world, with the average global temperature peaking at 1.38C above levels experienced in the 19th century, perilously close to the 1.5C limit agreed in the landmark Paris climate accord. July was the warmest month since modern record keeping began in 1880, with each month since October 2015 setting a new high mark for heat…"
Graphic: NASA Earth Observatory.
---
The Toughest Question in Climate Change: Who Gets Saved? When we talk about moving entire communities the politics will get very sticky, especially when it comes to "who pays?" Here's an excerpt from Bloomberg View: "…The contest, called the National Disaster Resilience Competition, was the first large-scale federal effort to highlight and support local solutions for coping with climate change. It wound up demonstrating something decidedly less upbeat: The federal government is still struggling to figure out which communities should be moved, and when, and how to pay for it. The importance of answering those questions is shifting from hypothetical to urgent. The Alaskan town of Shishmaref this month became the latest coastal community to vote in favor of relocating; more will follow it. Figuring out who most deserves money to move will only get more contentious as more places raise their hand. If cutting emissions seems like a political nightmare, just wait…" (File image: Andrew Demp, Yale).
---

The "Social Cost of Carbon" Is The Most Historic Climate Change Decision Yet. The Daily Beast has details: "One of the most significant court cases about climate change was decided earlier this month by a federal appeals court in Chicago. Given that it was steeped in the enervating context of refrigerator regulations, you may have missed it. But amid the stultifying discussions of compressors and insulation foam was a crucial advance in our nation's belated attempts to forestall global climate catastrophe. It all comes down to a new phrase: the Social Cost of Carbon. Here's why it's important. By law, government agencies—in this case, the Department of Energy—are often required to show that the benefits of a proposed regulation exceed the costs..."
Illustration credit: Kelly Caminero/The Daily Beast.
---
The Challenge of Cutting Coal Dependence
.
The New York Times
reports: "
It won't be easy to get rid of coal. Worried the nation might miss its 2020 target to drastically cut emissions of carbon dioxide, the German government proposed a steep levy last year on the most heavily polluting generators. The tax was intended to deliver a decisive blow against lignite or brown coal, the dirtiest fuel around and Germany's main source of electricity. Germany views itself as a leader in the push against climate change. It is probably the world's most enthusiastic investor in renewable energy, mainly wind and sun. But even the powerful Chancellor Angela Merkel couldn't quite pull it off
…"
---
Beneath the Waves, Climate Change Puts Marine Life on the Move. The fish are shifting north as waters continue to warm, according to a story at ctmirror.org: "…We've found quite dramatic shifts in where species are found," said Malin Pinsky, an ecologist and evolutionary biologist with the Rutgers University Department of Ecology, Evolution and Natural Resources who researches how climate change affects fish and fisheries. He has used data collected by the National Oceanic and Atmospheric Administration to create OceanAdapt, which includes animations that regionally show how dozens of marine species have moved in the last 50 years. "Especially here in the Northeast you have something like American lobster about 200 miles further north than they used to be, and other species shifting similar amounts…"
Image credit: "Using data collected by the National Oceanic and Atmospheric Administration, Malin Pinsky of Rutgers University has shown that marine species in the northeast Atlantic Ocean have moved generally north and east in the last few decades. This is thought to be precipitated by warmer waters due to climate change. Distribution is indicated from low to high."
---
Why It Matters: Climate Change. Seth Borenstein explains at The Big Story from AP, complete with links and compelling evidence: "…Dozens of measurements show Earth is warming. And it's worsening. The overwhelming majority of climate scientists and nearly every professional organization of scientists have said climate change is real, man-made and a problem. The last 15 months in a row have set records globally for heat, according to the National Oceanic and Atmospheric Administration. The world is on pace to break the record for hottest year, a record broken in 2010, 2014 and 2015. The five hottest years recorded have all been from 2005 on and it is about 1.8 degrees warmer than a century ago. But it's more than temperatures. Arctic sea ice keeps flirting with record low amounts. Hot water has been killing coral as never before seen. Scientists have connected man-made climate change to extreme weather , including deadly heat waves , droughts and flood-inducing downpours . They even have connected it as one of several factors in the Syrian drought and civil war that led to a massive refugee crisis…"
---

Grasping Climate Change. Phil Plait explains why it's so hard for our brains to grasp at Slate: "And that is the true evil of climate change. It's slow, and patient. It's everywhere, but takes its time. It operates every day, but its effects don't manifest for decades. Weather changes every day, every hour, and that noise washes out the signal of climate change. Unless, that is, we too are patient, and keep our eyes on the long view. When we do, we see the trend, not the bumps and wiggles. This short, one-minute video frames it the best way I have ever seen: as a person walking a dog: If we watch the trend, and not the wiggles, we see the impact of humanity on our planet. The temperature trend is actually quite clear now. And that trend is up…" (File photo: Santiago Borja).