90s in May? Unusual – But Not Unprecedented
Gander, Newfoundland just picked up 14 inches of snow. Tropical Storm Alberto is plowing toward Pensacola and Mobile. And the forecast for the Big Island of Hawaii calls for lava showers. Forgive me for not being more indignant about this early-season heat wave.
That said, 5 consecutive days of 90s in late May is unusual, but not unprecedented. Think of it as an
atmospheric over-correction. As if Mother Nature is compensating for an unusually cold and snowy April in Minnesota.
A generally hot pattern is emerging for much of the USA, and my meteorological spidey-senses are telling me a hot and dry bias this summer. We'll see.
We'll enjoy low to mid 90s today, Sunday and Memorial Day; which may be the hottest since 2006, when MSP hit 94F. Take it easy out there, and think cool thoughts.
Meanwhile "Alberto" may strike the Gulf Coast Monday. ECMWF ("Euro") guidance hints at landfall closer to Mobile or Pensacola.
No storms with names close to home, in fact the next opportunity for a few T-storms may not come until midweek. I hope you like hot and sweaty; no real relief is in sight.
---
90s in May = Higher Probability of More 90s During Summer Months. Dr. Kenny Blumenfeld, Senior Climatologist at the Minnesota DNR pointed out an interesting correlation: "…We find that years with multiple 90-degree days during May have tended to be followed by summers that also have relatively high numbers of 90-degree days. The Twin Cities airport averages about 13 90-degree days per year, and 26% of years historically have had 20 or more such days. For years with at least two 90-degree days during May, however, the average number of 90-degree days for the year jumps to 23.4 (an 80% increase), and 74% of those years go on to have at least 20 90-degree days…"
---
Weak Tornado Briefly Touches Down in Faribault County Friday. WCCO-TV has the details: "It was brief and it was weak, but the National Weather Service says that a tornado touched down in Faribault County Friday afternoon. The touchdown happened just east of Minnesota Lake at about 2:40 p.m. WCCO's director of meteorology Mike Augustyniak said that this was a landspout-type tornado. They generally do not cause damage…"
---
---
---
Twin Cities Dew Point and Heat Index History. The Minnesota DNR has a timely post: "…80 degree dew point temperatures are extremely rare in the Twin Cities. The record maximum dew point temperature for the Twin Cities is 82 degrees, recorded on July 19, 2011. The old record was 81 degrees, on July 30, 1999. The summer of 2011 was extraordinary humid, with dew points reaching or exceeding 75 degrees for 103 hours ending on August 29th. The 1981-2010 average for hours recording dew point temperatures above 75 degrees is only 18. Combinations of high temperatures and high dew points lead to very high "heat index" values. Like the wind chill factor, the heat index attempts to describe "what it really feels like." Just as the wind can make winter air feel colder, too much moisture in the summer air can make the it feel hotter. The highest heat index for the Twin Cities is 119 degrees, occurring on July 19, 2011…"
---
---
---
Praedictix Briefing: Issued Friday, May 25th, 2018:
The system we've been tracking near the Yucatan Peninsula is becoming better defined this morning, and now has a 90% chance of becoming a subtropical/tropical system in the next couple days as it moves into the Gulf of Mexico. If it is named, it would be "Alberto." This system will eventually approach the central Gulf Coast into Memorial Day

Monday

and then slowly linger across the region into the middle of next week.
This will mainly be a prolonged heavy rain event for parts of the Southeast and Gulf Coast, which could lead to the potential of flooding. Rain will spread across the Southeast ahead of this system

Saturday

and then continue into the middle of next week as this system – once it moves near the coast and makes landfall – will be slow to move out of the region. The highest rainfall totals are expected along the central Gulf Coast – generally from around Pensacola to Gulfport – where a widespread 6-12" of rain is expected with isolated higher amounts.
---
Tropical System Likely This Weekend. A system that we've been tracking the past few days near the Yucatan Peninsula has become better defined overnight, and according to the National Hurricane Center it could become a subtropical or tropical system into the first half of the weekend. The National Hurricane Center is giving this system a 90% (high) chance of formation over in the next couple days. If this system is named, it will be called "Alberto."
---
Potential Track Of This System. The system we are watching will still be around the northern Yucatan Peninsula Saturday morning before quickly moving into parts of the eastern Gulf of Mexico by Sunday morning as the system starts to gain strength. At this time, the low will start to curve toward the central Gulf Coast, bringing the system just offshore by Monday morning. During this time this storm will also start to lose forward speed, lingering across the region into the middle of next week. Due to this slow movement, a prolonged heavy rain event is expected on the east side of the eventual track, especially near the coast.
---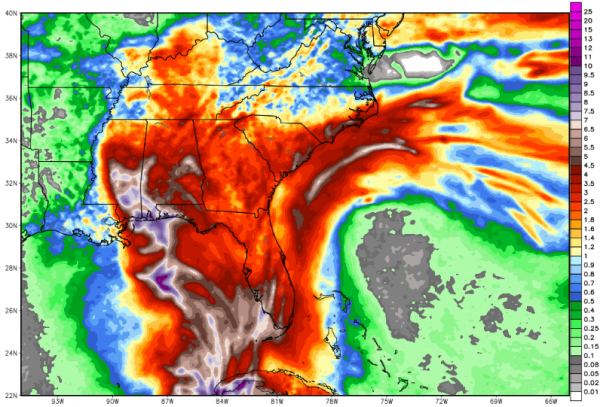 Biggest Threat: Heavy Rain. A long duration heavy rain event is expected to set up with this slow moving system as we head through the weekend and into next week across the Southeast. Rainfall totals of 2-6"+ will be common across the region through next Thursday morning, with the heaviest rain concentrated in two areas:
First, in southwest Florida a tropical plume of moisture connected to this developing system will bring the potential of 3-7" of rain through the weekend. While no Flood Watches are currently in effect for this plume of heavy moisture, one is expected to be issued at some point.
The second is expected along the central Gulf Coast into parts of southern Mississippi and Alabama as we head through the weekend and into the middle of next week as this system approaches the coast, makes landfall, then is slow to move out of the region. Rainfall amounts in this region could top a foot in spots.
(Graphic above: Rain through next Thursday morning. Source: WeatherBell)
---
Heaviest Rain From Pensacola to Gulfport. The heaviest rain amounts though the middle of next week with this system can be expected across the central Gulf Coast – generally speaking from Pensacola to Gulfport. As this system is slow to move out of the region, an extended period of heavy rain is expected to set up due to abundant tropical moisture. Some areas could see 6-12" of rain through the middle of next week, with isolated higher amounts up to 15". This heavy rain could lead to the potential of flash flooding across the region. (Graphic: Rain through next Thursday morning. Source: WeatherBell)
---
Flash Flood Watches. There are two different areas of Flash Flood Watches in effect over the next several days across portions of the Southeast:
Across Georgia, a Flash Flood Watch is in effect through

8 AM

Saturday

due to a different system that isn't associated with what we are watching in the Gulf. However, a widespread 1-3"+ of rain falling in a short amount of time could lead to flooding issues.
Across the central Gulf Coast (including Mobile and Pensacola), Flash Flood Watches are in effect from

Saturday

evening through

Tuesday

evening due to expected rainfall amounts of 6-12", with isolated higher amounts up to 15". This heavy rain over multiple days would lead to the potential of flooding.
---
Coastal Flooding Concerns. We will also be watching the potential of coastal flooding with this system as it approaches and makes landfall across the central Gulf Coast, particularly from Saturday afternoon into Tuesday evening, with the greatest concern Sunday into Monday. Inundation (above ground level) of 2-4 feet will be possible, particularly at times of high tide. Coastal Flood Watches are in effect along the Gulf beaches of Alabama and Northwest Florida including the Mobile, Pensacola and Fort Walton Beach areas.
---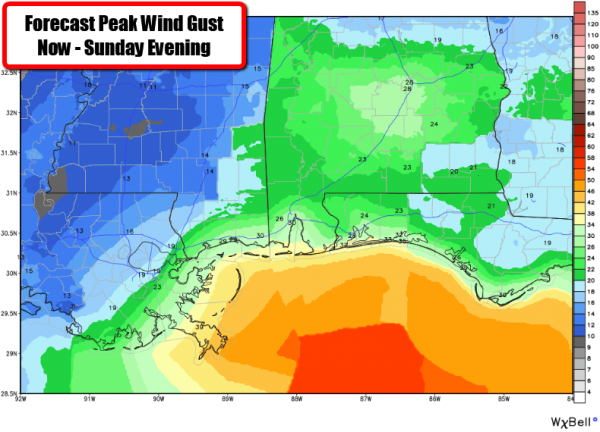 Wind Concerns Through Sunday Evening. While the strongest wind gusts are expected to remain offshore at the moment with this system, we could see some wind gusts top 30 mph near the coast through Sunday evening. These stronger winds would be likely as we head toward Sunday evening with the system approaching the coast.
Summary. A system that we've been tracking the past few days near the Yucatan Peninsula has become better defined overnight, and according to the National Hurricane Center could become a subtropical or tropical system into the first half of the weekend. As this system continues to push north, heavy rain is expected to spread across the Southeast this weekend ahead of the low approaching the coast. While we expect landfall of potential "Alberto" Memorial Day Monday along the central Gulf Coast, this system will linger across the region through the middle of next week, continuing the heavy rain and flood threat. The highest rainfall totals are expected along the central Gulf Coast – generally from around Pensacola to Gulfport – where a widespread 6-12" of rain is expected with isolated higher amounts. It is this prolonged heavy rain and eventual flooding risk that are the main concerns with this system. We'll continue to have updates throughout the holiday weekend.
D.J. Kayser, Meteorologist, Praedictix
---
NOAA's 2018 Hurricane Forecast is Here. There's Good Reason to Believe It. TIME.com explains why coastal residents should remain weather-aware over the next few months: "The NOAA scientists' complex model predicts there will be 10 to 16 storms this year that reach wind speeds of at least 39 mph, earning them a climatological name. Of those storms, five to nine are predicted to mature into hurricanes, with winds reaching 74 mph, while one to four of those will graduate to "major" status of at least category 3 on the five-point severity scale, with wind speeds of at least 111 mph. And there's reason to believe this is a likely possibility. A TIME examination of the past 15 years of NOAA's forecasts found that the agency's predictions of the number of significant storms, which are provided as high and low estimates, are usually correct or close to correct, with some major exceptions..."
---
Agency: Texas Chemical Plant Unprepared for Harvey Floods. U.S. News has the post: "The federal agency that investigates industrial accidents offered muted criticism Thursday of the Houston-area chemical plant that flooded during Hurricane Harvey and partially exploded. Crews for Arkema Inc. worked "to the best of their ability" to keep equipment that cooled and stabilized its organic peroxides from losing power as six feet of water engulfed the plant last August, said Mark Wingard, lead investigator for the U.S. Chemical Safety Board, during a news conference in Houston. Arkema's emergency plans, however, hadn't anticipated the damage that high flood waters could cause its safety systems. Employees at the plant in Crosby, just outside Houston, told investigators they had only seen a foot or two of flood water in the past…"
---
Five Years  After Tornado, Moore's Stronger Building Codes Haven't Hurt Market. KGOU has the story: "…On May 20, 2013, a monster EF5 tornado devastated this community, killing 24 people, including 7 children at Plaza Towers Elementary School. It was the city's fourth major tornado since 1999. In 2014, Moore became the only municipality in Oklahoma to adopt residential building codes that are strong enough to survive an EF2 tornado. The new homes in Moore are designed to withstand winds up to 135 miles per hour. The codes require hurricane clips, bolts connecting the frame to the foundation, narrower spaces between roof joists and more durable garage doors, among other things..."
Photo credit: "Marvin Haworth stands outside a home his business is constructing in Moore, Oklahoma on May 14, 2018." Jacob McCleland / KGOU.
---
Storm-Chasing Vacation: Meet the Tornado-Addicted Tourists. Yes, there is an adrenaline-rush when you do see a tornado – hopefully from a safe distance. NEWSWEEK.com explains: "…The real dangers of storm chasing, however, often don't come from being swept up by a tornado. A phenomenon known as "chaser convergence" can occur when there is just one large tornado predicted for the day and a number of storm chasers travel to that one high risk area. The roads in rural areas are often small and not designed for the hundreds, and sometimes thousands, of people who often converge. This can cause traffic jams which make it harder to access the perfect spot to witness a tornado, or at worst, make escape routes too congested. Despite the increasing interest in storm chasing, Lee said it is still a very niche hobby. "When you say to the locals that you're a storm chaser, they look at you as if you've got two heads on you…"
Photo credit: Reuters via AccuWeather.
---
The Places in the U.S. Where Disaster Strikes Again and Again. The New York Times has a fascinating and vaguely troubling trend: "In the last 16 years, parts of Louisiana have been struck by six hurricanes. Areas near San Diego were devastated by three particularly vicious wildfire seasons. And a town in eastern Kentucky has been pummeled by at least nine storms severe enough to warrant federal assistance…"
Map credit: "All the maps in this article show losses verified by the Small Business Administration for disasters in which a presidential disaster declaration was issued. The values of the losses are expressed in 2017 dollars." The New York Times.
---
Natural Disasters Cost $306 Billion Last Year. Congress Can No Longer Ignore Flood Insurance. Again, how many times do you have to get clubbed over the head with a (soggy) 2X4 before you sit up, take notice, and demand action? Here's an Op-Ed from TheHill: "…
A quick review of the facts shows just how important NFIP is to Americans' physical safety. Last year, the tab for all natural disasters came in at a record $306 billion while 4.7 million Americans — more than the combined populations of Philadelphia, San Diego, Boston and Austin —applied for disaster aid. Most of the worst disasters involved flooding. Hurricane Maria destroyed Puerto Rico's power grid and devastated the island, while Hurricane Harvey broke a rainfall record for a single tropical storm, and record floods hit at least five states with California ending a drought with its wettest winter ever. Increasing populations in flood-prone areas, sinking coastlines and climate change will all make things worse in the future
…"
Image credit: Climate Signals.
---
Wind Power Poised for Record Year, Despite Initial Tax Law Concerns. Utility Dive has the post: "The number of contracts signed for wind power projects hit a record of 3,500 MW in Q1 2018, according to the American Wind Energy Association, signaling that 2018 should be a strong year for the renewable resource. There are now 33,449 MW of wind projects under construction or in advanced development in the U.S., a 40% increase from last year and the highest level since AWEA began compiling the metric at the beginning of 2016. Despite fears that changes in the tax code would slow wind power development, the tax equity market, the key financing vehicle for wind projects, appears to have adapted and survived intact…"
Map credit: locations of wind turbines, U.S. Wind Turbine Database.
---
Xcel Energy Cuts Carbon Emissions by 35% Here's a clip from a press release at Business Wire: "Xcel Energy is a step closer to achieving one of the most aggressive carbon-reduction goals in the industry. Today, the company announced it cut carbon emissions 35 percent, according to its newly released Corporate Responsibility Report. This puts Xcel Energy on track to reach or exceed its ambitious goal of reducing carbon emissions 60 percent by 2030 from 2005 levels. "We're on a path to provide a more sustainable, prosperous energy future and believe reducing carbon emissions while enhancing affordability is a tremendous benefit for the customers and communities we serve," said Ben Fowke, chairman, president and CEO of Xcel Energy. Xcel Energy surpassed the U.S. commitment under the Paris Climate Accord in 2016, which called for a 26 to 28 percent reduction in carbon emissions by 2025. It's now working to achieve a 50 percent reduction in carbon emissions by 2022 from 2005 levels..."
---
Why the Days of Addictive Tech Are Numbered. Big Think has a hopeful video: "Do we want to be at the mercy of our devices, or do we want to be fulfilled? Cognitive scientist Joscha Bach explains how the big decision we're coming to in tech ethics will mimic another moment in tech history: the battle of the search engines. In the late 1990s, AltaVista was one of the world's most used search engines—at least until a "small and inconsequential" startup called Google came along. AltaVista served ads, and Google didn't (not back then). For the public, the choice was easy; there's a reason you "Google" the weather rather than "AltaVista" it. We face the same decision now: will we choose tech that harvests our attention and sells it, like highly addictive social media apps; or will we choose tech that is useful to us—products that help us achieve our own goals?…"
---
Is Technology's Impact on our Brains Overblown? So you're saying I'm not addicted to my iPhone? Here's a clip from Quartz at Work: "How concerned should people be about the psychological effects of screen time? Balancing technology use with other aspects of daily life seems reasonable, but there is a lot of conflicting advice about where that balance should be. Much of the discussion is framed around fighting "addiction" to technology. But to me, that resembles a moral panic, giving voice to scary claims based on weak data. For example, in April 2018, television journalist Katie Couric's "America Inside Out" program focused on the effects of technology on people's brains. The episode featured the co-founder of a business treating technology addiction..."
Photo credit: "Technology addiction" is scary, but unfounded, argues a psychologist." Eugene Hoshiko, AP.
---
How a Weakened ESPN Became Consumed by Politics. Confused about the NFL's recent "no-kneeling policy during the National Anthem"? Follow the money. The Wall Street Journal reports: "…Why ESPN found itself torn up by the nation's partisan politics traces back to its fundamental business challenge. Its status as cable TV's most expensive channel had become a liability. As consumers grew fed up with their monthly cable prices, big cable distributors began offering discounted packages that didn't include the network. Many consumers opted for those offers, while others cut the cord entirely, leading ESPN to shed 16 million subscribers over seven years. At the same time, costs have ballooned, especially for vital live sports rights. Average annual payments tied to ESPN's four biggest, long-term rights deals have more than doubled since 2013 to $4.7 billion. After years of growth, ESPN's profit declined in the fiscal year that ended in September 2017, people familiar with its finances said…"
Graphic credit: Nielsen (subscribers); Morgan Stanley estimates (ESPN operating income); company filings (Disney operating income); Kagan, S&P Global Market Intelligence (bill)
---
Sleeping In on Weekends Can Compensate for Lack of Sleep During the Week, Study Suggests. Here are a couple of snippets from a Washington Post story: "Sleeping in on a day off feels marvelous, especially for those of us who don't get nearly enough rest during the workweek. But are the extra weekend winks worth it?…Previous sleep studies asked people to count their hours of sleep for an average night, without distinguishing between workdays and days off. Not in the new study. People under the age of 65 who slept for five hours or less every night, all week, did not live as long as those who consistently slept seven hours a night. But weekend snoozers lived just as long as the well-slept. People who slept for fewer than the recommended seven hours each weekday, but caught an extra hour or two on weekends, lived just as long as people who always slept seven hours, the authors reported…"
File photo: JM Guyon/AP.
---
Television's Future is Data-Driven. A story at MediaVillage caught my eye: "ANA and Forrester Research have just released a new report, "The Digital Transformation of Video Advertising Arrives," based on research among ANA members.  The research indicates that television advertising is at the cusp of significant change as marketers are incorporating the data-driven approaches of addressable and advanced TV into their plans. Addressable and advanced TV are defined as follows:
Addressable TV enables advertisers to deliver ads to specific households through their cable or satellite set-top box, with enhanced targeting as a result.  Advertisers use rich data about the households including income, product/brand usage and family composition to select households that most closely match their target audience..."
Photo credit: campaignlive.com.
---
Slack Founder: "70% of Office Work is Wasted Output". Do you agree? Here's an excerpt from Business Insider: "Slack founder Stewart Butterfield has a dim view of office life. "Think about the tropes of culture around office work, the TV show 'The Office,' the movie 'Office Space,' and 'Dilbert' the cartoon … they involve long meetings, too much email, those have been a constant for decades," he said today at VivaTech, the giant tech conference in Paris. "People tend to not see that as part of their work," he said, referring to the way that meetings get in the way of the actual tasks people's jobs consists of. "Over the last 20 or 30 years in most occupations people have become more productive," he said. As an example he talked about recruiters. Today, they have LinkedIn, email, "tools for auto-sorting and scoring resumes as they come in." But "in 1991, all they had was the White Pages…"
---
Oh Alexa. CNN explains how an Amazon Alexa speaker recorded a private conversation and e-mailed it to a friend. It's not a bug – it's a feature! "An Amazon Echo user in Portland, Oregon, says she was shocked to learn her Echo had recorded a conversation with her husband without them knowing, then sent the audio file to one of his employees in Seattle.  "My husband and I would joke and say I'd bet these devices are listening to what we're saying," the Echo owner Danielle told local news station KIRO 7. The news station did not report her last name.  She said the incident happened two weeks ago when the employee called them to say she'd received a strange voice recording of them.  "The person on the other line said, 'unplug your Alexa devices right now,'" she told KIRO. "'You're being hacked…'"
---
Turkmens Warned Over Presidential Toilet Paper. Government officials wish they could wipe this one away. Here's an excerpt from BBC: "Local police in Turkmenistan are inspecting toilets for evidence that locals have been using newspapers containing photographs of President Gurbanguly Berdimuhamedov to wipe themselves, it's been reported. The regional police in the western region of Balkan have allegedly instructed community policing officers to check toilets in public places and private houses, and to find evidence of people using newspapers with pictures of the country's president as tissue paper, Moscow-based news website Fergana.ru – known for its credible reporting on Turkmen affairs – reports. Officers have been told to look for the Turkmen leader's "soiled" pictures at landfill sites, as well as among garbage at waste collection points…"
Photo credit: Alternativnnyy Novosti Turkmenistana. "You'd be hard pressed to find a Turkmen newspaper without a photograph of leader Gurbanguly Berdimuhamedov."
---
Storm Chaser Wants His Ashes Launched Into a Twister. Because, why not? Missouri's News Tribune has the unlikely details: "A Missouri storm chaser wants his friends to launch his ashes into a tornado and ended his obituary saying, "That'll be fun!!!!" Jim "Mad Dog" Sellars, of Springfield, spelled out his unique wishes in the obituary he wrote before he died Tuesday. Greenlawn Funeral Home said on its website that Sellars was 64. He had lived with a heart condition for several years. The Springfield News-Leader reports that Sellars's older brother, John Sellars, described his brother as a "Renaissance Man." Jim Sellars worked more than three decades for a telephone company, served as a reserve police officer and had a lifelong passion for weather and HAM radios. For years he chased storms…"
---
SATURDAY: Sunny, hot and dry. Winds: W 8-13. High: 94
SATURDAY NIGHT: Warm and dry. Low: 71
SUNDAY: Hello July! Sizzling sunshine. Winds: SW 5-10. High: 95
MEMORIAL DAY: Still sweaty, slight chance of thunder. Winds: S 5-10. Wake-up: 73. High: 95
TUESDAY: Sticky, more numerous T-storms. Winds: S 8-13. Wake-up: 72. High: near 90
WEDNESDAY: Best chance of T-storms all week. Winds: S 10-15. Wake-up: 68. High: 85
THURSDAY: Partly sunny, stray T-shower possible. Winds: NW 8-13. Wake-up: 66. High: 87
FRIDAY: Plenty hot, round of T-storms late? Winds: SW 7-12. Wake-up: 70. High: near 90
---
Climate Stories…
Judge Demands More Information From Oil Companies in Climate-Change Suits. Here's the intro to a story at The Wall Street Journal: "A federal judge on Thursday said he needed more information before deciding whether to dismiss lawsuits by San Francisco and Oakland alleging that five of the world's largest oil companies should pay to protect the cities' residents from the impacts of climate change. U.S. District Judge William Alsup  asked the oil companies and the cities to narrow their arguments regarding the merits of the suit. The judge also asked the companies to produce additional material backing up claims by some that they shouldn't be a part of the case because the court lacked jurisdiction over them. The suits allege that the companies— Exxon Mobil Corp. , Chevron Corp. , Royal Dutch Shell PLC, BP PLC and ConocoPhillips —created a public nuisance by producing fossil fuels they knew would result in harmful emissions.…"
Photo credit: "San Francisco and Oakland allege that five of the world's largest oil companies created a public nuisance by producing fossil fuels." Photo: Paul Sakuma/Associated Press.
---
Scientists Discovered Massive Hidden Canyons in Antarctica That Could Spell Bad News for the Rest of the Planet. Quartz has the story: "Antarctica, the Earth's landmass now most synonymous with bad news, has a new feature for us to worry about. A team of scientists from the UK, Denmark, the Netherlands, and Norway just discovered three canyons hidden beneath hundreds of feet of ice in interior Antarctica. In a paper published this month in the journal Geophysical Research Letters, they write that the canyons are in the region where the East and West Antarctic Ice Sheets meet, and the deep subterranean grooves are channelizing ice flow into the sea as the two sheets come together. "[If] climate conditions change in Antarctica, we might expect the ice in these troughs to flow a lot faster towards the sea…"
Photo credit: "In the place where West and East Antarctic ice sheets meet is one of the least-explored regions on Earth. These penguins, while in Antarctica, are not in that region. We just thought they were cool looking." (REUTERS/Alexandre Meneghini).
---
Yep, It's Warming. Data from Columbia University.
---
White House Mulled "Ignoring" Climate Science: Headlines and links via Climate Nexus: "The Trump administration debated whether it should attack or simply ignore federal research on climate change, the Washington Post reported Wednesday. A memo obtained by the Post written last September by former top White House energy and environmental aide Michael Catanzaro presented three pathways for the administration to approach climate science. The menu of options: conducting a red team/blue team exercise to "highlight uncertainties"; using the Administrative Procedure Act to formally attack scientific findings; or "ignor[ing], and not seek[ing] to characterize or question, the science being conducted by Federal agencies and outside entities." The memo did not present an option for endorsing federal climate science." (Washington Post $, The Hill, Axios, Huffington Post, Newsweek, Slate).
File image: Wikipedia.
---
NASA Chiefs Lays Out Lunar-Exploration Goals, Commits to Climate Change Research. The Wall Street Journal reports: "NASA chief James Bridenstine unequivocally told a Senate panel that human activity is the primary cause of climate change, reversing his earlier skepticism, and sketched out a five-year, $52-billion lunar-exploration program. In his first testimony on Capitol Hill following a lengthy confirmation process during which critics attacked him for controversial environmental positions, Mr. Bridenstine on Wednesday received bipartisan support for many policy priorities. Under his direction, the National Aeronautics and Space Administration seeks to pursue various private-public partnerships to develop a family of spacecraft intended to return astronauts to the Moon by the early 2020s…"
File image of Hurricane Patricia: Scott Kelly, NASA ISS.
---
Young Conservatives Like Me Care About Climate Change. The GOP Needs to Take Notice. Vox has an Op-Ed worth reading; here's an excerpt: "As a young conservative woman in my early 20s, I'm often met with surprise when people learn that environmentalism is a top political concern for me. Conservatives have been slow to address environmental challenges, even though many environmental solutions fit well within a belief in free market solutions. The economic and national security benefits of prioritizing climate change are issues that the GOP can and should embrace; they're consistent with their ideology. While the left and right may have different reasons behind prioritizing eco-friendly reforms, such reforms are in our collective best interest. I am not alone in this thinking. It's no secret that young voters, including young conservative voters, are increasingly concerned about environmental issues. A new poll from Pew Research confirms it, finding that along with holding opinions on climate change that differ from previous generations', upward of 80 percent of millennial voters favor increasing alternative forms of energy like wind and solar…"
File image: NASA ISS.
---
Meeting Paris Climate Goals Could Save Save the World Trillions of Dollars. Axios explains: "…Why it matters: The study, published Wednesday in the journal Nature, is the first to look at how global economic output would be affected under different amounts of global warming, providing policymakers with the "benefits" side of a cost-benefit analysis.
The study examines the historical tie between climate and economic output in 165 countries during the period from 1960 to 2010, and uses this to project future changes in economic development.
What they found: The study found that the more that the climate warms due to increasing amounts of greenhouse gases in the air, then the more that economic output in many countries would drop. Even some of the world's biggest economies — China, the U.S., and Japan — would be significantly affected if global average temperatures were to increase by two, three, or four degrees Celsius relative to preindustrial levels..."
---
How Warmer Temps Will Impact World Food Staple: Climate Nexus reports: "Climate change could make rice less nutritious, according to new research. A study published Wednesday in the journal Science Advances finds that growing rice in high atmospheric levels of CO2–including levels expected by 2100 under some emissions scenarios–resulted in a decline of levels of various key vitamins and iron, zinc and protein. "About two billion people rely on rice as a primary food source and among those that are the poorest, often the consumption of rice in terms of their daily calories is over 50%," study coauthor and USDA scientist Lewis Ziska told The Guardian. "Anything that impacts rice in terms of its nutritional quality is going to have an impact." (New York Times $, Washington Post $, The Guardian, AFP)
File image: Rob Koch.