33 F. high yesterday in the Twin Cities.
24 F. average high on December 29.
27 F. high on December 29, 2015.
December 30, 2005
: A large swath of snowfall in the 6 to 8 inch range falls approximately north of a line from Madison to Redwood Falls through Glencoe and Woodbury. Even heavier snowfall occurred west of a Granite Falls to Willmar line, where reports of between 8 and 11 inches were recorded. In Willmar, several vehicles were reported stuck in ditches. A semi-truck also rolled onto its side.
December 30, 1996
: 6 to 7 inches of snow falls in Willmar. The new snowfall, in addition to previous heavy snowfall, caused a portion of the historical society's roof to collapse.
December 30, 1980
: A 'heat wave' develops across Minnesota. Redwood Falls hits 51.
More Fun With Negative Numbers Next Week
Gazing at next week's predicted temperatures got me thinking about the merits of arctic air. Suspend your disbelief for just a minute. With the exception of the west coast the towns in America that avoid the coldest fronts are susceptible to hurricanes.
Would you prefer a handful of Siberian slaps, or just one Texas-size storm with 130 mph winds passing over your house? The west coast avoids hurricanes and numbing encounters, but is susceptible to earthquakes, tsunamis and rare volcanic eruptions. Even Hawaii suffers floods & occasional hurricanes.
Perfect weather only exists on postcards.
O.K. I'm just rationalizing next week's tormenting temperature tumble; another subzero shot by mid-January. It won't be as cold as December 18 (-20F in the metro) but the cold will linger longer. Not hard to believe, considering our coldest weather, on average, arrives about 3 weeks after the Winter Solstice.
A couple inches of snow may fall by Tuesday, but no big storms are on the horizon yet. Enjoy a brief New Year's Day thaw – next week will feel like a refreshing slap across the face.
---

Dueling Weather Models. Both ECMWF (European) and NOAA's GFS model show a significant cooling trend next week, although not as harsh as a couple weeks ago. The European model is considerably colder than GFS, which keeps MSP metro temperatures generally above 0F the latter half of next week. MSP Meteograms above: WeatherBell.
---
---

Officials Warn of "Blow Ice" on Minnesota Roads. Even though many Minnesota roads are elevated (to give snow someplace to go after a big storm) strong winds can cause snow to drift onto highway surfaces, setting the stage for icing. Here's an excerpt from St. Paul Patch: "…The Minnesota State Patrol says when driving in poor conditions, motorists should:
Slow down
Not use your cruise control
Increase your following distance
Give yourself extra time to get to your destination
Line up a sober ride or stay put if you have been drinking..."
Photo credit: Sgt. Jesse Grabow, Minnesota State Patrol.
---

New Year's Eve Weather Preview. Expect lukewarm conditions from Houston and New Orleans to Miami, otherwise heavy jackets and coats will be appropriate. Much of the west coast looks damp and chilly; temperatures in the teens when the ball drops over northern tier cities. Map: Aeris AMP.
---

Times Square Outlook. Models hint at a passing shower Saturday night around midnight; temperatures in the upper 30s in New York City.
---

Twin Cities New Year's Eve: Nippy, But Quiet. Expect upper teens to around 20F under a partly cloudy sky – no weather drama expected Saturday night.
---
---

Snow Season For Pacific Northwest Already Half Over. On average, half a winter's worth of snow has fallen across much of Washington State and Oregon by late December. From Denver to the Twin Cities and Indianapolis we don't reach half time in the snow department until the second and third week of January.
---

Snow Belt Shifts South and East Within 8-10 Days? GFS guidance from NOAA shows a snowy stripe from north Texas and Oklahoma into Arkansas, the Carolinas and Mid Atlantic between roughly January 6-8, 2017. Circle your calendars. Much of the USA is due for at least a cosmetic snowfall. 10-Day total snowfall product: Tropicaltidbits.com.
---
Northern Lights: What Are They? How Can I See Them? AerisWeather meteorologist Todd Nelson has a good overview of the Aurora Borealis and internet tools you can use to increase the chance of actually seeing the Northern Lights: "If you live at a northern latitude, there's a chance you've been lucky enough to see the Northern Lights, which is also known as aurora. Even if you live in a northern latitude, several factors have to come together for northern light viewing. First of all, what are they? Well, let's start with our sun. The sun is an interesting ball of hot gaseous material that can often act up and burp charged particles into outer space. If this violent storm is pointed in our direction, these charged particles will ride the solar wind at speeds of more than 7 million miles per hour. When they reach Earth, they interact with the magnetic field and are drawn to both the north and south poles where the magnetic field is weaker allowing those particles to interact with our atmosphere…"
---
30 Minute Aurora "NowCast". NOAA's Space Weather Prediction Center has a model and web page that pinpoints where the aurora will be visible for the next 30-60 minutes; worth checking out to gauge the odds of seeing the Northern Lights: "The OVATION Aurora Forecast Model shows the intensity and location of the aurora predicted for the time shown at the top of the map. This probability forecast is based on current solar wind conditions measured at L1, but using a fixed 30-minute delay time between L1 and Earth. A 30-minute delay corresponds to approximately 800 km/s solar wind speed as might be encountered during geomagnetic storming conditions. In reality, delay times vary from less than 30 minutes to an hour or so for average solar wind conditions…"
---
AerisWeather Briefing: Issued Thursday morning, December 29th, 2016.
* A coastal storm will bring heavy snow and strong winds to parts of New England through Friday.
* While areas like New York City and Boston will mainly see cold rain from this system, snow will pile up in interior New England, with up to a foot and a half possible. Winter Storm Warnings are in effect for these areas.
* This system will also bring high winds with it, gusting up to 50 mph at times near coastal areas including Boston and Portland, ME.
---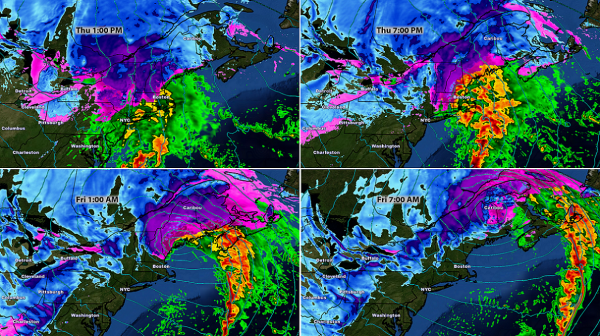 Storm Strengthens Over Next 24 Hours. Snow will spread across New England as we go through the day on Thursday, mainly pushing into parts of New Hampshire, Vermont and Maine by early Friday morning. Behind it, the lake effect snow machine will start up, bringing heavy snow to northeast Ohio, northwest Pennsylvania and western New York.
---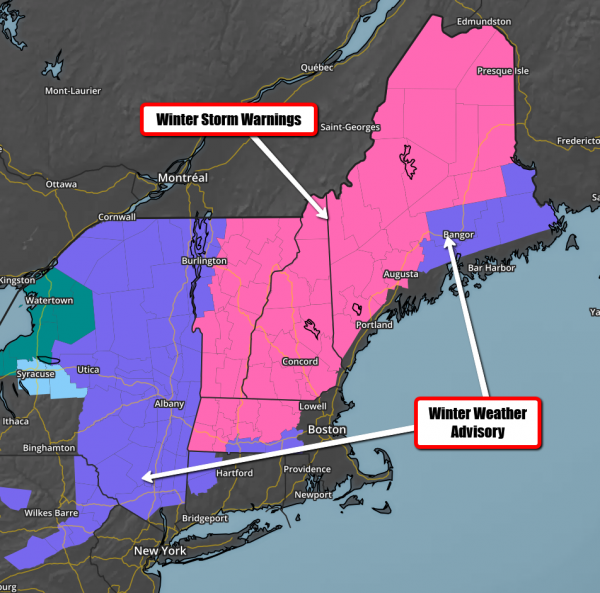 Warnings And Advisories. Winter Storm Warnings are in effect from western and central Massachusetts through northern Maine for the potential of 6-18" of snow through Friday. Winter Weather Advisories are in effect for parts of Pennsylvania, New York, Connecticut, Massachusetts and interior Downeast Maine and into Bangor for snow totals up to six inches.
---
Forecast Snow Totals.  The heaviest snow with this system will be across interior New England, where a foot to a foot and a half of snow is likely in spots by the time the system pushes out Friday. Meanwhile, Boston will likely pick up less than an inch of snow, and Portland, ME will receive 2-4″ of snow. Here's a look at some expected snow totals across the region:
---
Boston, MA: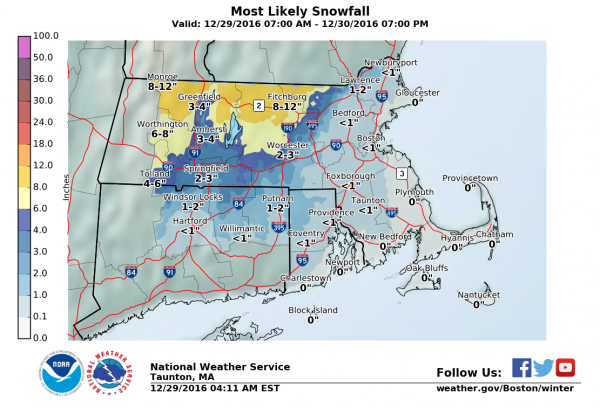 ---
Burlington, VT: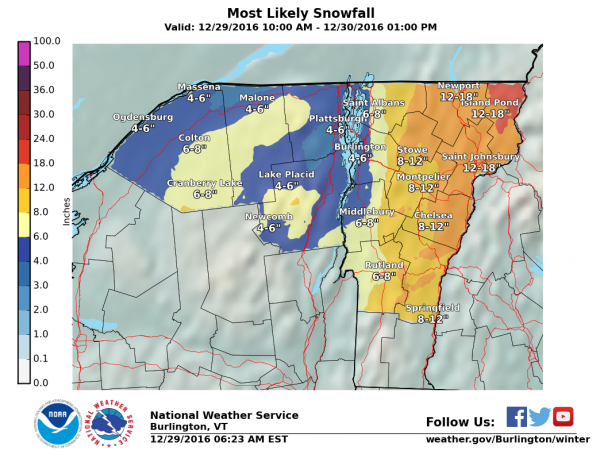 ---
Gray, ME (covering Portland):
---
Caribou, ME:
---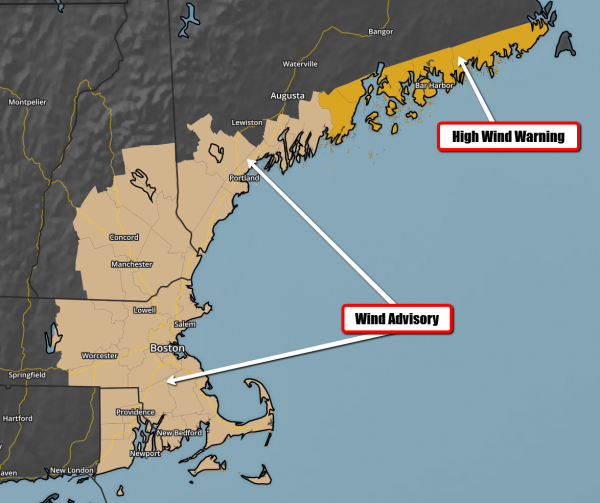 Wind Concerns As Well. Closer to the coast, strong winds will be the story as the system quickly strengthens and moves through the region. Wind Advisories and High Wind Warnings are in effect from Boston up the Maine coastline from this evening into the morning hours on Friday.
---
Wind Gusts To 50 mph Possible. Winds at times could gust to 50 mph as we head through Thursday Night into Friday from Boston to Portland, ME and up the Maine coast. These wind gusts could lead to power outages.
Summary: A coastal storm will bring heavy snow to interior New England over the next 24-48 hours, with snow totals of over a foot likely in parts of Vermont, New Hampshire and Maine. While areas like New York City and Boston may see some early morning or overnight snow (with little – if any – accumulation), most of the precipitation will be in the form of rain. Winds will also be on the increase as the system strengthens, and areas like Boston and Portland, ME have the potential for 50 mph wind gusts as we head into tonight. Wind Advisories and High Wind Warnings are in place along the coast.
D.J. Kayser, Meteorologist, AerisWeather
---
The Dangers of Hypothermia
. A slow drop in body temperature, hypothermia, can be fatal if not caught in time.
NOAA
has good advice on symptoms and prevention: "
When your body temperature sinks below 96°F, you have hypothermia, a serious health hazard that occurs when body temperature is lowered to much. Get medical attention immediately. Move the victim inside to a heated location and begin warming the center of the body first. If the person is unconscious, administer CPR. Hypothermia can occur in temperatures as warm as 60°F, particularly in water or with if you are outside a long time and not dressed for the weather. Of the approximately 1,300 people the CDCP lists as being killed by hypothermia each year, most are seniors, according to the National Institute of Aging, but some are children and young adults. Everyone needs to be careful. Some medicines, problems with circulation, and certain illnesses may reduce your ability to resist hypothermia. As you age, your body becomes less efficient at letting you know when you are too cold. In addition, older people tend not to shiver effectively, one of the ways the body warms itself up. Remember these tips to help prevent hypothermia:
Dress in layers
Wrap up well when going outside in the cold.
Avoid breezes and drafts indoors.
Eat nutritious food and wear warm clothes to ward off winter chill.
Wear a warm hat in the winter.
Eat hot foods and drink warm drinks several times during the day.
If you live alone, ask a family member of neighbor to check on you daily or have a camera installed that a family member can view on their computer.
Ask your doctor if any medicine you're taking increases your risk of hypothermia. Drugs that may cause a problem include barbiturates, benzodiazepines, chlorpromazine, reserpine, and tricyclic antidepressants..."
---
Flood Threats Changing Across U.S. A warmer atmosphere can hold more water vapor, pushing the zone of persistently heavy rains farther north with time. Here's an excerpt from Iowa Now: "The risk of flooding in the United States is changing regionally, and the reasons could be shifting rainfall patterns and the amount of water in the ground. In a new study, University of Iowa engineers determined that, in general, the threat of flooding is growing in the northern half of the U.S. and declining in the southern half. The American Southwest and West, meanwhile, are experiencing decreasing flood risk. UI engineers Gabriele Villarini and Louise Slater compiled water-height information between 1985 and 2015 from 2,042 stream gauges operated by the U.S. Geological Survey. They then compared the data to satellite information gathered over more than a dozen years by NASA's Gravity Recovery and Climate Experiment (GRACE) mission showing "basin wetness," or the amount of water stored in the ground…"
Map credit: "A University of Iowa study has found that the risk of flooding is changing in the United States, and the changes vary regionally. The threat of moderate flooding is generally increasing in the northern U.S. (red areas) and decreasing in the southern U.S. (blue areas), while some regions remain mostly unchanged (gray areas). The findings come from comparing river heights at 2,042 locations with NASA satellite information showing the amount of water stored in the ground. The study was published in the journal "Geophysical Research Letters." Image courtesy of the American Geophysical Union.
---
From Teletypes to Tornadoes: NWS Veteran Looks Back on 35 Years of Weather. Including a traumatic tornado outbreak in 2011, as reported by AL.com: "…The weather service took a hard look at the events of April 27 and made some changes. "After April 27 we were all challenged. We were stunned. … Why in the world did all these people die when the science was so good?" Spann said. "And Jim really has led the charge with his staff. And he'll be the first one to say it's not him, it's his staff, but you've got to have a leader and he's the leader. "And by going back to basic science they've cut the false alarm ratio down to 20 (percent)," Spann said. "I never thought we'd be at 20. It was 80 in 2011. That's an example of the initiatives he's brought to the weather service in Birmingham." Stefkovich said April 27th brought other changes to the weather service as well. "It's never easy to see the damage, injuries, death and destruction, and it became even that much harder to do so after this event," he said. "However, it brought our entire staff closer together, to become more determined in saving lives and property, and leading to us now having one of the best severe weather warning programs in the country…"
Photo credit: "Jim Stefkovich has led the Birmingham office of the National Weather Service for more than 11 years. He will retire after 35 years with the weather service on Dec. 30." (Photo courtesy of Jim Stefkovich),
---
Staggeringly Beautiful HD Video of Earth from NASA. Gizmodo has the story behind the origin of these amazing video clips: "…It's been said many times that a person's perspective on life, the universe, and everything changes after seeing our planet floating in space. Watching this video, it's easy to understand why. Because NASA is awesome, it has made these video files available for download, which you can access here..."
---

A Celebration of Clouds: From Space, Earth Has an Elegant Atmosphere. Here's an excerpt of a good read at NASA's Earth Observatory: "Earth has been referred to as "the blue planet" due to its abundance of water. "The cloudy planet" would be equally appropriate. At any given time, about two-thirds of Earth's surface is covered by these masses of water and ice particles suspended in the atmosphere. Clouds can be a nuisance for scientists trying to use satellites to observe features on the surface—such as volcanic eruptions, floods, or phytoplankton blooms. But for some scientists, clouds are exactly what they want to see. Clouds help make the weather and affect Earth's climate, and they can make a difference in the success or failure of efforts to simulate both. (Correctly representing clouds in climate models, it turns out, is really hard to do). But sometimes, clouds manifest in such a way that they simply inspire awe…"
Image credit: "Nearly 70 percent of Earth's surface is covered by clouds at any given time. While cloud cover can obscure the surface and frustrate satellite imagery of land and sea, clouds offer a beautiful glimpse of our atmosphere and its processes." (NASA Earth Observatory image by Joshua Stevens, using Blue Marble imagery.)
---

Solar Looks to Outpace Natural Gas and Wind. Scientific American reports: "2016 is shaping up to be a milestone year for energy, and when the final accounting is done, one of the biggest winners is likely to be solar power. For the first time, more electricity-generating capacity from solar power plants is expected to have been built in the U.S. than from natural gas and wind, U.S. Department of Energy data show. Though the final tally won't be in until March, enough new solar power plants were expected to be built in 2016 to total 9.5 gigawatts of solar power generating capacity, tripling the new solar capacity built in 2015. That's enough to light up more than 1.8 million homes..."
---
Five Resolutions to Simplify Your Tech Life.
Simplification sounds good – although I suspect it's impossible. Here's an excerpt from a worthy
New York Times post
: "…
If you are like most people, there are things you do with tech that could use some tweaking. Strengthening your password security, for one, would benefit you tremendously in an era when hacks are rampant. For another, purging the e-junk you have accumulated over the years would help the environment and your sanity. While you're at it, start doing maintenance on your electronics to make sure they work smoothly this year. Here are my top recommendations for resolutions to abide by to make tech less frustrating in the new year.
.."
---
For Better or Worse: New Books Forecast The Next Technologies
. Here's an excerpt from a
New York Times book review
: "…
But wait. What happens when the 3.5 million Americans who drive trucks for a living and the three million Americans who work on farms get booted from their jobs by Uber-bots? What kind of social safety net might soften the blow of that kind of sudden mass unemployment? What kind of political movement might oppose the rise of a new, monopolistic techno-agricultural power? What are the ecological implications of putting food production in the hands of Silicon Valley tech companies? These are the biggest, most important questions, and the ones on which futurist thinking is most conspicuously absent.
.."
---
When Robots Take Jobs, Workers Deserve Compensation
. Technology will save us? Government will provide a safety net when entire industries are disrupted? Or is this a matter of personal responsibility – learning new skills to remain perpetually employable? Here's an excerpt from
Financial Times
: "…
Stressing that technology was not destiny, the report argued it was too soon to abandon the possibility of near-full employment. "The issue is not that automation will render the vast majority of the population unemployable," wrote Jason Furman, chair of the Council of Economic Advisers. "Instead, it is that workers will either lack the skills or the ability to successfully match with the good, high paying jobs created by automation
…"
---
Purify Yourself in the Waters of Lake Minnetonka?
Or the Minnesota River at Henderson. That's where the iconic water scenes in the movie "Purple Rain" were apparently shot, based on intelligence gleaned durinig our
Paisley Park tour
yesterday. It was well worth the time and money. Prince was not only a creative genius, but an accomplished businessman. It's rare to have both skills tied up in one extraordinary person. We were lucky to have him nearby – we miss you Prince Rogers Nelson. Your work continues to inspire.
---
Greyhound Bus Museum in Hibbing
. I had no idea, but
Atlas Obscura
set me straight: "
The name "Greyhound" apparently came from Wickman's sighting of his bus' reflection in the glass window of a storefront. The sleek gray reflection zooming by reminded him of a racing dog speeding down the track. That sleek image became one of the best known brands in the U.S. The buses themselves took on a new meaning in 1961, becoming a symbol of the Civil Rights movement when a bus carrying Freedom Riders was firebombed in Alabama. Images of the gutted bus were representative of the violence committed against black protesters by hate groups. The Greyhound Bus Museum, however, came not from the Greyhound company but from one man who stumbled upon the abandoned bus station in Hibbing, the birthplace of Greyhound
…"
Photo credit
: Hibbing's Greyhound Bus Museum, courtesy of
Wikipedia
.
---
TODAY
: Clouds, light snow up north. Winds: S 8-13. High: 29
FRIDAY NIGHT
: Lingering clouds. Low: 22
NEW YEAR'S EVE: Windy with splashes of sunshine. Winds: NW 15-25. High: 27
NEW YEAR'S DAY: Partly sunny, last "mild day". Winds: SW: 8-13. Wake-up: 21. High: 34
MONDAY: Light mix changes to snow. Slushy late. Winds: NE 8-13. Wake-up: 25. High: 32
TUESDAY: Light snow, flurries. Couple inches? Winds: NW 10-15. Wake-up: 18. High: 22
WEDNESDAY: Mostly cloudy, feels like January again. Winds: W 8-13. Wake-up: 6. High: 11. Feels like -5.
THURSDAY: Some sun, extra layer of clothing. Winds: NW 7-12. Wake-up: 1. High: 8. Feels like – 10.
---
Climate Stories…
The Smoking Gun of Arctic Warmth Leads to a Stunning Indictment. Dan Satterfield reports at AGU Blogosphere: "…It normally takes many months to get a paper through peer review and into a journal, but a group of scientists has released their detection and attribution study early, and it's a stunning indictment. We now know the culprit for the astonishing Arctic warmth of November and December. It seemed very likely that the guilty party was rising greenhouse gasses with Arctic amplification as the accomplice, and that's JUST what the evidence shows. It's overwhelming, and the defendants have no choice but to throw themselves upon the mercy of the court. The analysis shows that even in our present climate that is around a degree warmer than 1900, this heat is unusual, but would happen once every 50-200 years. The odds of it happening in the climate of 1900 are astronomically tiny, however, if we warm another degree, this will be a nearly commonplace event. The study is here, and for those that do not want to read the whole thing here are the conclusions…"
Graphic credit: "High Arctic Temp.s over the past 12 months. The black line is the average from 1981-2010. Red shows above normal temps. Note the incredible warmth all year that goes even to greater extremes in the last two months."
---
Military Plans for Climate Change Despite Skeptics. Here's a clip from Stars and Stripes: "…But the debate is settled at the Pentagon. Rising sea levels and temperatures have forced it to rebuild or move roads, housing, airfields and other vulnerable facilities damaged by mudslides in Hawaii, floods in Virginia, drought in California and thawing permafrost in Alaska. It also has led to a shift in strategic challenges around the world. The Pentagon doesn't say that climate change alone will cause wars. But the 2014 Quadrennial Defense Review, the Defense Department's major planning plan for the next four years, calls it an "accelerant of instability" and a "threat multiplier." "The pressures caused by climate change will influence resource competition while placing additional burdens on economies, societies, and governance institutions around the world," the document said…"
Photo credit: "The Ronald Reagan Ballistic Missile Defense Test Site at Kwajalein Atoll, Republic of the Marshall Islands, is among a growing number of U.S. military installations threatened by the effects of climate change, a recent report said." Courtesy of the U.S. Army.
---
This Republican Holds Out Hope for a Trump Conversion on Climate Change. Here's an excerpt of a story at PRI, Public Radio International: "…Inglis acknowledges that "many on the environmental left" probably don't see Tillerson the same way "we do on the eco-right." But he holds out hope that between Tillerson's fossil fuel-industry cred and Ivanka Trump's family ties, incoming President Trump could be turned into "the guy that completes this sentence: 'Richard Nixon went to China, Bill Clinton signed welfare reform, and Donald Trump did climate change.' "Because he might just realize," Inglis says, "that this really is a perfect place for the art of the deal. This is a tailor-made situation for going with an approach that actually is attractive to many progressives as well as rock-solid conservatives — that [through a carbon tax] you just put the cost of the negative effects of burning fossil fuels into the price of the product, then consumers drive demand for innovation..."
Photo credit: "Former US Representative Bob Inglis was awarded the 2015 John F. Kennedy Profile in Courage Award for changing his position on climate change at big political cost." Credit: Brian Snyder/Reuters.
---

Climate Change Driving Birds to Migrate Early, Research Reveals. Not much of a stretch, considering the growing season is increasing with time. Here's an excerpt from The Guardian: "Migrating birds are responding to the effects of climate change by arriving at their breeding grounds earlier as global temperatures rise, research has found. The University of Edinburgh study, which looked at hundreds of species across five continents, found that birds are reaching their summer breeding grounds on average about one day earlier per degree of increasing global temperature. The main reason birds take flight is changing seasonal temperatures and food availability. The time they reach their summer breeding grounds is significant, because arriving at the wrong time, even by a few days, may cause them to miss out on vital resources such as food and nesting places. This in turn affects the timing of offspring hatching and their chances of survival..." (File photo: Wikipedia).
---
How Climate Change Transformed the Earth in 2016. Here's an excerpt of a good recap from CBS News: "…In the centuries to come, history books will likely look back on September 2016 as a major milestone for the world's climate," Brian Kahn of Climate Central wrote earlier this year. That's because, during September, a month in which atmospheric carbon dioxide — a heat-trapping greenhouse gas —is usually at its lowest, the monthly value failed to drop below 400 parts per million. The 400 ppm mark has sad significance in the climate community, as it has long been considered a point of no return for the atmosphere by scientists. This year is poised to be the hottest year in the 137-year official record, with global temperatures climbing even higher than record-breaking 2015, according to data released in November from the World Meteorological Organization (WMO)..."
---
Yes, the Arctic's Freakishly Warm Winter Is Due to Humans' Climate Influence. Here's an excerpt of an article that caught my eye at The Conversation: "…To put it simply, the record November-December temperatures in the Arctic do not happen in the simulations that leave out human-driven climate factors. In fact, even with human effects included, the models suggest that this Arctic hot spell is a 1-in-200-year event. So this is a freak event even by the standards of today's world, which humans have warmed by roughly 1℃ on average since pre-industrial times. But in the future, as we continue to emit greenhouse gases and further warm the planet, events like this won't be freaks any more. If we do not reduce our greenhouse gas emissions, we estimate that by the late 2040s this event will occur on average once every two years…"
Graphic credit: "An Arctic iceberg, pictured in 2015. This year, ice coverage has reached record lows for the early northern winter." AWeith/Wikimedia Commons, CC BY
---
2016's Super Warm Arctic Winter "Extremely Unlikely" Without Climate Change, Scientists Say. Chris Mooney provides more perspective at The Washington Post: "…Clearly this is abnormal. But how abnormal? The answer is that what has happened this year in the Arctic, and particularly the high Arctic, appears to be not only out of the norm for a stable climate — like the one on Earth before the era of fossil fuels — but also for what you might expect from our supercharged, artificially warmed climate. Such is the upshot of a recently published "detection and attribution" analysis of November's and December's Arctic warmth by a group of scientists who are not waiting around for the peer review process — they are increasingly releasing these documents in near real time. And they find that "it is extremely unlikely that this event would occur in the absence of human-induced climate change." The analysis was conducted by a World Weather Attribution, a consortium of researchers who are perfecting the study of how a changing climate affects local weather conditions, or conditions in a specific place…"
---

Global Warming 2016: Arctic Spin. Here's an excerpt of a long post on worrying trends at the top of the world: "…Nobody who knows Arctic sea ice was surprised by this. It has been on the decline, overall, for decades, so it's no surprise that this year's levels would be at or near their lowest. It's part and parcel of the ongoing trend of the loss of sea ice in the Arctic. Nor was it a surprise that, even with an ongoing trend, it wasn't always at its lowest-ever. Most everything in nature, including sea ice, doesn't just follow a trend, it also constantly fluctuates. Added to the overall tendency, there are ups and downs and downs and ups that make it different from day to day, month to month, even year to year. But over the long haul, the fluctuations — even though they never stop — never really get anywhere. What does, what keeps on going and accumulates until we can't ignore it any more, is the trend — and for sea ice in the Arctic, that means there's less and less of it..."