83 F. high in the Twin Cities Saturday.
82 F. average high on June 28.
79 F. high on June 28, 2013.
.42″ fell yesterday at MSP International.
11.27″ rainfall so far in June.
11.67″ all-time June rainfall record for MSP (1874).
Living a Vacation
Sometimes you don't realize you're spoiled until you travel elsewhere, and then return with new eyes, new perspective.
Our friends from Cincinnati moved here a few years ago and marveled at the lakes – the charming towns. "It's like living a vacation!" Stacey Hyre said. But why would Twin Cities residents pack up and drive hours to be on a different lake, she wondered? To disconnect, to get out of your bubble, your weekday rut, and reconnect as a family, away from everyday distractions, I explained.
Truth? It took me 20 years to figure that out.
Have a Plan B again today at the cabin, or in the metro area. In fact the best chance of severe storms later today will come over southern Minnesota and Iowa, where a few large tornadoes can't be ruled out. Kind of puts the mosquitoes into perspective. Today will be sunnier & warmer than yesterday statewide, but stay alert for severe storms by late afternoon. Don't push the weather.
We cool off later this week, but a stubborn pool of chilly air aloft sparks more showers Tuesday & Wednesday. Thursday looks magical before a rerun of late-week humidity & storms.
Is a tropical storm about to form off the Carolinas? Check the blog below.
---
Saturday Rainfall Amounts. There are NWS Doppler-derived, showing 1-2″ rainfall estimates from Roseville and Shoreview to Cambridge; the heaviest rains soaked western Wisconsin. Officially .42″ rain fell in the Twin Cities yesterday, at least at the airport, where all things official are recorded.
---
Maps Still Don't Look Like June. NOAA NAM's 84 hour Future Radar product shows an unusually intense storm spinning over southern Manitoba and Saskatchewan, whipping up enough wind shear aloft for potentially severe storms later today, especially southern Minnesota and Iowa. This storm, more typical for early May than late June, will drag cool air southward in its wake by midweek. Loop: HAMweather.
---
Temporary Canadian Relief by Midweek. Extended models show a cooler, drier, more comfortable pattern returning by midweek, with Thursday probably the best day of the week. The approach of this cooler front sets off thunder Monday, with showery rains possible Tuesday PM into a portion of Wednesday. Dew points drop into the 50s by midweek, meaning much more comfortable air floating overhead. We warm up to near 80F on the 4th as clouds and humidity levels increase, a slight chance of a storm for the 4th of July; a better chance of more widespread storms next Saturday. Source: Weatherspark.
---
Alerts Broadcaster Briefing: Issued Saturday evening, June 28, 2014.
* Another significant severe storm outbreak expected Sunday afternoon from the Twin Cities to Des Moines and Kansas City. Right now the greatest risk of damaging winds, including a few large tornadoes, will be over Iowa by late afternoon and evening.
* Flash flood risk returns to much of Upper Midwest as thunderstorms repeatedly pass over the same waterlogged counties. Some additional 1-4″ amounts are possible; the threshold for flash flooding is roughly 1.5 to 2″ for many locations from Iowa and western Wisconsin into southern and central Minnesota.
* It's still early, but long-range models are hinting at a possible tropical depression or tropical storm impacting the Carolinas around the 4th of July, then tracking right up the East Coast next weekend – capable of producing coastal flooding and inland flash flooding.
---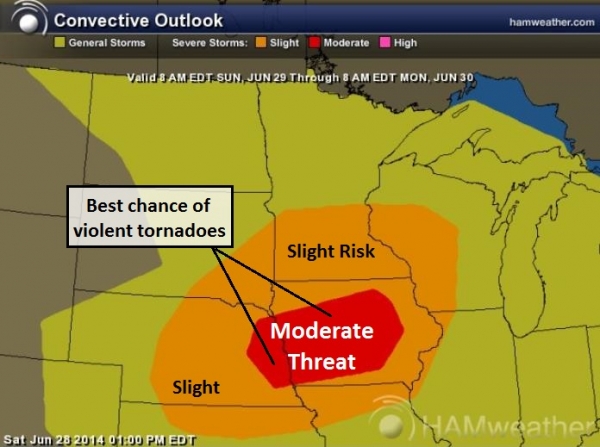 Sunday Storm Risk. A "Moderate Threat" as defined by NOAA SPC really implies "strong risk" of enhanced T-storms capable of large hail, 75+ mph winds and a handful of damaging EF-2+ intensity tornadoes capable of significant damage and injury. That will be the case Sunday, especially Iowa after roughly 3 PM, when the atmosphere is most unstable and volatile. A few smaller (more isolated) tornadoes can't be ruled out from central Minnesota and western Wisconsin into northern Missouri, Nebraska and eastern South Dakota. Graphic: HAMweather.
---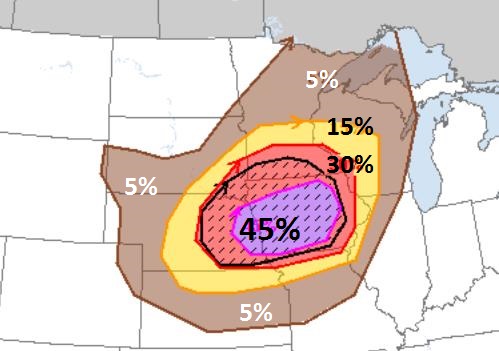 Pinpointing the Greatest Sunday Damaging Storm Risk. A 45% bulls-eye means a nearly 50-50 chance of severe weather within 25 miles of any location from Lincoln and Omaha to Des Moines and Waterloo, Iowa. The black hatched area shows a 10% risk of "enhanced severe weather", which is meteorological shorthand for 2″+ hail, winds over 75 mph. and large EF-2+ intensity tornadoes within 25 miles of any location. Across Minnesota the greatest risk of severe weather Sunday falls from the Twin Cities to the Iowa border, including Rochester, Mankato and Redwood Falls. Map: NOAA SPC.
---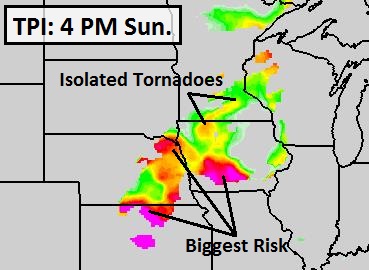 TPI: Tornado Potential Index. Alerts Broadcaster's proprietary TPI shows the greatest risk of large tornadoes by late afternoon from eastern Nebraska to near Des Moines, but there may be enough instability, low-level moisture and wind shear for a few isolated tornadoes into southern Minnesota and western Wisconsin. Map: HAMweather.
---

Tropical Whispers Next Weekend? From the outset let me state that my Confidence Level for tropical development along the East Coast is a 2 on a scale from 1 to 10. I'm showing this (now) because of the risk of coastal flooding during the 4th of July weekend, when even more people than usual will be camped out along the Atlantic coastline. I want to offer as much runway as possible, in the slight chance that this forecast verifies. ECMWF (European) guidance shows a tropical depression or possible tropical storm spinning up off the Carolina coast by Friday morning, the 4th, pushing into the Outer Banks of North Carolina Saturday the 5th, and then spreading up the eastern seaboard, much like a classic nor'easter over the weekend. There is a potential for heavy rain and some coastal flooding from the Carolinas into much of the Mid Atlantic and coastal New England within 5-7 days, including New York City. Full-blown hurricane development is highly unlikely, but remember that a slow-moving tropical depression or storm can squeeze out even more rain than a typical hurricane moving at 10-20 mph. Stating the obvious, we'll keep an eye on this scenario and update if the threat level increases for East Coast facilities. Map credit: WSI.
Paul Douglas – Senior Meteorologist – Alerts Broadcaster
---
NOAA: 60% Chance Tropical Cyclone Forms Off Florida. The ECMWF may be on the right track – here's an excerpt of a story at brevardtimes.com: "As of 2 p.m. Eastern Daylight Time on Saturday, June 28, 2014, NOAA's National Hurricane Center in Miami, Florida, has issued a tropical weather outlook due to the presence of a broad low pressure system that is producing disorganized showers and thunderstorms off the coasts of South Carolina, Georgia, and Florida. NOAA says that environmental conditions are expected to remain conducive for gradual development of this system while it drifts southward of the coast of Georgia and Florida during the next few days. NOAA forecasts that development of this system, if any, has a medium chance (50%) of becoming a tropical cyclone during the next 48 hours and a high (60%) chance within the next 5 days..." (Image credit above: NOAA).
---
Weather Officials Reject Claim That Radar Technology Makes Storm Chasers, Spotters Obsolete. Because as good as Doppler is, there's no way to confirm a storm is spawning an actual funnel or tornado, or 2.5″ diameter hail unless you have a (trained) spotter or chaser in the vicinity to provide ground truth and verification. That, and the curvature of the Earth makes it impossible to know if a rapidly rotating supercell T-storm is actually spawning severe weather more than 75 miles from the radar site. Here's an excerpt of a story at kansas.com: " Weather officials in Tornado Alley are offering firm rebuttals to a national magazine article's claim that new radar technology makes storm chasers "obsolete" and storm spotters virtually unnecessary. In a Slate.com article titled "Why This Former Storm Chaser Now Thinks Stalking Tornadoes Is Unethical," meteorologist Eric Holthaus writes…"
---
On Track For A Record Statewide June Rainfall Record? We don't have far to go to see a statewide rainfall record fall by the wayside; a very good chance 2014 will eclipse 1914 as the wettest June in recorded history. Here's an excerpt from Dr. Mark Seeley's weekly WeatherTalk Newsletter: "…Though June temperatures around the state were near normal, rainfall was far from it, in fact record-setting for many communities. On a statewide basis the average rainfall for June so far has been about 7.29 inches, just behind the all-time wettest June of 1914 when the statewide average was 7.32 inches, a record likely to be broken by next Monday. Flooding has been widespread on many Minnesota watersheds as a result of the heavy rains…"
---
Nebraska's Twin Tornadoes Scarred The Earth. Here's a clip from an interesting story via Capital Weather Gang: "…The pair of violent tornadoes that ripped through Pilger, Nebraska June 16 did more than loft a house into the air and damage half the town. The twisters left a mark on the terrain visible 443 miles above the Earth from space. NASA's Advanced Spaceborne Thermal Emission and Reflection Radiometer (ASTER) instrument aboard its Terra satellite attained the image below (from June 21, 2014) revealing the paths of the destructive tornado tandem…" (Image credit above: NASA).
---
North Atlantic Skies. There's a lot of air traffic out there – more than you might imagine. Check out this video animation and story from Vimeo; here's an excerpt: "…This visualization shows Transatlantic traffic over a 24 hour period taken from a day in August last year and shows 2,524 flights crossing the North Atlantic, of which 1,273 pass through the Shanwick OCA. At our busiest periods in the Summer, traffic can peak at 1,500 flights a day passing through the Shanwick OCA…"
---
The Fermi Paradox. If there are aliens lurking out there, why haven't we heard from them yet? Here's a clip from a thought-provoking article at Wait But Why: "…SETI (Search for Extraterrestrial Intelligence) is an organization dedicated to listening for signals from other intelligent life. If we're right that there are 100,000 or more intelligent civilizations in our galaxy, and even a fraction of them are sending out radio waves or laser beams or other modes of attempting to contact others, shouldn't SETI's satellite array pick up all kinds of signals? But it hasn't. Not one. Ever. Where is everybody?…"
---
The Perils Of Sitting. Wait, I lettered in sitting in high school; I was really, really good at it. I'm still gifted. But I should get off my butt a little bit more often after reading this article at Quartz; here's a clip: "…It's been linked to cancer, diabetes, and cardiovascular disease. In this latest meta-analysis, Daniela Schmid and Michael F. Leitzmann of the University of Regensburg in Germany analyzed 43 observational studies, amounting to more than 4 million people's answers to questions about their sitting behavior and cancer incidences. The researchers examined close to 70,000 cancer cases and found that sitting is associated with a 24% increased risk of colon cancer, a 32% increased risk of endometrial cancer, and a 21% increased risk of lung cancer…"
---
---
TODAY: Partly sunny, severe storms late? Winds: SW 15. High: 87
SUNDAY NIGHT: Evening T-storms over southern MN and western WI, some severe. Low: 68
MONDAY: Still unsettled, another T-storm possible. High: 82
TUESDAY: Sunny start, PM showers. Wake-up: 64. High: 74
WEDNESDAY: Cool, lingering clouds & showers. Wake-up: 60. High: near 70
THURSDAY: Sunny & beautiful. Dew point: 52. Wake-up: 56. High: 79
4th of JULY: Clouds increase, stray T-storm. Wake-up: 62. High: 82
SATURDAY: Shocker: sticky with more T-storms. Wake-up: 67. High: 84
---
Climate Stories…
KSTP Denies Report Stanley Hubbard Is Sponsoring Climate Change Denial Conference. City Pages has the story – here's an excerpt: "In a report, Media Matters dings Stanley Hubbard for "co-sponsoring a Heartland Institute conference promoting climate denial" and alleges Hubbard's skepticism has "seeped into [his] stations' reporting." Hubbard's flagship station, of course, is KSTP. But KSTP News Director Lindsay Radford tells us Media Matters has it wrong about the upcoming conference and overstates Hubbard's influence on her newsroom…"
---
Calling Out The Delayers. It's getting harder for rational, data-driven people to deny the reality of climate change, so they're moving on to a different tactic: let's delay action until we know more, or have better technology, or other countries step up first, etc. etc. Here's a clip of an Op-Ed at MetroWest Daily News in Framingham, MA: "…Delayers" often profess agreement with the scientific consensus and support for climate action, at least in theory. Voices like Bjorn Lomborg, Roger Pielke Jr. and others at the Breakthrough Institute have pioneered this tactic, which establishes credibility and grants entrance into a mainstream media increasingly closed to the denial of basic science. But after token acknowledgement of the problem, a litany of excuses for inaction begins, often on economic grounds…"