A Sloppy Couple of Inches Later Today
Relax, it's only frozen water. For kids of all ages who sled, ski, skate or snowboard, it's an "opportunity for snow", not a risk or threat. Then again, commuters dread a well-timed burst of snow; commute times easily double or triple when the flakes fly. Note to self: if we all worked from home this wouldn't be an issue.
Impact depends on a matrix of variables: when the snow arrives, the air temperature (colder storms tend to be icier and more dangerous) and intensity. An inch falling at 10F is often more problematic on the highways than 3 inches falling at 30F.
No problem getting off to work or school today, but the drive home may be slowed by light snow. With air temperatures in the upper 20s I expect freeways to bemostly-wet, but watch side streets and secondary roads. About an inch of slushy snow may fall later today and tonight.
We dry out tomorrow with 40F on Friday. A period of wet snow is possible Saturday from a southern storm; too early for details.
NOAA is predicting a 75-80 percent probability of an El Nino mild phase by February. We're still waiting.
---
ECMWF: Snowfall by Friday Morning. The "Euro" keeps most of the accumulating snow north of the Twin Cities later today and tonight, with 2″ predicted for Brainerd, maybe 3″ from Bemidji to Duluth.
---
ECMWF: Total New Snowfall by Monday Morning. You can see the next system forecast to pinwheel northward on Saturday, with heaviest amounts predicted for far southern Minnesota; with a potentially plowable accumulation for the Twin Cities (and very little over the northern half of the state). Map credit: WeatherBell.
---
---
Mid-December Thaw? We'll see if and when a true El Nino moderation signal kicks in, but NOAA's GFS forecast for 500mb winds (valid Tuesday evening, December 11) shows a fairly mild pattern for the central USA, with a potential coastal storm for New England and stormy weather pushing into the Pacific Northwest.
---
Climate-Warming El Nino Very Like in 2019, Says UN Agency. Here's an overview from The Guardian: "There is a 75-80% chance of a climate-warming El Niño event by February, according to the latest analysis from the UN's World Meteorological Organization. The last El Niño event ended in 2016 and helped make that year the hottest ever recorded by adding to the heating caused by humanity's carbon emissions. The 2019 event is not currently forecast to be as strong as in 2016. El Niño events occur naturally every few years and stem from abnormally high ocean temperatures in the western Pacific. They have a major influence on weather around the globe, bringing droughts to normally damp places, such as parts of Australia, and floods to normally drier regions, such as in South America. The high temperatures also cause major bleaching on coral reefs…"
IRA ENSO forecast courtesy of the Earth Institute at Columbia University. Details here.
---
A Link Between November Snow and the Winter to Come? I was a bit skeptical, but climatologist Brian Brettschneider has done extensive research suggesting a weak to strong positive correlation (across all but southeastern Minnesota) shows less snow in November often means less snow for the following winter.
---
Blizzard Warnings Since 2008. Climatologist Brian Brettschneider has an interesting map, showing NWS issuance of Blizzard Warnings since 2008. The Red River Valley is officially Blizzard-Alley!
---
Praedictix Briefing: Issued Tuesday, November 27th, 2018:
Part of the same storm system responsible for more than a foot of snow and blizzard conditions across parts of the Midwest will now spread wintry weather across the Eastern Great Lakes and Northern New England States through midweek.
Heavy lake effect snow could bring more than a foot of snow to the snow belt areas downwind of Lake Erie and Ontario.
---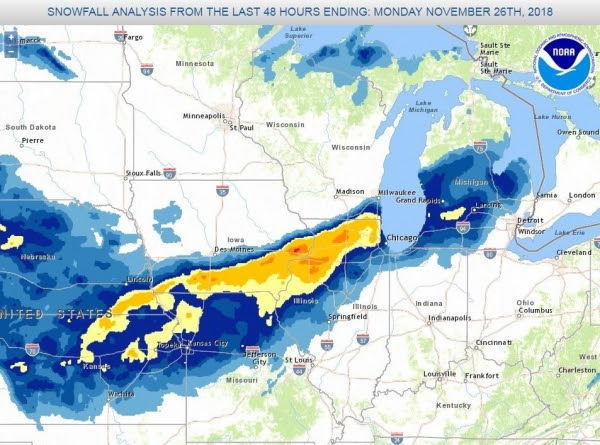 Snow Totals: Heavy snow and blizzard conditions have finally wrapped up across the Midwest and Great Lakes with more than a foot of snow reported across parts of Iowa and Illinois. Here are some of the heaviest snow totals from the event:
17" – Oskaloosa, IA
16" – Osceola, IA
14" – Fulton, IL
13.8" – Moline, IL
11.7" – Rockford, IL
10" – Twin Lakes, WI
7.4" – Chicago-O'Hare Airport
Travel across the region has improved over the last 24 to 48 hours, but a few areas are still reporting some issues. Here is an update on road conditions from local DOT offices:
---
Power Outages. As of early Tuesday, nearly 48,000 power customers were still without power across northeastern Illinois, most of which were located in and around the Chicagoland area. (Image and numbers: https://poweroutage.us/)
---
Winter Weather Headlines. Numerous winter weather alerts are in effect across the Eastern Great Lakes into the Northern New England States for the potential of heavy snow through midweek. Some of the cities included in winter weather alerts are:
Erie, PA: Winter Weather Advisory through 4AM Thursday for 10-12" of snow in the most persistent lake effect snow bands.
Jamestown, NY: Winter Storm Warning through 6PM Wednesday for 10-20″ of snow.
Watertown, NY: Winter Weather Advisory through 6PM Wednesday for 3-6" of snow.
Augusta, ME: Winter Storm Warning through 7PM Tuesday for 6-10"+ of snow.
---
Snow Forecast. The heaviest snow will fall downwind of Lake Erie and Ontario due to lake effect snow and across parts of interior New England through midweek. In these locations, some totals of at least a half a foot to a foot will be possible, especially in the higher elevations. Travel will likely be impacted in some of the heavier snow bands that develop, espeically snow belt areas downwind of the Eastern Great Lakes.
---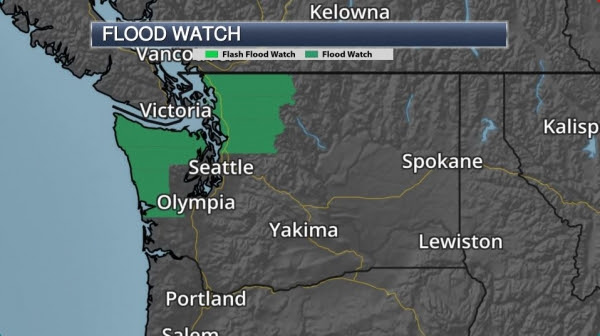 Flood Watches Posted in Washington. Another round of heavy Pacific moisture is spreading across the Western US and will last over the next few days. Areas of heavy rain could lead to flooding across parts of Washington state through Tuesday and also across burn scar areas from recent wildfires.
---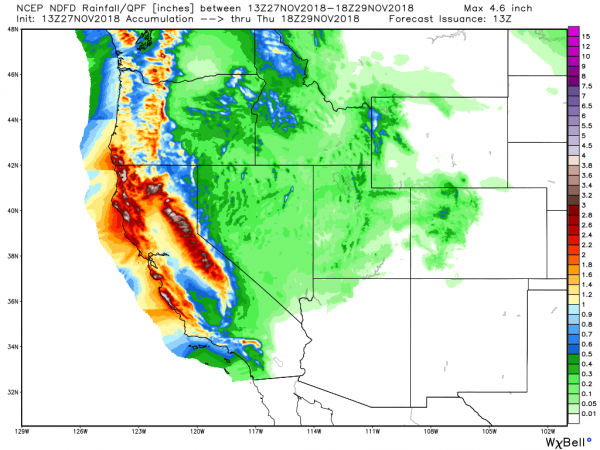 Flood Potential in Burn Scar Areas. Wildfire burn scar areas in the Western US could be susceptible to flooding as another round of heavy Pacific moisture spread across the region over the next few days. Some locations in northern California (espectially near the Camp Fire burn scar area) could be impacted as areas of heavy rain continue through the rest of the week.
---
Snow in the Sierra Nevada Region. Much needed snow will fall across the Sierra Nevada region over the next few days with some spots picking up nearly 2 to 3 feet by the end of the week!
Todd Nelson, Meteorologist, Praedictix.
---
What'll Become of The NFIP? Climate Nexus has headlines and links: "Nearly 37,000 homes and properties across the US have been rebuilt repeatedly with funds from the National Flood Insurance Program, costing almost $7.4 billion in claims before this year's hurricane season began, the AP reported Monday. Rob Moore at NRDC told the AP that more than 80 percent of properties repeatedly bailed out were single-family homes, with damage claims of $150,000 for homes worth an average of $115,000. "Many people that find themselves in a situation of living in a repeatedly flooded house would like nothing more than to never file another flood insurance damage claim ever again," Moore said. "But the only assistance that's readily available to them after a flood is to rebuild if they have flood insurance." Congress must reach a solution for the program this week before it expires on December 1, and a bipartisan group of senators from flood-prone states are advocating for a temporary six-month extension to the program that would extend the question of a long-term solution into the next Congress." (Flooding: AP. Congress: Politico Pro $, North Jersey Record. Commentary: The Hill, John Smaby op-ed)
---
---
The Science is Clear: Dirty Farm Water Is Making Us Sick. WIRED.com takes a look at increasing levels of produce contamination: "…For more than a decade, it's been clear that there's a gaping hole in American food safety: Growers aren't required to test their irrigation water for pathogens such as E. coli. As a result, contaminated water can end up on fruits and vegetables. After several high-profile disease outbreaks linked to food, Congress in 2011 ordered a fix, and produce growers this year would have begun testing their water under rules crafted by the Obama administration's Food and Drug Administration…"
Photo credit: "Gary (left) and Kara Waugaman, food safety coordinators for Lakeside Organic Gardens, inspect rows of lettuce, kale and rainbow chard at Seascape Ranch near Watsonville, Calif. Salad greens are particularly vulnerable to pathogens because they often are eaten raw and can harbor bacteria when torn." Susie Neilson/Reveal.
---
Rivian Wants To Do For Pickups What Tesla Did For Cars. Go for it – I'll be one of the first in line to check this out (if it's real and they can scale up). Here's an excerpt from WIRED.com: "…The most striking visual elements are the wraparound LED lights, red at the back, and white, punctured with Tic Tac headlights at the front. "We're going to take the traditional tradeoffs that exist in the segment—poor fuel economy, not fun to drive, not good on the highway—and make them strengths," Scaringe says. He promises his vehicle will be fast, fun, and extremely capable. Rivian is using four motors, which should allow a 0-60 mph sprint in three seconds—insane for a truck—and also give the R1T a tow rating of 11,000 pounds. The company is also experimenting with off-road abilities. Having one motor per wheel gives it the kind of traction control you want for, say, rock crawling..."
Photo credit: Ben Moon/Rivian.
---
Juhl Energy Taps GE Energy for Solar-Wind Project in Minnesota. These hybrid power generation projects are increasingly attractive, according to a post at Daily Energy Insider: "Juhl Energy announced last week that it had selected GE Renewable Energy to supply equipment for a 2.0MW solar-wind hybrid power project in Minnesota. The Minnesota-based energy company says it is the first of its kind in the United States. It will generate energy for the Lake Region Electric Cooperative of Pelican Rapids, Minn. "Distributed generation will play a major role in the implementation of renewable energy in the U.S. electrical market in the years to come," Dan Juhl of Juhl Energy said. "Projects such as this one, with Juhl Energy's package design and GE hybrid technology, will economically blend clean, renewable energy into the electric grid at a lower cost, plus add reliability to the system…"
---
China Researcher Claims First Gene-Edited Babies. Talk about a slippery slope. Details via AP: "A Chinese researcher claims that he helped make the world's first genetically edited babies — twin girls born this month whose DNA he said he altered with a powerful new tool capable of rewriting the very blueprint of life. If true, it would be a profound leap of science and ethics. A U.S. scientist said he took part in the work in China, but this kind of gene editing is banned in the United States because the DNA changes can pass to future generations and it risks harming other genes..."
---
A Vaccine for Alzheimer's? This one hits close to home; a ray of hope in an article at Forbes: "Researchers at the University of Texas (UT) Southwestern Medical Center reported Tuesday that they have developed a vaccine that could arm the body to attack Alzheimer's plaques and tangles before they even start to shut down the brain. They hope to begin testing the vaccines in humans soon. Their new vaccine for the first time has targeted both amyloid-containing plaques and tau—both considered hallmarks for a definitive identification of Alzheimer's disease—in a mouse with the disease. The shot uses DNA from Alzheimer's proteins to teach the immune system to fight these compounds and keep them from accumulating in the brain..."
---
A Former Opioid Addict at Harvard Says We're Getting Addiction Wrong. Here's a clip from a story at The Daily Beast: "…Given the opioid-overdose death rate, "uncompromising" is the key word. "It seems as if it's just what we've been doing since 1935 because there was nothing else," he told the Daily Beast. "Now we have multi-faceted approaches to treatment, including the use of drugs like buprenorphine, which fuels OUD recovery." The problem, according to Grinspoon, is the very basis by which we think about and treat opioid addiction. "You treat opiate withdrawal differently than you treat alcohol withdrawal," he said. "Yet the rehabs tend to treat every addiction the same. Most rehab centers are not using cutting-edge science..."
---
Neil deGrasse Tyson: Why Elon Musk is The Most Important Tech Giant of Today. Here's an excerpt of an interview at Big Think: "…What's significant, points out the astrophysicist, is that Musk is not "simply giving us the next app that will be awesome on our smartphone" but is "thinking about society, culture, how we interact, what forces need to be in play to take civilization into the next century." Indeed, Musk's efforts have taken him to re-imagining human travel both in space and on Earth, as well as how humans interact with their machines overall. The fact that Musk, as the CEO of the revolutionary SpaceX, centers much of his effort on space colonization is the biggest selling point for Tyson. He thinks that space will provide "unlimited resources" and reduce our reliance on war as a method of distributing them..."
---
Elon Musk: To Avoid Becoming Like Monkeys, Humans Must Merge With Machines. I'm exhausted just thinking about this, but Elon has a way of being out front on a lot of big ideas. How do we grapple with AI? Here's an excerpt from The Washington Post: "…Now the 47-year-old billionaire inventor and Tesla chief executive has unveiled a potential way for the meager human brain to compete with a superior force that Musk has compared to "an immortal dictator" and "the devil." During an interview with Axios co-founders Jim VandeHei and Mike Allen that aired Sunday on HBO, Musk said humans must merge with artificial intelligence, creating a "symbiosis" that leads to "a democratization of intelligence." "Essentially, how do we ensure that the future constitutes the sum of the will of humanity?" Musk said. "And so, if we have billions of people with the high-bandwidth link to the AI extension of themselves, it would actually make everyone hyper-smart..."
Photo credit: "Tesla and SpaceX CEO Elon Musk has said that autonomous machines are more dangerous to the world than North Korea and could unleash "weapons of terror." (Kyle Grillot/Reuters)
---
Politics Isn't Pretty. But Politicians Are. God help us – here's a clip from a New York Times Op-Ed: "…From a very early age, we're drawn to more attractive faces — even babies prefer that," Deborah Rhode, a Stanford University law professor, told me. She's the author of "The Beauty Bias: The Injustice of Appearance in Life and Law." It explains that better-looking defendants fare better with juries. But the advantages of attractiveness aren't confined to any one situation or goal, she noted. They're cumulative. "Teachers give less attention to less attractive children," Rhode said. "Children ascribe intelligence to good-looking individuals and prefer them as friends." So good-looking people wind up with more encouragement, broader social networks and more confidence, all of which beget success. "Attractiveness sets off a chain of consequences," she added..."
Photo credit: "Andrew Gillum, who was the Democratic nominee for governor in Florida. "Research suggests that people read such positive characteristics as competence, trustworthiness and vigor into someone's attractiveness," Frank Bruni writes." Credit: Charlotte Kesl for The New York Times.
---
Reality Show Idea: Make Flat-Earthers Search For The World's Edge. I'd watch that. My laughter turned to alarm after seeing some of the stats in this Big Think post: "…Notably, according to the Flat-Earthers, the 150-foot-tall wall is guarded by NASA. The agency's real mission is to keep the truth away from regular citizens while being an embezzlement front and faking space travel. Although these beliefs are certainly not supported by the ample evidence to the contrary, provided by people who have experienced the planet's curvature from above — or those who have been to Antarctica — the number of Flat-Earthers is likely to grow. According to a 2018 survey, about a third of millennials are willing to entertain doubts about the Earth being round. Not all of these believe in the planet being flat, but it's easy to envision their ranks expanding, as such memes tend to acquire new converts by their sheer scope and intellectual frivolity…"
---
---
25 F. high in the Twin Cities Tuesday.
34 F. average high on November 27.
60 F. high on November 27, 2017.
November 28, 1983: Widespread snowfall occurs across much of central Minnesota with snowfall totals at or above 1 foot in many areas. A record 15 inches fell in Gaylord and 14 inches fell in Farmington.
November 28, 1960: A major storm produces near hurricane force winds on Lake Superior, with 20 to 40 foot waves on the lake. Erosion and damage occurred on the North Shore.
---
---
WEDNESDAY: PM snow, coating to 1″ possible late. Winds: SE 8-13. High: 30
WEDNESDAY NIGHT: Light snow continues, slushy roads. Low: 25
THURSDAY: Flurries taper, clouds linger. Winds: S 5-10. High: 35
FRIDAY: Cloudy and milder. Winds SE 8-13. Wake-up: 27. High: 41
SATURDAY: Wet snow or mix possible. Winds: E 8-13. Wake-up: 32. High: 37
SUNDAY: Light snow tapers to flurries. Winds: N 10-20. Wake-up: 28. High: 32
MONDAY: More clouds than sun, dry. Winds: NW 5-10. Wake-up: 22. High: near 30
TUESDAY: Colder wind, few flurries. Winds: NW 10-20. Wake-up: 18. High: 25
---
Climate Stories…
"I Was Wrong on Climate Change. Why Can't Other Conservatives Admit It Too? Conservative columnist and pundit Max Boot talks about an acceptance of the scientific consensus in an Op-Ed at The Washington Post: "I admit it. I used to be a climate-change skeptic. I was one of those conservatives who thought that the science was inconclusive, that fears of global warming were as overblown as fears of a new ice age in the 1970s, that climate change was natural and cyclical, and that there was no need to incur any economic costs to deal with this speculative threat. I no longer think any of that, because the scientific consensus is so clear and convincing. The Fourth National Climate Assessment, released Friday by the U.S. government, puts it starkly: "Observations collected around the world provide significant, clear, and compelling evidence that global average temperature is much higher, and is rising more rapidly, than anything modern civilization has experienced, with widespread and growing impacts…"
Photo credit: "A firefighter searches for human remains in a trailer park destroyed in the Camp Fire in Paradise, Calif." (John Locher/AP).
---
15 Take-Aways From The U.S. Climate Change Report. Here's an excerpt from CNN.com: "…Higher temperatures will also kill more people, the report says. The Midwest alone, which is predicted to have the largest increase in extreme temperatures, will see an additional 2,000 premature deaths per year by 2090. People who live in Rhode Island could see an additional 1,500 heat-related ER visits by 2095, and some of those visits will end in death, according to the report. Poor air quality can also lead to more strokes and heart attacks. The heat will be a problem for elderly people with chronic conditions, increasing the death rate by 2.8% to 4% with each increase of approximately 1.8 degrees Fahrenheit (1 degree Celsius) in summer temperature…"
---
---
Graphics above courtesy of the Fourth National Climate Assessment and NOAA.
---
Topline Findings of Latest National Climate Assessment. Climate Nexus has a good summary; here's an excerpt:
Human activity, primarily burning fossil fuels, is causing climate change. There is no credible alternative to global warming emissions to explain the warming.
Global average temperatures have risen 1.8°F (1.0°C) since 1901, predominantly because of human activity, especially the emission of heat-trapping gases.
Globally, 16 of the last 17 years are the warmest years on record.
Depending on the region, Americans could experience an additional month to two month's worth of days with maximum temperatures above 100°F (38°C) by 2050, with that severe heat becoming commonplace in the southeast by 2100.
Economic losses from climate change are significant for some sectors of the U.S. economy.
In some sectors, losses driven by the impacts of climate change could exceed $100 billion annually by the end of the century…
---
---
Bill Gate's New Crusade: Sounding the Climate Change Alarm. Here's an excerpt of an interview with Axios: "…Why he matters: I know him as an advocate for climate change and clean energy. Gates has long worked on these issues, but here's what's new for the tech visionary: He's increasingly worried not enough people understand the dimensions of the problem and that it's going to prevent progress. This escalation was on display in an interview with "Axios on HBO." The intrigue: Talking recently at his private offices overlooking the water in Kirkland, Washington, near Seattle, Gates went wonky more than he went visionary. He didn't criticize President Trump's positions dismissing climate change, even though he's spent a significant amount of energy trying to change his mind…"
Illustration credit: Sarah Grillo/Axios.
---
Fourth National Climate Assessment. Here's a link to the government report that came out on Black Friday; an excerpt: "…The impacts of climate change are already being felt in communities across the country. More frequent and intense extreme weather and climate-related events, as well as changes in average climate conditions, are expected to continue to damage infrastructure, ecosystems, and social systems that provide essential benefits to communities. Future climate change is expected to further disrupt many areas of life, exacerbating existing challenges to prosperity posed by aging and deteriorating infrastructure, stressed ecosystems, and economic inequality. Impacts within and across regions will not be distributed equally. People who are already vulnerable, including lower-income and other marginalized communities, have lower capacity to prepare for and cope with extreme weather and climate-related events and are expected to experience greater impacts…"
---
Climate Perspective. Here's an excerpt of what I discussed on WCCO Radio Monday afternoon with Jordana Green and producer Dan Cook: "…It's not like a heart-attack," said Douglas, "This isn't a killer stroke. It's death by a thousand cuts." Paul also thinks climate change will have an impact on our immigration debate. "My sense – and I hope I'm wrong – is that we're just seeing the tip of a tidal wave of immigration," Douglas said, "Many countries – especially near the equator – if you can't grow crops, if you can't be fed, if you don't have reliable water sources, if you can't go outside three months out of the year, what are you going to do? You're going to pick up, you're going to move." So does that mean we have to give up all of our modern conveniences in favor of being environmentally cautious? No, says Douglas "We can have everything we want. We just have to be smarter. I'm not a socialist, I'm a markets-guy. American ingenuity, American exceptionalism, we can figure this out. But we need to get past debating the science…"
---
Trump Admin Drops Dire New Climate Report…: Climate Nexus has headlines and links: "Human-caused climate change is already causing irreparable harm to communities across the United States and will continue to impact millions of lives and cost the country billions of dollars, a major new federal report finds. The 1,656-page Fourth National Climate Assessment Volume II, prepared by 300 different authors at 13 federal agencies, analyzes the existing body of science to get a comprehensive picture of how climate change is affecting the United States. Among the congressionally-mandated report's findings: climate impacts could slash 10 percent of the US GDP, the Midwest is projected to see an additional 2,000 heat deaths per year, average acreage burned by wildfires could increase as much as six times, all by the end of the century. "While Americans are responding in ways that can bolster resilience and improve livelihoods, neither global efforts to mitigate the causes of climate change nor regional efforts to adapt to the impacts currently approach the scales needed to avoid substantial damages to the US economy, environment, and human health and well-being over the coming decades," the report's overview reads." (New York Times $, Washington Post $, AP, The Guardian, WSJ $, USAToday, CBS, InsideClimate News, Axios, CNN, Reuters, The Hill, Bloomberg, Huffington Post, LA Times $, Time. Commentary: CNN, Michael Mann interview)
---
Federal Climate Report Paints Grim Picture For Midwest. Chicago Tribune takes a look at implications close to home: "Rising temperatures in the Midwest are projected to be the largest contributing factor to declines in U.S. agricultural productivity, with extreme heat wilting crops and posing a threat to livestock, according to a sweeping federal report on climate change released Friday. Midwest farmers will be increasingly challenged by warmer, wetter and more humid conditions from climate change, which also will lead to greater incidence of crop disease and more pests and will diminish the quality of stored grain. During the growing season, temperatures are projected to climb more in the Midwest than in any other region of the U.S., the report says. Without technological advances in agriculture, the onslaught of high-rainfall events and higher temperatures could reduce the Midwest agricultural economy to levels last seen during the economic downturn for farmers in the 1980s…"
Photo credit: "John Kiefner checks soybean plants on his farm near Manhattan, Ill., on July 24, 2018. Midwest farmers will be increasingly challenged by warmer, wetter and more humid conditions from climate change, according to a federal report released Nov. 23, 2018." (Zbigniew Bzdak/Chicago Tribune)
---
A Grave Climate Warning, Buried on Black Friday. A story at The Atlantic provides more details on the latest NCA report: "…Where the president has insisted that fighting global warming will harm the economy, the report responds: Climate change, if left unchecked, could eventually cost the economy hundreds of billions of dollars per year, and kill thousands of Americans to boot. Where the president has said that the climate will "probably" "change back," the report replies: Many consequences of climate change will last for millennia, and some (such as the extinction of plant and animal species) will be permanent. The report is a huge achievement for American science. It represents cumulative decades of work from more than 300 authors. Since 2015, scientists from across the U.S. government, state universities, and businesses have read thousands of studies, summarizing and collating them into this document. By law, a National Climate Assessment like this must be published every four years…"
File Photo credit: "Firefighters battle the King Fire near Fresh Pond, California, in September 2014." Noah Berger / Reuters.
---
Government Climate Report Warns of Worsening U.S. Disasters. Star Tribune has more perspective on last Friday's report: "…We are seeing the things we said would be happening, happen now in real life," said another co-author Katharine Hayhoe of Texas Tech University. "As a climate scientist it is almost surreal." And Donald Wuebbles, a co-author from University of Illinois climate scientist, said, "We're going to continue to see severe weather events get stronger and more intense." What makes the report different from others is that it focuses on the United States, then goes more local and granular. "All climate change is local," said Pennsylvania State University climate scientist Richard Alley, who wasn't part of the report but praised it. While scientists talk of average global temperatures, people feel extremes more, he said. "We live in our drought, our floods and our heat waves. That means we have to focus on us," he said…"
Photo credit: Gerald Herbert – Associated Press FILE. "This Oct. 12, 2018 aerial file photo shows devastation from Hurricane Michael over Mexico Beach, Fla. A massive new federal report warns that extreme weather disasters, like California's wildfires and 2018's hurricanes, are worsening."
---
Does NASA Have Any Climate Change Skeptics? Big Think has a video interview clip; here's an excerpt of the transcript: "…So your question is how widespread is it within NASA that scientists are convinced that human activity is responsible for climate change? And this is something that is important to say very, very clearly. I have known and worked with hundreds of earth scientists at many different locations in NASA, all of them, all of them believe that human activity is responsible for the current climate change that we see going so fast it's almost unprecedented. I want you to think about that.One thing that I take really seriously and I'm very proud of is that NASA is not a political organization. We are scientists that work for the American people. We're funded by taxpayer's money. And what we do is we make measurements. We have many, many different satellites that are orbiting the earth right now they're looking at things like ice on the oceans and at the poles, they're looking for things like vegetation growth and the change of that, ocean level, is the ocean level rising? Yeah it turns out that it is…"
---
Climate-Heating Greenhouse Gases At Record Levels, Says UN. Here's the intro to a summary at The Guardian: "The main greenhouse gas emissions driving climate change have all reached record levels, the UN's meteorology experts have reported. Carbon dioxide, methane and nitrous oxide are now far above pre-industrial levels, with no sign of a reversal of the upward trend, a World Meteorological Organization report says. "The last time the Earth experienced a comparable concentration of CO2 was 3-5m years ago, when the temperature was 2-3C warmer and sea level was 10-20 metres higher than now," said the WMO secretary general, Petteri Taalas…"
---
Will We Survive Climate Change? Yes, but things may look a little different within 20-30 years. Here's an excerpt from The New York Times: "…Dr. Marvel agreed. "It's worth pointing out there is no scientific support for inevitable doom," she said. "Climate change is not pass-fail," she added. "There is a real continuum of futures, a continuum of possibilities." So yes, things will be bad. And yes, we need to do more, so much more, to head off what could come. But how awful things get, and for how many people, depends on what we do. And although humans famously avoid acting on long-term problems, the species does possess a capacity for looking ahead. "We do think about the future," Dr. Marvel said. "We plant trees," and "we have children…"