72 F. high in the Twin Cities Friday.
79 F. average high on August 26.
75 F. high on August 26, 2015.
August 27, 1992: A chilly night in Embarrass, where the temperature dips to 28 degrees.
Weather Maps Looks Summery Into Early September
Welcome armchair meteorologists. We've been expecting you! Technology has unleashed the democratization of meteorology.
20 years ago you watched TV or listened to the radio, hoping to get some idea how the weather would affect your plans. Legacy media isn't going away anytime soon but with web sites, social media and smartphone apps you can dial up the forecast on your schedule, interpret the latest Doppler radar screen centered on your GPS location, see tornado videos posted on Twitter and Facebook to gauge the level of risk. It's a brave new world out there.
Weather models continue to improve (slowly) but there's a maddening level of uncertainty around the storm pushing into the Bahamas. ECMWF (Euro) solutions brush the southeast coast as a minor storm, but NOAA models print out a big hurricane in the Gulf of Mexico next week.
Showers today are most likely up north; a few hours of rain (on-a-stick) may temporarily dampen spirits. 80s return Sunday and much of next week; 90F possible by next weekend.
Meteorological Autumn begins on Thursday. Tell that to the atmosphere.
---

Aeris Weather Briefings: Issued Friday morning, August 26, 2016.
* Invest-99 tropical depression still disorganized – not forming as rapidly as predicted – future track/intensity is an even bigger mystery than usual.
* High level of confidence that Invest-99 will impact Florida as a weak tropical storm by Sunday–Monday, with flash flooding and winds in the 30-50 mph range.
* From there confidence levels drop off. Latest ECMWF (European) model takes a tropical depression or weak Tropical Storm (Hermine) up the east coast of Florida, brushing the Carolinas with heavy rain, but no major intensification.
* NOAA models keep trying to strengthen Hermine into a potentially major hurricane over the Gulf of Mexico, where water temperatures are the rough equivalent of bathwater and wind shear is less – meaning more favorable conditions for strengthening early next week.
* Prepare Florida facilities for heavy rain, strong surf and sporadic power outages and keep an eye on latest briefings for a possible second (stronger) landfall next week along the Gulf Coast.
* We don't know what we don't know. For now any future Tropical Storm or Hurricane Hermine is an enigma wrapped in a riddle. We should pay attention to model trends, not panic, but also not let our collective guard down anytime soon.
---
Disorganized Mess. The latest satellite image shows a cluster of T-storms north of Haiti. Circulation is still sloppy and unimpressive – conditions may become slightly more favorable for strenthening as Invest-99 approaches the Bahamas. NOAA NHC now says a 20% risk of reaching tropical storm strength within 48 hours, but a 60% chance within 5 days. Map: Aeris AMP.
---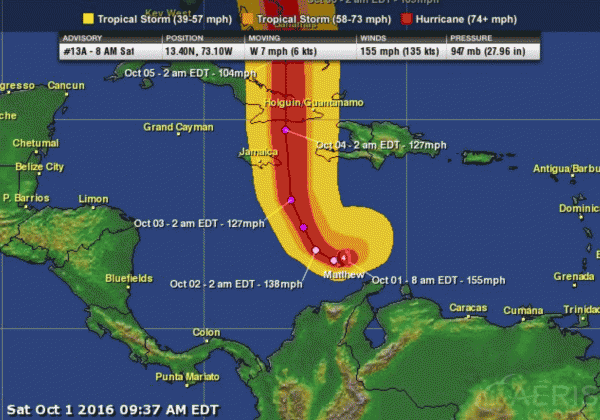 Spaghetti Plot. The ECMWF (European) solution taking a weak tropical depression or storm up the east coast of Florida into the Carolinas is an outlier,  but based on past history and performance of ECMWF it would be unwise to discount it altogether. NOAA models bring Invest-99 over the Florida Keys into the Gulf of Mexico early next week, where additional strengthening is possible. Map: TropicalTidbits.com.
---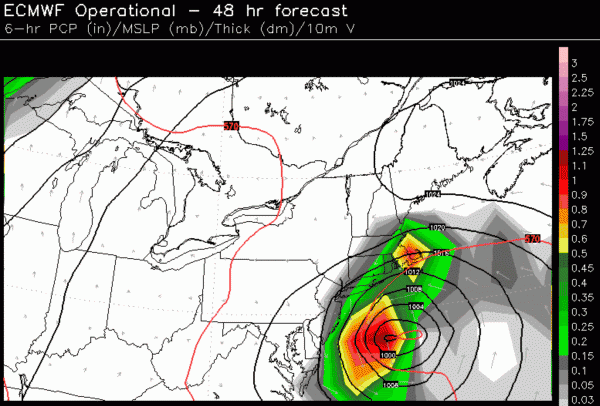 European Solution: Monday Morning. The latest ECMWF brings a tropical wave or (weak) tropical storm near Miami by Monday mornings, hinting a flash flooding for the Atlantic coastline of Florida into the coastal Carolinas early next week. This is considerably different from NOAA's solutions. Map: WSI.
---
NOAA HWRF: Sunday Evening. NOAA's high-resolution hurricane model suggests sustained winds over 39 mph for the Florida Keys and Naples area by Sunday evening, when Invest-99 may mature into "Hermine". Heavy, windswept rains are likely across south Florida and the Keys, including the Miami area and Naples/Sarasota. Map: WeatherBell.
---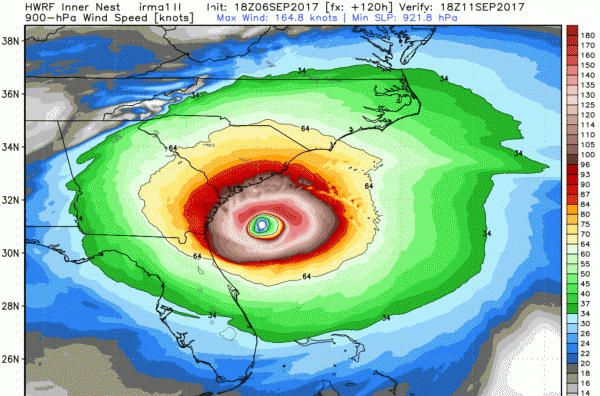 NOAA HWRF: Wednesday Morning. This is why we can't let our guard down just yet. NOAA's most accurate hurricane model (consistently) strengthens Hermine into a major hurricane over the warm waters of the Gulf of Mexico early next week. I'm not buying (or believing) this solution just yet, but we can't ignore the possibility that, however disorganized the tropical wave is today, rapid strengthening may occur next week. Map: WeatherBell.
---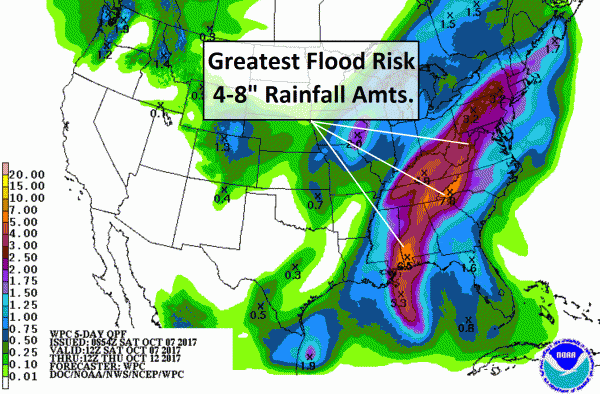 High Confidence Level: Heavy Rains for Florida. Models print out 5-7″ rains for south Florida and the Panhandle. Precise amounts will depend on the final track, but facilities that often flood in Florida will probably experience problems from Invest-99/Hermine in a Sunday–Tuesday time frame.
Summary: The hurricane forecast is rarely black or white, but ususally some nebulous shade of gray. Such is the case this morning. We all want to err on the side of caution and safety and not over-hype (any) storm, but there's still a significant risk of a hurricane forming in the Gulf of Mexico next week; in my opinion a 50-50 probability. Either way Florida will experience flooding rains by early next week.
Another update Saturday morning. With any luck the situation will crystalize a bit.
Paul Douglas, Senior Meteorologist, AerisWeather
---
Hurricanes Are Worse, But Experience, Gender, and Politics Determine If You Believe It. Here's an excerpt of interesting new research from Princeton University: "…The researchers plumbed data from a survey of Gulf Coast residents and found that the severity of the most recent storm a person weathered tended to play the largest role in determining whether they believed storms were getting worse over time, according to the study published in the International Journal of Climatology. The survey was conducted in 2012 before Hurricane Sandy, the second-most expensive hurricane in history, caused $68 billion in damage. Respondents' opinions also strongly differed depending on whether they were male or female, whether they believed in climate change and whether they were a Democrat or a Republican. For instance, people who believe in climate change were far more likely to perceive the increasing violence of storms than those who did not. The researchers noted that because climate change has become a politically polarizing issue, party affiliation also was an indicator of belief in strengthening storms…"
Map credit: "Princeton University-led research found that people's view of future storm threat is based on their hurricane experience, gender and political affiliation, despite ample evidence that Atlantic hurricanes are getting stronger. This could affect how policymakers and scientists communicate the increasing deadliness of hurricanes as a result of climate change. The figure above shows the wind speed of the latest hurricane landfall (left) on the U.S. Gulf Coast by county up to 2012, with red indicating the strongest winds. The data on the right show for the same area, by county, public agreement with the statement that storms have been strengthening in recent years, which was posed during a 2012 survey. Blue indicates the strongest agreement, while red equals the least agreement." (Image courtesy of Ning Lin, Department of Civil and Environmental Engineering).
---
Thunder Threat. NOAA's 4km NAM guidance suggests the heaviest showers and storms will pass southeast of MSP, and across the Red River Valley and far northern Minnesota. Most of today should be dry in the metro area with a better chance of T-storms tonight into Sunday. Future Radar: AerisWeather.
---
Summer Holding On. Thursday marks the first day of meteorological autumn. On average the 90 warmest days of the year ends around September 1. Maybe not this year. ECMWF guidance shows a streak of 80s, maybe 90F by the end of the week. MSP meteogram: WeatherBell.
---

Soggy Days At The Minnesota State Fair. Expect puddles on Saturday at the fair, but it could be worse, as described by the Minnesota Climatology Working Group: "…The wettest fair was in 1977 with 9.48 inches, and the driest fair was 2003 with only .02 inch of rain… The largest rain event in the State Fair's history was 4.06 inches on August 30, 1977. At 8:20 pm heavy rains hit the State Fair. The U of M St. Paul Campus climate observatory ½ mile north of the fairgrounds saw 4.06 inches of rain. This caused some of the worst street flooding seen at the fairgrounds. The bulk of the rain fell in a 3 1/2 hour period from 8:15pm to 11:45pm. The grandstand show was cancelled, and people had great difficulty trying to leave the fair. The Twin Cities International Airport saw 7.28 inches from this event, second only to the 1987 'Superstorm." People driving on I-94 leaving the fair found water "up to their hood ornaments" in low areas under bridges..." (photo credit: Minnesota Historical Society).
---
Starbucks Manager's Quick Thinking Saves Customers During Kokomo Tornado. WTHR-TV in Indianapolis has the story: "Among the many impressive stories emerging from Wednesday's storms is Kokomo Starbucks at the Markland Mall, which collapsed as powerful winds moved through the area. The damage was caught on video. Starbucks manager Angel Ramos instructed everyone to get in the bathrooms. He was not allowed to give an on-camera interview, but he likely saved some lives by following the plan to seek shelter..."
---
As Sea Levels Rise, Nearly 1.9 Million U.S. Homes Could Be Underwater By 2100. Here's an excerpt from The Washington Post: "The real estate data firm Zillow recently published a research analysis that estimated rising sea levels could leave nearly 2 million U.S. homes inundated by 2100, a fate that would displace millions of people and result in property losses in the hundreds of billions of dollars. More than 100,000 of those homes would be in Maryland and Virginia, according to the analysis. Another 140,000 would be submerged in the Carolinas. And Florida would face the gravest scenario of any state, with one in eight properties in danger of being underwater. For the moment, let's leave aside the larger debate about how much the water actually will rise…"
---
The EPA's Chance to Make Air Travel Greener. Here's an excerpt from Bloomberg View: "The Environmental Protection Agency's intention to limit greenhouse-gas emissions from airplanes may sound like a small thing. U.S. aircraft are responsible for just 3 percent of U.S. carbon dioxide emissions, and 0.5 percent of total emissions worldwide. In the U.S., coal-fired power plants generate almost seven times as much carbon dioxide as planes. But air travel grows by 5 percent a year, and by 2050, if nothing changes, the industry will consume more than one-quarter of the world's remaining "carbon budget" — the amount of CO2 that can be emitted without increasing global temperatures more than 1.5 degrees Celsius above pre-industrial levels..."
---

Exxon, The Olympics, and Greenwashing 2.0. Here's an excerpt from a story at GreenBiz: "…How much better off would all of us (and the planet) be if Exxon, with its immense political, technical and financial throw-weight, actually was committed to leading the way to the clean energy future? And how poetic would it be if Exxon led us to the clean-energy promised land using a workforce which, in totality, actually resembled the ethnically, racially and gender-wise perfectly diverse employee group featured in the commercial? Clean-energy leadership is probably too much to ask of this hydrocarbon colossus, but there still is a morality play here. Should Exxon as a leader of the foremost climate-damaging industry be applauded for pursuing new ventures and new sustainable technologies that ultimately might transform its business, and the energy sector with it?…"
Image credit: GreenBizPhotocollage.
---
The Falling Costs of Solar Power, In 7 Charts. Dave Roberts has the story at Vox; here's a link and excerpt: "
The fate of the world depends on driving down the cost of solar power. Yes, that's a melodramatic way of putting it. But it's not wrong. Any scenario that has humanity avoiding the worst ravages of climate change involves explosive global growth in solar power. That's why the US Department of Energy has a program, the SunShot Initiative, devoted entirely to driving down the cost of electricity generated by solar panels — the target is solar power with $1 per watt installed costs by 2020, a 75 percent reduction in costs from 2010. So how's that going? Happily, Lawrence Berkeley National Laboratory (LBNL) releases a set of reports each year devoted to tracking solar prices; they've just released the latest editions. Long story short: Prices are steadily falling, more or less on schedule
…"
Graphic credit: LBNL.
---
---
TODAY: Showers and T-storms possible – patchy clouds. Winds: SE 7-12. High: 75
SATURDAY NIGHT: Few T-storms, potentially heavy. Low:  63
SUNDAY: More sun, warming up nicely. Few scattered T-storms. Winds: S 8-13. High: 84
MONDAY: AM sunshine, few PM T-storms. Winds: S 10-15. Wake-up: 70. High: 85
TUESDAY: Sunnier and drier, still warm. Winds: NE 7-12. Wake-up: 67. High: 82
WEDNESDAY: Lot's of sun, very pleasant. Winds: SE 8-13. Wake-up: 62. High: 83
THURSDAY: Hazy sun, sticky again. Winds: S 10-20. Wake-up: 63. High: 85
FRIDAY: Intervals of sun, almost hot. Winds: S 10-20. Wake-up: 66. High: 88
---
Climate Stories…
Just 90 Companies Are To Blame for Most Climate Change, This "Carbon Accountant" Says. Here are a couple excerpts from Science AAAS: "…Heede is less well known than his fellow recipients, but his work is no less threatening to the fossil fuel industry. Heede (pronounced "Heedie") has compiled a massive database quantifying who has been responsible for taking carbon out of the ground and putting it into the atmosphere. Working alone, with uncertain funding, he spent years piecing together the annual production of every major fossil fuel company since the Industrial Revolution and converting it to carbon emissions….Heede's carbon accounting is already opening a new chapter in climate change litigation and policy, helping equip plaintiffs who believe they have suffered damages from climate change to claim compensation. "Rick's work really helps connect the dots," says Marco Simons, general counsel of EarthRights International, a Washington, D.C.-based legal group that defends the rights of the poor…"
Graphic credit: J. You/Science; (Data Source) Richard Heede.
---
Extreme Weather and Climate Change. Check out 2 experts I have a lot of respect for, Heidi Cullen and Admiral David Titley (retired) at WHYY's Radio Times podcast: "Severe flooding in Louisiana has killed 13 people and damaged or destroyed over 60,000 homes. In California, a five-year drought and scorching weather has fueled the Blue Cut fire, among others in the state. And around the globe, this past July was the hottest month on record. Are these extreme weather events evidence of climate change? How do scientists connect the dots and what weird weather should we expect in the coming decades? This hour we'll explore the link between intense weather and the warming planet with HEIDI CULLEN, chief scientist at Climate Central, and DAVID TITLEY, a professor of meteorology at Pennsylvania State University and the founding director of their Center for Solutions to Weather and Climate Risk."
---
Humans Have Caused Global Warming for Longer Than We Thought. Here's an excerpt from a story at TIME: "People have been contributing to global warming since the mid-nineteenth century, decades before scientists previously estimated, according to new research published in the journal Nature. The study questions the perception of climate change as primarily a 20th century phenomenon and provides new evidence of how quickly the Earth's atmosphere responds to increased levels of greenhouse gas emissions. Even relatively low levels of greenhouse gas emissions in the first decades of the Industrial Revolution contributed to a temperature increase, according to the research…"
---
Paper. The research referenced in the TIME article above is available at nature.com
---
Climate Change is Thawing Deadly Diseases. Maybe Now We'll Address It? The Guardian reports; here's an excerpt that got my attention: "…In 2013, the National Academy of Sciences hosted a forum on the influence of global environmental change on infectious diseases. In his keynote speech, Dr Jonathan Patz stood in front of a large slide of a mosquito and warned: "Global warming's greatest threat may also be the smallest." The forum focused on many causes of disease, from fungi, bacteria, viruses and mold spores, to vectors like bats and mosquitoes. Climate change can exacerbate the spread of infectious disease by changing the behavior, lifespans and regions of diseases and their carriers. This can sometimes be hard to prove directly. It can be challenging, for example, to isolate the avenues by which climate change drives emerging infections in warm climates where travel, trade, land use and dense urban living can all lead to the spread of disease…"
Photo credit: "In addition to releasing ancient microbes, melting layers of permafrost also release methane, a greenhouse gas 30 times more potent than carbon dioxide, that in turn causes further warming." Photograph: Murdo Macleod for the Guardian.
---
Global Warming Is Melting the Greenland Ice Sheet, Fast. Here's an excerpt of a Guardian article written by University of St. Thomas climate scientist John Abraham: "…The authors of this study did such an accounting and they discovered that not only is Greenland losing a lot of ice, but the loss varies a lot depending on location and year. For example, 2012 was a year of incredible ice loss compared to other years. Also, the western side of the ice sheet is losing much more ice than the eastern side. They also found that a small part of the ice sheet (less than 1% of the sheet) is responsible for more than 10% of the mass loss. In total, they estimate approximately 270 gigatons of ice loss per year for 2011–2014. This result is almost a perfect match to independent measurements made by other researchers and builds our confidence in their conclusions. To put this in perspective, the Greenland Ice Sheet is losing approximately 110,000 Olympic size swimming pools worth of water each year..."
Photo credit: "Pools of melted ice form atop Jakobshavn Glacier, near the edge of the vast Greenland ice sheet." Photograph: Brennan Linsley/AP.