White Gold: Another Plowable Snowfall Later Today
The short term forecast calls for White Gold. At a time when western Minnesota is too dry, with pockets of moderate drought showing up on weather maps, moisture in today's snowfall is money in the bank for farmers and gardeners and anyone with a lawn. Hey, it's coming on a Saturday, so more people can enjoy these big fat flakes, without worrying about parking lot conditions on area highways.
Moisture is impressive with this next storm; fueled with a plume of water vapor from the Gulf of Mexico. The atmosphere should be cold enough for all snow (subfreezing temperatures in the lowest mile of the atmosphere). Making the snowfall prediction more problematic: this storm will move quickly, maybe 8 hours of snow; heaviest this evening.
Many towns will wind up with 4-8 inches of heavy, wet snow. This is "heart attack" snow – remind older friends and neighbors to take it easy out there.
Travel improves tomorrow, and don't waste time playing in all this new snow. Models show a few days near 40 next week as we finally limp into a March-like pattern. Good news: nothing subzero in sight.
---
00z NAM Future Radar loop from Saturday morning thru Sunday evening courtesy of NOAA and tropicaltidbits.com.
---
Snowfall Potential. The next storm will move too quickly for a foot of snow, but many spots will pick up a cool half foot. That's on top of the roughly half foot of snow that fell Thursday night. A foot of snow for many towns and suburbs over 2 days? I'm relieved it can still snow here. Map: pivotalweather.com.
---
Like Snow? Get Out Sunday. Models consistently show upper 30s to near 40F by the middle of next week, meaning snow will become slushy and mushy and compact over time. Sunday skiing, sledding and snowmobiling conditions will be about as good as they ever get. ECMWF guidance: WeatherBell.
---
A Stormy Mix? The extended outlook (roughly 2 weeks out) continues to show a longwave trough over the western USA, with a series of storms ejecting northeastward across the High Plains. We'll see a parade of low pressure systems, but it's unclear whether there will be enough cold air in place for all-snow. March means mixed precipitation, and this one should be no exception.
---
Praedictix Briefing: Issued Friday, February 23rd, 2018:
* Very active weather will continue into the weekend across the central United States as a new system moves across the region.
* Heavy snow will be possible across the Central Plains starting tonight, spreading into the Upper Mississippi Valley during the day Saturday. The heaviest snow is expected to fall from northeast Nebraska into northern Minnesota and Wisconsin, where 6"+ of snow is in the forecast.
* Heavy rain will continue from Pennsylvania into the Southern Plains into at least the first half of the weekend. An additional 2-4"+ of rain can be expected across this region. Due to this additional rain on top of already saturated ground flash flooding will be possible. We also continue to watch river flooding, as some rivers across the region could reach major and even record stage into early next week.
* We are also tracking an Enhanced Risk of severe weather from the Ark-La-Tex into the Mid-Mississippi Valley Saturday, where large hail, damaging winds and tornadoes (some of which could be strong) are possible during the afternoon and evening hours.
---
Winter Weather Concerns. With snow departing the region, Winter Weather Advisories are still in effect this morning from northern Minnesota into northern Michigan. To the southwest of those advisories (across Colorado, Kansas, Nebraska and Iowa), Winter Weather Advisories are in effect for the next storm system to move out into the central United States later today into Saturday, with Winter Storm Watches from northeast Nebraska into Minnesota. Map: AerisWeather and Praedictix.
---
Winter Storm Watches. Here's a better look at where just Winter Storm Watches are in effect as we head into the weekend. Across parts of Nebraska, watches are in effect from late tonight through Saturday afternoon. In the Sioux Falls (SD) and Sioux City (IA) areas, watches are in effect from Saturday morning until late Saturday night. Across parts of Minnesota and Wisconsin, watches go into effect Saturday afternoon/evening and last into early Sunday. Areas under watches are expected to see the heaviest snow, with the potential of 5-9", with isolated amounts up to a foot.
---
Expected Snowfall. While a couple inches of snow is still possible from northern Minnesota into northern Michigan this morning, most of the snow pictured above will fall from this second system moving through the region starting later tonight and departing Sunday. Heaviest snow totals are expected from northeast Nebraska across northern Iowa into southern and eastern Minnesota as well as western Wisconsin. These areas have the best potential of at least 6" of snow, with up to a foot possible in parts of northwest Wisconsin and along the North Shore of Lake Superior in Minnesota.
---
Twin Cities Snowfall. Models indicate 5-9" of snow late Saturday to early Sunday across the Twin Cities, with the heaviest snow in the metro falling between 3 PM Saturday and 1 AM Sunday. The heaviest snow – potentially topping 9" – looks like it will fall north and east of the main metropolitan area at this time.
---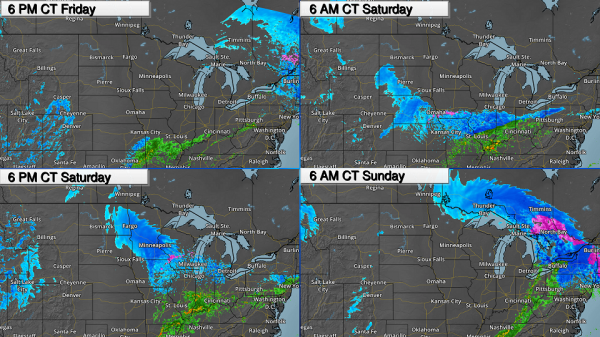 Timing The Snow. Snow will start tonight across parts of Colorado and Nebraska, continuing to move northeast into Saturday. A mix of precipitation (including freezing rain) will move into Omaha by 5 am, with snow in Sioux Falls by 7 am. By Saturday evening, snow will already be tapering off in Sioux Falls, but heavy snow will be falling across parts of Iowa, Minnesota and Wisconsin, including the Twin Cities. By Sunday morning, most of the snow will be north of the International Border in the Upper Midwest, with just a few snow showers left over northern Minnesota. This will be a quick moving system, with most of the snow accumulation falling within a 6-12 hour timeframe.
---
Heaviest Rain Across Kentucky And Tennessee This Morning. Some of the heaviest rain is falling across parts of Tennessee and Kentucky this morning, with up to about a half an inch of rain per hour. This, on top of recent heavy rain the past couple days, is causing additional flooding across the region.
---
Past 24 Hour Rainfall. The heaviest precipitation over the past 24 has fallen from Texas into parts of the Ohio River Valley, where 1-3"+ has fallen. In the past 24 hours (through 7 AM), almost 3.50" of rain has fallen in Jonesboro, AR, with 2.40" in Mayfield, KY. Numerous Flood Advisories, Flood Warnings and Flash Flood Warnings extend from northeast Texas to southwest Ohio due to recent heavy rain and rising rivers.
---
Additional Heavy Rain Expected. An additional 2-4"+ of rain is likely from northeast Texas into the Ohio Valley and even parts of eastern Pennsylvania though 7 PM Sunday on top of heavy rain already observed over the past few days. This will continue to exacerbate any ongoing flooding across the region.
---
Excessive Rainfall Outlook Next Two Days. With the heaviest rain expected to continue over the next two days from Pennsylvania to eastern Texas, the Weather Prediction Center has in place moderate risks of rainfall exceeding flash flood guidance. This indicates areas that would have the greatest potential of flooding each day. The good news is that rain should finally push south and east out of the region into the second half of the weekend.
---
Flood Watches. Flood Watches and Flash Flood Watches continue from western Pennsylvania into the lower Mississippi Valley due to the potential of heavy rain which could lead to flash flooding and river flooding over the next several days.
---
Forecast River Flooding. Additional heavy rain into the weekend will continue to cause river flooding from the Great Lakes to the lower Mississippi Valley. Almost three dozen USGS river gauges could reach major flood stage over the next seven days, with some potentially reaching record levels. River levels will be slow to recede, and we could see flooding issues into next week.
---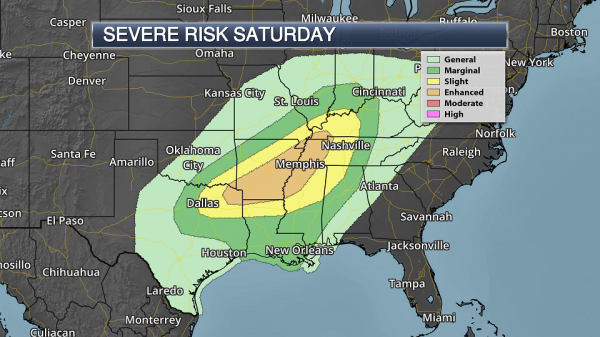 Severe Weather Potential Saturday. Not only will we be watching the heavy rain threat across parts of the southern United States but there is also an Enhanced Risk of severe thunderstorms Saturday and Saturday Night from the Ark-La-Tex into the Mid-Mississippi Valley. Storms will become organized across western parts of the Enhanced area during the afternoon hours Saturday, capable of tornadoes (a few of which could be strong), hail and damaging winds. As the storms continue east, they'll form into more of a linear structure, increasing the wind threat by the evening hours into parts of Mississippi, Tennessee and Kentucky.
Summary: As a new system pushes out of the Rockies later today, a second round of snow will start tonight across parts of the Central Plains and into the upper Mississippi Valley Saturday. The heaviest snow with this system will fall from Nebraska into Minnesota and Wisconsin, where 6"+ of snow will be possible. Across northern Minnesota and northwestern Wisconsin, some snow totals could approach a foot by Sunday morning. We also continue to track the heavy rain threat from Pennsylvania to the Southern Plains, where an additional 2-5" of rain through the weekend is expected. This will continue to produce the potential of flash flooding across the region. River flooding will also continue into early next week, with a number of river gauges expected to reach at least minor flood stage. Severe weather is also expected Saturday from the Ark-La-Tex into the Mid-Mississippi Valley where an Enhanced Risk of severe weather is in place for the afternoon and evening hours. Large hail, damaging winds, and a few tornadoes (some of which could be strong) are possible.
D.J. Kayser, Meteorologist, Praedictix
---
Moderate Drought West Central Minnesota.
There's also a small pocket of moderate drought near International Falls, and much of western Minnesota is too dry. That's why I won't be whining about snow in the forecast. Source:
Drought Monitor
.
---
---
Summer in February? Simply Astonishing. So says Dr. Jeff Masters at Weather Underground; here's an excerpt of his post: "Astonishing summer-like heat cooked the Eastern U.S. on Wednesday, smashing all-time records for February warmth in cities in at least ten states, from Georgia to Maine. At least 24 cities recorded their hottest February temperature on record on Wednesday, including New York City (78°), Hartford, CT (74°) and Concord, NH (74°). According to Weather Underground weather historian Christopher C. Burt, February 20 – 21 marked the most extraordinary heat event to ever affect the Northeastern quadrant of the U.S. during the month of February, since official records began in the late 1800s. He catalogued the following eight states that tied or beat all-time February state heat records over the past two days, noting that in the case of Maine and Vermont, "It is simply amazing to beat a state temperature record by some 8°F!..."
---
IMPACTS: From Climate Nexus: "What land will be underwater in 20 years? Figuring it out could be lucrative (New York Times $), Arctic temperatures soar 45 degrees above normal, flooded by extremely mild air on all sides (Washington Post $), coral reefs at risk of dissolving as oceans get more acidic: study (Reuters), extreme February temperatures on east coast raise questions about climate change (ThinkProgress, Nexus Media News), sea level rise threatens to wipe out west coast wetlands." (InsideClimate News)
---
An Arctic Up To 45F Warmer Than Average?
Jason Samenow reports at
Capital Weather Gang
: "…
Temperatures over the entire Arctic north of 80 degrees latitude have averaged about 10 degrees (6 Celsius) above normal since the beginning of the calendar year, sometimes spiking over 25 degrees  (14 Celsius) above normal (the normal temperature is around minus-22, or minus-30 Celsius). These kinds of temperature anomalies in the Arctic have become commonplace in winter in the past few years. "[T]he *persistence* of the above average temperatures is quite striking," tweeted Zack Labe, a PhD candidate in climate science at the University of California at Irvine.
.."
Image credit: "
---
PUERTO RICO: From Climate Nexus: "Suicide rates spike in Puerto Rico, five months after Maria (NBC), iIn Puerto Rico, a skirmish over how much debt the bankrupt island can handle (Washington Post $), Puerto Rico utility gets $300 million after truce with creditors (Reuters), why does restoring full power in Puerto Rico seem like a never-ending task? (NBC), Puerto Rico recovery efforts plagued by power company's financial troubles." (ThinkProgress)
Hurricane Maria file image: NASA.
---
How "The Lean Start-up" Turned Eric Ries Into an Unlikely Corporate Guru. If you haven't read it, pick it up, no matter what business you're in. It's a simple, but powerful read. Here's an excerpt from an interview at Fortune: "…He never expected to be in such demand. After The Lean Startup came out, Ries was inundated with invitations to lecture, consult, and coach, a career he hadn't previously contemplated. "It just happened," he says, adding that it took a while to get used to people paying him to tell them what he thought. Indeed, Ries volunteers a startling admission for Silicon Valley's preeminent business guru. "This is probably not good for the profile," he says, the author-as-subject anticipating the impact of his words, "but I don't really like business that much, at least not as much as most of the people I talk to. I actually kind of feel bad about it." He says Jeffrey Immelt, the erstwhile chief executive of GE, once asked what Ries would do if he ran the conglomerate. "I was like, 'I would die. I wouldn't last 10 minutes. It would destroy me…"
---
An Amateur Astronomer Captured an Impossible Photo of an Exploding Star. Quartz reports: "While taking a series of short-exposure photographs to test his 16-inch telescope, Argentinian amateur astronomer Victor Buso caught the image of an initial burst of light from an exploding star in a distant galaxy. It was a remarkable discovery. The chances of such a discovery are one in 10 million—or perhaps even one in 100 million, said Melina Bersten, a professional astronomer at the Instituto de Astrofísica de La Plata in Argentina…"
Image credit: "A one in 10 million shot." (Carnegie Institution for Science)
---
Did Archaeologists Just Prove the Existence of the Prophet Isaiah? Daily Beast has an interesting post: "…The evidence itself comes in the form of a small piece of clay (an impression left by a seal), a mere 0.4 inches long, which appears to bear the inscription "Isaiah the prophet." It was unearthed as part of excavations of a previously undisturbed pile of debris at the Ophel excavation in Jerusalem. The dig is headed by Eliat Mazar, who provides a description of the discovery, significance, and translation of the seal in an article published in this month's issue of BAR. The debris contained figurines, pottery fragments, pieces of ivory, and some clay seal impressions, known as bullae. These impressions were created when the owners of the seals stamped their seals into the soft clay and include the mark of King Hezekiah, previously reported here at The Daily Beast…"
Image credit: Royal Doors.
---
St. Louis Radio Host Gives Birth – Live – On the Air. Jordana Green, my amazing co-host at WCCO Radio, are you paying attention? KSDK.com has details: "A St. Louis radio host gave birth live on the air Tuesday morning.  Cassiday Proctor is the co-host of "Spencer's Neighborhood" on 106.5 The Arch. "Throughout her pregnancy, Cassiday shared every aspect of expecting a baby – including all of the ups and downs and the anticipation of baby's arrival – with the 106.5 The Arch listeners across St. Louis. And today, she and her husband Jerry were gracious enough to share the most intimate part of it with us," her co-host Spencer Graves said…"
---
State Department Tries to Teach Americans How to Speak Minnesotan. You can't make this stuff up. Here's an excerpt and video link from GoMN: "This is your taxpayers dollars at work … but then again we can't really argue with it being used this way. The State Department's American English wing has taken it upon itself to educate the rest of America as to the proper way to speak – Minnesotan. It posted the video below earlier this week, leveraging the expertise of Minnesota natives within the federal government for a how-to guide on Fargo-esque diction. Featured is "Uff da," obviously " and "Ohfer" – which it incorrectly spelled "Oh for…"
---
Ax-Throwing Bar to Open in Northeast Minneapolis. Eater Twin Cities reports that "…Ontario-based Bad Axe Throwing will kill both of those birds with one flung blade with the company's 17th location opening at 2505 Kennedy St. NE, Suite A on March 10. Think of this like a dart league on steroids. Patrons can hang out at several lanes, each set up with two targets, get a primer on proper throwing techniques and then hurl death devices with all the pent-up rage of a cubicle-kept work week gone awry. The facility hopes to play host to large groups and caters to parties. For now, would-be axe throwers are invited to bring beer and wine, but Bad Axe is hopping to secure a liquor license to sell on site. There will be no hard alcohol, however, because that would be just crazy…"
Image credit: "Here's hoping the axe is bad, not the throwing." Bad Axe Throwing/Website
---
8″ snow on the ground at KMSP Friday morning.
32 F. maximum temperature yesterday in the Twin Cities.
32 F. average high on February 23.
39 F. high on February 23, 2017.
February 24, 1835: The temperature at Ft. Snelling falls 26 degrees in only three hours.
---
SATURDAY: Winter Storm Warning. Snow arrives by afternoon. Winds: E 10-15. High: 32.
SATURDAY NIGHT: Snow, heavy at times. 4-8″ expected. Low: 22
SUNDAY: Partly sunny, travel slowly improves. Winds: W 10-20. High: 29
MONDAY: Intervals of sun, milder. Winds: SW 5-10. Wake-up: 20. High: 35
TUESDAY: More clouds than sun, not bad at all. Winds: S 5-10. Wake-up: 25. High: 38
WEDNESDAY: Overcast, feels like March. Winds: W 5-10. Wake-up: 28. High: 40
THURSDAY: Glimmers of sun, a little cooler. Winds: NW 7-12. Wake-up: 27. High: 35
FRIDAY: Mix of clouds and sun, quiet. Winds: NW 5-10. Wake-up: 23. High: 37
---
Climate Stories…
Winter Sports Industry Feeling The Heat From Climate Change: From Climate Nexus: "Low-snow winters influenced by climate change can cost the US economy up to $1 billion in reduced participation costs from winter sports, new research shows. A report released today from Protect Our Winters finds that low-snow cover years since 2000 resulted in 5.5 million fewer visitors to US ski towns than average, causing resort towns and surrounding areas to retain 17,400 fewer jobs compared to average years. "When somebody goes and skies, they don't just spend money on that lift ticket," report coauthor Rebecca Hill told NPR. "They also spend money at restaurants in the area. They buy gas in the area. So it's those other support industries that are also going to be harmed." (NPR)
---
One Arm of the Trump Administration Thinks Climate Change is a Security Threat. Here's an excerpt from The Economist: "…But the menace that most concerns Captain Dean VanderLey, the chief civil engineer for the navy in the mid-Atlantic region, is one that is undeterred by military might. In the 100 years since the base was first built, the sea level has risen by half a metre. In a major hurricane, he says, while surveying the piers and a road linking them to an airfield, "a lot of this would probably be flooded".Captain VanderLey is not alone in fretting about the military consequences of climate change. A report published on January 26th by the Department of Defence (DoD) found that more than half of the 3,500 sites surveyed are already reporting climate-related problems (see map). Droughts are leading to water shortages, heatwaves are causing some live-fire exercises to be cancelled and shifting wind patterns are disrupting aircraft sorties…"
Map credit: Economist.com.
---
What Are The Birds Telling Us About Climate Change? Here's a clip from a post at The Austin Chronicle: "…It's not like wildlife hasn't dealt with extreme events before; of course they have," Parmesan explained when I asked her about the effects of such events. "But you normally have several years or even decades in between these extreme events, so you allow those numbers to recover. Then you get hit again, but by then the population is high enough that you're not causing the population to go extinct. But as these events get more and more frequent, you don't get the recovery time, and then the populations have a much higher likelihood of going extinct rather than just their numbers going down." Following Harvey, the species tallies at counts along the coast were unsurprisingly down. The storm had indiscriminately flooded and destroyed lives and homes, local wildlife not excluded. Salt marshes were flushed with rainwater, trees where songbirds gathered were demolished, and coastal habitats were eroded…"
Photo credit: "Jane Tillman, Ken Zaslow, and Skip Mencio on the lookout at the Christmas Bird Count in South Austin." (Photo by Jana Birchum)
---
Moose and Loons are "Climate Change Canaries in the Coal Mine", Say Conservationists. This story is focused on New England, but we have the same trends and challenges here in Minnesota. WBUR.org reports: "…She says shorter winters are hastening the spread of ticks, which attach to moose in tens of thousands and can kill large numbers of each year's calves. Moose are also dying from brain worms, spread by larger deer populations. Rines also says the cold-loving moose can show signs of heat stress even on mild summer days, or in winter temperatures as low as the mid-20s. In more intense heat, they stop foraging altogether…"
Photo credit: "In this July 2011 photo, a moose picks its head up from eating grass from Pierce Pond in North New Portland, Maine." (Pat Wellenbach/AP)
---
The Reverend Billy Graham Called Climate Change a "Serious Problem". Here's an excerpt from a story at eenews.net: "America's Pastor" Billy Graham was a supporter, if not a leading advocate, of action on climate change. The Christian evangelist, who died yesterday morning at age 99, reached millions of people around the world and had advised U.S. presidents. Known for preaching about God's love in the Bible, Graham also talked about the need for mankind to be "stewards of God's creation." "Why should we be concerned about the environment? It isn't just because of the dangers we face from pollution, climate change or other environmental problems — although these are serious. For Christians, the issue is much deeper: We know that God created the world, and it belongs to Him, not us. Because of this, we are only stewards or trustees of God's creation, and we aren't to abuse or neglect it," Graham said in May 2006…"
---
East Coast Shatters Temperature Records, Offering Preview to a Warming World. Here's a clip from InsideClimate News: "…The warm temperatures do feel strange this time of year, but it's easy to forget that this isn't the only abnormally hot February in recent years. February 2017 saw extraordinary temperatures, too. February 2016? Same thing. It's been happening with greater frequency—and in line with what scientists have said to expect as the world warms. "It used to be said that 'scientists can't say anything about an individual event.' That statement is patently false now," said Michael Wehner, a senior staff scientist at Lawrence Berkeley National Laboratory. "We can say lots about individual events, and we have..."
---
We Can't Engineer Our Way Out of Climate Change. Bloomberg View has the Op-Ed; here's an excerpt: "…The human response to global warming has been so slow that it may be too late to avoid serious consequences just by reducing future emissions. This means tough decisions. Rapidly rising temperatures could so damage supporting ecosystems that we'll be forced to cool the planet with technological tricks – for example, injecting sulfate aerosols into the atmosphere to block the sun's rays. Such "geoengineering" is risky. For one, a single nation might be able to do it on its own, changing global patterns of weather that harm people elsewhere, and inciting conflict. Also, aerosols stay suspended in the atmosphere only for a year or so. If carbon emissions keep rising, we'll be locked into continuing the treatment forever, lest we face much faster warming – and biological disaster..."
File image: NASA.