Halloween? Going As a Giant Goose-bump This Year
If the mercury tops out at 35F later today in the Twin Cities, this will will be the 10th coldest Halloween since 1872, and the coldest since 2002.
I still consider this a bargain, compared with 1991, when 8 inches of slush fell on
Halloween
. But that was just the beginning. By the time the snow finally tapered November 3 the Twin Cities had been buried under 28 inches of snow; 37 inches at Duluth with 8-foot drifts. It was the storm to end all storms, and it came during an alleged autumn.
Why was it so bad? An intense storm (inspiration for "The Perfect Storm" book and movie) stalled over New England. Which threw a monkey wrench into the jet stream, forcing a storm over Lake Superior to stall. As I've said (ad nauseum) when weather stalls, bad things often result.
I see a cool bias looking out 10-14 days; a light mix Wednesday gives way to rain showers by afternoon; more (rain) showers Friday, again Sunday as the mercury SOARS up to 50F.
It's been 4 years since we've seen above-average winter snowfall. Statistically we are due for more snow and cold.
Wait, a real winter? Maybe so, but I doubt it will rival 1991-1992:
---
---
Halloween Around the USA. Minnesota has the dubious honor of pretty much being the chilliest state in the Lower 48 today with highs in the 30s. At least winds will ease, and nothing will fall from the sky (liquid or frozen). Source: Praedictix.
---
Top 10 Chilly Halloween for the Metro Area? If the high temperature does reach 35F today at MSP International it will be a tie for the 10th coolest October 31 in the Twin Citiese since 1872, according to the Minnesota DNR and State Climate Office.
---
10-Day Trend. ECMWF guidance for the Twin Cities shows a few 40s (woo-hoo), even a shot at 50F by Sunday; but a cool bias may linger into the second week of November. Source: WeatherBell.
---
Slight Moderation Mid-November? Confidence levels are low (because yesterday's GFS solution looked quite cold) but the latest simulation looking out 2 weeks shows a relatively mild Pacific flow for much of the USA, with the exception of the Pacific Northwest. We'll see a few more blips of 50s later this month.
---
Praedictix Briefing: Issued Monday, October 30th, 2017
* A powerful coastal low has been impacting parts of the Northeast over the past 24 hours, bringing heavy rain and destructive winds that have knocked out power to over 1.3 million residents in nine states as of Monday morning.
* Over 150 wind damage reports have been relayed by local National Weather Service offices.
* Winds gusted to 82 mph in Mashpee, MA and over 100 mph at both Mt. Mansfield, VT and Mt. Washington, NH.
* Winds and rain will slowly taper off throughout the day, with the biggest impacts across parts of northern New England. An additional 1-2" of rain with wind gusts up to 60 mph will be possible.
---
Wind Gusts Over 80 MPH Overnight. A coastal storm quickly intensified Sunday, bringing with it heavy rain and damaging winds to the Northeast. Winds gusted over 60 mph across portions of Massachusetts and Rhode Island overnight, with a peak wind gust in these areas of 82 mph in Mashpee, MA. At higher elevations in the Northeast, winds gusted over 100 mph including 115 mph on Mt. Mansfield, VT, and 133 mph at Mt. Washington, NH. These strong winds have knocked out power to at least 1.3 million people across nine states.
---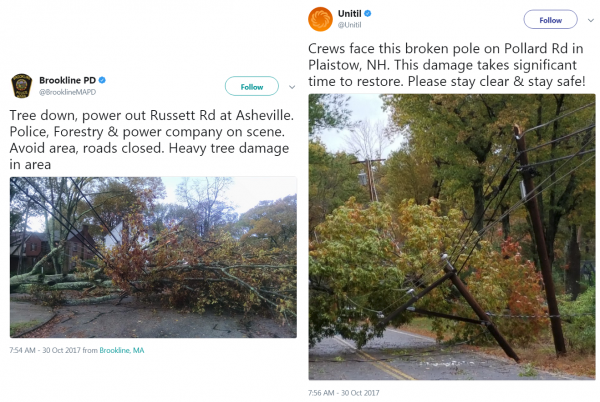 Wind Reports. There have been over 150 wind damage reports across the Northeast over the past 24 hours, including downed trees and powerlines.
---
Radar This Morning. Rain continues across portions of the Northeast this morning, however it is starting to taper in spots. This is after heavy rain over the past 24-36 hours across the region, with areas like Watertown and Islip (NY) and Danbury (CT) picking up over 4" of rain.
---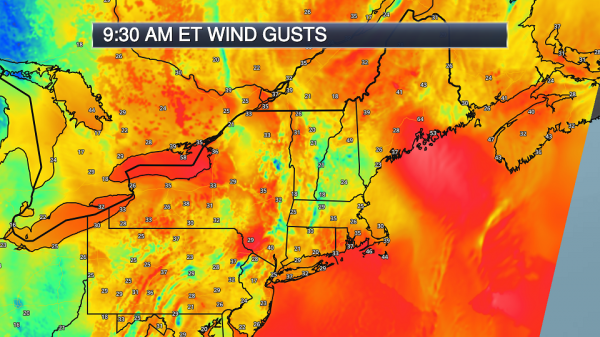 Strong Monday Morning Winds. Winds continue to gust over 40 mph in spots this morning, which is causing some ground delays at local airports and has the potential to bring down more trees/tree branches and power lines.
---
Peak Wind Gusts Monday. While wind gusts will still be strong across parts of the Northeast – especially across Maine and in higher elevation areas – they will start to decrease throughout the day across the region. These wind gusts will continue to cause issues across the region, including downed trees and powerlines and additional delays at the major airports. Maps: Praedictix and AerisWeather.
---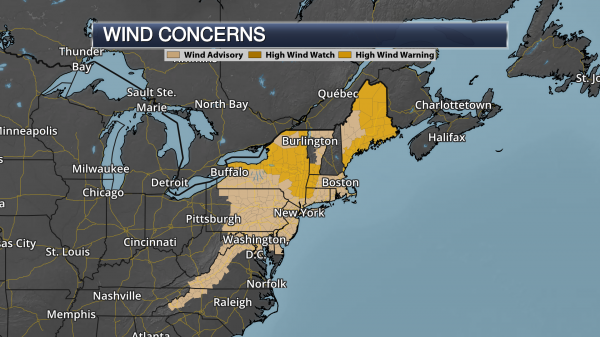 Wind Alerts. High Wind Warnings and Wind Advisories continue across the Northeast today as this system moves through. Areas under High Wind Warnings include Syracuse and Albany (NY), as well as Portland, Bangor and Caribou (ME). In these areas, winds could gust up to 65 mph. Areas under a Wind Advisory include Washington D.C., Baltimore, Philadelphia, New York City and Boston.
---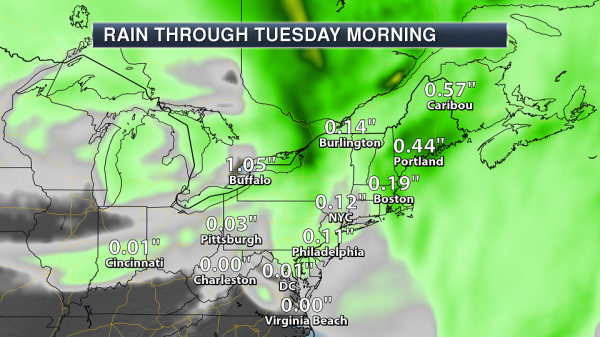 Additional Rain Today. While the heaviest rain has already fallen across the region over the past 24-36 hours, up to an additional 1-2" of rain could fall across New England today.
---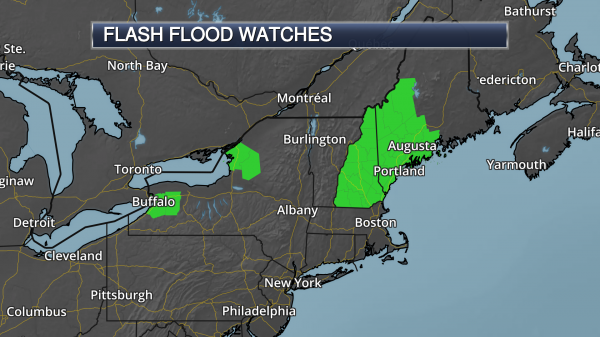 Flood Watches. Flood Watches continue across parts of New England today due to expected additional rain on top of the heavy rain they already received. Minor to moderate river flooding will continue across the region through the middle of the week.
Summary: The coastal low which brought destructive winds and heavy rain to the Northeast over the past 24 hours will continue to wind down as we go throughout the day. However, we could still see additional rain amounts of 1-2" across portions of New England as well as 60+ mph wind gusts. High Wind Warnings and Flood Watches continue across the Northeast.
Meteorologist D.J. Kayser, Praedictix
---
Science Says: Jack Frost Nipping At Your Nose Ever Later.
Here are a couple of excerpts from
AP
: "
Winter is coming … later. And it's leaving ever earlier. Across the United States, the year's first freeze has been arriving further and further into the calendar, according to more than a century of measurements from weather stations nationwide. Scientists say it is yet another sign of the changing climate, and that it has good and bad consequences for the nation. There could be more fruits and vegetables — and also more allergies and pests…To look for nationwide trends, Kunkel compared the first freeze from each of the 700 stations to the station's average for the 20th Century. Some parts of the country experience earlier or later freezes every year, but on average freezes are coming later. The average first freeze over the last 10 years, from 2007 to 2016, is a week later than the average from 1971 to 1980, which is before Kunkel said the trend became noticeable. This year, about 40 percent of the Lower 48 states have had a freeze as of Oct. 23, compared to 65 percent in a normal year, according to Jeff Masters, meteorology director of the private service Weather Underground
…"
File photo: Steve Burns.
---
New Type of Snow Warning Will Be Issued by the National Weather Service This Winter.
The Weather Channel
reports: "
A new type of snow warning will be issued by the National Weather Service (NWS) this winter to convey the danger travelers face from an extreme reduction in visibility during short-term bursts of heavy snow. A snow squall warning will be issued when conditions warrant by seven NWS offices in the Lower 48 starting in early January. Snow squalls have historically been a contributor to major highway pileups due to their brief but intense snowfall rates, which drop visibility at moments notice while slickening roads. Snow squalls can occur in situations where there is no major large-scale winter storm in progress and may only produce minor accumulations. "Annual highway fatalities from these events can exceed fatalities due to tornadoes in many years," the NWS said in its product description for the new snow squall warning.
.."
---
How Unusual is Measurable Snow in October?
Dr. Mark Seeley has the answer at
Minnesota WeatherTalk
: "
Historically, back to 1877 the data show measurable October snowfalls in the Twin Cities about 29 percent of all years, the most recent of which was 2009 (on October 10 and 12 of that year). The most snowfall in October was in 1991, on Halloween when it snowed 8.2 inches, while October of 1925 brought the most days with measurable snowfall, a total of 6 days (that was also the coldest October in Twin Cities climate history with a mean temperature over 10 degrees F cooler than normal). For today's date (Oct 27) in the Twin Cities measurable snowfall has been recorded in the following years: 1910, 1919 (record daily amount of 2.6 inches), 1925, 1959, and 1967. So today's snowfall marks only the 6th measurable amount historically on this date. For relative comparison, at Duluth the climate record shows measurable snowfalls have occurred in 62 percent of all Octobers, while at International Falls they have occurred in 68 percent of all years
…"
---
Snow Stats
.
The Minnesota DNR
has information on earliest and average one-inch snowfall and snow depth in the Twin Cities.
---
Twin Cities Snowfall Since 1996
. The last time we had an above-average snowfall? 4 years ago, the winter of 2013-2014, when a total of 69.8″ fell. Since then it's been pretty tame with snowfall as much as 20″ less than average.  The 30-year average at MSP is about 54″, if anyone asks. Source:
Minnesota DNR
.
---
Minnesota Normal Annual Snowfall: 1981-2010.
Here's an update on what is considered "normal" in the snowfall department, statewide, courtesy of the
Minnesota DNR
: "
A climate normal is defined as the average of a variable over a continuous three-decade period. At the end of each decade, a new 30-year average is calculated. The statistic is a measure of the central tendency of the variable. Minnesota's highly variable climate leads to large year-to-year swings above and below this benchmark value. The map (above) depicts normal annual snowfall for the normal period, 1981-2010. Click on the map to view a larger rendition. The normal snowfall map incorporates data from the MNDNR Snow Rules project. The project gathered high spatial density snowfall data from 2002 through 2011 in three northeastern Minnesota counties (St. Louis, Lake, and Cook). Despite the nine-year time-span being less than the 30-year normal period, these data were included to offer an picture of the unique snowfall patterns found along Minnesota's North Shore
…"
---
Sandy,

Five Years Later

.
From Climate Nexus Hot News: "Many communities in New York and New Jersey say they are still struggling to rebuild from Superstorm Sandy as they marked the storm's five year anniversary this weekend. Some towns on the hard-hit coast of Staten Island and the Jersey Shore have chosen to rebuild with preparation for sea level rise in mind, while others now sit abandoned. New York City still faces monumental repairs, especially to damaged public housing projects. Experts also warn that national lessons from Sandy, such as the need to increase coastal protections, to improve National Weather Service threat communication, and to project climate change's impact on home values, have not been applied in other regions of the country. In New York City, hundreds marched
Saturday
to call attention to still-unaddressed damages from Sandy and to highlight the imperative for climate action." (Aftermath & rebuilding:
The Guardian
, 
NPR
, 
City Lab
,
Mother Jones
,
Slate
. Survivor stories:
New York Times
$,
CNN
, 
NJ Advance
. NYC:
New York Times
$, 
New York Daily News
. National lessons:
AP
,
Washington Post
$,
Slate
,
Mother Jones
. March:
PBS NewsHour
, 
New York Daily News
)
File photo: AP and U.S. Air Force.
---
Minnesota: Relatively Safe from Natural Disasters. GoMN reports on a little bit of good news: "The forest fires in California and the devastating hurricanes that hit Texas, Florida and Puerto Rico have cost billions of dollars in damage and put natural disaster preparation back in the spotlight. But Twin Citians at least can sleep easy, as they live in one of the metro areas least at risk from natural disasters. That's the finding of ranking website Sperling's Best Places, which identified the Top 10 Safest Cities from disasters like tornadoes, hurricanes, flooding and earthquakes. Sperling's analysis weighed eight risk factors by severity and frequency of the threat, with tornadoes and hurricanes considered the biggest threat, followed by flooding and earthquakes, then drought, hail, wind and wildfires. The Twin Cities ranked 7th safest on the list, which was topped by Portland, Seattle and Salt Lake City…"
Map credit: Sperling's Best Places.
---
Analysis Finds Severe Weather Cost U.S. $675 Billion Since 2011; Greatest Impact on Those With Lowest Incomes. eNews Park Forest has details: "As the five-year anniversary of Superstorm Sandy approaches, a new analysis from the Center for American Progress (CAP) finds that the most destructive hurricanes, storms, and other severe weather in the United States have caused about $675 billion in total damages since 2011. That massive figure works out to about $2,000 for every American. Overall, there have been 84 extreme weather events during the last seven years that have caused a minimum of $1 billion in damage each and killed nearly 2,000 Americans in total. U.S. counties have issued more than 13,000 major disaster declarations in response to these events. These numbers are another sign of the impact of climate change, which causes these extreme weather events to be more severe and occur more frequently, the report says. The report also notes that extreme storm events—including hurricanes, winter storms, and floods that have led to disaster declarations—on average tend to affect counties where the median income is below the national median…"
Image credit: Climate Nexus.
---
The Unexpected Ways Extreme Weather Can Harm Your Health. Here are a couple of excerpts from an interesting post at cheatsheet.com: "…Disasters like hurricanes can leave entire communities and their environments in despair — and not just physically. According to Mental Health America, it's completely normal to have difficulty managing your emotions following a life-altering tragedy. However, if you feel your emotions are too intense, or your inability to control them doesn't go away with time, it's important to seek out professional help…If you have a history of heart trouble, beware. The American Heart Association says the air pollution that results from wildfires has been linked to heart problems. Don't let your guard down just because the fire's out, though. TIME Health also warns that exposure to smoke from nearby wildfires is just as dangerous after a wildfire has died down as it is while it's still actively burning…"
---
Deep Impact of Flood Insurance. A post at Realtor Magazine caught my eye: "...Unfortunately, large numbers of uninsured Houston-area residents, as well as those in Florida, Puerto Rico, and other devastated areas, are facing bleak prospects for repairing or rebuilding their homes. Especially vulnerable are those who reside in areas outside of designated flood zones, which are increasingly affected by extreme weather. Stronger storms are bringing more widespread devastation, yet a long-term reauthorization of the NFIP remains in limbo. In September, Congress extended the program, which provides flood insurance policies to 5 million property owners, through Dec. 8. But such a short-term fix gives little certainty to owners who may lose access to any insurance option if the NFIP lapses. A growing number of private insurers are offering flood policies, but not in every state..."
---
Sacramento Vulnerable to Severe Flooding. A story at The Washington Post underscores the risk: "…Models show a levee failure could submerge parts of this inland metropolis under as much as 20 feet of water. As Northern Californians are recovering from wildfires and sifting through homes reduced to ash, officials in the state's capital are struggling to prevent another type of natural disaster. Sacramento is more vulnerable to catastrophic flooding than any other major city in the United States except New Orleans, according to federal officials, a threat created by the city's sunken geography. Levees and other flood defenses here and in the surrounding Central Valley have amassed up to $21 billion in needed repairs and upgrades, while Sacramento's population has continued to grow. Just days before Hurricane Harvey slammed into Texas and flooded Houston, a report from the California Department of Water Resources warned that "many flood facilities" in the Central Valley "face an unacceptably high chance of failure…"
Photo credit: "The construction site of the Southport setback levee is seen in West Sacramento, Calif. The levee will help protect neighborhoods from flooding if the Sacramento River breaches levees." (Andrew Burton/For The Washington Post).
---
How Cities are Defending Themselves Against Sea Level Rise. AP and The Washington Post have the story: "Superstorm Sandy and a series of lesser coastal storms since that 2012 disaster compelled some coastal communities to defend themselves by elevating homes and critical infrastructure, building sand dunes, widening beaches and erecting or raising sea walls. But as sea levels continue to rise around the world, that's not an option in large cities, where skyscrapers can't be elevated and subway and train tunnels act as turbocharged flumes when millions of gallons of stormwater rush through them. The answer, some cities have decided, is a mixture of hard and soft barriers; green infrastructure to capture rain and absorb storm water; temporary storage space for runoff; and drastically increased pumping measures. Here's a look at some steps being taken by cities around the world to address the issue…"
File photo credit: "This Thursday, May 8, 2014 file photo shows a sector gate on the Thames Barrier reopening for one of its monthly tests on the River Thames in east London. It is designed to block exceptionally high tides or storm surges from the North Sea." (Matt Dunham, File/Associated Press).
---
After the Napa Fires, a Disaster-in-Waiting: Toxic Ash. WIRED takes a look at the aftermath of California's deadly blazes: "By any measure, the fires that tore through Northern California were a major disaster. Forty-two people are dead, and 100,000 are displaced. More than 8,400 homes and other buildings were destroyed, more than 160,000 acres burned—and the fires aren't all out yet. That devastation leaves behind another potential disaster: ash. No one knows how much. It'll be full of heavy metals and toxins—no one knows exactly how much, and it depends on what burned and at what temperature. The ash will infiltrate soils, but no one's really sure how or whether that'll be a problem. And eventually some of it—maybe a lot—will flow into the regional aquatic ecosystem and ultimately the San Francisco Bay..."
---
Women Are Being Passed Over for Chief Meteorologist Jobs At an Alarming Rate. Angela Fritz reports at Capital Weather Gang; here's an excerpt: "…The announcement that a man would become the new chief shouldn't have come as a surprise. A new study confirmed (again) what women in the field have long known: that they are grossly underrepresented in TV meteorology. The study was conducted by Alexandra Cranford, a TV meteorologist in Louisiana. She found that, nationwide, women make up just 29 percent of all TV weathercaster positions. That number in itself is alarming and unfortunate. But even if you attempt to rationalize that fraction, you can't excuse the study's next finding — that just 8 percent of women are in the "chief meteorologist" role. It's a pitifully low fraction of a pitifully low fraction. "Naturally, it's not that we aren't qualified," Johnson told The Washington Post. "Although strides to advance women up the ladder have been made, we continue to see struggles in the workplace..."
---
Best Buy's New Goal: Reduce Its Carbon Footprint 60% by 2020. Details via GoMN: "Best Buy isn't shy when it comes to talking about climate change. In 2015, the retailer was one of four major Minnesota companies to join a White House initiative to combat climate change, and pledged to reduce its carbon emissions by 45 percent by 2020. Last year, Best Buy exceeded that goal – four years ahead of schedule. So now the company announced a new goal: to reduce its carbon emissions by 60 percent by 2020. That's the equivalent of removing 32,000 cars from the road for an entire year. "After hearing from employees and customers impacted by the recent devastating weather events, we are more motivated than ever to move the needle on climate change," Best Buy's Chief Sustainability Officer, Laura Bishop in a news release…"
Image credit: Nicholas Eckhart, Flickr
---
St. Louis Commits to 100% Renewable Energy by 2035. HuffPost has the story: "Lawmakers in St. Louis have approved a measure aimed at powering the city entirely on renewable energy sources, including wind and solar, by 2035. The resolution, introduced last month by St. Louis Board of Aldermen President Lewis Reed and unanimously approved by the legislative body on Friday, tasks the city with developing a plan by December 2018 to wean itself off fossil fuels. "Congratulations, everybody!" Reed said following the motion, drawing a round of applause from his colleagues. "I'm excited for us as a city..."
File photo: Shutterstock.
---
Want a Job? Look to Wind & Solar: From Climate Nexus: "Solar installer and wind technician positions are expected to be the fastest-growing jobs in the United States over the next decade, according to new data from the Bureau of Labor Statistics. The number of solar installers and wind technicians is expected to roughly double by 2026. CBS reports that many of these new positions are expected to be in red states, as clean energy projects move forward in the Midwest and the South." (CBS, Bloomberg, Quartz, AP).
File image: Midwest Energy News.
---
Nerds and Nurses Forecast to Take Over U.S. Economy. Here's a clip from The Atlantic: "Manufacturing will fall. Retail will wobble. Automation will inch along but stay off the roads, for now. The rich will keep getting richer. And more and more of the country will be paid to take care of old people. That is the future of the labor market, according to the latest 10-year forecast from the Bureau of Labor Statistics. These 10-year forecasts—the products of two years' work from about 25 economists at the BLS —document the government's best assessment of the fastest and slowest growing jobs of the future. On the decline are automatable work, like typists, and occupations threatened by changing consumer behavior, like clothing store cashiers, as more people shop online. The fastest-growing jobs through 2026 belong to what one might call the Three Cs: care, computers, and clean energy…"
---
Why We Need a 21st Century Martin Luther to Challenge the Church of Tech. Really? Food for thought from The Guardian: "A new power is loose in the world. It is nowhere and yet it's everywhere. It knows everything about us – our movements, our thoughts, our desires, our fears, our secrets, who our friends are, our financial status, even how well we sleep at night. We tell it things that we would not whisper to another human being. It shapes our politics, stokes our appetites, loosens our tongues, heightens our moral panics, keeps us entertained (and therefore passive). We engage with it 150 times or more every day, and with every moment of contact we add to the unfathomable wealth of its priesthood. And we worship it because we are, somehow, mesmerised by it. In other words, we are all members of the Church of Technopoly, and what we worship is digital technology. Most of us are so happy in our obeisance to this new power that we spend an average of 50 minutes on our daily devotion to Facebook alone without a flicker of concern. It makes us feel modern, connected, empowered, sophisticated and informed..."
Image credit: "Left to right: Sergey Brin of Google, Sheryl Sandberg and Mark Zuckerberg of Facebook, Steve Jobs of Apple and Jeff Bezos of Amazon." Composite: Joe Wilkes
---
The Cure for Deadly Peanut Allergy is….Peanuts? The Daily Beast reports: "It now appears that the solution to avoiding peanut allergies, ironically, is eating peanuts. Every year, about 15 million Americans suffer from food allergies. For those with severe allergies, symptoms include generalized hives, itching, flushing, swollen lips and tongue, difficulty breathing, wheezing, fainting, vomiting, abdominal pain, low blood pressure, and a critical decrease in the flow of oxygen to the brain and other vital organs. The foods that are most likely to cause these severe allergic symptoms are milk, eggs, peanuts, tree nuts, soy, wheat, fish, and shellfish. One of these eight foods, however, stands above the rest, affecting about 3 million Americans, and occasionally causing fatal or near-fatal allergic reactions. Peanuts. Every year between 75 and 100 people die from peanut allergies. Although children often outgrow allergies to milk or eggs by the time they go to school, peanut allergies are usually life-long..."
Photo Illustration: The Daily Beast.
---
Marketers Need to Stop Looking at Mobile as a Channel. It's a Lifestyle. A story at Adweek caught my eye; here's a clip: "Mobile is how we communicate, how we spend time and, more and more, how we transact. Some see it as a medium, just another advertising and distribution channel, no different strategically than TV, print, outdoor or desktop—like a portable version of the web. Others view it as a technology, or as a self-contained experiential platform. Some brands create a mobile-first element, but then push customers to outdated or mismatched experiences, or force them to go cross-channel or multi-screen. None of these are right. Mobile is not a channel. It is a fundamental part of our lifestyle. It's how we communicate, how we spend time and, more and more, how we transact..." (Image: LinkedIn).
---
The Israeli Ski Community on the World's Most Militarized Border. A risk of landmines? Does that make it a quadruple black diamond slope? Here's an excerpt of a fascinating tale at Powder Magazine: "…As such a strategic military location, Mount Hermon Ski Resort might be the most heavily militarized place to ski in the world. Cars must pass through a military checkpoint that is closed if the lifts aren't spinning. The Israeli Defense Force has a fleet of customized white snowcats at the base and bunkers on every ridgeline. Young combat engineers—Israel's army—are stationed at most lift shacks. And the elite, clandestine Alpinist Unit, an infantry reserve squad trained in mountain warfare, roams the mountain on white skis, in all-white suits, with black M4 assault rifles on their backs. It's an unexpected location for the busiest ski area in the region. The 1,200-acre resort regularly has 12,000 visitors a day, many of whom are seeing snow for the first time. Due to travel restrictions, Mount Hermon is the only place in the Middle East Israelis can find snow. It is a melting pot for a segregated country, a place where Jews, Muslims, and Druze all recreate together…"
Photo credit: Kari Medig
---
Historic Home Run Rate During World Series May Be Result of Slicker Baseballs? Here are a few clips from Sports Illustrated: "After a record-setting regular season with the most home runs all time, 6,105, the rate of home runs has shot up 35 percent in the World Series, from one every 27.1 at-bats in the regular season to one every 17.5 at-bats in the World Series. There have been 15 home runs hit in this World Series already. Only eight of the previous 112 World Series had more.  "Pitchers and coaches from both the Dodgers and Astros complained Saturday night about the World Series baseballs—and this time the controversy is not just about liveliness. They say there is a new problem: the baseballs used in the World Series are slicker than the ones used in the regular season because of a difference in the grain of the leather. The slicker World Series balls particularly make it hard to throw a good slider, they claim…"
---
40 F. maximum temperature yesterday in the Twin Cities.
51 F. average high on October 30.
46 F. high on October 30, 2016.
October 31, 1991: The Great Halloween Blizzard begins. Trick or Treating was memorable for the few who ventured out. 8.2 inches of snow fell at MSP airport by midnight, with much more to come the following day.
---
---
HALLOWEEN: Partly sunny, brisk. Winds: W 7-12. High: 35
TUESDAY NIGHT: Clouds increase again. Low: 30
WEDNESDAY: Light mix changes to rain showers. Winds: S 15-25. High: 40
THURSDAY: Mostly cloudy, a drier day. Winds: NW 8-13. Wake-up: 33. High: 43
FRIDAY: Rain showers arrive PM hours. Winds: NE 5-10. Wake-up: 30. High: 42
SATURDAY: Mostly cloudy, drier day of weekend. Winds: SE 10-15. Wake-up: 35. High: 45
SUNDAY: "Milder", with a few rain showers. Winds: S 10-15. Wake-up: 41. High: near 50
MONDAY: Slow clearing, drying out. Winds: NW 8-13. Wake-up: 31. High: 39
---
Climate Stories…
Global Atmospheric CO2 Levels Hit Record High. The Guardian explains: "The concentration of carbon dioxide in the atmosphere increased at record speed last year to hit a level not seen for more than three million years, the UN has warned. The new report has raised alarm among scientists and prompted calls for nations to consider more drastic emissions reductions at the upcoming climate negotiations in Bonn. "Globally averaged concentrations of CO2 reached 403.3 parts per million (ppm) in 2016, up from 400.00 ppm in 2015 because of a combination of human activities and a strong El Niño event," according to The Greenhouse Gas Bulletin, the UN weather agency's annual flagship report. This acceleration occurred despite a slowdown – and perhaps even a plateauing – of emissions because El Niño intensified droughts and weakened the ability of vegetation to absorb carbon dioxide. As the planet warms, El Niños are expected to become more frequent..." (Image: Reuters).
---
Risky Business Project Fears U.S. Can't Weather the Storm of Climate Change. Here's an excerpt of a story at Star Tribune written by Neal St. Anthony: "…Q: The farm and food industry, however, are not entirely on board, right? A: In agricultural circles, there's an aversion to [accepting] man-caused climate change. My experience is they fear overreach by the government. For us in the food system to be deniers is as arrogant as it is for the true believers who say they know exactly what will happen … that the sea will rise by this much by 2080. I get criticized for talking too much about adaptation. But we can't presume mitigation will be enough to save the food system. We don't know for sure that enough carbon-free electricity can be produced [to achieve an 80 percent reduction in the U.S. carbon footprint by 2050]. It's engineering and technically feasible by electrifying our economy. It's very rational. Cost-benefit analysis. Risk-reward. I'm just trying to get people to think about it..."
---
Technology that Sucks CO2 From the Air is Already Used Commercially in Switzerland and Iceland. Big Think has details: "As you're reading this, a power plant in Iceland and a waste recovery facility in Switzerland are sucking CO2 from ambient air and selling it to other businesses. The plant in Iceland even claims to be the first in the world with negative emissions. Behind both projects is a technology developed by the Swiss company Climeworks. Climeworks, founded in 2010 by two mechanical engineers, has developed a CO2 collector with a novel CO2 filter, that has already been deployed commercially in several world firsts. Able to manufacture plants that are modular, scalable, and can be located independently of emission sources, Climeworks is ready to be one of, hopefully, many commercial and technological solutions that will help meet climate targets. In fact, the company's mission is "to capture 1% of global emissions by 2025..."
Photo credit: "Hellisheidi Power Plant." Photo by Arni Saeberg / Climeworks.
---
Oil and Gas Threat Map. Moms Clean Air Force explains the implications of the map above: "The Oil and Gas Threat Maps show health impacts from oil and gas air pollution in three different ways:
The Map reminds us that the threat, as well as the people at risk, are very real by:
Within each individual state, allows you to search for your home or school to find out if you're at elevated risk for exposure to this pollution…"
---
Are Antarctica's Ice Sheets Near a Climate Tipping Point? It's alarmist-hype…until it happens. Then it's "why weren't we warned?" Here's an excerpt from InsideClimate News: "The world needs to eliminate nearly all carbon dioxide emissions from coal burning by 2050 to avoid pushing Antarctica's ice sheets past a tipping point that could cause a major surge in sea level rise, new research shows. If CO2 emissions from fossil fuels continue at their present pace, many Pacific islands and millions of people along low-lying shores like the U.S. Gulf Coast and the Bay of Bengal could be swamped by 1.3 meters (more than 4 feet) of sea level rise before the end of this century, an international team of scientists found in a new study published today in the journal Environmental Research Letters. The researchers said their work supports evidence that global warming of more than 1.9 degrees Celsius could push parts of the West Antarctic Ice Sheet past a melting threshold that would rapidly increase the pace of sea level rise. "What we are increasingly seeing is that we have been on the conservative side in estimating sea level rise," said study co-author Carl-Friedrich Schleussner, a climate physicist at Climate Analytics, a climate science and policy institute…"
Photo credit: ""Parts of the West Antarctic Ice Sheet appear to already be in substantial decline. If that continues, it's not a matter of how much, but how fast sea level will rise," climate physicist Carl-Friedrich Schleussner said." Credit: Jeremy Harbeck/NASA.