No, Meteorologists Do Not Study Meteorites
One of my college professors told me a story about a visitor who walked into his office, plunked a large meteorite on his desk, and asked "You're a meteorologist, right? Please explain THIS!"
In the 4th century BC, Aristotle wrote a book about the atmosphere, called "Meteorologica". It turns out a "meteor" is defined as anything in the air. Meteorologists study "hydrometeors" (clouds) and "igneous meteors" (lightning and coronal discharges) as well as "luminous meteors" (rainbows and halos).
People often ask our opinion on overhead phenomena above and beyond our paygrades, from moon phases to shooting stars, like the one that streaked over Iowa Sunday evening, visible from southern Minnesota. Definitely not a UFO.
Historically, this is the hottest week of summer across southern Minnesota, and the weather won't disappoint. The mercury may hit or top 90F from Wednesday into Sunday.
The metro area has already picked up 10 days of 90-degree heat, twice the normal number, to date.
The best chance of rain: Thursday, again Sunday. Meanwhile Chris may become a hurricane, remaining off the East Coast.
---
2-3″ Rains Sunday Night. IEMBot reports 2-3″ amounts from Bowlus and Royalton to Long Praire.
---
90-Degree Count. The number went up to 11 days at/above 90F in the Twin Cities as of Monday, July 9.
---
When Does The Hottest Day of the Year Usually Occur? Brian Brettschneider has the answer at Forbes: "…July is upon us and many locations have already experienced triple-digit heat. Some locations in the Upper Midwest topped the century mark in May. Parts of southern California set all-time maximum records in early July! Will these be the warmest temperatures of the year? Of course no one has a crystal ball, but climatology allows us to peek into the record books and figure out what time of the year is the hottest. The thing about climatology is that no two places are exactly alike. It surprises no one that the climate of Texas is different than the climate of California. What most people do not realize is that patterns of hot/cold and wet/dry are wildly variable…"
---
---
Heat Builds Again by Late July? Low confidence (it always is 2 weeks out), but after a zonal, moderate wind flow in mid-July GFS guidance rebuilds a vast ridge, a hot dome, over the western and Plains states. This could mean another spell of prolonged 90s for Minnesota. We'll see, but no sustained relief is showing up on the maps anytime soon.
---
Did You See the Fireball Sunday Evening? The meteor was visible in 9 states. The Americal Meteorological Society reports: "The AMS has received over 240 reports so far about of a fireball event seen above Iowa and Michigan on July 8th, 2018 around 8:40pm CDT (July 9th 01:40 Universal Time). The fireball was seen primarily from Iowa and Illinois but was also seen from Minnesota, Indiana, Kansas, Nebraska, Ohio, Michigan and Wisconsin…"
Image credit: AMS Event #2307-2018 recorded by D.Bush from Albany, Mi – www.missouriskies.org
---
---
Summer Storms Unkind to Upper Midwest Farmers.
DTN has a
blog post
that highlights the problems with too much rain: "…
In my almost 41 years of existence I have never seen water standing like this," wrote Jesse Fast in Delft, Minnesota, on a June 21 Twitter post. In his daily weather blog, Minneapolis-St. Paul meteorologist Paul Douglas noted on June 26, that according to the National Oceanic and Atmospheric Administration (NOAA), the Minnesota average June rainfall is roughly 4 inches. "Some sections of southwest and southcentral Minnesota and northwest Wisconsin have picked up three times the average amount of moisture in the last 30 days, with southern Minnesota receiving up to three months' worth of rain in that timeframe," said Douglas. On July 5, Fast told me that, "Fortunately we missed the rain over the weekend and only ended up with .3. It's still a mess with a lot of stuck sprayers and yellow corn. The first of some replants started today but most growers are saying it's too late for the beans and are just going to leave the drown outs. The water hasn't gone away in many holes from the rain three weeks ago yet
…"
Photo credit: "Not only did heavy rains swamp fields in parts of the Upper Midwest, hailstorms were merciless in most of that region as well. (Photo of wet fields looking south towards Pomeroy, Iowa, taken July 6 by Adam Ramthun, Manson, Iowa." Photo of hailed out corn taken June 30 by Andrew Philips, Loomis, Nebraska)
---
USDA Update. Here's an excerpt of a crop update for Minnesota, courtesy of USDA.
---
---
---
Phoenix Tries to Reverse Its "Silent Storm" of Heat Deaths. NPR outlines the scope of the problem in the Desert Southwest: "...More than 155 people died from heat-related causes in the Phoenix area last year, a new record in a place where the number of such deaths has been on the rise. Former Phoenix Mayor Greg Stanton deemed it a public health crisis, and the city has launched an overhaul of how it prepares for and deals with extreme heat. Just as other places prepare for hurricanes, Phoenix aims to create a model program for coping with the temperature spikes and heat waves that scientists say are becoming more common across the country as the climate warms. That effort includes trying to actually lower the temperature of the city. Already, more people die from heat-related causes than from all other extreme weather events..."
---
Historic Flooding Grips Japan
.
The New York Post
has an update on record flooding in southwestern Japan: "
Flooding and landslides have claimed at least 51 lives in western parts of Japan, according to Japanese public broadcaster NHK. Rescuers were searching for 46 missing people on Saturday. Millions have been evacuated across more than a dozen districts, with Japanese officials urging an additional 4.72 million to leave their homes. Over the past five days, the country was slammed with so much precipitation that rain levels in some areas were two to three times as high as the monthly average for all of July, the Japan Meteorological Agency said. Most of the rain had stopped by Saturday night, but the weather service expected flooding to continue
…"
Photo credit: AP. "Homes lie in ruins after landslides and heavy rains in Japan."
---
"Situation of Extreme Danger" in Japan
. According to the
Sydney Morning Herald
evacuation orders were in place for over 2 million people. A few bullet points:
About 1000 people isolated in Kurashiki in western Japan, with at least 81 dead and 58 missing.
The city with a population of just under 500,000 has been hit the hardest by torrential rains.
"A situation of extreme danger", meteorological agency says.
Rain to continue in some areas until Monday.
Some 54,000 military, police dispatched for search and rescue…
---
Praedictix Briefing: Issued Monday morning, July 9th, 2018:
Tropical Storm Chris continues to slowly gain strength and meander off the U.S. East Coast. This meandering – almost stationary – movement will continue for the next 24-36 hours before Chris gets a push off to the northeast during the middle of the week, quickly moving further away from the U.S. mainland.
Beryl degenerated into an open wave

Sunday

night, and while it is no longer a named system, it still could bring gusty winds and locally heavy rain to parts of the Leeward Islands, Virgin Islands, Puerto Rico and Hispaniola today and

Tuesday

. Later this week, once the remnants move over the Atlantic, there is about a 40% chance it could regenerate into a named system.
Tropical Storm Chris. Here is a late afternoon visible image of "Chris", courtesy of NOAA and AerisWeather.
---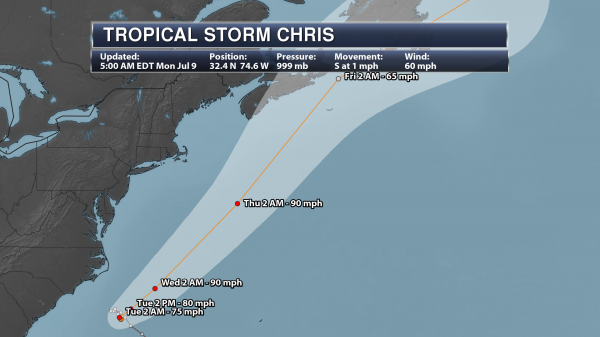 Tracking Chris. Tropical Storm Chris continues to meander far off the Carolina coast this morning, as upper-air steering currents remain light across the region. Chris continues to slowly gain strength, however, with winds of 60 mph as of 5 AM Monday morning. This system will continue to meander over the next 24-36 hours before a system moving east across the United States should finally push the storm quickly northeastward. While Chris meanders, it will continue to gain strength and should become a hurricane by Tuesday morning. As we have mentioned all weekend, Chris will remain far offshore from the mainland United States over the next few days, so impacts are expected to be minimum. Any impacts will mainly in the form of rip currents and increased surf along the coast, but some occasionally gusty winds will also occur along the Carolina coast the next couple days and across southeast Massachusetts by Wednesday.
---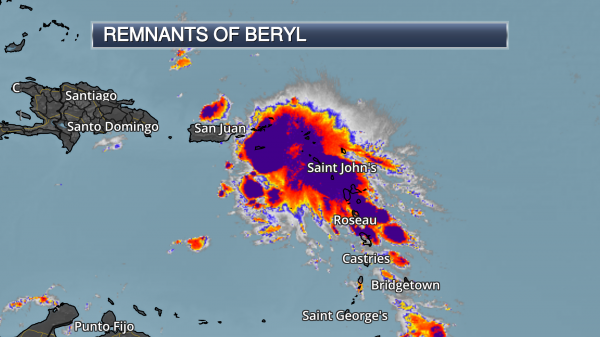 Beryl No Longer A Named System. Late Sunday Beryl became an open wave as the system approached and crossed Dominica. While the system no longer has a name, the remnants of this system could still bring gusty winds and locally heavy rain to parts of the Leeward Islands, Virgin Islands, Puerto Rico and Hispaniola today and Tuesday as it continues to move to the west and northwest.
---
Beryl Could Regenerate Later This Week. We will have to keep an eye on the remnants of Beryl later this week as they enter parts of the western Atlantic, as atmospheric conditions could be somewhat favorable for this system to regenerate. Right now the National Hurricane Center has a 40% chance of that occurring over the next five days across parts of the Bahamas and western Atlantic.
We'll continue to keep an eye on both systems over the next several days and send out additional updates if needed.
---
Update on Super Typhoon Maria from Praedictix Briefing Services. Issued Monday morning, July 9:
As of

5 AM ET

Monday

morning (

5 PM

Taipei time

Monday

), Super Typhoon Maria was an equivalent Category 4 hurricane in the western Pacific with winds of 150 mph and was moving to the west-northwest at 20 mph.
While some weakening is expected over the next 12-36 hours, Maria will still bring heavy rain, strong damaging winds, and the potential of storm surge to parts of far southern Japan, northern Taiwan, and eastern China as it continues to move to the west-northwest. The worst conditions are expected across northern Taiwan late

Tuesday

into early

Wednesday

and across eastern China

Wednesday

.
---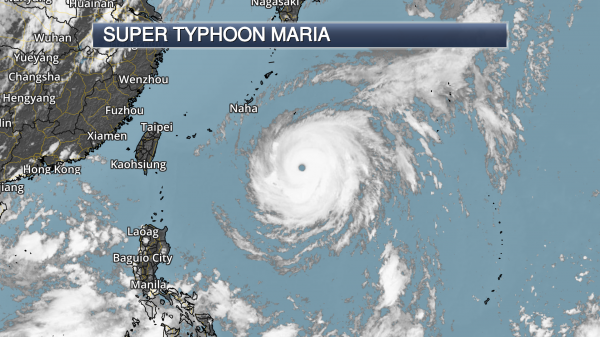 Super Typhoon Maria. Super Typhoon Maria continues to be a strong storm in the western Pacific, but it is a little weaker than it was over the weekend when it reached the strength of an equivalent Category 5 hurricane. As of 5 AM ET Monday morning (5 PM Taipei time Monday), Super Typhoon Maria was an equivalent Category 4 hurricane with winds of 150 mph. The well-defined eye of Maria was 30 nautical miles wide.
---
Maria Path. Maria is likely to start weakening over the next 12-36 hours as the system continues off to the west-northwest; however, the storm is still likely to be strong as it approaches the southern Ryukyu Islands Tuesday afternoon (local time) and northern Taiwan by Wednesday morning (local time). While the strongest winds are expected to stay north of Taiwan at the moment, winds could gust up to – if not above – hurricane force across parts of northern Taiwan late Tuesday into early Wednesday. In Taipei, wind gusts over 50 mph are possible during the height of the system Tuesday Night into Wednesday morning.
---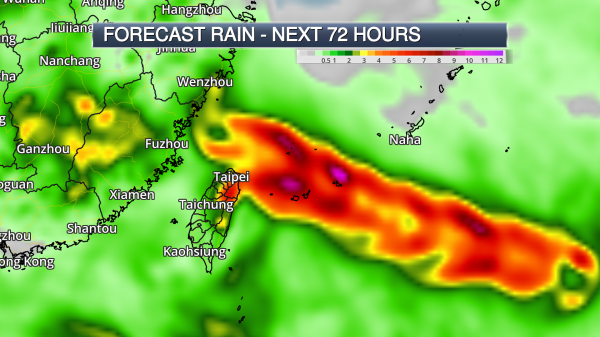 Heavy Rain Threat. Maria will bring heavy rain across parts of the southern Ryukyu Islands, northern Taiwan, and eastern China over the next several days. Across these areas, rainfall totals of at least 3-12" are possible. This heavy rain could lead to flash flooding and mudslides, especially across areas of higher terrain.
D.J. Kayser, Meteorologist, Praedictix
---
Tracking Maria. Here's a YouTube video briefing from Praedictix meteorologist Todd Nelson: "Meteorologist Todd Nelson has the latest on Super Typhoon Maria in the Pacific and Tropical Storm Chris in the Atlantic, as well as the southwest monsoon and potential severe weather in the upper Midwest."
---
Good Satellite Link. Check out the WeatherNerds web site for enhanced IR satellite imagery overlaid with lightning data. Intuitive, and looks good on smartphones too!
---
Wet Start to July Continues a Trend. More perspective from Dr. Mark Seeley at Minnesota WeatherTalk: "Through the first six days of July thunderstorms have brought 1 to 3 inches of rain to many parts of the state. On July 3-4 heavy thunderstorms occurred causing some flash flooding, road closures, and ponded crop fields, as well as cancellation or postpone of some 4th of July events. Southwestern Minnesota was especially hard hit with many observers reporting rainfall totals of 3 to 7 inches. A couple of places in Redwood County reported over 7 inches. For many southwestern counties all of this recent rain came on top of getting 8 to 12 inches just last month (June). As a consequence many rivers there are running above flood stage and some roads and bridges remain closed…"
---
This Refuge Might Be the Most Contested Land in the U.S. National Geographic has a feature story: "…Drilling won't happen for many years, experts say. But the current U.S. administration is eager to proceed with the two lease sales, of at least 400,000 acres each, ordered by the new law. Assuming various regulatory and legal hurdles can be cleared, Alaska and the U.S. government will split the proceeds, which the Congressional Budget Office puts at $2.2 billion. Recent lease prices suggest that's wildly optimistic. Alaska, a state with neither a sales tax nor an income tax, needs every dime. The oil and gas industry funds 90 percent of the state budget—plus an annual dividend of over $1,000 to each Alaskan—mostly through a tax on North Slope oil flowing through the Trans-Alaska Pipeline System (TAPS)..."
Photo credit: "In spring, caribou migrate to the Arctic National Wildlife Refuge's coastal plain. There they spend six weeks grazing on tundra, giving birth, and dodging mosquitoes and predators—including Alaska-native hunters, for whom caribou are a crucial resource. The coastal plain is also where the oil may lie." Photograph: Florian Schulz.
---
Sources: EPA Blocks Warnings on Cancer-Causing Chemical. Politico has a troubling story: "The Trump administration is suppressing an Environmental Protection Agency report that warns that most Americans inhale enough formaldehyde vapor in the course of daily life to put them at risk of developing leukemia and other ailments, a current and a former agency official told POLITICO. The warnings are contained in a draft health assessment EPA scientists completed just before Donald Trump became president, according to the officials. They said top advisers to departing Administrator Scott Pruitt are delaying its release as part of a campaign to undermine the agency's independent research into the health risks of toxic chemicals…"
Photo credit: "Interfering with the formaldehyde study is one of several steps Trump's EPA has taken to side with the businesses the agency is supposed to regulate and undermine the agency's approach to science, critics say." | Pablo Martinez Monsivais/AP Photo
---
New Study Links Air Pollution and Diabetes. Here's an excerpt from a post at The Atlantic: "It's fairly well known that a bad diet, a lack of exercise, and genetics can all contribute to type 2 diabetes. But a new global study points to an additional, surprising culprit: the air pollution emitted by cars and trucks. Though other research has shown a link between diabetes and air pollution in the past, this study is one of the largest of its kind, and it's unique because it both is longitudinal and includes several types of controls. What's more, it also quantifies exactly how many diabetes cases in the world are attributable to air pollution: 14 percent in 2016 alone. In the United States, it found, air pollution is responsible for 150,000 cases of diabetes. The study, published in The Lancet Planetary Health, linked data from 1.7 million American veterans who had been followed for a median of 8.5 years with air data from the EPA and NASA…"
File image: Climate Reality.
---
Fossil Fuel Consumption Drops to Lowest Level Since 1902. Say what? Daily Energy Insider has the scoop: "Fossil fuel consumption dropped to its lowest share of total energy consumption in the United States since 1902 while renewable energy consumption hit a 100 year high in 2017, according to the Energy Information Administration. Fossil fuels — which includes oil, gas, and coal – account for about 80 percent of total U.S. energy consumption, its lowest share since 1902. It dropped for the third straight year in 2017. The decrease in 2017 was driven by declines in natural gas and coal consumption. Coal fell by 2.5 percent in 2017 while natural gas fell by 1.4 percent. The drop in natural gas consumption bucks recent trends as it had gone up in eight of the last 10 years…"
---
Over 3 Million Electric Cars On The Road – You Driving One Yet? Here's a blurb from a post at Clean Technica: "…Which countries are leading the charge? According to the IEA, "China remained by far the largest electric car market in the world, accounting for half sold last year. Nearly 580,000 electric cars were sold in China in 2017, a 72% increase from the previous year. The United States had the second-highest, with about 280,000 cars sold in 2017, up from 160,000 in 2016." There was also impressive growth from "Nordic countries [which] remain leaders in market share. Electric cars accounted for 39% of new car sales in Norway, making it the world leader in electric vehicle (EV) market share. In Iceland, new EV sales were 12% of the total while the share reached 6% in Sweden. Germany and Japan also saw strong growth, with sales more than doubling in both countries from their 2016 levels..."
Graphic credit: "The number of electric cars on the road more than doubled from end of 2015 to end of 2017." (Source: IEA via Business Insider / Statista)
---
Metro Transit Fleet Will Soon Include Electric Buses. The Star Tribune has the article: "Eight new buses recently ordered by the Metropolitan Council will be the agency's first powered entirely by electricity, a mode of transit seen as quieter, more environmentally sensitive and cost effective. The 60-foot vehicles will be the first articulated electric buses to be put into service in the nation. The articulated buses, which will be part of Metro Transit's C Line, feature two rigid portions for passengers linked by an accordian-like connector…"
---
Edible Plates? Why not. Someone figure this out – check out the YouTube video: "Biotrem, a company based in Poland, is producing fully biodegradable plates made from wheat bran that are actually edible."
---
We Have No Idea How Bad the U.S. Tick Problem Is. A story at WIRED.com caught my eye: "…Around the world, diseases spread by ticks are on the rise. Reported cases of Lyme, the most common US tick-borne illness, have quadrupled since the 1990s. Other life-threatening infections like anaplasmosis, babesiosis, and Rocky Mountain spotted fever are increasing in incidence even more quickly than Lyme. Meat allergies caused by tick bites have skyrocketed from a few dozen a decade ago to more than 5,000 in the US alone, according to experts. And new tick-borne pathogens are emerging at a troubling clip; since 2004, seven new viruses and bugs transmitted through tick bite have shown up in humans in the US..."
Map credit: CDC.
---
Starbucks To Ditch Plastic Straws Completely by 2020. The Daily Beast reports: "Starbucks has become the latest—and largest—food and drinks company to announce a ban on plastic straws, saying they'll be gone from stores around the world within two years. The coffee giant said Monday that it will be making a straw-less lid available at 8,000 stores in the U.S. and Canada for certain drinks, and estimated that its ban on plastic straws would eliminate more than one billion from the environment a year. The company's announcement comes just one a week after its hometown, Seattle, banned single-use plastic straws and utensils at businesses that sell food or drinks. Starbucks said cold beverages, in which a straw is typically included, make up 50 percent of the drinks its sells..."
---
31% of U.S. Voters Think a Second Civil War is Likely. Avoid the temptation to polish your bayonet just yet, according to a story at Big Think: "…It should also be remembered that just because people think something is likely doesn't mean it will come to pass. After all, many people thought a war against the Soviet Union was going to happen at some point. While the poll results above seem high, they are similar to the ones seen ten years ago when Obama was president. It might be the case that some people just always worry about large outbreaks of violence. America is clearly divided right now. Our ever-decaying political discourse and strained institutions have led a plurality of Americans to think warfare is imminent. While this may be hysteria, the fact that so many people think we have gotten to that point is problematic in itself. Historically, the future has been hard to predict and these sentiments might be proven correct or dismissed next week…"
Image credit: "The first Civil war as painted by Mort Kunstler. What would a second one look like?"
---
In-utero stress can have life-long effects. Quartz has the results of interesting research: "Using data from Sweden, this study finds that the children of mothers who experienced a death in the family during their pregnancy are more likely to be diagnosed with anxiety, depression, and attention deficit hyperactivity disorder. It is one of the first studies to show the impact of in-utero stress on mental health later in life. The big takeaway: Programs aimed at easing the lives of pregnant women could help their children live healthier and more economically productive lives….With suicide as one of the leading causes of death for prime age people, we should be paying more attention to how mental health capital is formed…"
Photo credit: "Destressing." (Reuters/Nacho Doce).
---
Suicide is a National Epidemic. We Need to Treat It Like One. Here's another opportunity to highlight SAVE (Suicide Awareness, Voices of Education) which is based in Bloomington, with a global reach. They educate the public about depression, suicide prevention and help families trying to recover from the tragedy of suicide. Here's a clip from a Washington Post article: "...Suicide claims the lives of more than 120 Americans each day. Each year, more Americans die from suicide than were killed in action during the entire Vietnam conflict. It's time we confront this epidemic with the same determination that tamed HIV/AIDS. To do this, we must address the biology of suicide. Today, we regard suicide as a failure of psychology and perhaps personal circumstances, rather than a failure of neurochemistry. In fact, suicidal depression may be as treatable as diabetes. It's just that we may have been focusing on the wrong chemical target in the brain…"
Photo credit: "Fashion designer Kate Spade and chef and writer Anthony Bourdain." (Bebeto Matthews, Andy Kropa/AP
---
Wait. Is Grandma a Racist? Food for thought at Big Think: "…Grandparents have been horrifying their adult kids — and their children — forever. There are a few theories as to why it's so common. Is Grandma somehow frozen in time? This is the most commonly promoted defense of elder prejudice, and it's true that discriminatory attitudes are decreasing. A talk with most any teenager will reveal, for instance, that skin color plays no more of a role in their attraction to others than does hair or eye color. In the TV shows they watch, it's a non-issue, as it should be. What matters is who's hot — hey, they are teens. For the overall population, the data looks almost as good, with 87% of Americans fine with black/white marriage. Given that acceptance has been rising since Gallup first asked the question in 1958, when only 4% approved, that figure's likely to keep rising…"
File photo credit: "Did Grandma just say what I think she said?" (maxim ibragimov/Shutterstock)
---
The Swimsuit Competition Ban is Dividing the Miss America Organization. The Wall Street Journal reports: "Nearly half of Miss America's board has quit or been forced to resign in the wake of the organization's decision to eliminate the swimsuit competition from the contest, and 22 state pageant leaders are seeking to oust Chairwoman Gretchen Carlson over concerns about the pageant's new direction. Ms. Carlson, a former Miss America and an early leader in the #MeToo movement, announced on June 5 that Miss America was dropping the swimsuit and evening-gown competitions and replacing them with an extended onstage interview. She said it was important to make women's voices heard during a "cultural revolution in our country…"
Photo credit: "Last year's swimsuit portion of the Miss America pageant. The organization last month announced it was dropping the swimsuit and evening-gown competitions and replacing them with an extended onstage interview." Photo: Mark Makela/Reuters.
---
Wearing a Tie Cuts Circulation To Your Brain.  I knew it! Here's a tidbit from Big Think: "…But one widely-circulating study is making one thing certain: they restrict circulation of blood to your brain.  The study, which appeared in the journal Neuroradiology, took place at the University Hospital Schleswig-Holstein in Germany with 30 participants, half of whom had the blood flow to their heads observed while wearing a tie, while the other half went tie-free. The squeezes the veins to the head, ultimately reducing circulation by 7.5%. You might not be acutely aware of this, but it's a sizable percentage; enough to make a potentially fatal difference if you already have high blood pressure…"
Photo credit: Flickr user: Amtec Staffing
---
"I do not pray for success. I ask for faithfulness." – Mother Teresa
---
90 F. high yesterday in the Twin Cities. (11th 90-degree day so far in 2018 at MSP).
84 F. average high on July 9.
85 F. high on July 9, 2017.
July 10, 2002: Intense rainfall causes extensive street flooding in St. Cloud. 2.70 inches of rain falls in 1 hour and 45 minutes at St. Cloud State University. People were stranded in their cars and had to be rescued by the fire department.
---
---
TUESDAY: Sticky sunshine. Winds: SE 5-10. High: 88
TUESDAY NIGHT: Clear and muggy. Low: 70
WEDNESDAY: Tropical sunshine, yes – it's "hot enough". Winds: S 10-20. High: 92
THURSDAY: Still steamy, few T-storms nearby. Winds: SW 8-13. Wake-up: 73. High: 93
FRIDAY: Sunnier, still sweaty out there. Winds: NW 5-10. Wake-up: 70. High: near 90
SATURDAY: Humid with isolated T-storms. Winds: S 8-13. Wake-up: 71. High: 90
SUNDAY: More numerous T-storms expected. Winds: S 7-12. Wake-up: 73. High: 91
MONDAY: T-storms likely, locally heavy rain? Winds: NE 10-15. Wake-up: 70. High: 82
---
Photo credit above: Mark Anderson, owner of Gull Dam Brewery in Nisswa, who snapped this photo of an approaching line of severe T-storms from Gull Lake.
---
Climate Stories….
Designers Vs. Climate Change. Architects and urban planners are at the forefront designing commercial buildings that will stand the test of time, no matter what a warming climate throws at us. Architectural Digest reports: "Like a growing number of her peers, architect Stephanie Horowitz believes in the design community's inherent responsibility to address climate issues. So much so that her firm works only with clients who want to build or retrofit buildings that aim for net-zero energy use."When we meet with potential clients, it's a vetting process," says Horowitz, managing director of ZeroEnergy Design in Boston. "We're very clear that this is the way that we practice architecture—it's not negotiable." Sustainability-centric details such as flashing, insulation, air sealing, and decarbonization are presented on equal par with floor plans and cladding. "The way that all of these things are considered is part of the design service," she says. "It just kind of comes with the package…"
---
A Human Fingerprint to Southern California's Recent Heat Wave? Axios runs the numbers: "...Consider some of the records that have been set so far during what now ranks as one of Southern California's all-time hottest heat waves.
82° Fahrenheit: Hottest all-time overnight low temperature on record for any month in Burbank, California.
79°F: Hottest overnight low temperature on record for the month of July in L.A. on July 7.
111° F: Hottest daytime high temperature ever recorded at the UCLA weather station in Los Angeles, set on July 6. This beat the old record of 109°F, set in 1939.
114°F: Hottest all-time temperature on record at Burbank Airport, recorded on July 6.
120° F: Highest temperature — set in Chino on July 6 — ever recorded by any automated weather station in the valleys or coastal areas around Orange, Riverside, San Bernardino and San Diego Counties…"
---
---
What Individuals Can Do To Lessen Climate Change Risk. Grist has a few suggestions, some more practical than others: "…In fact, the researchers found that behavioral shifts could be faster than waiting for national climate policies and widespread energy transformations. As far as I know, this is the very first comprehensive analysis on the effectiveness of specific individual climate actions. The authors' audience was high school textbook publishers, who the researchers found prioritize relatively low-impact, easy actions like recycling and changing light bulbs. Well, guess what, buttercup? No one ever said fighting climate change would be easy…"
---
---
Global Temperatures Rises Could be Double Those Predicted by Climate Modeling. Here's an excerpt of a summary of new research at The Guardian: "Temperature rises as a result of global warming could eventually be double what has been projected by climate models, according to an international team of researchers from 17 countries. Sea levels could also rise by six metres or more even if the world does meet the 2 degree target of the Paris accord. The findings, published last week in Nature Geoscience, were based on observations of evidence from three warm periods in the past 3.5m years in which global temperatures were 0.5-2 degrees above the pre-industrial temperatures of the 19th century. The researchers say they increase the urgency with which countries need to address their emissions…"
File image: U.K. Met Office.
---
Climate Change is Making Our Planet Hotter – But We Might Have to Ditch the AC. Or find ways to keep our cool without burning fossil fuels. Mic has the story: "Americans love air conditioning — and to a serious fault. At least three quarters of all homes in the U.S. have an air conditioner, according to the Department of Energy, and Americans consumes more energy for cooling alone than what the entire continent of Africa uses for all purposes combined. That's not without serious consequence. The burden of a high utilities bill aside, fossil fuel is ultimately being burned and converted into the electricity that's chilling our homes this summer. As a result, an estimated 117 million extra metric tons of carbon dioxide is being pumped into the air solely because of U.S. air conditioning..."
File image: NASA.
---
Climate Change Scrubbed from Government Report on Health and Climate Change. Here's an excerpt from Countable: "A new report finds that multiple references to climate change in a CDC study on climate change's contribution to occupational hazards were removed without clear explanation. The CDC described the changes as "planned updates." While President Donald Trump has sought to downplay climate change at various federal agencies, the changes in this case were made before he took office…"