It's Not the Cold. It's the Lack of Sunlight!
Life is a series of trade-offs. "Paul, I miss the warmth, but I miss seeing the sun even more." I hear this a lot during the dark days of November and December. Especially this year.
According to the Minnesota DNR, meteorological autumn (September through November) was the cloudiest since 1983, and the 4th gloomiest autumn on record. No wonder I'm taking fistfuls of
vitamin D supplements.
Late fall and early winter is the grayest time of the year for Minnesota, historically. Ironically, the colder days of January tend to be sunnier. A consistently dry polar flow out of Canada carves out more blue-sky days after the New Year. Our coldest days tend to be sunny. A surreal trade- off, but it works for me.
Great news! The latest jab of fresh Manitoba air should keep us sunny into the weekend. Daytime highs hold in the teens today, with a chill factor dipping near 0F at times. Cold enough to get your attention.
The next chance of a little slush comes the middle of next week, but major storms track well south/east of
Minnesota.
Expect 3-4 days above 32F next week. Woo hoo!
Photo credit above: Praedictix meteorologist Todd Nelson.
---
---
January Day Dreams. Friday morning's wake-up bus stop temperatures will get your attention: low single digits, with a wind chill below zero statewide. Maps above: Praedictix and AerisWeather.
---
---
2-Week Wish-Cast. Hey, it's fun to look at, just keep your expectations low. The forecast for 500mb winds the evening of December 19 suggests a stormy, snowy trough of low pressure for the Great Lakes and New England, with unusual warmth over roughly the western half of the USA. Minnesota may be brushed by wet snow in the days leading up to Christmas.
---
---
Praedictix Briefing: Issued Wednesday, December 5th, 2018:
A storm system pushing into California today will move eastward as we head toward the end of the week, spreading a mess of snow and ice along its path.
This system will first impact parts of the Southern Plains Thursday Night into Saturday, bringing accumulating snow (up to 3-6" in spots) and ice (up to a half inch in spots) to areas like Oklahoma City, Amarillo, and Lubbock. Winter Storm Watches are already in place across parts of Texas and Oklahoma.
This system will continue to move east into the weekend, bringing the potential of highly impactful snow and ice to the southern Appalachians and the Piedmont region Saturday into Monday.
---
Winter Storm Watches Issued. A storm system pushing into California today will move eastward as we head toward the end of the week, spreading a mess of snow and ice along its path. By Friday and Saturday, this system will start to bring impactful wintry weather to parts of the Southern Plains. Winter Storm Watches have already been issued for parts of Texas and Oklahoma due to the potential of snow and ice which will impact travel and create power outages across the region. This Winter Storm Watch includes:
Oklahoma City (OK) and Wichita Falls (TX): From 6 AM Friday to Midnight Saturday Night for 2-4" of snow and ice accumulations up to 0.33".
Amarillo (TX): From 6 AM Friday to 6 PM Saturday for 1-4" of snow and ice accumulations of 0.1-0.33".
Lubbock (TX): From 6 PM Thursday to Noon Saturday for up to 2" of snow and up to 0.5" of ice.
---
Oklahoma City Area Snow And Ice. In Oklahoma City, ice will be the greatest concern with the potential of up to about a quarter inch. The greatest period of accumulating ice will be Thursday Night into Friday Night, ending as a period of snow Saturday with less than an inch in town expected. Heavier snow totals are expected to the north and west of the Oklahoma City metro, with 3-5" expected for areas like Clinton, Woodward, Enid, and Stillwater.
---
Amarillo Area Snow And Ice. In the Amarillo area, precipitation will start off as freezing drizzle or freezing rain Thursday Night, with the heaviest occurring Friday into early Friday Night. This will change over to snow Friday Night, lasting into Saturday. The heaviest ice amounts are expected east of Amarillo, but between a tenth and two-tenths of an inch of ice are possible in the Amarillo metro. 3-4" of snow will also be possible.
---
Lubbock Area Snow And Ice. Mainly ice is expected in the Lubbock area from Thursday Night through Friday Night with this winter storm, however, it could end with some snow Saturday. At least a quarter to a half an inch of ice will possible across the Lubbock area into the weekend which could greatly impact the region.
---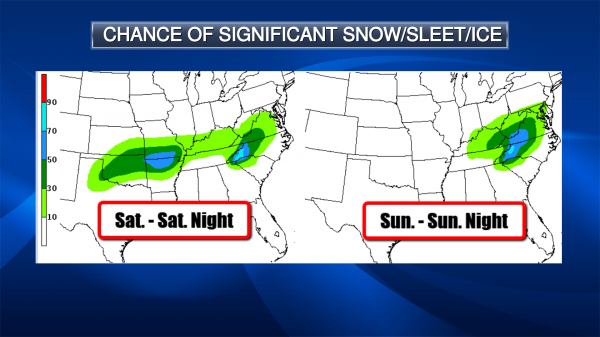 Storm Continues East This Weekend. This winter storm will continue to move eastward into the weekend, bringing the chance of accumulating snow/sleet/ice from Texas to the Mid-Atlantic by Saturday and across the Mid-Atlantic Sunday. This system will likely linger into Monday across the Mid-Atlantic as well. Models are indicating that this will be a highly impactful storm across the southern Appalachians and into the Piedmonts. While it is too early for exact specifics, there is the potential of at least 6-12" of snow across the southern Appalachians and some ice accumulations in the Piedmont region. We will continue to keep you updated on this significant winter storm over the next several days.
D.J. Kayser, Meteorologist, Praedictix
---
4th Gloomiest Meteorological Autumn Since 1966. If you're feeling blue about a lack of sunlight you're not alone. Check out this post from The Minnesota DNR: "September through November 2018 was quite gloomy across Minnesota. In fact, looking at solar radiation records at the U of M St. Paul Campus Climate Observatory it was the least sunny meteorological autumn since 1983 and the 4th gloomiest autumn on record. There were 40 days of mostly cloudy to cloudy conditions for the three month period, a number that sounds impressive until one sees that the average number of cloudy days for the period is 43..."
Image credit: "Solar Radiation, measured in Langleys, for September 1 to November 30 from the U of M St. Paul Campus."
---
Here's How Much Every Natural Disaster Cost Americans in 2017. Cheatsheet.com has the story; here's the intro: "Just a few months ago, experts pointed to 2016 as a record-breaking year for natural disasters and corresponding economic damages. But a new report from the National Oceanic and Atmospheric Administration (NOAA) says that 2017 blew all other years out of the water — literally. Fifteen major natural disasters ranging from floods and wildfires to deep freezes and tornadoes exceeded $1 billion in weather-related costs and damages. This includes a record three Category 4+ hurricane landfalls. NOAA calculated cost estimates to include both insured and uninsured losses for the major events that occurred throughout 2017. The numbers tell an alarming tale showing how just one tornado or deep freeze can impact the economy by millions. Ranked from terrible to downright unimaginable, here are the 15 most expensive — and most deadly — natural disasters of 2017. How many of these do you remember?…"
Hurricane Irma file image
on September 10, 2017 courtesy of NOAA and
AerisWeather
.
---
---
Four Years With Most Billion-Dollar U.S. Disasters Have Occurred Since 2011
. Details via
Climate Central
: "…
These weather and climate disasters are becoming more frequent and more costly. According to NOAA's 2017 report, the seven years with the most billion-dollar disasters have all come in the last decade. Of the total inflation-adjusted costs since 1980, over 25 percent have come since 2015, including the record $312.7 billion in 2017
…"
---
Dissecting a Hurricane: What Makes a Superstorm?
The Christian Science Monitor
takes a look at an ongoing, vexxing problem for hurricane forecasters and meteorologists: track forecasts are still far better than intensity predictions, and rapid intensification near the U.S. coastline poses a huge challenge – and danger. Exhibit A was Hurricane Michael: "…
One big question that still eludes hurricane scientists is how a hurricane goes from a disorganized tropical storm to a Category 5 monster overnight. Such rapid intensity change was on clear display during hurricane Michael in October. The storm followed the path predicted by the National Hurricane Center several days ahead of landfall but caught people by surprise when, right before making landfall, the storm ramped up from a Category 2 to nearly a Category 5 storm in less than 24 hours. Scientists have the big picture idea of the ingredients necessary for an intense hurricane. Warm ocean water, moist air, and consistent atmospheric winds all feed monster storms. And the opposite conditions can suck energy out
…"
Image credit: "The intensity of Hurricane Michael, seen in this Oct. 9 satellite image of the Gulf of Mexico, caught many Florida residents off guard. Hurricane models have come a long way in recent years, but scientists are still struggling to be able to predict sudden intensification of a storm." NOAA GOES-East/Reuters.
---
Six Lessons Revealed from the 2018 Hurricane Season
. Dr. Marshall Shepherd provides some perspective at
Forbes
: "…
The first lesson is one that I always mention. It only takes "one" storm. The season ended up "average to above average" in terms of activity. According to NOAA, an average season will produce 12 named storms, six becoming hurricanes and three within the category 3 to 5 range on the Saffir-Simpson scale. If you look back at early summer seasonal projections, most organizations in the seasonal prediction business predicted below average activity because of cool sea surface temperatures in the Atlantic basin early on and the specter of El Nino onset. These projections are useful for certain industries to plan, but they should never cause people to let their guard down
…"
Image credit: "Eyewall of Hurricane Michael from the International Space." Station. NASA.
---
---
You're Never Seen Thunderstorms Like These Before. WIRED.com has an amazing pictorial post in search of the perfect supercell thunderstorm: "For the past decade, photographer Mitch Dobrowner has spent a few weeks every summer pursuing extreme weather across the midwestern United States with veteran storm chaser Roger Hill, who, according to the Guinness Book of World Records, has witnessed more tornadoes (more than 650) than anyone in history. During their first outing, in 2009, Dobrowner and Hill spotted a high-precipitation supercell thunderstorm in the Black Hills of South Dakota at noon and followed it all day in Hill's eight-seater van until giving up the chase at midnight in Valentine, Nebraska. "It looked like a spaceship," recalls Hill, who runs Silver Lining Tours, which offers 11 storm-chasing outings each year. "Hail the size of grapefruits, lightning strikes every three or four seconds..."
Photo credit: "According to the Guinness Book of World Records, Hill has seen more tornadoes—like this one in Eads, Colorado—than anyone else." Mitch Dobrowner.
---
Americans Have Planted So Much Corn That It's Changing the Weather. Closer crop rows, more "evapo-transpiration" (corn sweating water in the air at night) is apparently having an impact, according to research highlighted at Gastro Obscura: "…In addition to making the area the world's most productive agricultural region, climate scientists at MIT say the boom has created its own weather patterns. "We studied data from the past 30 years and found that the intensification of corn production has increased average summer rainfalls by about 35 percent and decreased [average summer] temperatures by as much as one degree Celsius," says former MIT researcher Ross E. Alter, now a research meteorologist with the U.S. Army Corps of Engineers. Alter was the lead author of a 2018 report published in the journal of the American Geophysical Union that demonstrated how land use has impacted the region's climate more than greenhouse gas emissions. "What makes these findings so fascinating is that, while global temperatures have risen, areas like eastern Nebraska have actually cooled," continues Alter, referring to yearly averages. "We think it's likely heavy agriculture counteracted rising summer temperatures that might have otherwise resulted from increasing greenhouse gases…"
Photo credit: "Center pivot irrigation at work northeast of Adams, Nebraska." Craig Chandler / University of Nebraska–Lincoln Communications.
---
Xcel Goal to Provide 100% Renewable Energy by 2050. Star Tribune has the story: "Xcel Energy made an ambitious announcement on Tuesday, pledging to provide 100 percent carbon-free electricity to customers by 2050. By 2030, the Minneapolis-based utility pledges to reduce carbon emissions by 80 percent from 2005 levels in the eight states it serves. While Xcel is confident it can meet the 2030 goals using current technology, it said it is counting on other technology to either be developed or made more cost-efficient to meet the 2050 goal. "Our goals are ambitious and achieving them requires a long runway," said President and CEO Ben Fowke in a statement…"
---
Xcel is Quitting Carbon: Links and headlines courtesy of Climate Nexus: "One of the largest utilities in the US Tuesday announced plans to go completely carbon-free by 2050. Minneapolis-based Xcel Energy says it plans to reduce emissions across its operations in eight states by 80 percent by 2030–a goal that Chairman Ben Fowke told reporters would be relatively easily achievable with current technologies. The goal to go completely carbon-free is the first such goal set by a US utility, the company says." (AP, Reuters, Dallas Morning News, Greentech Media, Bloomberg, Denver Post, Denver Business Journal, Colorado Public Radio)
---
---
Hi Paul,
"I loved the news today about Xcel going carbon free by 2050…. it is the best environmental news I have heard in a long time. I am sending a picture of my 8th hour science students giving kudos to Xcel, with our solar panels in the background. Thanks for all you do Paul! 7th graders at Chisago Lakes Middle School want to say thanks to CEO Ben Fowke and Xcel Energy on their big new to 100% carbon free by 2050!"
"There is no power for change greater than a community discovering what it cares about." – Margaret Wheatley
Pat Collins, 7th Grade Life Science Teacher
Chisago Lakes Middle School
---
World's Largest Container Shipper Maersk Aims To Be CO2 Neutral by 2050. Reuters has details: "Denmark's Maersk said on Wednesday it aimed to have carbon neutral vessels commercially viable by 2030 by using energy sources such as biofuels and would cut its net carbon emissions to zero by 2050. The shipping industry, which carries around 80 percent of global trade, accounts for 2.2 percent of CO2 emissions, the UN's International Maritime Organization (IMO) says. But along with aviation, it avoided specific emissions-cutting targets in a 2015 global climate pact which aims to limit a global average rise in temperature. However, the United Nations shipping agency reached an agreement in April to cut CO2 emissions by at least 50 percent by 2050 compared with 2008 levels…"
File photo credit: "Children play in the sea at New Brighton as the Maersk Line container ship Maersk Sentosa is helped by tugs as it navigates the River Mersey in Liverpool, Britain, July 31, 2018." REUTERS/Phil Noble/File Photo.
---
The Reason Many Ultrarich People Aren't Satisfied With Their Wealth. A non-stop treadmill of ever-higher expectations? A line from "Bonfire of the Vanities" stands out in my mind. "How many yachts can you waterski behind?" Here are a few excerpts from a post at The Atlantic: "…But at a certain level of wealth, the next million isn't going to suddenly revolutionize their lifestyle. What drives people, once they've reached that point, to keep pursuing more?…Norton says that research regularly points to two central questions that people ask themselves when determining whether they're satisfied with something in their life: Am I doing better than I was before? and Am I doing better than other people? This applies to wealth, but also to attractiveness, height, and other things that people fret about. "But the problem is," Norton says, "a lot of the things that really matter in life are hard to measure..."
---
Sleeping Too Much is Hazardous to Your Health. Everything is hazardous to your health these days. CNN.com has a summary of new research: "The recommended amount of sleep for adults is six to eight hours a night. Sleeping more than those hours is associated with an increased risk of death and cardiovascular diseases, says a global study published Wednesday in the European Heart Journal. Looking at data from 21 countries, across seven regions, the research team found that people sleeping more than the recommended upper limit of eight hours increased their risk of major cardiovascular events, like stroke or heart failure, as well as death by up to 41%. But a possible reason for this could be that people have underlying conditions causing them to sleep longer, which in turn could raise the risk of cardiovascular disease or mortality, explain the authors of the study…"
---
The NFL's Real Problem Isn't Kareem Hunt. It's Roger Goodell. Food for thought from Intelligencer; here's a clip that caught my eye: "…A 2014 FiveThirtyEight study showed NFL players, when compared to men aged 25–29 in the country on the whole, are dramatically less likely to commit crimes, particularly drug-related, DUI, burglary, and assault charges. NFL players commit crimes at 13 percent of the national average, and while certain crimes have a closer ratio, including domestic violence (which is still just 55 percent of the national average), still, across the board: NFL players aren't criminals. They likely have a lower rate of criminal activity than people at your job do. Obviously, one incident of domestic violence is too many. But the idea that this is an epidemic is a matter of misperception rather than fact … and the NFL, as usual, has itself to blame. Which is to say: When stories like Hunt's take over the news cycle, remember that the NFL doesn't have a domestic violence problem; it has an NFL problem…"
---
Poll Asks What Makes a "Real American"? CNN.com has news of an interesting and timely poll: "The trait most important to being a "real American" is to believe in treating people equally, according to a Grinnell College poll released on Monday. Offered a list of traits, 90% of respondents said treating people equally is very important, followed by taking personal responsibility for one's actions (88% said that was very important), accepting people of different racial backgrounds (81%), and supporting the US Constitution (80%). The least important traits were being a Christian (55% said it was not important), having been born in America (49%), and having lived in America most of one's life (45%)…"
Image credit: NOAA NESDIS.
---
Eureka! Eureka! It turns out that many inventions or discoveries are made almost simultaneously. A story at Quartz caught my eye: "What makes a scientific breakthrough? And does it count as a breakthrough if someone else makes the same discovery? The phenomenon of two people inventing or discovering the same thing in two different locations without any contact, called multiple discovery, has dogged the scientific community for hundreds of years. It's not just about who gets credit. Unravelling how new ideas enter the human consciousness could be a holy grail for anticipating the future, and shape how we invent new technology. In 1922, researchers William Ogburn and Dorothy Thomas set out to unearth some truth about multiple discovery by looking at the data. The pair compiled a list of 148 discoveries that were made independently by more than one scientists, and found a trend: it's happening more and more often. Let's investigate, together..."
---
9-Year Old Boy Convinces Town to Stop Ban on Snowball Fights. AP has the unlikely story: "A 9-year-old boy has convinced the leaders of a small northern Colorado town to overturn a nearly century-old ban on snowball fights, and he already knows who his first target will be — his little brother. Dane Best, who lives in the often snow-swept town of Severance, presented his arguments at a town board meeting Monday night, and members voted unanimously to lift the ban. "I think it's an outdated law," Dane said in the lead-up to the meeting. "I want to be able to throw a snowball without getting in trouble."… Kyle Rietkerk, assistant to the Severance town administrator, said the rule was part of a larger ordinance that made it illegal to throw or shoot stones or missiles at people, animals, buildings, trees, any other public or private property or vehicles. Snowballs fell under the town's definition of "missiles…"
Photo credit: "In this Thursday, Nov. 29, 2018, photograph, 9-year-old Dane Best poses in the council chambers in Severance, Colo. Dane is trying to get rid of his town's ban on snowballs and officials are wondering what took so long." (Sara Knuth/Greeley Tribune via AP).
---
4″ of snow on the ground in the Twin Cities.
29 F. high temperature Wednesday in the Twin Cities.
30 F. average high on December 5.
27 F. high on December 5, 2017.
December 6, 1950: A snowstorm hits Duluth with 23.2 inches of snow in 24 hours, and a storm total of 35.2 inches.
December 6, 1939: Warm weather occurs over parts of Minnesota. The high temperature hits 62 at New London.
---
---
---
THURSDAY: Partly sunny, brisk! Winds: NW 10-15. High: 18
THURSDAY NIGHT: Clear – touch of January. Low: 2
FRIDAY: Brittle start. Bright sunshine. Winds: SW 7-12. High: near 20
SATURDAY: Plenty of sunshine, not as harsh. Winds: S 7-12. Wake-up: 6. High: 28
SUNDAY: Sunny periods, almost "average". Winds: S 7-12. Wake-up: 12. High: 30
MONDAY: Mix of clouds and sun, still dry. Winds: SW 7-12. Wake-up: 17. High: 31
TUESDAY: More clouds, badly-needed thaw. Winds: S 10-15. Wake-up: 20. High: 34
WEDNESDAY: A little wet snow possible. Winds: SW 8-13. Wake-up: 28. High: 35
---
Climate Stories…
California Wildfires Accelerated Climate Change As Much As A Whole Year of Power Use. Quartz does the math: "California's 2018 fire season, including the largest fire in state history, released nearly as much climate-warming and air-polluting emissions as a year's worth of electricity use there. The wildfires released 68 million tons of carbon dioxide in 2018, according to the US Geological Survey, or 15% of the state's total emissions. For comparison, all electricity use in California in 2016 produced roughly 76 million tons in emissions. Those figures were the highlights of a Nov. 30 statement from the Interior Department that blamed the wildfires largely on forest-management practices…"
Photo credit: "The 2018 fire season amounted to 15% of the state's total emissions." AP Photo/Noah Berger.
---
Naval Academy to Raise Seawall to Counter Rising Sea Level. TheHill has the story: "The Naval Academy in Annapolis, Md., will raise a riverside wall to stave off the slowly rising water levels. The Academy will add 2.62 feet to the current 5.4-foot-tall Farragut Seawall along the Severn River, the Capital Gazette reports. The project is still in the design phase, and work will likely begin in 2020…Annapolis had the nation's biggest increase in yearly flooding between 2007 and 2013, according to data from the National Oceanic and Atmospheric Administration reviewed by the Capital Gazette…"
Photo credit: Visit Annapolis.
---
With 2020 Looming, Michael Bloomberg Brings Climate Change Doc to Iowa. Here's an explainer from TheHill: "Des Moines, Iowa, might seem like an unusual place to premiere a documentary, unless of course you're thinking of running for president. Michael Bloomberg on Tuesday will introduce his latest film on the topic of climate change and be part of a panel discussion in the state, which kicks off the 2020 Democratic primary season in 14 months. Bloomberg hasn't said whether he'll run, but many signs indicate that he's leaning more yes than no as it comes time for him to decide in the next few weeks. The former mayor of New York and founder of the Bloomberg business information empire spent $41 million on 24 House races during the midterms, according to The New York Times. He also registered as a Democrat this year and has funded plans seeking solutions to issues like gun violence, immigration and the opioid epidemic…"
---
"Mother of All Sustainability Challenges". Report Urges Global Diet and Farming Overhaul. Business Green has a summary of the report: "People in heavy meat consuming regions such as Europe, the US, Russia, and Brazil may have to limit their intake of beef, lamb and goat to 1.5 servings per week by 2050 if the planet is to sustainably feed its population and avert runaway climate change. That is one of several key recommendations from a new global report, which draws on six years of research and modelling, and has concluded the scale of the challenge to develop sustainable agricultural practices and secure food supplies may be greater than previously thought..."
---
As White House Debates Validity of Climate Report, Local Officials Are Already At Work. A story at ABC News caught my eye: "…Stiles said that after 12 years in coastal Virginia he's seen the inescapable evidence of climate change. He said residents have noticed frequent flooding too and are pressuring local officials to do something about it, saying "when people get wet and angry they don't go to the state capitol or Washington." "If you go to any gathering to 10 people and ask who's had to change their route to work or school in the last two months because of flooding a few hands always go up," he said in an interview. Local experts and officials said they were not surprised that the latest federal report on climate change predicts even worse flooding because they're already experiencing and working to do something about it…"
Photo credit: "A marker shows deep water after flash flooding swamped roads in Virginia, May 30, 2018." WCAV.
---
---
Young People Get Tough With Older Generations Over "Messed-Up" Planet. A post from Thomson Reuters Foundation is an interesting read. What responsibilities do we have to future generations? Here's a clip: "Older generations have "messed up the planet", letting down younger people, who are "angry" about it and want it to stop, British naturalist David Attenborough said on Monday. The 92-year-old, who has fronted wildly popular television series documenting nature and the environment, said on the sidelines of U.N. climate talks in Poland that betrayal of the young generation left him with a sense of "misery". "I have done my best to speak the truth as I see it, but (young people) … know that the world is warming, and science is making it perfectly clear, and they know who is responsible – and that's me and my predecessors, and going back even further than that," he told the Thomson Reuters Foundation…"
Photo credit: "15-year-old Swedish girl Greta Thunberg holds a placard reading "School strike for the climate" during a protest against climate change outside the Swedish parliament in Stockholm, Sweden November 30, 2018." TT News Agency/Hanna Franzen via REUTERS.
---
---
Here's a Way to Fight Climate Change: Empower Women. A story at WIRED.com is a worthy read: "Gender and climate are inextricably linked," said environmentalist and author Katharine Wilkinson on stage at TEDWomen last week, a gathering of women thought leaders and activists in Palm Desert, California. Women, she says, are disproportionately affected by climate change. When communities are decimated by floods or droughts, tsunamis or fire, the most vulnerable among them suffer the most. Because women across the world have fewer rights, less money, and fewer freedoms, in those moments of extreme loss, women are often hit the hardest. "There's greater risk of displacement, higher odds of being injured or killed during a natural disaster..."
Photo credit: "Global women's empowerment would directly help the fight against climate change, says environmentalist Katharine Wilkinson". Marla Aufmuth/TED.
---
Republicans Are Losing on Climate Issues. We Can Change That. An Op-Ed at TheHill resonated; here's an excerpt: "…In this new landscape, Republicans are left with a choice: we can either continue to allow the Democrats' monopoly on climate policy to go unchallenged, ensuring Republicans will be caricatured as environmental obstructionists in future elections, or we can make a play to seize control of the debate by offering our own conservative ideas. The good news is, the left's climate positions—which grow more extreme and economically punitive by the day—should be easy for Republicans to beat, as long as we offer a credible alternative. It may surprise some to hear, but it is in fact possible to have a climate policy that is both environmentally and economically friendly. In fact, a pro-growth, market-based solution already exists, and it's rightly gaining steam in some conservative circles…"
---
Shell Links Executive Pay to Carbon Emissions. I haven't seen this before. Details via TheHill: "Gas giant Royal Dutch Shell announced dramatic goals Monday to cut carbon emissions starting in 2020, including a pay incentive for top executives to meet them. The company plans to set annual three- to five-year carbon reduction targets beginning in 2020 to reduce its carbon footprint. The program will run until 2050. The decision comes after mounting pressure from Shell's investors to actively decrease carbon emissions. Fossil fuels are a leading contributor to greenhouse gases, which add to the effects of climate change. Shareholders previously criticized Shell's plan last year to set nonbinding goals to halve its emissions by 2050. Major investors include asset management company Robeco and the Church of England..."
---
4 Ways to Bet on Climate Change. Which industries will prosper – which are at increasing risk. A post at Forbes has an interesting perspective as you consider investing: "…Several industries could benefit from the fight against climate change, including these four:
Insurance. Property insurers are at the forefront of predicting the losses they will suffer as a result of climate change. They are already raising premiums and cutting back on what they'll insure in order to survive the effects of climate change. As the Wall Street Journal reported, British insurer Aviva PLC's changes to its risk models caused it to increase its home-insurance premiums 6% since 2016 in Canada — where fires rampaged in 2016. Aviva's research into catastrophe risks was behind the increase — suggesting that investors might consider buying stock in companies that build those catastrophe risk models, like Verisk Analytics…"
---
David Attenborough: Extinction of the Natural World is "On the Horizon". Forgive me, but framing the climate challenge in this matter, with an extra serving of gloom and doom, may not have the desired outcome. I'm not debating the fact that climate change presents a profound threat to the natural world (and the way we conduct business). It's just that when (some) people hear a headline like this, they simply shut down; they go into a fetal position and don't engage. That said, here's an excerpt from Big Think: "Civilizations will collapse and much of the natural world will go extinct unless the world takes action on climate change, David Attenborough said Monday at the United Nations summit on climate change in Poland. "Right now we are facing a manmade disaster of global scale, our greatest threat in thousands of years: climate change," he said. "If we don't take action, the collapse of our civilisations and the extinction of much of the natural world is on the horizon." Attenborough was speaking at the 24th Conference of the Parties to the United Nations Framework Convention on Climate Change, also known as COP24…"
---
Climate Denialism's Stupidity is the Point – And Its Weakness. Here's a clip from an Op-Ed at Bloomberg Opinion: "…The resort to misdirection and conspiracy theories makes progress tough but also hints at the underlying fragility of climate denial. Ultimately, the issue of climate change can be boiled down to this: We have built prosperous societies on the extensive use of fossil fuels, but now know those same fuels also threaten our survival, requiring us to reimagine how we power our way of life. It is as simple and as difficult as that. And our debates, forceful as they are, should focus on the reimagining part. All else — the presidential free-associating, the tweets and the TV soundbites — is noise."