68 F. high in the Twin Cities Friday.
75 F. average high on September 8.
78 F. high on September 8, 2016.
September 9, 1979: 1 3/4 inch hail falls in Douglas County.
September 9, 1917: Very chilly air moves into Minnesota, with a low of 17 degrees at Roseau.

Hurricane Irma: An Unprecedented Storm for Florida
For the first time in our nation's history, two Category 4 storms will impact the USA, back to back. Much bigger than Andrew in 1992, Hurricane Irma will impact most of Florida.
The primary risks from Irma are wind damage, inland tornadoes and a massive storm surge. A rise in ocean water associated with persistent winds and low pressure may push 6-12 feet of water into southwest Florida Sunday morning, with a 5-10 foot surge for the Miami area. That's problematic, considering 85 percent of Miami-Dade County lies below 10 feet.
With the exception of the Panhandle ALL of Florida will be impacted by hurricane-force gusts. The worst of the storm surge hits southern Florida, but I expect power outages and moderate wind damage into Orlando and Tampa. This is an historic storm; a 1-2 punch for America's recovery efforts.
A lonely shower may drift across Minnesota Sunday, otherwise dry weather is the rule thru Thursday of next week. Expect 70s this weekend, but 80s return next week.
This is the first hurricane to track over the entire state of Florida since 1964. Keep on praying.
---
* HWRF model forecast above courtesy of NOAA and Tropicaltidbits.com.
---
Praedictix Update: Friday night, September 8, 2017.
* Irma expected to pass over unusually warm water before reaching the Florida Keys late Saturday night; odds are it will hit as a strong Category 4 or weak Category 5 storm with sustained winds close to 150-160 mph.
* National Hurricane Center officials: "This storm may not be survivable for people on the Florida Keys". Critical that Florida Keys are completely evacuated before Saturday evening.
* Roughly 5.5 million Floridians asked to evacuate, about 1/4 of the state's population in high-risk flood zones.
* Where evacuations are impossible vertical evacuations are the next best option, third floor or higher of a well-constructed concrete/steel building like a hotel, condo or office tower.
* Westward shift in the projected storm track may help to avoid a worst-case scenario for Miami, but threat of severe/destructive storm surge has increased for Marco Island, Naples, Bonita Springs, Estero and Ft. Myers.
* I'm increasingly worried about the threat of storm surge flooding in the Tampa-St. Pete area, the USA urban area most prone to storm surge flooding. If Irma tracks right up the Gulf Coast Category 3 intensity may be maintained as far north as Tampa, meaning a 5-8 foot storm surge capable of widespread flooding of low-lying areas of the Tampa market.
* Although south Florida bears the brunt of Irma's 100 mph+ winds, the entire state will experience hurricane-force winds with numerous power outages as far north as Orlando, Ocala, Gainesville, Tallahassee and Jacksonville. The only part of the state that will be spared hurricane conditions is the far western Florida Panhandle closer to Panama City and Pensacola.
* The last time a storm tracked from south to north across the entire length of Florida was Cleo in 1964. This has only happened 3 times since 1851. This (unfortunate) track will increase the runway of destruction and probably make the damage toll from Irma even higher than Harvey.
* Some storm surge flooding for coastal Georgia and South Carolina, but westward shift to the storm track has lowered the risk. Hurricane Watches now posted as far north as Tallahassee. Hurricane force wind gusts will extend into Georgia on Monday – I could see light/moderate wind damage and sporadic power outages as far north as Atlanta.
---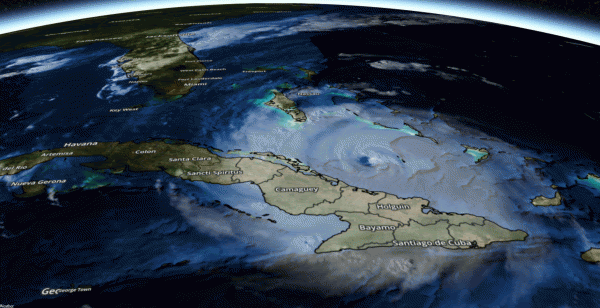 Super-Storm. Every hurricane is different, but Irma is in a league of its own, in terms of size, intensity and tenacity. As large as Katrina in 2005 Irma is roughly the size of Texas, MUCH larger than Andrew, which hit the Miami area in 1992. Map: AerisWeather AMP.
---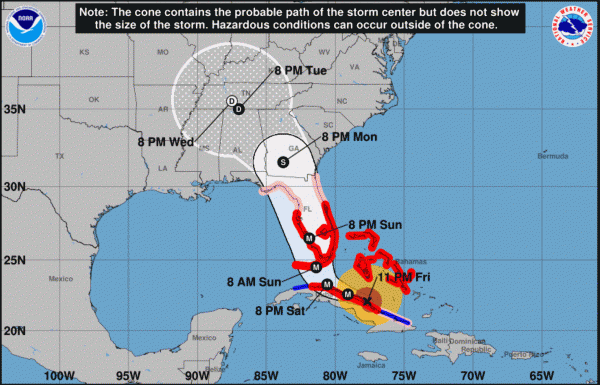 National Hurricane Center Track. Passing over Cuba may cause Irma to temporarily weaken, but strengthening is expected as the eye of the storm passes over water temperatures as high as 86F, considerably warmer than average for this time of year. The eye of the storm is forecast to track over the Florida Keys early Sunday morning, possibly as a Category 5 storm. Map: NOAA NHC.
---
Model Convergence. the models are coming into better agreement. Confidence levels are now fairly high that Irma will track up the Gulf coast of Florida, the damaging core of the storm staying just west of I-75. On this track the risk of wind and storm surge damage increases for Naples, Ft. Myers, Sarasota, and Tampa, with moderate wind damage as far north as Tallahassee late Sunday. Keep in mind the feeder bands of thunderstorms pumping moisture into Irma may spawn tornadoes as well. Map: Tropicaltidbits.com.
---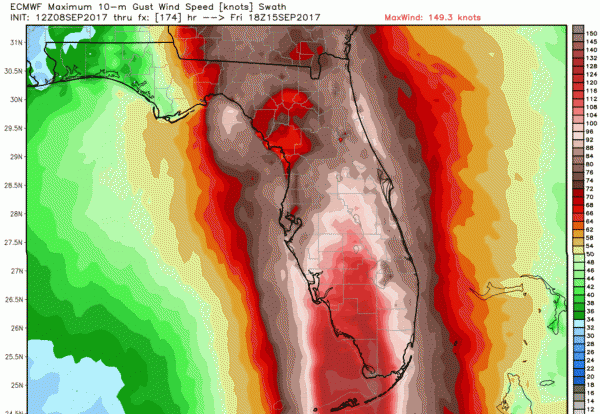 High Wind Swath. The strongest winds Sunday morning will push across the Florida Keys and Everglades into southwestern Florida. 100-120 mph winds are possible from Marco Island and Naples to Ft. Myers and Coral Gables, with 100 mph gusts as far north as Tampa and Orlando. Since the storm will still be fed with moisture from the Atlantic and the Gulf of Mexico as it tracks northward across the state it will be much slower to weaken, prolonging the damage potential into Georgia on Monday. Map: WeatherBell.
---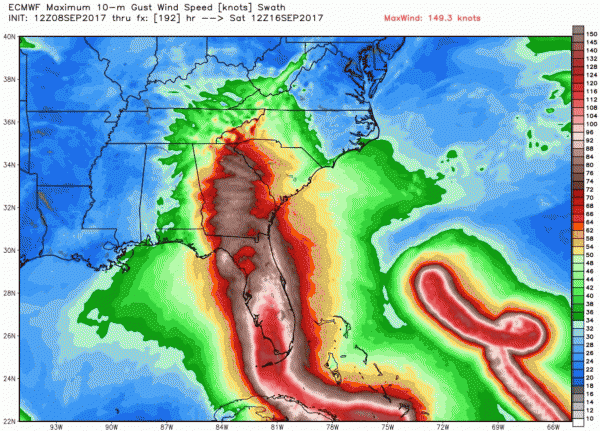 Hurricane-Force Wind Gusts. Over 25 million Americans may experience hurricane winds (74 mph or higher) from Sunday into Monday. The brown-shaded area above will see hurricane-force conditions, the bright red area of southern and southwestern Florida expecting 100-150 mph winds early Sunday as Irma comes ashore.
---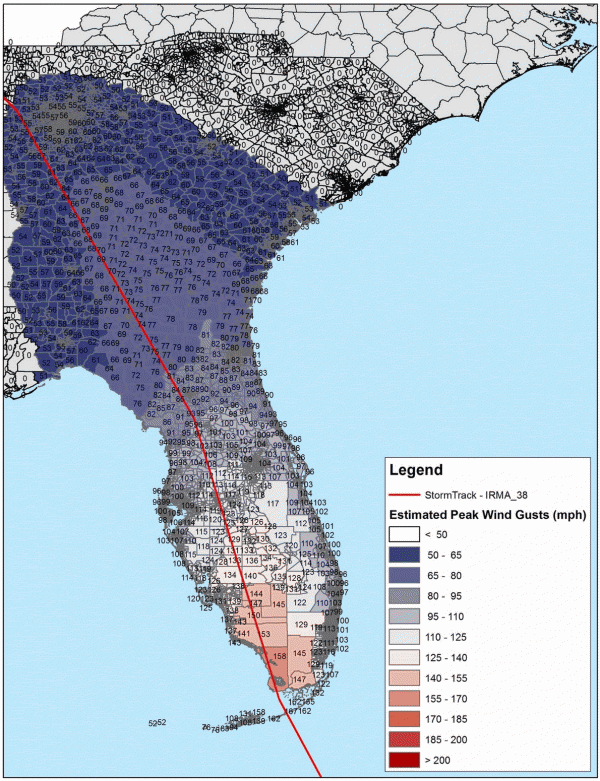 Estimated Peak Wind Gusts. Although sustained winds will be in the 100-140 mph range over far southern and southwestern Florida gusts as high as 150 to 160 mph can't be ruled out from the Everglades to Marco Island. Gusts over 100 mph are forecast for the Miami area Sunday morning.
---
Midnight Sunday Night. Here is why my concern is growing about serious storm surge flood damage from Ft. Myers to Tampa, with the eye forecast to track right up the Gulf Coast. Powerful counterclockwise winds sweeping in from the Gulf will push a wall of water ashore, and severe coastal flooding can't be ruled out as far north as St. Petersburg and Clearwater. This track spares the Atlantic coast from severe damage, but the Gulf coast may wind up getting the worst impacts of this storm, with serious wind damage inland. Gusts over 100 mph are likely for Orlando and Gainesville. HWRF data: NOAA and WeatherBell.
---
Peak Storm Surge. With a westward shift in the expected track of Irma the worst storm surge will probably impact southwestern Florida, where a 6-12 foot rise is predicted. Keep in mind 100 mph+ winds will superimpose breaking waves on top of the surge. I could see widespread coastal damage from Marco Island and Naples to Ft. Myers, with additional damage in shallow bays along the Gulf coast, as well as the Tampa area.
Summary: A slight (75 mile) westward shift in model track consensus may help Miami avoid a worst-case flooding scenario. It's still going to be bad for the Miami area, but probably not quite as bad as it was looking yesterday at this time. The big change: hurricane damage will be worse for the Gulf Coast of Florida, both wind damage and water (storm surge) damage. Areas under 6-8 feet in elevation may experience significant, even historic flooding.
More briefings will come out on Saturday as the track, intensity and impacts from Irma continue to crystallize. Rush preparations and evacuations to completion today. Weather will quickly go downhill by midday and afternoon as tropical storm force winds arrive. The worst of Irma pushes into the Florida Keys and far southern Florida late Saturday night and Sunday morning.
Paul Douglas, Senior Meteorologist, Praedictix
---

Extreme Hurricane Irma Closing In on Florida, Posing Dire Threat. The Capital Weather Gang is providing continuous updates: "…Several storm scenarios are possible in Florida, depending on the exact track Irma takes, but they are all disastrous due to Irma's size and strength. Hurricane-force winds expand 70 miles from the center, and tropical-storm-force winds expand 185 miles from the center. This implies that the entire peninsula, which is about 150 miles across, will be exposed to tropical-storm-force winds and most or all of it to hurricane-force winds. Norcross, the meteorologist who became a hero in South Florida for guiding the region through Hurricane Andrew, called the threat "EXTREME..."
---
---

Hot Water Ahead for Hurricane Irma. No, I've never seen a NASA tweet quite like the one above. I think they wanted to get our attention: "On Sept. 6, 2017, Hurricane Irma slammed into the Leeward Islands on its way toward Puerto Rico, Cuba, and the U.S. mainland. As the Category 5 storm approaches the Bahamas and Florida, it will be passing over waters that are warmer than 86 degrees Fahrenheit (30 degrees Celsius)—hot enough to sustain a Category 5 storm. Warm oceans, along with low wind shear, are two key ingredients that fuel and sustain hurricanes. The map above shows sea surface temperatures in the Atlantic Ocean, Caribbean Sea and Gulf of Mexico on Sept. 5, 2017. The data were compiled by Coral Reef Watch, which blends observations from the Suomi NPP, MTSAT, Meteosat and GOES satellites and computer models. The mid-point of the color scale is 27.8°C, a threshold that scientists generally believe to be warm enough to fuel a hurricane. The yellow-to-red line on the map represents Irma's track from Sept. 3–6…"
---
Our Weather Prediction Models Keep Getting Better, and Hurricane Irma is the Proof. Still a long way from perfect – but better. Here's a clip from a story at The New Yorker: "…In 2015, a paper in Nature titled "The Quiet Revolution of Numerical Weather Prediction" noted that, in the past forty years, the accuracy of three- to ten-day forecasts has been increasing by about one day per decade. "Today's six-day forecast is as accurate as the five-day forecast ten years ago," the authors, led by Peter Bauer, a scientist with the European Centre for Medium-Range Weather Forecasts, noted. The growth and path of Hurricane Sandy, in October of 2012, were accurately predicted eight days in advance, and both the 2010 Russian heat wave and the 2013 U.S. cold spell were foretold at least a week ahead of time. Last Tuesday, much was made of the fact that a satellite map of rainfall estimates in the Houston area required two new colors to represent the tremendous amount of rain—between forty and sixty inches—that was expected. But no less astonishing, in the end, was the map's pinpoint accuracy…"
---

Technology Won't Save Us After All.  "When men lack a sense of awe, there will be disaster" the Tao Te Ching explains. That verse is etched in my brain as I track Irma, a super-hurricane that defies description. Meteorologists have run out of superlatives. Irma had winds over 185 mph for 37 hours, making it the strongest tropical cyclone ever observed, anywhere on the planet, since the satellite record began in 1966. People love to live by the water; perhaps it's in our DNA. We build homes on or near rivers and oceans, hoping technology (and government agencies) will ride to our rescue if something goes terribly bad. South Florida is poised for a direct hit from Irma Sunday morning. People are evacuating, the Miami National Weather Service is using the same apocalyptic language I saw days before Harvey. It may be appropriate. This mega-storm may set the state of Florida back for many months to come. Our technology only goes so far – Mother Nature always bats last. Prayers for everyone in Florida.
---
The Science Behind the U.S.'s Strange "Hurricane Drought" – and it's Sudden End
. Chris Mooney connects the dots at
The Washington Post
: "…
Hurricane patterns in the Atlantic present a long-standing puzzle. After causing considerable destruction in the 1940s through 1960s, Atlantic hurricanes largely calmed down in the 1970s and 1980s. That's not to say there weren't several intense storms — but average activity was lower. Then, hurricanes bounced back again around 1995, and we've had mostly busy years ever since. This "active" period was capped by 2005, when a staggering 28 storms formed, and forecasters had to turn to the Greek alphabet ("Hurricane Epsilon") once they ran out of assigned names. But since 2005, while there have been ample number of hurricanes overall in the Atlantic, the United States itself has been lucky. Before Hurricane Harvey, the continental United States had not been hit by a Category 3 or higher "major hurricane" for 12 years — dating all the way back to 2005's Hurricane Wilma
…"
Map credit: "Atlantic hurricane tracks during the stunningly busy year of 2005." (National Weather Service.)
---

No, Hurricanes Aren't Good for the Economy. National Review explains: "As Bastiat's parable reminds us: Money spent to fix what's broken could have been spent on other things. Do we really need to say it? Hurricanes are bad. The pictures of the devastation wrought by Hurricane Harvey have barely faded from our television screens (while Irma waits in the wings), but already we are seeing stories about the economic boost we can expect from rebuilding Houston. In addition, of course, to the human suffering, the destruction in Houston represents an enormous loss of national wealth, by some estimates more than $20 billion. The technical vagaries of GDP calculation mean that rebuilding Houston may indeed result in a temporary uptick in the statistical growth rate. But that is not the same thing as real improvement..."
Photo credit: "A homeowner in Rockport, Texas, surveys damage caused by Hurricane Harvey, August 26, 2017." (Reuters photo: Adrees Latif)
---
10 Costliest Hurricane to Hit the USA?
Here's an excerpt from
Money
: "…
AccuWeather says the costliest hurricane to hit the U.S. was Hurricane Katrina in 2005, which did $108 billion in damage. Take a look at the gallery above to see the rest of the 10 costliest hurricanes in U.S. history. (The figures include damage done in all countries affected by each storm. Harvey and Irma were not included because their final impacts are not yet known.)
…"
2005 Katrina file image: NOAA.
"We've entered a time in history where we have really put a lot of expensive homes and expensive structures along our coastal areas, and that in itself is the reason why the cost has gone up dramatically," says Kottlowski. "It's not necessarily because the hurricanes are that much stronger, but because we have put too many things in harm's way."
AccuWeather says the costliest hurricane to hit the U.S. was Hurricane Katrina in 2005, which did $108 billion in damage. Take a look at the gallery above to see the rest of the 10 costliest hurricanes in U.S. history. (The figures include damage done in all countries affected by each storm. Harvey and Irma were not included because their final impacts are not yet known.)
---

Why Hurricane Irma Could Hurt, A Lot. Much Lies in Harm's Way. No kidding. Here's an excerpt from The New York Times: "The last time a Category 5 hurricane ripped through Florida, it was so destructive that meteorologists retired its name forever. That storm, Hurricane Andrew, made landfall southwest of Miami in 1992, killing 65 people, destroying 63,000 homes and inflicting $265 billion in economic losses. But if a similar-sized hurricane were to strike Florida today in the same spot, it would be far more catastrophic – causing up to $100 billion in damage, according to a recent analysis by Swiss Re, the reinsurance firm. That's even after accounting for the fact that South Florida has strengthened its building codes since Andrew. The reason is simple: Central and South Florida have grown at a breathtaking pace since 1990, adding more than 6 million people…"
Photo credit: "Miami Beach a year before the Category 4 storm of 1926, and this year. The reinsurance firm Swiss Re estimates that a similar storm would inflict more than $200 billion in damage if it hit Miami today." Left, via State Archives of Florida; right, Google.
---
Storm Surge Projections. Using an online tool from Climate Central, the map above shows areas around Miami expected to flood with a surge of 8 feet. Keep in mind 100 mph+ winds will create waves on top of any surge pushed ashore Saturday night and Sunday morning.
---
---
---

Irma: A Record-Shattering Hurricane. Colorado State put together a list of the records Irma has already broken. Click here for more information
---

Insurer: Miami is More Vulnerable to Hurricanes Like Andrew. An August 9 article from AP and U.S. News proves to be almost prophetic: "Almost 25 years have passed since a Category 5 hurricane struck south of Miami, and the city's vulnerability to catastrophic storm damage has grown exponentially, according to a new insurance underwriters' analysis. At the time, Hurricane Andrew was the most expensive natural disaster in U.S. history, causing more than $26 billion of damage in Florida's most populous areas, including $15.5 billion in insurance payouts. Stringent building code enforcement followed in Miami, but so did population growth, coastal development and climate change. "Our concerns lie with the fact that even though we've made good changes, 25 years later you have a much larger population living in Florida, and people forget what can happen or they don't know what could happen," said Monica Ningen, chief property underwriter for the U.S. and Canada at Swiss Re…"
File photo credit: "In this Aug. 25, 1992, file photo, rows of damaged houses sit between Homestead and Florida City, Fla. Almost 25 years after Hurricane Andrew struck south of Miami, a new insurance underwriters' analysis says the city's vulnerability to another Category 5 hurricane has grown exponentially. (AP Photo/Mark Foley, File)." The Associated Press.
---
---
---
That Delta Plane Flying Straight Through Hurricane Irma Was No Big Deal
. To be clear and accurate, it flew between Irma's feeder bands, not through the raging eyewall.
Wired.com
reports: "
There are some

places that feel very safe. Like your bed. Or a corner booth at your favorite diner. Or Mom's kitchen table. There are some places that feel very unsafe. Like in a commercial airliner in the middle of one of the most powerful hurricanes ever recorded. But that's where 173 Delta passengers, plus flight crew, found themselves Wednesday afternoon. Delta Flight 302, the last commercial airplane to fly out of San Juan before the airport shut down amid 185 mile-per-hour winds, rocketed out of Puerto Rico's San Juan Luis Muñoz Marín International Airport in between bands of Category 5 Hurricane Irma. The flight safely made it to New York's JFK International Airport less than three and half hours later
…"
Screengrab above: FlightRadar24.
---
As Houston Grew, Officials Ignored "Once in a Lifetime" Chance to Spare Thousands From Flooding. The Dallas News reports: "Two decades ago, Harris County planners predicted with chilling accuracy just how devastating a storm like Hurricane Harvey would be to the Houston area. Far lesser storms, they determined, could wreck a large swath of the city and its western suburbs. In a report dated May 1996, engineers for the Harris County Flood Control District concluded the area's reservoir system was severely insufficient and imperiled thousands of properties. The report's authors proposed a $400 million fix: constructing a massive underground conduit that would carry water out of the reservoirs and into the Houston Ship Channel more quickly. Had the report's recommendations been heeded, the catastrophic flooding that struck Houston a week ago might have been greatly diminished, sparing thousands of homes from floodwaters..."
---

Climate, Power, Money and Sorrow: Lessons of Hurricane Harvey. An essay at NPR struck a chord; here's the intro: "I get a lot of "climate" hate mail. Whenever I write a piece on global warming, someone will email to call me a "lie-bra-tard," or something similar, and tell me I should be in jail. Sometimes I try to engage these folks and see if they might be interested in how the science of climate change works and what it has to tell us. Mostly, they aren't. Mostly, what they really want is to score some points. What they really want is an argument. That's what climate change and climate science has become after all these years. It's just another political football getting tossed around on an already crowded field of political game playing. Immigration, health care, Russian hacking — climate change just gets tossed onto that pile. Then everyone watches to see who has the best zingers on the next CNN or Fox News panel..."
Photo credit: "A pile of debris sits outside a business damaged by floodwaters in the aftermath of Hurricane Harvey on Sept. 5 in Spring, Texas." David J. Phillip/AP.
---

Increasing Flood Claims in a Changed Climate. Climate Signals takes a look at the trends: "The increasing frequency of US National Flood Insurance Program (NFIP) claims parallels the increasing frequency of extreme rainfall and flooding in the United States. The graphic above shows the number of NFIP claim losses paid for the top 15 years over 1979-2017. The data reveals an increasing trend in NFIP claims in the most recent decades, which is consistent with the increasing trend in extreme precipitation and heightened flood risk over this time. One of the clearest changes in weather globally is the increasing frequency of heavy rain.[1] Climate change is fueling extreme rainfall and dramatically increasing rainfall across many types of storms.[2][3] Over the past century, the US has witnessed a 20 percent increase in the amount of precipitation falling in the heaviest downpours.[4] Nationwide in the US, there has been a 40 percent increase in the number of five-year rain events, extreme events that have only a 20 chance of occurring in any given year..."[5]
---
More Than 1 Million Acres of Montana Burned This Fire Season. So reports NBC Montana: "The state reached a grim milestone Wednesday, as the Northern Rockies Coordination Center listed 1,093,268 acres of land have burned throughout the state during the 2017 fire season. The area burned in Montana is larger than the state of Rhode Island, which covers 775,680 acres. The acreage burned in Montana is a little less than 1 percent of the entire land mass of our state. At the time of the report the National Interagency Fire Center listed 23 fires larger than 100 acres burning across Montana, the most in the country.  The last time a fire season was this severe was in 2012, when 993,286 acres were burned, caused by 119 fires. It cost $113,584,191 to fight the fires, according to the NRCC…"
---
Grist has more perspective and statistics on the western fires here.
---

15th Warmest Summer on Record for USA. Details via NOAA NCEI: "Driven by record warmth in the West, the national average summer (June–August) temperature for the contiguous U.S. was 72.7°F, 1.3°F above average and the 15th warmest summer in the 123-year period of record. The season's precipitation averageof 9.19 inches was 0.87 inch above average and the 16th wettest summer on record. For the month of August, much-below-average temperatures in the Midwest and High Plains offset the record warmth along the West Coast. The August national temperature was near average at 72.0°F, 0.1°F below average, tying 1921 as the 53rd coolest on record. The August precipitation average for the contiguous U.S. was 3.34 inches, 0.7 inch above average, the seventh wettest in the 123-year period of record…"
---
Jaguar Land Rover to Offer Electric, Hybrid Versions of New Cars. Fortune reports: "BMW and Jaguar Land Rover upped their game in the electric vehicle stakes. JLR said it will make hybrid or battery-powered versions of all its models by 2020, while BMW said it planned to offer at least 12 fully electric models by 2025, including a sedan that will be the first new model in its "i" sub-brand since 2014. The announcements came ahead of the Frankfurt Auto Salon. Carmakers are trying to burnish their image during an election campaign in which they are playing the unaccustomed role of villain, thanks to the Dieselgate scandal and related accusations of anti-competitive behavior..."
---
New Study: Corn's Environmental Impact Varies Greatly Across the U.S. Here's an excerpt of a press release from the University of Minnesota: "…It's well known that meat has a high environmental impact, largely because of the amount of corn animals are fed, in contrast to the protein they yield. And yet not all corn is created equal – water and fertilizer use varies, along with the greenhouse-gas emissions associated with its production. Until now, U.S. stakeholders trying to assess – and improve – the sustainability of their supply chains had to rely on one coarse national estimate for the upstream environmental impact of corn production. New research from the University of Minnesota drills down to the county-level impact of corn production, connecting it for the first time to where corn likely winds up – based on the facility-specific demand of large-scale U.S. corn consumers, which include meat and ethanol producers..."
Map credit: "Variations in the greenhouse-gas emissions (kilograms per bushel) and irrigated water use (cubic meter per bushel) of U.S. corn production." Image courtesy of the Proceedings of the National Academy of Sciences.
---
Tracking the Flaming Fall Foliage. Smoky Mountain National Park has an interactive graphic that shows the expected progression of color: "…Chlorophyll is not the only player in the fall leaf color game. Present in other leaves and trees are the compounds known as Carotenoids and Anthocyanins. As the Fall days begin to get shorter and shorter, the production of Chlorophyll slows to a hault, eventually giving way to the 'true' color of the leaf..."
Map credit: "The 2017 Fall Foliage Map is the ultimate visual planning guide to the annual progressive changing of the leaves. While no tool can be 100% accurate, this tool is meant to help travelers better time their trips to have the best opportunity of catching peak color each year."
---

September Starts Cool and Dry. Dr. Mark Seeley provides perspective at Minnesota WeatherTalk: "The month of September has begun cooler and drier than normal across the state. This helped to boost attendance over the final days of the State Fair. Temperatures for the month so far are running from 2 to 6 degrees F cooler than normal, and over 20 northern Minnesota climate stations have already reported morning lows in the 30s F. The coldest spots so far are Fosston (Polk County) with a reading of just 30 degrees F on the 6th and Crane Lake (St Louis County) with a reading of 30 degrees F on September 8th..."
---
Clothing That Grows With Your Kids? Now here's a novel idea, courtesy of Quartz: "…One feature of good design is that it solves a problem, and anyone with children knows that the speed at which infants outgrow clothes is a problem. To keep buying new clothes is expensive, and can be extremely wasteful. So Ryan Yasin, a London-based designer with a degree in aeronautical engineering, came up with a solution. Yasin drew on his technical expertise to create Petit Pli, a line of children's clothing made to expand six sizes to fit a child as it grows from six months to three years old. The overlapping, permanent pleats allow the clothes to stretch outward in different directions, and the fabric is durable, waterproof, and recyclable. The innovative kids' line just made Yasin the UK national winner of the James Dyson Award, a prestigious student design competition..."
---
Harvey and Irma, Married 75 Years, Marvel at the Storms Bearing Their Names. I needed this, I think we all do. Check out the details at The New York Times. Photo credit: "Irma and Harvey Schluter celebrated their 75th wedding anniversary in Spokane, Wash., in March." Jesse Tinsley/The Spokesman-Review.
---
---
TODAY: Partly sunny, breezy. Winds: SE 10-15. High: 73
SATURDAY NIGHT: Partly cloudy. Low: 60
SUNDAY: Some sun, isolated shower risk. Winds: SE 10-15. High: 79
MONDAY: Sticky sun, feels like summer again. Wake-up: 64. High: 82
TUESDAY: Plenty of sun. Shorts recommended. Winds: SW 5-10. Wake-up: 63. High: 85
WEDNESDAY: Blue sky, weather-bliss continues. Winds: S 5-10. Wake-up: 65. High: 86
THURSDAY: Clouds increase, rather humid. Winds: S 7-12. Wake-up: 64. High: 85
FRIDAY: Showers and T-storms likely. Winds: S 10-15. Wake-up: 63. High: 81
---
Climate Stories…

Hurricane Irma Made Worse by Climate Change, Scientists Say. Here's a snippet from Bloomberg: "…Unfortunately, the physicality is very clear: Hurricanes get their destructive energy from the warmth of the ocean, and the region's water temperatures are super elevated," said Anders Levermann, a climate scientist at the Potsdam Institute for Climate Impact Research, in an emailed statement on Wednesday. Irma comes less than two weeks after Hurricane Harvey smashed ashore in Texas, knocking offline almost a quarter of U.S. oil refining capacity and causing widespread damage, power outages and flooding. Climate change can "badly exacerbate" the impact of the hurricanes, even if it's not the initial cause, he said…" (Map: AerisWeather).
---

The Case for a Category 6 Rating for Super-Hurricanes like Irma. In a warming world the idea may not be as far-fetched as it sounds. Here's a clip from ThinkProgress: "…The Safir-Simpson scale for hurricanes is built around windspeed, and when it was being developed over four decades ago, people weren't really focused on global warming and its role in fueling stronger and stronger hurricanes as long as we keep warming the Earth and its oceans. Hurricanes "extract heat energy from the ocean to convert it to the power of wind, and the warmer the ocean is, the stronger a hurricane can get," meteorologist and former hurricane hunter Jeff Masters explained recently on Living on Earth. "So, scientists are confident that as we continue to heat up the oceans, we're going to see more of these high-end perfect storms." Masters went on to emphasize that "the strongest storms are going to get stronger, and we're going to see a few storms with 200 plus miles per hour sustained winds like we saw you last year off the coast of Mexico with Hurricane Patricia..."
Image credit: AerisWeather.
---

Houston – We Have a Problem. It's Called Global Warming. Is it super-sizing hurricanes or do Harvey and Irma fall under the heading of natural variability. Here's an excerpt from Forbes: "…A few facts: the Gulf of Mexico is 4 degrees warmer than normal this year, and it has been getting worse. Back in March of this year, the Washington Post's Jason Samenow reported that the Gulf was "freakishly warm, which could mean explosive springtime storms." Warm water feeds hurricanes, and Harvey feasted on it, sucking up energy and using it to dump ridiculous amounts of water onto south Texas. Noted climate scientist Michael Mann, writing in The Guardian, took the slightly more nuanced position that "climate change made Hurricane Harvey more deadly." True enough: if you want to be strictly accurate, we can't prove that warming temperatures are the sole cause of Harvey. Maybe with cooler temperatures, we'd have had a hurricane anyway–but it would have been a far smaller one, and the damage would have been far less severe..."
---

Will Climate Change Make Storms More Severe? An article at The Houston Chronicle caught my eye: "…Perhaps Houston will never again endure rains that were unprecedented in the history of the continental United States. But climate change will continue stacking the odds toward more extreme events. The world has warmed just 1 degree Celsius (2 degrees Fahrenheit) so far. Even fully achieving the goals of the Paris Agreement would double that; failing to act means risking an additional doubling, and the even more extreme weather events that would come with it. Thus, we face a future when both deluges of rain and blitzes of wind and surge will become ever greater risks. Evolving scientific understanding suggests that hurricanes might not become more frequent, but those that do form might become more severe and intensify with such astounding rapidity as Harvey did and Hurricane Patricia before it…"
Photo credit: Brett Coomer, Staff. "For some area apartment dwellers facing a deadline to vacate their residences, the only way to return to their flooded complex is with a boat."
---

Climate Change Experts Weigh In on Why Houston Flooded During Hurricane Harvey. Check out an explainer at Texas Monthly: "…Scientists like Dessler, who has been studying climate change for twenty years, have long warned about the impact of global warming. They have patiently explained, over and over, that when too much carbon dioxide is added to the atmosphere, the earth's heat is trapped, making it harder for energy to be sent radiating into space. According to the scientists, most of that trapped energy goes into the earth's oceans. If carbon dioxide levels stay the same or get higher, the ocean water itself eventually gets warmer. Few bodies of water have heated up like the Gulf of Mexico. As a result, when a tropical storm passes over the Gulf, those warm waters become pure fuel for that storm to tap. What's more, because the temperatures in the atmosphere over the Gulf are also warmer, more ocean water is evaporating and hanging in the air, just waiting to be swept up by a storm and dumped over land as rain…"
Photo credit: Jay Janner, AP.
---
Heatwave, Fires, Hurricanes Bear the 'Fingerprints of Climate Change', Scientists Say. Details from The Sacramento Bee: "…Nonetheless, Patzert and other experts said the Earth's climate truly is getting warmer, and that phenomenon is responsible for increasing the intensity and frequency of extreme weather events. Take Hurricane Harvey, which dumped the Houston area with 50 inches of rain in barely a day. Warmer temperatures, likely caused by climate change, filled the atmosphere over Houston with more moisture and made the hurricane wetter than it would have been, said Paul Ullrich, a climate modeling expert at UC Davis. "There are fingerprints of climate change," Ullrich said…"