One Of Our Most Precious Assets? Fresh Water
It's amazing to me how science fiction has an unnerving ability to become science fact.
An engineering firm in the Middle East is moving forward with ambitious plans to tow Antarctic icebergs to increasingly thirsty parts of the globe. Demanding times require creative solutions, right?
NOAA data shows a 1-3F warming across the western third of the USA during the summer months since 1895. Western weather is trending drier, with a longer, more intense fire season. Forget about oil; one of the many challenges of the 21st century will be piping fresh water to where it's needed.
As long as they don't come for our lakes.
After relentless days of rain, moss is growing on my northern side (I should have that looked at). A clipper-like system may spark a few T-showers over Wisconsin later today, but most of us stay dry into next Monday, as temperatures mellow. Highs in the mid to upper 80s will make the lake or pool a good place to loiter into the weekend.
Meanwhile California fire crews are battling record blazes & Hurricane Hector should stay just south of the Hawaiian Islands.
---
Tuesday Visible Cloud Loop. The sloppy front responsible for showers and T-storms since Friday is now pushing east, and a few mostly-dry, warm days are shaping up for Minnesota and most of the Upper Midwest. An upper air disturbance may fire off more T-storms over Wisconsin today though. Source: NOAA.
---
Warming Up Again. Right on the cusp of hot (depends on who you ask). I prefer to think of it as "not cold", which is good enough for me. Then again there's A/C blasting at work and home, so that may be biasing my opinion. Plan on mid to upper 80s for daytime highs into early next week. ECMWF: WeatherBell.
---
Moderately Warm. GFS guidance (over repeated runs) keeps the sweaty epicenter of heat just south of Minnesota during the second and third week of August. We'll see blips of temperatures near 90F, but the nasty air remains firmly in place from California into much of the USA. Only the northern states will be spared an extended heat wave.
---
Crop Update. The graphic above is an excerpt of a recent crop update for Minnesota from USDA.
---
Hector To Pass South of Hawaii. California Wildfire Update. Praedictix Briefing: Issued Tuesday, August 7th, 2018:
As of early

Tuesday

morning, Hurricane Hector was a Category 4 hurricane with 130 mph winds about 585 miles east-southeast of Hilo, Hawaii. Hector will continue to move west, passing south of the Hawaiian Islands through the middle of the week. However, a Tropical Storm Watch is in effect for the Big Island as some gusty winds are possible

Tuesday

Night into

Wednesday

.
At least 16 major wildfires continue to burn across the state of California, including the Mendocino Complex which has become the largest wildfire in recorded California history. Hot, windy and dry conditions, as well as difficult terrain, will continue to challenge firefighting efforts.
---
Hector On Satellite. Hurricane Hector is a Category 4 hurricane as of Tuesday morning, slightly weaker than yesterday but still containing winds of 130 mph. Hector is moving to the west at 16 mph.
---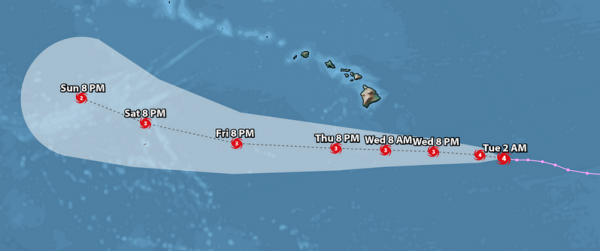 Hector Path. Hector is expected to continue to move west through the end of the week, slowly weakening but remaining a major hurricane through Saturday. This motion will bring it south of the Hawaiian Islands, passing within about 150-175 miles of the Big Island Wednesday.
---
Tropical Storm Watch. The main impact in the Hawaiian Islands will be gusty winds due to Hector. A Tropical Storm Watch has been issued for the Big Island. Some wind gusts of tropical storm force (39+ mph) are possible across the island, with the highest odds of tropical storm wind gusts occurring near Bradshaw Army Airfield and at the summits of Mauna Kea and Mauna Loa.
---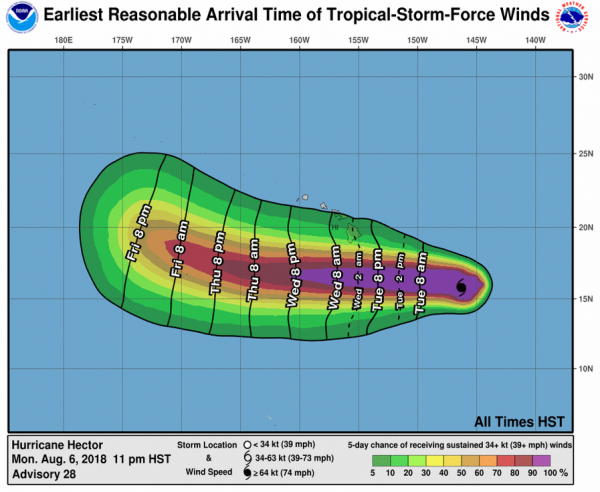 Tropical Storm Wind Probabilities. As this graphic shows, courtesy of the Central Pacific Hurricane Center, the highest probability of winds that could reach tropical storm force will mainly remain south of the Hawaiian Islands. However, there is the chance that at least a few wind gusts of 39+ mph will be possible Tuesday Night into Wednesday across some of the Hawaiian Islands.
---
California Wildfire Update. At least 16 major wildfires continue to burn across the state of California as of Tuesday morning. Hot, windy and dry conditions, as well as difficult terrain, are challenging firefighting efforts. Here's an update on some of the larger fires across the state:
Mendocino Complex: Burning east of Ukiah, the two fires that make up this complex (the Ranch and River Fires) now have burned a combined 290,692 acres and is 34% contained. The Mendocino Complex is now the largest recorded California wildfire in history, surpassing the Thomas Fire from last December. CalFire has more on the Ranch Fire and River Fire.
Carr Fire: Burning near Redding, the Carr Fire is now up to 167,113 acres and 47% contained. It is (so far) the 12th largest wildfire in California history. Some repopulation efforts are occurring as conditions allow. CalFire has more on the Carr Fire.
---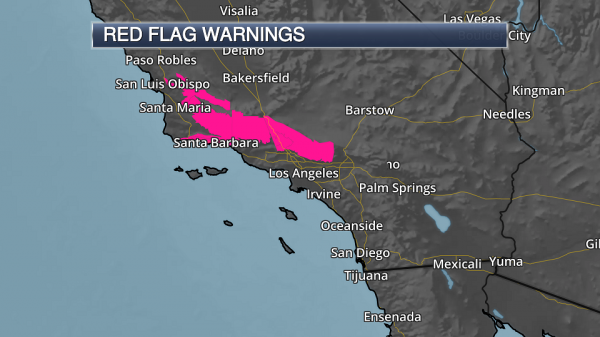 Red Flag Warnings. Red Flag Warnings continue through today across parts of southern California due to gusty northerly winds, hot conditions, and low humidity values. With these conditions, any fires that form could quickly spread. Map credit: AerisWeather AMP.
---
Hot Weather Continues Today. Excessive Heat Warnings continue across parts of the Southwest today as highs of 90-115 are expected. Temperatures could be as high as 125 in Death Valley.
---
Forecast Highs Later Today. Here's a look at some of the expected highs across the southwestern United States today in areas under Excessive Heat Warnings:
Phoenix, AZ: 112 – Excessive Heat Warning through today
Las Vegas, NV: 112 – Excessive Heat Warning through

Wednesday

Los Angeles, CA: 98 – Excessive Heat Warning through today
Palm Springs, CA: 114 – Excessive Heat Warning through today
D.J. Kayser, Meteorologist, Praedictix
---
---
North America Just Had Its First EF4 Tornado, And It Wasn't in the U.S. The Weather Channel reports: "…Last Friday's EF4 tornado killed a 77-year-old man as it tore through the Alonsa, Silver Ridge and Margaret Bruce Beach areas of western Manitoba during the evening hours. The twister was on the ground for approximately 20 minutes as it carved a destructive path up to a half-mile wide, CBC reported, citing Environment Canada. Environment Canada deployed a team of meteorologists to assess the damage, in which they were able to determine the tornado's rating of EF4, which has winds of 166 to 200 mph on the Enhanced Fujita Scale…"
Map credit: "Average annual number of tornadoes for each state in the U.S., based on the 20-year period from 1991 to 2010." (NOAA/NCEI)
---
---
Towing Antarctic Icebergs to Sustain the World's Thirstiest Regions? A story at NBC News made me do a double-take: "From Miami to Bangalore, India, to Cape Town, South Africa, some of the world's biggest cities are facing a shortage of drinking water. But now an engineering firm in the Middle East is moving forward with an audacious scheme that has been discussed since at least the 1970s: tow icebergs thousands of miles from Antarctica to water-starved regions, where the ice would be brought ashore and used to produce huge amounts of fresh drinking water…"
---
It's American Wind Week. Let's Celebrate! Here's an excerpt of a good primer on why wind energy is an important and growing part of the energy sector in the USA from windonthewires.org: "…With our competitive resource advantage and innovative technologies, America is leading the world in powering our lives with clean, low-cost wind power. Wind energy is the cheapest source of new electric generating capacity in many parts of the country. It has emerged as a job-creating engine in our nation. Wind energy now employs over 105,000 Americans in farming, factory, and port communities across all 50 states. We're proud to help put America back to work, and even more proud to hire our nation's veterans at a rate 72 percent higher than the national average. Wind turbine technician is one of the fastest growing careers in the country. Wind turbines are made up of over 8,000 components, and a majority of these are made in one of 500 U.S. factories in the wind industry supply chain. These family-supporting careers have helped to boost the U.S. economy, too..."
---
Solar Prices Continue to Plunge: Battery Growth "Insane". Here's a good summary of trends at Climate Denial Crock of the Week: "…The addition of storage is also helping bring down solar prices in some areas. In January, Xcel Energy received a median bid price of $21/MWh for wind-plus-storage projects and $36/MWh for solar-plus-storage projects. That beat out the $45/MWh price for a solar-plus-storage project hit last year in a PPA between Tucson Electric Power and NextEra Energy. In March, the U.S. Energy Information Administration said costs to install utility-scale solar systems declined 10% to 15% annually from 2010 through 2016. But just how long can prices continue falling? Solar analyst Ben Attia told Greentech Media that "highly competitive tenders will see cost compression, and there is still room for costs to fall further, but there isn't as much breathing room on the leading edge..."
File image: Pixabay.
---
Coal Consumption Reached Its Lowest Level in 35 Years in 2017. Daily Energy Insider has an update: "Coal consumption for the electric power sector demanded 661 million short tons (MMst) of coal in 2017, reflecting the lowest level since 1983, according to a report released by the U.S. Energy Information Administration (EIA). Further, 2017 was the fourth straight year that U.S. coal consumption, as well as coal shipments by all modes of transportation, dropped. Specifically, about 70 percent of the coal consumed in was shipped either entirely or in part by rail. The other 30 percent was a combination of river barges, trucks, and other methods. Coal consumption in 2017 was 36 percent lower than it was in 2008 when U.S. coal production reached its highest level..."
File photo: Matthew Brown, AP.
---
Next-Generation Contact Lenses. Big Think has a post that made me do a double-take: "Just imagine contact lenses that are also cameras, giving them the ability to record and store whatever you see so you can play it back whenever you want to – your wedding, the birth of your child, or a particularly happy vacation that you don't want to forget. Well, Sony has recently filed a new patent for 'smart contact lenses' that actually record your experiences. The technology behind these lenses would be highly sophisticated. They would feature special sensors that would convert mechanical energy into electrical energy to activate the camera. It would even be able to adjust for the tilt of the wearer's eye and use autofocus to adjust for blurry images..."
Image credit: "A wicked case of futuristic pink-eye." Creative Commons / Pxhere
---
Young Athletes Should Stay Hydrated, but Too Much Water Can Be Deadly. Turns out too much water can be as dangerous as not enough. CNN.com explains: "When high school football player Walker Wilbanks died in Mississippi in August 2014 from overhydration, the doctor said that the cause of death was an "unpredictable freak occurrence." Two weeks prior, another high school football player from Georgia drank "two gallons of water and two gallons of Gatorade" after football practice to prevent muscle cramps and then died… Hyponatremia is caused by drinking too much water or sports drinks, which dilutes blood salt levels below the normal range. Any sudden drop in blood salt levels, from drinking more than the body can excrete, can cause all cells in the body to swell…"
---
10 Years After the Crash, We Are Still Living in the World It Brutally Remade. Frank Rich has an eye-opening story at New York Magazine: "...The mood in America is arguably as dark as it has ever been in the modern era. The birthrate is at a record low, and the suicide rate is at a 30-year high; mass shootings and opioid overdoses are ubiquitous. In the aftermath of 9/11, the initial shock and horror soon gave way to a semblance of national unity in support of a president whose electoral legitimacy had been bitterly contested only a year earlier. Today's America is instead marked by fear and despair more akin to what followed the crash of 1929, when unprecedented millions of Americans lost their jobs and homes after the implosion of businesses ranging in scale from big banks to family farms. It's not hard to pinpoint the dawn of this deep gloom: It arrived in September 2008, when the collapse of Lehman Brothers kicked off the Great Recession that proved to be a more lasting existential threat to America than the terrorist attack of seven Septembers earlier..."
---
Some Economists Are Predicting a Recession in 2020. Big Think explains: "60 private-sector economists were recently surveyed by the Wall Street Journal, and their prediction is somewhat dire. 59% of them say the economic expansion that began in 2009 after the Great Recession of 2008 took the wind out of the world's economic sails will end in 2020. Another 22% pegged the year 2021. What lies beyond that is probably another recession, the depths of which will likely become apparent as things progress — or, rather, regress.  "The current economic expansion is getting long in the tooth by historical standards, and more late-cycle signs are emerging," said Scott Anderson, chief economist at Bank of the West, who was among those economists predicting a 2020 recession…"
---
Growing Up Jobs. Steve Job's daughter tells her story at Vanity Fair; here's a clip: "...I was required to take a DNA test. The tests were new then, and when the results came back, they gave the odds that we were related as the highest the instruments could measure at the time: 94.4 percent. The court required my father to cover welfare back payments, child-support payments of $385 per month, which he increased to $500, and medical insurance until I was 18. The case was finalized on December 8, 1980, with my father's lawyers insistent to close. Four days later Apple went public and overnight my father was worth more than $200 million. But before that, just after the court case was finalized, my father came to visit me once at our house in Menlo Park, where we had rented a detached studio. It was the first time I'd seen him since I'd been a newborn in Oregon. "You know who I am?" he asked. He flipped his hair out of his eyes..."
Photo credit: "Lisa Brennan-Jobs on her father's lap in the Palo Alto home she shared with her mother, 1987." Photograph courtesy of Grove Atlantic.
---
Male Cheerleaders in the NFL? Not sure how I feel about this (ambivalent?) but I guess it's time to get out of our comfort zones. Come to think of it, why not? CNN.com reports: "NFL fans will see history made this season, and it has nothing to do with what goes on between the goalposts. The Los Angeles Rams and the New Orleans Saints will have male cheerleaders dancing on their squads for the first time…Other teams, like the Indianapolis Colts and the Baltimore Ravens, have stuntmen, USA Today reported, but Peron and Jinnies will be dancing alongside their female teammates and doing the same moves..."
---
---
80 F. Twin Cities high temperature yesterday.
82 F. average high on August 7.
82 F. high on August 7, 2017.
August 8, 1930: A record high of 102 is set at Redwood Falls.
---
---
WEDNESDAY: Warm sun, few storms over Wisconsin. Winds: SW 8-13. High: 88
WEDNESDAY NIGHT: Partly cloudy. Low: 68
THURSDAY: Plenty of warm sunshine. Winds: N 5-10. High: 87
FRIDAY: Very lake-worthy. Sunny skies. Winds: W 5-10. Wake-up: 67. High: 88
SATURDAY: Blue sky, bordering on hot. Winds: SW 5-10. Wake-up: 68. High: near 90
SUNDAY: Sticky with a mix of clouds & sun. Winds: SE 7-12. Wake-up: 68. High: 87
MONDAY: Muggy with a big blue sky. Winds: SW 7-12. Wake-up: 69. High: 88
TUESDAY: Few showers, possible T-storms. Winds: NW 10-15. Wake-up: 67. High: near 80
---
Climate Stories…
Exodus: The Climate Migration Crisis. Which underscores the fact that a warming climate with increasingly disruptive weather isn't a theory – it's a reality – and the symptoms will become harder to miss. Kudo to The Weather Channel for hitting this hard in a new must-read series: "…The water comes slowly at first. The skies open up in the afternoon now. People start avoiding certain streets at high tide. The nuisances pile up. Houses get raised, then raised again. Insurance people are talking about "repetitive loss properties." Homeowners are worrying.
Or the water comes suddenly. In the high tide during a nor'easter that breaks records. Or in the sudden downpour that causes rivers to overrun their banks yet again. Or in the hurricane that floods neighborhoods that never flooded before. The city stops servicing some of the roads by the beach. And people start saying, "It's just not worth it."
Or the water doesn't come at all. The drought pushes people off their farms or out of their traditional pasturing lands. It pushes them into cities. Then protests start. Then the crackdown. Then people flee.
Or the drought pushes them to pasture their animals in unfamiliar territory. Or the island is swallowed by the sea inch by inch. Or the livestock cannot handle the heat. Or the permafrost melts under the house. Or they don't have money to rebuild.
This is climate migration. A recent World Bank study looking only at Latin America and parts of Africa and Asia sees up to 142 million people migrating within their own countries because of climate change impacts in the coming decades. And the Union of Concerned Scientists recently estimated that $117 billion of coastal real estate in the United States alone is at risk of inundation by 2045. But displacement and migration due to the effects of climate are already happening. They're happening in Syria, Somalia and Kiribati, true, but also in Florida, Texas and New York.…"
---
Check out The Weather Channel Exodus series here.
---
Domino-Effect of Climate Events Could Move Earth into a "Hothouse" State. Say what? A story at The Guardian explains: "A domino-like cascade of melting ice, warming seas, shifting currents and dying forests could tilt the Earth into a "hothouse" state beyond which human efforts to reduce emissions will be increasingly futile, a group of leading climate scientists has warned. This grim prospect is sketched out in a journal paper that considers the combined consequences of 10 climate change processes, including the release of methane trapped in Siberian permafrost and the impact of melting ice in Greenland on the Antarctic. The authors of the essay, published in Proceedings of the National Academy of Sciences, stress their analysis is not conclusive, but warn the Paris commitment to keep warming at 2C above pre-industrial levels may not be enough to "park" the planet's climate at a stable temperature…"
Guardian Graphic credit: Stockholm Resilience Centre.
---
Summer Warming Signal. According to NOAA NCEI the warming signal during meteorological summer since 1895 has been most pronounced over the Mid Atlantic, New England and roughly the western third of the USA, where temperatures are 1-2F warmer than they were at the end of the 19th century.
---
---
Climate Change is Making Wildfires More Extreme. Here's How. PBS NewsHour and YouTube have a good explainer, featuring analysis from Penn State climate scientist Michael Mann: "High winds, high temperatures, pervasive drought. These extreme conditions are driving two enormous fires in California, and many more throughout the American West and much of Northern and Western Europe. William Brangham talks with Michael Mann of Pennsylvania State University about the ways climate change is contributing to the danger and destruction."
---
The World is Losing the War Against Climate Change. An article at The Economist caught my eye; here's an excerpt: "EARTH is smouldering. From Seattle to Siberia this summer, flames have consumed swathes of the northern hemisphere. One of 18 wildfires sweeping through California, among the worst in the state's history, is generating such heat that it created its own weather. Fires that raged through a coastal area near Athens last week killed 91 (see article). Elsewhere people are suffocating in the heat. Roughly 125 have died in Japan as the result of a heatwave that pushed temperatures in Tokyo above 40°C for the first time. Such calamities, once considered freakish, are now commonplace. Scientists have long cautioned that, as the planet warms—it is roughly 1°C hotter today than before the industrial age's first furnaces were lit—weather patterns will go berserk…" (Photo credit: PA).
---