86 F. high in the Twin Cities Monday.
78 F. average high on August 29.
74 F. high on August 29, 2015.
August 30, 1977: Flooding occurs on the southwest side of the Twin Cities, with MSP Airport getting 7.28 inches of rain in 4 1/2 hours.
Slight Cooling – Tropics Heating Up Rapidly
Life is random. So are career choices. If it wasn't for a tropical storm named Agnes in 1972 I might have a real job right now. The storm stalled over my boyhood home in Pennsylvania, flooding our lower level, leaving my mother distraught. It was traumatizing.
I installed a network of river gauges; soliciting volunteers on their CB radio to report flooding. Then I checked out every book I could find on storms at the local library. Remember libraries? A tropical storm nudged me into meteorology. Thanks a lot Agnes.
Tampa and much of Florida may experience serious flooding this week as a new tropical storm approaches. Water temperatures in the Gulf of Mexico are like bathwater: close to 90F. The deeper and warmer the water, the greater the potential for rapid strengthening.
Our weather looks benign with a slight cooling trend this week; back down to average. The sun should be out as we enjoy a welcome dry spell today into
Saturday
, before showers and storms return
next Sunday
.
Many meteorologists can trace their careers back to a specific storm. It beats working for a living.
---
Flash Flooding Overnight. NOAA Doppler radar rainfall estimates topped 5″ from northeast of St. Cloud to the Mille Lacs area; that's about 6 weeks worth of rain falling in under 4-5 hours. Much of central and northern Minnesota received 1-2″ rains from Monday's cool frontal passage.
---
Gaston
. Hurricane Gaston was packing 105 mph sustained winds when this (visible) image was taken late this afternoon. Gaston is in the mid-Atlantic and not a risk to Bermuda or the USA. Imagery: NOAA, with a 3-D overlay provided by
Aeris AMP
.
---
Best Case Scenario for Florida? Models are now fairly consistent pulling a strong tropical storm or weak Category 1 hurricane into the Big Bend region of Florida, with the eye coming ashore well north of Tampa over lightly populated territory. There may still be a significant storm surge, especially if it coincides with high tide, but with any luck Tampa will be spared widespread and major flooding. HWRF model output: NOAA and WeatherBell.
---
European Model. We're always happy when NOAA models agree with the ECMWF, the fabled "Euro", and that seems to be the case now. European guidance pulls a tropical storm into the Big Bend region of Florida by Thursday morning. Much of Florida, especially the Gulf Coast and Panhandle, will pick up 5-10″ rainfall amounts, with as much as 15″ possible in some towns.
---
Aeris Weather Briefings: Issued Monday morning, August 29th, 2016
* We continue to watch two tropical depressions this morning that look to impact parts of the U.S. over the next few days.
* Tropical Depression Eight, off the Carolina coast, will make a quick approach to the Carolinas later this week before being pushing back out into the Atlantic by a cold front. A Tropical Storm Watch has been issued from Cape Lookout to Oregon Inlet, NC.
* Tropical Depression Nine, in the Gulf of Mexico, will attempt to strengthen into a tropical storm over the next 24-48 hours, eventually swinging to the northeast and making a likely landfall in Florida.
* We are also keeping an eye on Hurricanes Lester and Madeline in the Pacific as they could impact the Hawaiian Islands late this week.
---
Three Different Storms In The Atlantic. We have our eye on three separate storms in the Atlantic at the moment. First, Hurricane Gaston is forecast to remain over the open waters of the Atlantic over the next several days with no threat to the U.S. mainland. It may affect the Azores late this week, but as a weakened system. Of greater concern are the two tropical depressions near the mainland of the U.S.  – Tropical Depression Eight (off the coast of the Carolinas) and Tropical Depression Nine (southwest of Florida). Both of these systems have the potential to become Tropical Storms over the next couple days.
Image credit: Aeris AMP.
---
Tropical Depression Eight Track. T.D. Eight is expected to continuing drifting northwest over the next couple days before meeting up with a cold front. That will cause the system to quickly turn off to the northeast and race away from the U.S. into the mid/late week time frame. Due to the proximity of the forecast path to the Outer Banks, a Tropical Storm Watch has been issued from Cape Lookout to Oregon Inlet, NC due to the potential of tropical storm force winds by the middle of the week. Map: NOAA NHC.
---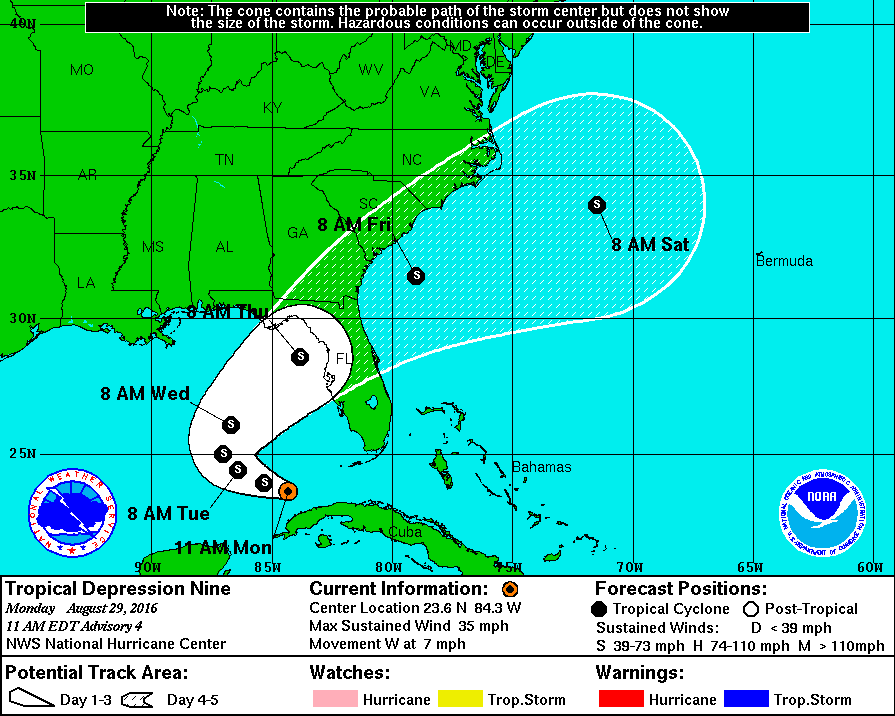 Tropical Depression Nine Track. Of greater concern will be what Tropical Depression Nine does in the Gulf of Mexico over the next few days. The system will be slow to intensify over the next 24-48 hours as it drifts to the northwest as the system deals with winds aloft trying to tear the storm apart as well as some drier air. After that, the system will turn back to the northeast, gradually picking up speed. The forecast currently has a tropical storm making landfall in the Big Bend region of Florida Thursday. This will have the potential to bring strong winds as well as very heavy rain to parts of the Southeast by the end of the week. Some of these areas have already received over a foot of rain this month.
---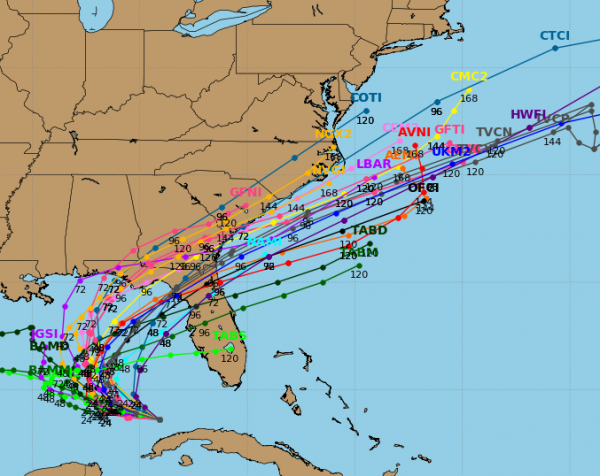 Model Spread. The models are coming into good agreement about a possible landfall in Florida later this week, with a number agreeing that the storm will eventually hook off to the northeast as we head into the middle of the week. Spaghetti model plot: tropicaltidbits.com.
---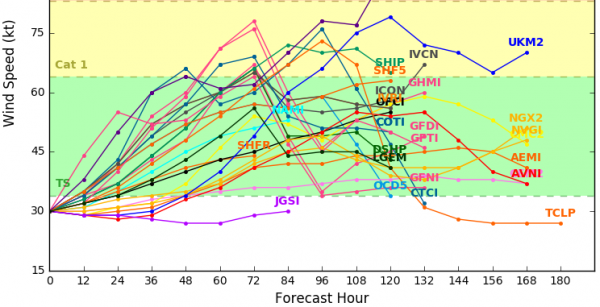 Modeled Forecast Strength. There seems to be some consensus that this system will gain tropical storm strength later this week (winds between 39 and 73 mph) in the models. While some have the system strengthening into a weak hurricane, the majority do not. It is something we will have to keep an eye on, though.
---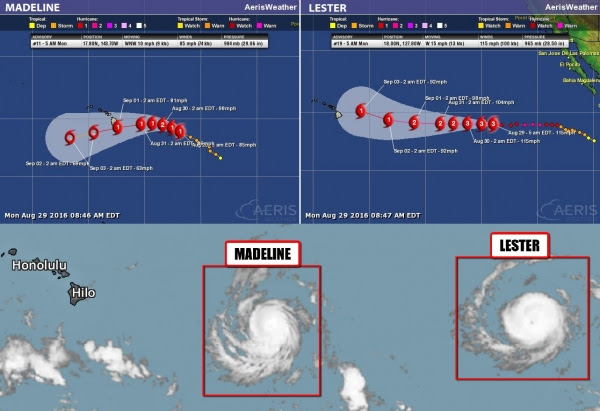 Trouble In Paradise? It's not only the mainland U.S. we are watching for tropical activity as two different systems could have an impact on Hawaii toward the end of this week in the form of Lester and Madeline.
Summary: We continue to watch two systems in the Atlantic that could have an impact on the mainland of the U.S. as we head into the middle of this week. The first, Tropical Depression Eight, looks to brush the Outer Banks with strong winds and higher surf before being pushed back into the Atlantic. The second, and of greater concern, is Tropical Depression Nine, which could make landfall Thursday in Florida as a Tropical Storm. We will also be keeping an eye on two hurricanes – Madeline and Lester – that could approach Hawaii late this week.
Meteorologist D.J. Kayser, AerisWeather
---
Cooling Trend. After a hot and steamy Monday north winds begin to cool us back down in the coming days. Expect mid-70s with sunshine and low humidity if you're heading to the State Fair Wednesday and Thursday. Temperature trend: Aeris Enterprise.
---
Light Winds Until Saturday. Expect a welcome spell of dry weather from today into Saturday with generally light winds the next 4 days. A tightening pressure gradient may whip up sustained winds over 20 mph by Saturday and Sunday.
---
Nice To Be Average. That's my motto and I use it proudly. Temperatures will actually run a few degrees below average by midweek before rebounding close to 80F next weekend. You didn't really think we'd have a hot, dry, sunny Labor Day weekend, did you? MSP Meteogram: ECMWF and WeatherBell.
---
September Outlook. I know, a forecast of "warmer than average" is truly shocking. How many months have we been warmer than normal, worldwide? Something like 15 months now. The west is forecast to cool down, but a warm bias is forecast to linger from Minnesota to the East Coast. NOAA CFSv2 (Climate Forecast System) outlook courtesy of WeatherBell.
---

Historic August Flood Caused by "Seemingly Innocuous" Disturbance, Louisiana's Climatologist Says. Here's an excerpt of a story at Baton Rouge Business Report that caught my eye: "…To be classified as a 1,000-year flood event, 21.3 inches of rainfall is required, Keim says. Some areas in the Baton Rouge area far exceeded that. Watson received a whopping 31.39 inches of rain. The Brownfields area saw 26.8 inches, and Denham Springs had 25.5 inches. Keim says nine recording stations exceeded the 1,000-year flood mark. It was the heaviest rainfall on record in the history of Louisiana. "Not only did we beat the record—we crushed it," Keim says. A flood of this magnitude originating from a small tropical wave is very unusual, Keim says, but the high moisture in the atmosphere from the Gulf of Mexico and the high humidity enabled the system. It was able to take the moisture in the atmosphere and bring it to the ground, he says…"
---
Stagnant Air On The Rise, Upping Ozone Risk. Here's an excerpt from Climate Central: "…We have found that 66 percent of the U.S. has experienced an overall increase in the number of days with stagnant air since the 1970s. This increase is consistent with what you expect in a warming world, where rising temperatures are expected to increase stationary air masses as overall air circulation slows down. The regions that have seen the largest increases in stagnant air are the Southeast and parts of the West Coast, but the Northeast and Midwest have also seen measurable increases in stagnant air events. This is over the same period of time that summer temperatures and extreme heat have been warming across most of the country..."
Map credit: "Projections of stagnant air days under continued heat-trapping gas emissions and warming show future increases in the number of these days in both the growing western U.S. and the highly populated eastern areas. As global temperatures warm, the difference between temperatures at the poles and the equator are decreasing, and this is projected to influence the jet stream, bringing an overall decrease in storm tracks through the midlatitudes (including areas over the continental U.S.) and decreasing windiness. The result could be longer spans of stagnant air hanging over U.S. regions."
---
Counties With Pro-Nuclear Agenda Making Slower Progress on Climate Change
.
Clean Technica
explains: "…
The new study, published in the journal Climate Policy and authored by researchers at the University of Sussex and the Vienna School of International Studies, showed that progress towards reducing carbon emissions and increasing renewable energy sources has been higher in countries without nuclear energy or in countries with plans to reduce their existing nuclear capacity. On the flip-side, countries with nuclear energy or those intending to hold onto their nuclear capacity are making slower progress, and have been lagging behind in implementing wind, solar, and hydropower technologies for the purpose of reducing carbon emissions. The authors of the study note that "it's difficult to show a causal link" between the two factors, but nevertheless "the study casts significant doubts on nuclear energy as the answer to combating climate change.
.."
---

Iowa Utilities Board Approves Huge Wind Energy Project. Some staggering statistics and projects for renewables south of the border, courtesy of AP and KCRG.com: "The Iowa Utilities Board has approved a wind turbine operation it says will be the nation's largest wind energy project. Des Moines-based MidAmerican Energy is behind the planned $3.6 billion wind turbine operation that will generate up to 2,000 megawatts of electricity. MidAmerican Energy said that is enough 800,000 homes and the project will see 85 percent of the company's Iowa customer needs met through wind energy by 2020..."
---
Three Minnesota Sites Plan Future Net Zero Neighborhoods. Midwest Energy News has the story: "Three sprawling development sites in the Twin Cities that are expected to see thousands of new residents and billions in investment in the next decade are planning for a net-zero future. Each of the sites will likely feature district energy systems, encourage or require efficient buildings and be powered to a large degree by renewable energy. And each of them has an existing thermal heating and cooling source to meet the needs of new apartments, businesses and homes. In most cases the sites, which are in existing neighborhoods, will be densely developed and have transit options, as well as proximity to retail and business establishments…"
Photo credit: "The site of this former Ford assembly plant, now demolished, is among three locations around the Twin Cities being eyed for net zero (or close to it) development."
---
Map Shows Most Popular Language In Each State Besides English and Spanish. Here's an excerpt from wideopencountry.com: "…This map created by Ben Blatt, of Slate, shows the most common languages in every state after English and Spanish. To create the map, Blatt examined data from the Census Bureau's American Community Survey, which, in part, gathers information about the languages most commonly used in American households. Survey participants are given a blank box to write in their language rather than choose from a list of languages. For more information about how Blatt compiled each language, check out Blatt's full article here..." (Map credit: Ben Blatt/Slate).
---
TODAY: Damp start, then clearing skies, cooler, drier breeze by afternoon. Winds: N 8-13. High: 80
TUESDAY NIGHT: Partly cloudy, more comfortable. Low: 59
WEDNESDAY: Plenty of sunshine, quite comfortable. Winds: N 5-10. High: 78
THURSDAY: Blue sky, not complaining one bit. Winds: E 5-10. Wake-up: 56. High: 76
FRIDAY: Sunny and milder. A lake-worthy day. Winds: S 10-15. Wake-up: 58. High: 79
SATURDAY: Sunshine much of the day, lukewarm. Winds: S 10-20. Wake-up: 61. High: near 80
SUNDAY: Sticky, few showers and T-storms. Winds: S 10-20. Wake-up: 63. High: 82
LABOR DAY: Stormy start, then slow clearing. Winds: NW 10-15. Wake-up: 64. High: 80
---
Climate Stories…
Why It Matters: Climate Change. Seth Borenstein explains at The Big Story from AP, complete with links and compelling evidence: "…Dozens of measurements show Earth is warming. And it's worsening. The overwhelming majority of climate scientists and nearly every professional organization of scientists have said climate change is real, man-made and a problem. The last 15 months in a row have set records globally for heat, according to the National Oceanic and Atmospheric Administration. The world is on pace to break the record for hottest year, a record broken in 2010, 2014 and 2015. The five hottest years recorded have all been from 2005 on and it is about 1.8 degrees warmer than a century ago. But it's more than temperatures. Arctic sea ice keeps flirting with record low amounts. Hot water has been killing coral as never before seen. Scientists have connected man-made climate change to extreme weather , including deadly heat waves , droughts and flood-inducing downpours . They even have connected it as one of several factors in the Syrian drought and civil war that led to a massive refugee crisis…"
---

Grasping Climate Change. Phil Plait explains why it's so hard for our brains to grasp at Slate: "And that is the true evil of climate change. It's slow, and patient. It's everywhere, but takes its time. It operates every day, but its effects don't manifest for decades. Weather changes every day, every hour, and that noise washes out the signal of climate change. Unless, that is, we too are patient, and keep our eyes on the long view. When we do, we see the trend, not the bumps and wiggles. This short, one-minute video frames it the best way I have ever seen: as a person walking a dog: If we watch the trend, and not the wiggles, we see the impact of humanity on our planet. The temperature trend is actually quite clear now. And that trend is up…" (File photo: Santiago Borja).
---
Farming,  Soil and Water, In The Time of Climate Change. Here's an excerpt from New England Public Radio: "…We got a lot of farmers calling us, asking for some information about transitioning  to no-till," Hashemi said, referring to a land practice of leaving fields unplowed, and planting crops on top of leftover vegetative matter from preceding crops. It's a practice researchers at many agriculture schools in the United States are preaching, to prevent soil erosion. The unturned earth can take on the qualities of a sponge. Even some states are pushing the practice. In Vermont, new mandates go into effect by the end of the year, meant to encourage no-till farming. While the state decision is more an attempt to keep fertilizers from leaching into lakes and rivers, no-till farming, Hashemi will tell you, is "sustainable farming…"
File photo: Nati Harnik, Associated Press.