Extended Outlook Calls for More Mosquitoes
"When the facts change, I change my mind. What do you do sir?" economist John Maynard Keynes dryly observed. We have the freedom to change our minds. I have more repect for people who change their minds based on new evidence, rather than digging in their heels and cherry-picking data to support an opinion.
Based on a wealth of evidence, the climate is warming, and new research shows mosquito season at MSP has grown from 114 days in the 1980s to 120 days in the 2010s. If anyone asks (doubtful) mosquitoes survive best between 50-95F, with a humidity above 42 percent.
This may explain why I have an itch that a scratch won't reach.
A quiet, sunbathed sky lingers into Friday, with temperatures near normal. A significantly cooler puff of air sparks a few late-day thundershowers Saturday, and Sunday may look and feel like September, with lumpy clouds, a cool breeze and passing sprinkles.
Meanwhile, "Isaias" is buffeting Haiti. Models bring it near Florida this weekend. Here's hoping it doesn't strengthen.
---
More Mosquito Days. A warming climate has some interesting (and itchy) consequences. Climate Central explains: "It's the curse of summer weather: just as you start to relax outside, you feel a telltale tickle on your ankle. You swat the air but it's already too late—another mosquito bite. While most are just an itchy nuisance, mosquito-borne diseases are an increasing risk in the United States. And as the climate warms, mosquito seasons are getting longer in much of the country. According to studies from the National Institutes of Health, mosquitoes survive best at temperatures between 50-95°F and a relative humidity of 42% or more. Climate Central counted these "mosquito days" each year for 239 locations in the contiguous U.S., updating our 2016 analysis with a newer dataset. We found that 64% of sites recorded an increase from the 1980s to the 2010s—outnumbering those with a decrease by about 2 to 1…"
---
---
---
---
---
---
---
Few Weekend Showers – Puff of September Air Early Next Week. Warm sunshine lingers today and Friday, but clouds increase Saturday ahead of a cool front. Showers and a stray T-storm are possible Saturday PM hours, with a few instability showers spilling into Sunday. By early next week daytime highs hold in the 60s and 70s. Not exactly jacket weather, but a subtle (yet blunt) reminder that summer heat is fleeting at this latitude. Map sequence above: Praedictix and AerisWeather.
---
---
---
ECMWF Cooler Early Next Week. There's little doubt we'll cool off from Sunday into Tuesday, the question is how cool? The European model suggests daytime highs may struggle to reach 70F by Monday and Tuesday. MSP Meteogram: WeatherBell.
---
Temperature Recovery by Mid-August? After a cool spell next week GFS guidance suggests a warming trend by the second week of August. We'll see more 80s, and I suspect we haven't seen the last of the 90s.
---
Praedictix Briefing: Issued Wednesday morning, July 29th, 2020:
Potential Tropical Cyclone Nine is moving across the Leeward Islands this morning with heavy rain and gusty winds. As of 5 AM AST, Nine had winds of 45 mph.
This system is still expected to become Tropical Storm Isaias later today as it moves off to the west-northwest. This will bring the storm in the vicinity of the Virgin Islands and Puerto Rico tonight and Hispaniola Thursday with some additional strengthening. Once it reaches Hispaniola, weakening is expected due to land interaction.
This system then could impact the Turks and Caicos, Bahamas, and Cuba through the end of the week and approach Florida this weekend.
Numerous Tropical Storm Watches and Warnings are in place for this system stretching from the Lesser Antilles to the southeastern Bahamas.
---
Potential Tropical Cyclone Nine. The system we are watching remains a Potential Tropical Cyclone this morning. However, with a burst of convection ongoing near the expected center of the storm this could become Tropical Storm Isaias later today (90% chance). As of the 5 AM AST update, Potential Tropical Cyclone Nine had sustained winds of 45 mph with tropical-storm-force winds extending about 275 miles from the center of the system. Antigua had a wind gust of 47 mph earlier this morning. The system was moving west-northwest at 23 mph and the supposed center of the storm was 5 miles south of Dominica or 385 miles east-southeast of San Juan, Puerto Rico.
---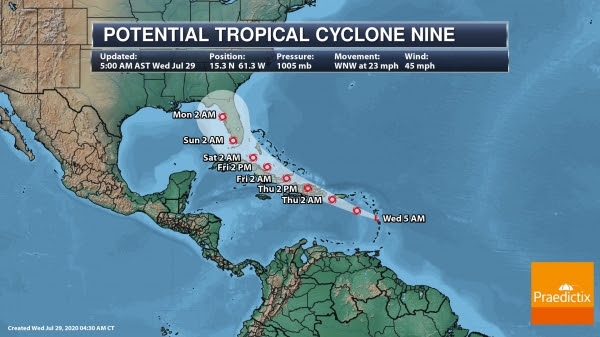 Expected Track. There are still questions to the overall track and strength forecast with this system as we still do not have that defined center. On that note, it is expected that this system will become Tropical Storm Isaias later today in the eastern Caribbean. A track to the west-northwest is expected over the next couple of days, bringing the storm in the vicinity of the Virgin Islands and Puerto Rico tonight, Hispaniola Thursday, and the southeastern Bahamas Friday. This could then impact portions of Florida this weekend with strong winds and heavy rain. Some strengthening is expected today and tonight before the storm starts to interact with land – especially the high mountains of Hispaniola – which is expected to cause some weakening Thursday. While the system will take some time to recover after passing over Hispaniola, some restrengthening is expected late this week into the weekend. However, upper level winds are expected to increase in the Straits of Florida that could help limit that potential. Again, a lot of questions to the overall future of this system, but facilities from the Leeward Island to Florida should continue to monitor this system and be prepared ahead of it.
---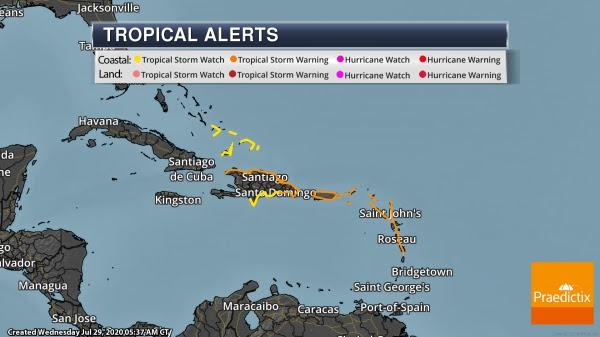 Tropical Storm Watches and Warnings. Ahead of this system, several government authorities have issued numerous Tropical Storm Watches and Warnings. The following alerts are in place:
Tropical Storm Warning
* Puerto Rico, Vieques, Culebra
* U.S. Virgin Islands
* British Virgin Islands
* Antigua, Barbuda, Montserrat, St. Kitts, Nevis, and Anguilla
* Guadeloupe, Martinique, St. Martin, and St. Barthelemy
* Saba and St. Eustatius
* St. Maarten
* Dominica
* Dominican Republic from Cabo Caucedo eastward to Cabo Engano andthen westward along the northern coast to the Dominican Republic/Haiti border
* North coast of Haiti from Le Mole St Nicholas eastward to the northern border with the Dominican Republic
Tropical Storm Watch
* Dominican Republic from the southern Haiti border eastward to Cabo Caucedo
* Turks and Caicos Islands
* Southeastern Bahamas
---
Earliest Arrival Of Tropical Storm Winds. As this system continues west to west-northwest, the earliest tropical storm winds could arrive across the Virgin Islands and Puerto Rico later today into tonight, across Hispaniola tonight into midday Thursday, the Turks and Caicos, Bahamas and Cuba Thursday into Friday, and portions of Florida Friday Night into the weekend. The arrival of tropical storm force winds could make any preparations ahead of the storm difficult to complete once they do arrive.
---
Heavy Rain Potential. Heavy rain is still expected with this storm over the next several days that could lead to life-threatening flash flooding and mudslides across portions of the Caribbean. Here are expected rainfall amounts according to the National Hurricane Center:
Across the northern Leeward Islands, British and U.S. Virgin Islands: 3 to 6 inches.
Across Puerto Rico: 3 to 6 inches, with isolated maximum totals of 10 inches.
Across the Dominican Republic, northern Haiti and the Turks and Caicos: 3 to 6 inches, with isolated maximum totals of 8 inches.
Across the Inagua Islands: 4 to 8 inches, with isolated totals of 12 inches.
D.J. Kayser, Meteorologist, Praedictix
---
Searching for Best Practices: Hurricane Evacuations During a Pandemic. I wrote a post on the challenges involved for Medium; here's an excerpt: "…Flynn is focused not only on fine-tuning evacuation orders, but rethinking sheltering options. Besides the use of facemasks and other protective measures, the actual spacing and capacity inside shelters will have to be recalculated with virus in mind, he explained. "I have heard of creative sheltering spaces besides the usual schools," he said. "One example could be the use of approved and willing hotels, and perhaps other community buildings out of harm's way." Thinking outside the box, school or auditorium this hurricane season may be key to lowering risk from an inevitable parade of tropical systems, set against an anxious backdrop of virus concerns. Accurate hurricane predictions from NHC will be more mission-critical than ever..."
Hurricane Florence file image: NASA.
---
What Happens When a Hurricane Hits a Coronavirus Hot Spot? South Texas Cities Found Out the Hard Way. KSAT.com in San Antonio has the story.
---
9 Hurricanes are Forecast As Part of a Worse Than Normal 2020 Hurricane Season. Here's an excerpt from a timely post at Forbes: "…The figure above shows the historical average number of named tropical cyclones by day of the year. You can see this year we are tracking at the top edge of the highest count by day. For the past 5 decades of satellite data, this is the highest number of named storms at this point in the season. Abnormally warm sea surface temperatures in the Atlantic Ocean and optimal atmospheric conditions lead to an optimal environment for hurricane formation. Sea surface temperatures in the ocean above 80°F / 27°C is optimal for storm development as the warm water evaporates and provides moisture and energy in the atmosphere, promoting storm growth…"
Image credit: "2020 Hurricane Season named storms compared to historical." NASA.
---
Efforts to Contain Plastic Pollution Falling Short. Fortune has the harrowing statistics: "…The researchers found that at current "business as usual" rates, the scale of plastic entering the world's oceans will triple by 2040, to an average of 29 million metric tons of waste, per year—equivalent to 50 kilograms, or 110 pounds, of waste per meter of coastline, globally. If all measures promised by governments are implemented, plastic waste will be reduced by only 7% compared with levels of waste if no efforts had been taken at all, the report said. As a result, current efforts to reduce plastic waste are wildly insufficient, the researchers concluded. Truly reducing waste will require using every available solution, from recycling to designing replacement products, including—perhaps most important—a focus on new plastic not being produced at all..."
Image credit: World Resources Institute.
---
Breaking the Plastic Wave. The report referenced in the Fortune article (above) is here. It's a daunting challenge, but there is some hope: "…Yet we also show that if the world were to apply and robustly invest in all the technologies, management practices, and policy approaches currently available—including reduction, recycling, and plastic substitution—in 20 years there would be about an 80 per cent reduction from the current trajectory in the flow of plastic into the ocean. And the new solutions recommended in this report would provide consumers with the same services that plastic delivers today—at a lower cost to society..."
---
Follow the Money: How Digital Ads Subsidize the Worst of the Web. Turns out the free Internet comes with a huge toll: digital disinformation served up in bite-size chunks. WIRED.com (paywall) explains: "...A lot of those debates, when you track them down to their technical causes, it inevitably boils down to advertising technology," said Aram Zucker-Scharff, the ad engineering director for The Washington Post's research, experimentation, and development team. "So many of the problems that people are talking about on the web right now, these are problems that arise out of detailed and persistent third-party, cross-site user behavior tracking." There's a lot to unpack there. Over the next few weeks, WIRED is going to be taking a look at the various ways in which the modern digital advertising market underwrites the proliferation of harmful, divisive, and misleading online content, while at the same time undermining real journalism..."
---
Learning from Nature: A New Flapping Drone Can Take Off, Hover and Swoop Like a Bird. A story at The Conversation explains: "…An ornithopter is a highly complex system. Until now, flapping wing drones have been slow flying and not capable of achieving the speed and power required for vertical aerobatics or sustained hovering. The few commercially available ornithopters are designed for forward flight. They climb slowly like an underpowered aeroplane, and can't hover or climb vertically. Our design is different in several ways. One difference is that our ornithopters make use of the "clap and fling" effect. The two pairs of wings flap such that they meet, like hands clapping. This makes enough extra thrust to lift their body weight when hovering…"
Image credit: "The two pairs of wings meet each time they flap."
---
9 Expert Tips for Safe Road Trips This Summer. Mental Floss has timely advice; here's a sample: "...It's also a good idea to verify beforehand that places are taking certain precautions to prevent the spread of COVID-19. Knowing that a state requires mandatory mask-wearing in public and prohibits large gatherings and indoor dining can help you decide if it's safe enough for a visit. The same goes for hotels, restaurants, and other individual businesses. "I think that if you can call ahead and ask hotels and other facilities what their safety protocols are, you should," Ricotta says. "If there isn't a protocol in place, or no one is able to provide you with details, you might be better off finding an alternative place to stay..."
---
Favorite Junk Food of Every State, Mapped. I prefer to think of it as "comfort food" and I'm oddly OK with Snickers, thank you very much. Mental Floss has the post: "…As you can see, Oreo cookies cross state lines. Connecticut, Hawaii, Maryland, New Jersey, and Virginia prefer the cream-filled cookie sandwich. A few states (Tennessee, Utah, and Wisconsin) reach for candy bars over bagged snacks. Alaska opts for the slightly more health-conscious granola bars, while Mississippi prefers Twinkies. Sweet snacks beat salty snacks overall, with 29 states looking for a sugar rush…"
---
Waving to the Great Mapmaker in the Sky. I had no idea someone went to the effort to do this. Here's an explainer at Big Think: "In Minnesota, there's a forest shaped like Minnesota. You wouldn't know it when you're near it, or even in it; you can only see it when you're flying above it. Across the world, people have altered the land to write messages that are invisible on the ground and can only be seen by – well, by whom, exactly? Airplane pilots and their passengers, hot-air balloonists, satellites, and the Great Mapmaker in the Sky. But why? When is easier to answer, for this kind of message to the heavens above is a relatively modern phenomenon¹, which can be traced back to a map produced by Leonardo da Vinci…"
Image credit: "A Minnesota-shaped forest, in Minnesota. One of several examples of land art that are only visible from the sky." Image: Bing Maps.
---
Bugatti is Selling a $35,000 Electric Car for Kids. The definition of wretched excess. CNN.com has the details: "Bugatti and the London-based Little Car Company have teamed up to make 500 miniature electric Bugattis for kids — and now a few of them have just become available to buy. Originally, all 500 of the mini electric cars that the companies planned to make were sold after the car was unveiled at the 2019 Geneva Motor Show. Due to the coronavirus pandemic, however, some customers changed their minds, making a few available for new customers, Bugatti announced Friday. This new all-electric miniature car is called the Bugatti Baby II and starts at about $35,000. It's a modern interpretation of the original Bugatti Baby from nearly a century ago..."
Image credit here.
---
84 F. high in the Twin Cities on Wednesday.
83 F. average high on July 29.
78 F. high on July 29, 2019.
July 30, 1971: A cool spell across Minnesota brings frost to northern Minnesota. Freezing temperatures are reported as far south as Pipestone.
---
---
THURSDAY: Lukewarm sunshine. Winds: NE 7-12. High: 82
FRIDAY: Sunny and warm. Take off early. Winds: NE 5-10. Wake-up: 63. High: 83
SATURDAY: Sunny start, PM thunder possible. Winds: NW 8-13. Wake-up: 65. High: near 80
SUNDAY: Mostly cloudy, cooler. Few showers and sprinkles. Winds: NE 10-20. Wake-up: 62. High: 73
MONDAY: Mix of clouds and sun, whiff of fall? Winds: NE 10-15. Wake-up: 57. High: 71
TUESDAY: Partly sunny, more clouds PM hours. Winds: NE 7-12. Wake-up: 54. High: near 70
WEDNESDAY: Clouds increase, shower risk later. Winds: S 5-10. Wake-up: 57. High: 77
---
Climate Stories…
Fewer Good Ice Skating Days. The data is the data, and across much of North America a trend toward shorter, milder winters is taking a toll on ice skating and hockey. According to David Waldstein at The New York Times: "Toronto saw the greatest reduction in ice time. In the winter of 1942-43, the first year of the Original Six era, there were close to 60 days when Torontonians could expect high-quality skating conditions in backyard rinks. Last year, there were about 20." Here's an excerpt of a recent paper highlighting the trends: "…In all cities, coefficient estimates suggest the number of high‐probability skating days per winter is declining, with easternmost cities displaying notable declines and growing inter‐annual variability in skating days in recent decades. Linear analysis shows a statistically significant decline in Toronto, with a step‐change emerging in 1980, after which there is on average one‐third fewer skating days compared with preceding decades. The outdoor skating season trends towards later start dates in Boston, Montreal, New York, and Toronto. Future monitoring of outdoor rinks provides an opportunity for engaging the public in identification of winter warming trends that might otherwise be imperceptible, and for raising awareness of the impacts of climate change..."
---
"Idiot's Guide to Climate Change". I'm trying not to take that personally, but yes, in spite of the pandemic, the climate is still warming. If Rainn Wilson is involved I'm in. Here's an explainer at Deadline: "Climate change has been shoved out of the news spotlight by a few other ongoing crises in recent months, but it remains a key issue. Now a new digital series is set to use humor to help speed the topic's spread. The Office alum Rainn Wilson is set to host An Idiot's Guide to Climate Change, which premieres today online. The six-part docuseries hails from Wilson's Participant-backed content studio SoulPancake and will run on the company's YouTube channel. Watch the trailer above. Teenage Swedish climate activist Greta Thunberg will be among Wilson's guests as he embarks on a life-changing journey from an everyday, well-intentioned but uninformed liberal to strident climate activist…"
---
IMPACTS: Climate Nexus has headlines and links: "New York swelters with heat challenging 19th century records (Bloomberg $), Washington [DC] breaks record for most 90-degree days in a month (Washington Post $), believe it or not, forests migrate — but not fast enough for climate change (NPR), holy water: hundreds of U.S. churches face climate risk (E&E $), Texas ranchers, activists and local officials are bracing for megadroughts brought by climate change (Texas Tribune), torrential rains wreak destruction in Yemen, killing dozens." (AP)
Image credit: NOAA.
---
Assessing the New Biden Climate Plan. Third Way has an overview; here's an excerpt: "Vice President Biden's new climate plan, released the week of July 13, has garnered a lot of attention. That makes sense. It proposes significant new investments in clean energy and climate infrastructure and clean energy innovation to drive our nation's economic recovery from the pandemic-induced recession and to shock-proof our country from the worst impacts of climate change. Rather than a move to the left, as some have described it, the Biden plan is the appropriate response to a country with a $2 trillion shortfall in infrastructure investment. It would help revitalize a private sector that has shed 15 million jobs since February 2020, while the unemployment rate stands at 11% and 7 million more Americans have had their wages cut…"
---
A Totally Green Electric Grid Will Dramatically Speed up Climate Action. Here's an excerpt from Bloomberg Green: "The perfectly green electricity grid sought by Joe Biden isn't the end of the fight against global warming. It's the beginning. Today, 40% of America's electricity comes from carbon-free sources. The Democratic presidential candidate has made getting that to 100% by 2035 a centerpiece of his $2 trillion plan to address climate change and create jobs. Getting there would take an enormous expansion of solar and wind capacity in the U.S., backed by mass adoption of energy-storage technologies and hanging onto existing hydroelectric and nuclear plants. Policy experts question the 15-year timetable for eliminating emissions from the electrical system, which would indeed be an immense challenge. About a quarter of all U.S. emissions today come from electricity production, according to the U.S. Energy Information Administration..."
Image credit: TechCrunch.
---
"A World With No Ice". Why Inaction Must Be Confronted. Oh there will still be ice, just less of it. Check out the video at Big Think: "Climate change is often framed as a debate that has split society down the middle and that requires more evidence before we can act. In reality, 97 percent of scientists agree that it is real and only 3 percent are skeptical. A sticking point for some is the estimated timeline, but as Columbia University professor Philip Kitcher points out, a 4-5 Celsius temperature increase that makes the planet uninhabitable is a disaster no matter when it happens. In this video, 9 experts (including professors, astronomers, authors, and historians) explain what climate change looks like, how humans have already and are continuing to contribute to it, how and why it has become politicized, and what needs to happen moving forward for real progress to be made…"
---
New Soil Models May Ease Atmospheric CO2, Climate Change. Here's the intro to a story at Cornell Chronicle: "To remove carbon dioxide from the Earth's atmosphere in an effort to slow climate change, scientists must get their hands dirty and peek underground. In an article published July 27 in Nature Geoscience, Cornell's Johannes Lehmann and others wrote that scientists should develop new models that more accurately reflect the carbon-storage processes beneath our feet, in order to effectively draw down atmospheric carbon dioxide. Carbon's journey into the soil is akin to a busy New York City rush hour. "Everything in the soil is bustling and changing all the time on a daily or hourly basis," said Lehmann, professor of soil biogeochemistry and the lead author on the piece…"