85 F. maximum temperature in the Twin Cities Sunday.
78 F. average high on August 28.
76 F. high on August 28, 2015.
August 29, 1948: An airliner crashes during a thunderstorm near Winona, killing 37 people on board.
August 29, 1863: A devastating killing frost affects most of Minnesota, killing vines and damaging corn.
Minnesota: Chilly But Blissfully Hurricane-Free
An old college professor told me that only Siberia experiences wilder swings in temperature and moisture than Minnesota. The most extreme weather occurs near the center of continents, well away from the moderating influence of ocean water.
But those oceans can spin up nature's biggest, most dangerous storms, fueled by deep layers of warm water.
Unlike tornadoes, where the safest place is below-ground, in a hurricane you want get UP; at least 3rd floor or higher. The biggest danger isn't wind or even flooding rains, but the storm surge – a rapid rise in water level that results in most of the fatalities.
I do love Florida, in small quantities. And later this week a tropical storm or weak hurricane may track north of Tampa. It's been over a decade since a Category 3 hurricane has smacked the USA. I suspect America's hurricane drought will end this year.
A thunderstorm may bubble up today, but dry, sunny weather prevails Tuesday into Friday. Models hint at T-storms flaring up again Labor Day weekend with highs near 80F. A long way from perfect but I see no storms with names.
---

Tornadoes In Unusual Places. Last night meteorologists were tracking large tornadoes in Polk County, near Flame and Gary.  Heavy.com has a good chronology of social media photos and radar screen shots.
---
Aeris Weather Briefings: Issued Sunday afternoon, August 28, 2016.
* Uncertainty remains high – confidence levels are low, but consensus is growing that the Gulf coast of Florida will be impacted by a tropical storm or hurricane (probably named "Ian") later this week. Timing is still problematic, but the most likely window for any landfall between Tampa and the Big Bend region of Florida is Wednesday into Friday morning.
* Florida will experience flooding rains from this system; the greatest potential for flash flooding and impact to facilities and staff from the Florida Keys to Sarasota, Tampa and the Panhandle. Areas that normally flood will experience flood-related challenges later this week.
* Tropical Depression forms southeast of the Carolinas – Tropical Storm Watch may be issued by NHC later today for Carolina Coast for "Hermine".
* We are heading into a much busier pattern for tropical storms and hurricanes. The hurricane drought (over 10 years since a Category 3 storm) may be coming to an end. Pay close attention in the coming days and weeks.
---
Tropical Trio. Hurricane Gaston is forecast to remain over the open waters of the Atlantic Ocean, a threat to shipping and whales, but not the U.S. mainland. Invest-91, which is a Tropical Depression as of 10am, may become Tropical Storm Hermine later today, brushing the Outer Banks of North Carolina with tropical storm-force wind gusts and heavy surf by Tuesday and Wednesday. Of greater concern in the short-term (this week) is Invest-99, a sloppy center north of Havana. This storm is forecast to drift into the Gulf of Mexico, where unusually warm water may spark rapid intensification into "Ian". NOAA NHC now says a 60% risk of tropical storm formation within 48 hours, an 80% probability within 5 days. Models are coming into rough alignment and our confidence continues to build that there will be a (strong) tropical system in the Gulf of Mexico by late Monday or Tuesday. Map: Aeris AMP.
---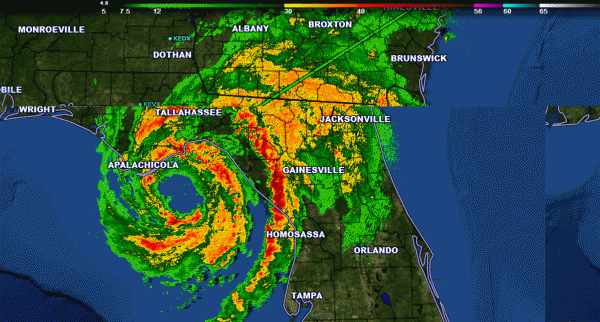 Tropical Storm Hermine? The system off the Carolina coast if strengthening faster than the disturbance near Cuba, and there's a good chance we'll be tracking Tropical Storm Hermine later today. NHC models bring the system close to the Carolina coast by Tuesday and Wednesday morning with winds of 40-50 mph and some storm surge coastal flooding, especially close to high tide. Map: NOAA NHC.
---
Like Herding Cats. Getting weather models to agree in a scenario like this is the rough meteorological equivalent of herding cats – but there seems to be a growing consensus that "Hermine" will hook to the north, then northeast, coming ashore somewhere between Tampa and Ocala, Florida. This potential track could create significant storm surge/tidal flooding challenges for the Tampa-St. Pete market. We need to watch this closely. Map: tropicaltidbits.com.
---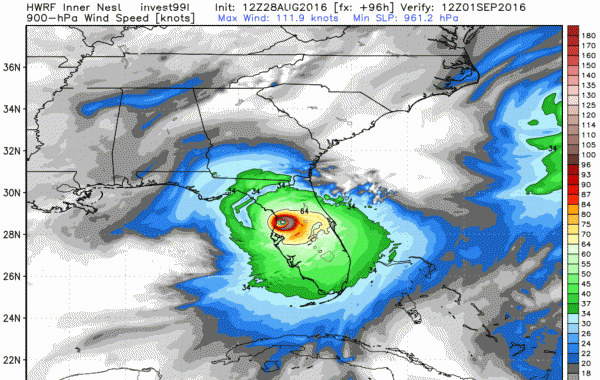 NOAA HWRF Model:

Thursday

Morning
. NOAA's high-resolution hurricane model suggests landfall as a weak to moderate hurricane, just north of Tampa, sometime
Wednesday
night or
Thursday
morning. Look at the trends, not any one specific model track. Map: WeatherBell.
---
European Model:

Wednesday

Evening
. The usually-reliable ECMWF (Euro) kills the storm again, bringinig a tropical depression into Florida by midweek with soaking/flooding rains, but little storm surge flooding; a sloppy, disorganized storm. It's an important data point. NOAA models continue to suggest a significant storm, but the ECMWF, which did such a good job with Sandy in 2012, is not impressed. Graphic credit: WSI.
Summary: The hurricane forecast is rarely black or white; it's almost always some nebulous shade of gray. Tropical storm force conditions may impact the Carolina coast by Tuesday. My hunch is that a tropical storm or (weak) hurricane will impact Florida's Gulf Coast or Panhandle in a Wednesday–Thursday timeframe, but confidence levels in this solution are still low (4 on a scale of 1 to 10). NOAA models seem to be converging on a more unified, coherent solution but the ECMWF is now minimizing the risk of a hurricane in the Gulf of Mexico. We need to analyze a few more model runs to look for continuity from run to run, and model to model, before confidence levels rise any further. The message remains the same: Florida facilities should prepare now, and I would extend those preparations to the Mobile market as well as Pensacola, Panama City and Ocala to Tampa. We'll keep you posted.
Paul Douglas, Senior Meteorologist, AerisWeather
---
Feels Like Summer. With highs well up in the 80s and a dew point flirting with 70F it may feel like low to mid 90s before a few T-storms bubble up later today. Temperatures cool to more comfortable, seasonable levels by midweek. Temperature trend: Aeris Enterprise.
---
Ripe For More Storms. NOAA's 4km NAM simulation brings more strong to potentially severe T-storms rumbling into the metro during the evening hours today. Winds shift to the north Tuesday, allowing cooler, drier, more stable air to arrive by midweek. Future Radar product: NOAA and AerisWeather.
---
Cooling Off Later This Week. No cold fronts are brewing, no yet. Just a few random puffs of cooler air with temperatures probably holding in the 70s for highs by late weeks with nights in the 50s. Not too far off from average for early September. Graphic: WeatherBell.
---
Lukewarm Into Mid-September. GFS 500mb guidance shows a nearly zonal flow by mid-September, suggesting temperatures close to normal  (mostly 70s for highs with a few days in the 80s). A heat wave is forecast to sizzle for much of the southern USA with a hurricane landfall in the Carolinas Sunday evening,  September 11. Circle your calendar.
---
Hurricane Porn. Let's hope this is just a case of the GFS model messing with the state of Louisiana. After what they've endured I pray this doesn't come to pass. No, I don't believe it, and no, I don't think this will actually verify, but the last few runs of NOAA's GFS model have brought big hurricanes into Florida (now Louisiana) late in the forecast period. The Gulf of Mexico is amazingly warm (water temperatures close to 90F) and there's little doubt we're heading into a busy tropical season and conditions are especially ripe for rapid intensification in the Gulf. A 10-year hurricane drought (no Category 3 or stronger landfalls) will probably come to an end in the coming weeks. Just a strong hunch.
---
Stagnant Air On The Rise, Upping Ozone Risk. Here's an excerpt from Climate Central: "…We have found that 66 percent of the U.S. has experienced an overall increase in the number of days with stagnant air since the 1970s. This increase is consistent with what you expect in a warming world, where rising temperatures are expected to increase stationary air masses as overall air circulation slows down. The regions that have seen the largest increases in stagnant air are the Southeast and parts of the West Coast, but the Northeast and Midwest have also seen measurable increases in stagnant air events. This is over the same period of time that summer temperatures and extreme heat have been warming across most of the country..."
Map credit: "Projections of stagnant air days under continued heat-trapping gas emissions and warming show future increases in the number of these days in both the growing western U.S. and the highly populated eastern areas. As global temperatures warm, the difference between temperatures at the poles and the equator are decreasing, and this is projected to influence the jet stream, bringing an overall decrease in storm tracks through the midlatitudes (including areas over the continental U.S.) and decreasing windiness. The result could be longer spans of stagnant air hanging over U.S. regions."
---
---
This New Weather Satellite is a Game Changer – If It Can Survive The Journey to Launch. Angela Fritz has more information on the eagerly awaited GOES-R launch at Capital Weather Gang: "…They are meticulous. Any disturbance — a misplaced step, exposure to the wrong air molecules, an uncontrollable sneeze — has the potential to leave the United States, and the rest of the world for that matter, without critical weather observations that save lives. If it successfully launches in November, the National Oceanic and Atmospheric Administration satellite will monitor things like hurricanes and blizzards from space with higher resolution than any other U.S. satellite of its kind. It will be a game-changer for weather forecasting. "Up. Up. Up," says the crane operator, breaking the otherwise silent focus of the room. The lid rises like a shoe box to reveal the satellite — called GOES-R — on its side and mounted to the container base…"
Photo credit: Lockheed Martin.
---

Iowa Utilities Board Approves Huge Wind Energy Project. Some staggering statistics and projects for renewables south of the border, courtesy of AP and KCRG.com: "The Iowa Utilities Board has approved a wind turbine operation it says will be the nation's largest wind energy project. Des Moines-based MidAmerican Energy is behind the planned $3.6 billion wind turbine operation that will generate up to 2,000 megawatts of electricity. MidAmerican Energy said that is enough 800,000 homes and the project will see 85 percent of the company's Iowa customer needs met through wind energy by 2020…"
---
Three Minnesota Sites Plan Future Net Zero Neighborhoods. Midwest Energy News has the story: "Three sprawling development sites in the Twin Cities that are expected to see thousands of new residents and billions in investment in the next decade are planning for a net-zero future. Each of the sites will likely feature district energy systems, encourage or require efficient buildings and be powered to a large degree by renewable energy. And each of them has an existing thermal heating and cooling source to meet the needs of new apartments, businesses and homes. In most cases the sites, which are in existing neighborhoods, will be densely developed and have transit options, as well as proximity to retail and business establishments…"
Photo credit: "The site of this former Ford assembly plant, now demolished, is among three locations around the Twin Cities being eyed for net zero (or close to it) development."
---
The EPA's Chance to Make Air Travel Greener. Here's an excerpt from Bloomberg View: "The Environmental Protection Agency's intention to limit greenhouse-gas emissions from airplanes may sound like a small thing. U.S. aircraft are responsible for just 3 percent of U.S. carbon dioxide emissions, and 0.5 percent of total emissions worldwide. In the U.S., coal-fired power plants generate almost seven times as much carbon dioxide as planes. But air travel grows by 5 percent a year, and by 2050, if nothing changes, the industry will consume more than one-quarter of the world's remaining "carbon budget" — the amount of CO2 that can be emitted without increasing global temperatures more than 1.5 degrees Celsius above pre-industrial levels..."
---
The Falling Costs of Solar Power, In 7 Charts. Dave Roberts has the story at Vox; here's a link and excerpt: "
The fate of the world depends on driving down the cost of solar power. Yes, that's a melodramatic way of putting it. But it's not wrong. Any scenario that has humanity avoiding the worst ravages of climate change involves explosive global growth in solar power. That's why the US Department of Energy has a program, the SunShot Initiative, devoted entirely to driving down the cost of electricity generated by solar panels — the target is solar power with $1 per watt installed costs by 2020, a 75 percent reduction in costs from 2010. So how's that going? Happily, Lawrence Berkeley National Laboratory (LBNL) releases a set of reports each year devoted to tracking solar prices; they've just released the latest editions. Long story short: Prices are steadily falling, more or less on schedule
…"
Graphic credit: LBNL.
---
The Inside Story of How Billionaires Are Racing To Take You to Outer Space. The Washington Post reports: "…Nearly five decades after the United States beat the Soviet Union to the moon, another space race is emerging, this time among a class of hugely wealthy entrepreneurs who have grown frustrated that space travel is in many ways still as difficult, and as expensive, as ever. Driven by ego, outsize ambition and opportunity, they are investing hundreds of millions of dollars of their own money in an attempt to open up space to the masses and push human space travel far past where governments have gone..."
Photo credit: NASA.
---
---
TODAY: Sticky sun, few T-storms. Winds: S 10-15. High: 86
MONDAY NIGHT: Few T-storms in the area. Low: 66
TUESDAY: Damp start, then rapid clearing. Winds: N 7-12. High: near 80
WEDNESDAY: Sunny, good day to visit the fair. Winds: NE 5-10. Wake-up: 59. High: 80
THURSDAY: Partly sunny, very comfortable. Winds: SE 5-10. Wake-up: 57. High: 77
FRIDAY: Hazy sun, more humidity in the air. Winds: S 10-15. Wake-up: 58. High: 79
SATURDAY: Warm sun, late T-storms. Winds: S 10-20. Wake-up: 60. High: 82
SUNDAY: Spurts of sun, few T-storms pop. Winds: S 7-12. Wake-up: 63. High: near 80
---
Climate Stories…
Farming,  Soil and Water, In The Time of Climate Change. Here's an excerpt from New England Public Radio: "…We got a lot of farmers calling us, asking for some information about transitioning  to no-till," Hashemi said, referring to a land practice of leaving fields unplowed, and planting crops on top of leftover vegetative matter from preceding crops. It's a practice researchers at many agriculture schools in the United States are preaching, to prevent soil erosion. The unturned earth can take on the qualities of a sponge. Even some states are pushing the practice. In Vermont, new mandates go into effect by the end of the year, meant to encourage no-till farming. While the state decision is more an attempt to keep fertilizers from leaching into lakes and rivers, no-till farming, Hashemi will tell you, is "sustainable farming…"
File photo: Nati Harnik, Associated Press.
---
Just 90 Companies Are To Blame for Most Climate Change, This "Carbon Accountant" Says. Here are a couple excerpts from Science AAAS: "…Heede is less well known than his fellow recipients, but his work is no less threatening to the fossil fuel industry. Heede (pronounced "Heedie") has compiled a massive database quantifying who has been responsible for taking carbon out of the ground and putting it into the atmosphere. Working alone, with uncertain funding, he spent years piecing together the annual production of every major fossil fuel company since the Industrial Revolution and converting it to carbon emissions….Heede's carbon accounting is already opening a new chapter in climate change litigation and policy, helping equip plaintiffs who believe they have suffered damages from climate change to claim compensation. "Rick's work really helps connect the dots," says Marco Simons, general counsel of EarthRights International, a Washington, D.C.-based legal group that defends the rights of the poor…"
Graphic credit: J. You/Science; (Data Source) Richard Heede.