A Highly Unusual September Soaking Into Tonight
The calendar insists it's September 4, but I'd swear it's June 4, staring out my rain-splattered window. Sheets of wind-driven water, pond-size puddles, a sluggish front draped overhead? September is having a serious identity crisis.
Today will be the wettest day of the week, with waves of rain surging across the southeastern third of Minnesota. Some 1-3 inch totals are possible in the metro, with up to 5 inches of rain (roughly 6-7 weeks worth of moisture) drenching southeastern Minnesota before skies finally dry out on Wednesday. And yes, this is a bit odd for early September.
Although the heaviest rains remain just south of Minnesota the latter half of the week, a few showers may brush southern counties, with daytime highs in the 70s.
Enjoy the cooling trend, because ECMWF models predict more 80s returning next week. Perpetual summer.
Meanwhile Tropical Storm Gordon is churning toward Mobile and New Orleans, and models hint at Hurricane Florence impacting the Carolinas the middle of next week.
Note to self: try not to complain about soggy shoes and road construction.
---
September Soaking. 2-3″ for the immediate Twin Cities metro with closer to 4″ south of MSP? I wouldn't rule it out, considering precipitable water values (2 to 3 times normal for early September). The heaviest rains will come tonight, when 1-2″ of rain may douse Minneapolis and St. Paul. Map: pivotalweather.com
---
---
Moderate Excessive Rainfall Potential
. The risk of rain intensity/amounts capable of sparking flash flooding is significant from southeastern Minnesota into western Wisconsin today and tonight. The amount of moisture in the air is off the chart (for early September). Quoting the discussion at NOAA:
Ahead of the front, a 30 to 40 knot low level southwest flow transports 2.00+ inch precipitable water air (which is between two and three standard deviations above the mean) across IA into southeast MN and central WI.
---
Rainfall Predictions. Models are all over the map, with anywhere from .4″ to over 2″ for MSP. Odds favor 1-2″ for the Twin Cities, with considerably more possible south/east of the metro area.
---
---
Praedictix Briefing: Issued Monday, September 3rd, 2018:
Tropical Storm Gordon formed this morning over the upper Florida Keys with sustained winds of 45 mph. Gordon is expected to move over the southern tip of Florida today before moving into the Gulf of Mexico. Gordon will continue to track to the northwest/west-northwest over the next several days. On this track, Gordon will approach the central Gulf Coast by

Tuesday

night as a tropical storm with at least 60 mph winds.
Gordon will bring gusty winds and heavy rain to parts of southern Florida and the central Gulf Coast over the next several days. Parts of the central Gulf Coast could receive 5-10" of rain through the end of the week.
Tropical Storm Warnings as well as Flood/Flash Flood Watches have been issued for southern Florida and parts of the central Gulf Coast, including Miami, Mobile and New Orleans. Storm Surge Watches are in effect from the Mississippi-Alabama border to the mouth of the Mississippi River.
We're also tracking Typhoon Jebi, which will make landfall

Tuesday

local time across southern Japan (far southwest of Tokyo) with damaging winds and heavy rain.
Heavy rain will also continue through at least the middle of the week across parts of the upper Midwest. Rainfall total of 2-4"+ will be possible, and Flash Flood Watches are in effect from Kansas to Illinois.
---
Tropical Storm Gordon. Potential Tropical Cyclone Seven formed yesterday evening between Cuba and the Bahamas, however as of an 8:05 AM special update from the National Hurricane Center this system was upgraded to Tropical Storm Gordon based off of surface observations and radar data. Gordon is bringing rain to parts of southern Florida this morning, with over 2″ falling at Homestead AFB over the past 12 hours. As of a special advisory issued at 8:30 AM, Gordon had sustained winds of 45 mph. The center of Gordon was about 20 miles west of Key Largo or 85 miles southeast of Marco Island and moving to the west-northwest at 17 mph.
---
Path Of Gordon. Gordon will continue to move away from Florida through the day into the overnight hours, continuing to the northwest/west-northwest over the next several days. By tomorrow morning, Gordon is expected to have sustained winds of 60 mph and at least hold at that strength through landfall sometime Tuesday Night/early Wednesday morning in southeastern Louisiana or southern Mississippi. There is some uncertainty in the intensity forecast, and adjustments are likely over the next several days. Gordon will weaken once it moves inland, becoming a post-tropical system by Saturday morning across parts of Oklahoma. This system will continue to produce gusty winds and heavy rain after landfall across parts of the lower Mississippi Valley and southern Plains.
---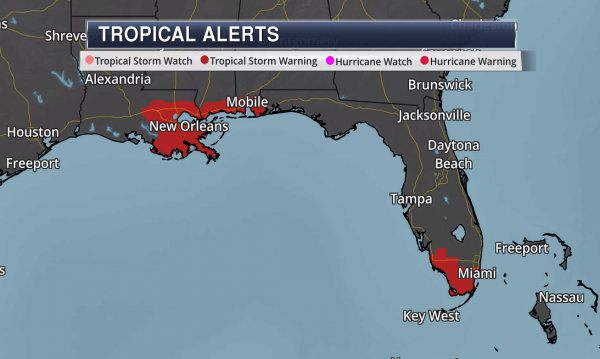 Tropical Storm Warnings. Due to Gordon, Tropical Storm Warnings are now in effect across southern Florida for the potential of wind gusts up to 45 mph. This Tropical Storm Warning includes Miami.
Meanwhile, along the central Gulf Coast, Tropical Storm Warnings have been issued across parts of southeastern Louisiana, southern Alabama, and southern Mississippi ahead of Gordon. This includes the cities of New Orleans, Baton Rouge, Biloxi, Gulfport, and Mobile. The best potential of tropical storm force winds will be Tuesday evening into Wednesday across the region.
Along coastal regions, here are where Tropical Storm Warnings are in effect according to the National Hurricane Center:
A Tropical Storm Warning is in effect for…
* Golden Beach to Bonita Beach
* Craig Key to Ocean Reef, including Florida Bay
* Alabama-Florida border westward to east of Morgan City, Louisiana, including Lake Pontchartrain and Lake Maurepas.
---
Tropical Storm Force Wind Arrival Time. Tropical storm force winds will continue to be possible across parts of southern Florida throughout the day before Gordon finally pushes away. As the system continues northwest, tropical storm winds will continue to spread toward the northern Gulf Coast, impacting areas like the western panhandle of Florida into southern Alabama Tuesday, then into the New Orleans and Baton Rouge areas Tuesday night.
---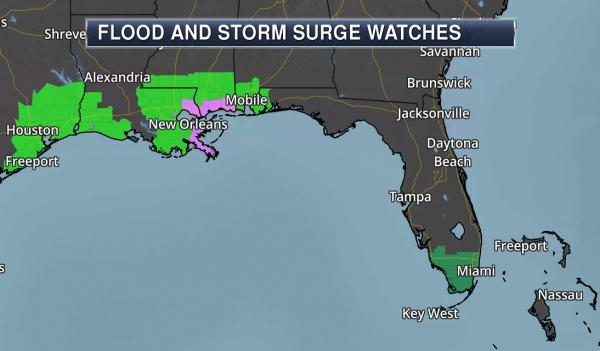 Flood And Storm Surge Watches. Numerous Flood Watches and Storm Surge Watches are in effect across parts of the Gulf Coast due to Gordon. Breaking down the graphic above:
Flood Concerns:

Flood Watches are in effect across southern Florida through this evening for the potential of 2-4″ of rain.
Flash Flood Watches are in effect across eastern Louisiana, southern Alabama, southern Mississippi, and far western Florida from

Tuesday

through

Wednesday

due to the potential of heavy rain from Gordon. Rainfall totals of 2-6" are expected, with isolated higher amounts possible.
Flash Flood Watches across southeast Texas and southwest Louisiana are not connected to Gordon. They are in effect through the evening hours today for the potential of 3-10" of rain. This watch does include Houston.
We are also watching the potential of storm surge flooding with Gordon as well, and Storm Surge Watches are in effect in purple above for parts of Louisiana and Mississippi. Along the coast, those Storm Surge Watches are in effect from the Mississippi-Alabama border westward to the mouth of the Mississippi River.
---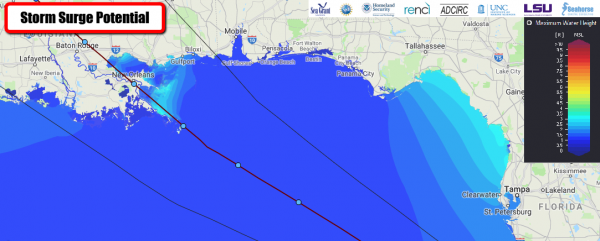 Storm Surge Potential. A storm surge of up to 4 feet will be possible depending on the timing of the surge and tide cycle across parts of the northern Gulf Coast as Gordon approaches. Storm surge flooding occurs when rising waters move inland, causing normally dry areas to be flooded.
Here's a storm surge potential breakdown from the National Hurricane Center:
Destin Florida to the Mississippi-Alabama border…1 to 2 ft.
Mississippi-Alabama border to the Mouth of Mississippi River…2 to 4 ft
Mouth of the Mississippi River to the Louisiana-Texas border…1 to 2 ft
---
Flood Potential Wednesday. Due to the potential of heavy rain from Gordon Wednesday across parts of Louisiana and Mississippi, the Weather Prediction Center has issued a Moderate Risk of excessive rainfall that could lead to flash flooding. Hourly rainfall amounts of up to 2" will be possible, and total amounts of 5-10" could fall along the path this system. Map: NOAA.
---
Jebi On Satellite. Out in the western Pacific, Typhoon Jebi continues to approach southern Japan with the potential of damaging winds and heavy rain. Jebi continues to weaken, and as of Monday evening local time the system had estimated sustained winds of 110 mph (the equivalent of a Category 2 hurricane) and was moving to the north-northwest at 13 mph.
---
Jebi Forecast Track. Jebi will continue to move north to northeast over the next couple days and is expected to make landfall near Kobe on Tuesday as a typhoon. Even though some additional weakening prior to landfall is expected, Jebi is still expected to have sustained winds of 90 mph by Tuesday afternoon. Damaging winds and heavy rainfall leading to flooding and mudslides are possible from Jebi in Japan – this includes Tokyo, though the greatest risk will be to the west and southwest. Map: AerisWeather.
---
Forecast Rain Potential. There is still the potential that 6-12″+ of rain could fall along the path of Jebi over the next three days. This heavy rain will increase the potential for flooding and mudslides across the hardest hit areas.
---
Midwest Rain Forecast. Additional rounds of heavy rain are likely over the next several days across parts of the upper Midwest, particularly from Kansas into Wisconsin, due to several systems moving through the region. Rainfall totals from now through Wednesday evening of at least 2-4″ will be possible. Due to recent heavy rains, some flooding is already ongoing across the region, and any additional rain will make the situation worse. Map credit: Praedictix and AerisWeather.
---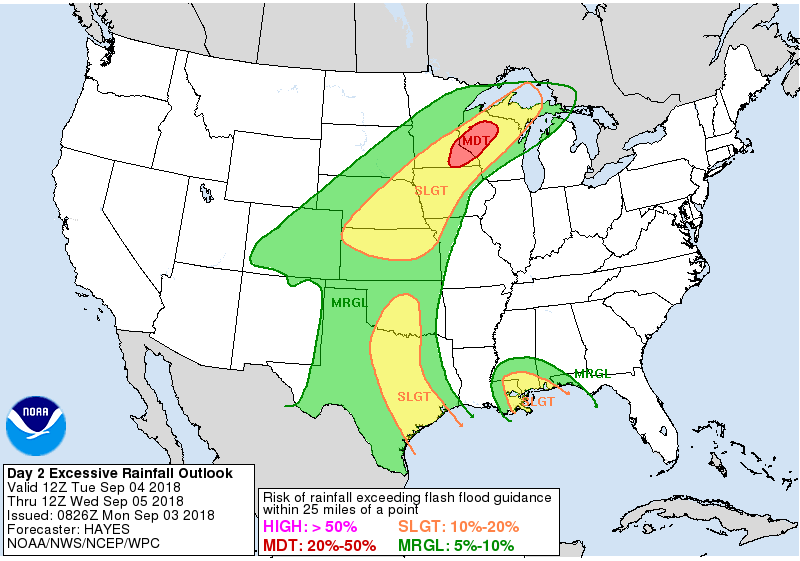 Excessive Rain Threat Tuesday. Due to the potential of heavy rain Tuesday and Tuesday Night across parts of the upper Midwest, the Weather Prediction Center has issued a Moderate Risk of excessive rainfall that could lead to flash flooding. That highest threat area is positioned from southwestern Minnesota into western Wisconsin.
---
Flash Flood Watches. As of Monday morning, Flash Flood Watches were in effect from Kansas into northern Illinois. I would not be surprised if additional watches are issued across parts of Minnesota and Wisconsin over the next several days due to the heavy rain threat.
D.J. Kayser, Meteorologist, Praedictix.
---
---
---
---
---
September Heat Wave Continues for Much of America into mid-September. Looking out 2 weeks GFS guidance keeps a heat-pump high over the southwest and southcentral USA, with puffs of cooler air breaking up the hot, sticky monotony for the northern tier of the nation.
---
Why You Can Smell Rain – Even Though Its Odorless
. The Conversation and
Popular Science
explain what's really going on: "
When those first fat drops of summer rain fall to the hot, dry ground, have you ever noticed a distinctive odor? I have childhood memories of family members who were farmers describing how they could always "smell rain" right before a storm. Of course rain itself has no scent. But moments before a rain event, an "earthy" smell known as petrichor does permeate the air. People call it musky, fresh—generally pleasant. This smell actually comes from the moistening of the ground. Australian scientists first documented the process of petrichor formation in 1964
…"
Photo credit: "Your nose knows what's on the way." Lucy Chian/Unsplash, CC BY.
---
One Top-10 List I'm Glad Minnesota Isn't On. "They love us – they really do LOVE us!" I had to chuckle after reading a recent (glowing) review of the Minnesota State Fair by a New York Times reporter. As much as we enjoy being tucked away in a quiet corner of fly-over country, Minnesotans (myself included) tend to bristle at negative reviews of our fair state. Here's one list I'm glad we're not on: America's 10 Most Disaster-Prone States. California is number 1, due to the frequency of quakes, floods and fires. Then comes Texas, Oklahoma, Washington State and Florida. Arizona came in 21st (fire risk) and Iowa 24th (frequent floods). We didn't show up in the Top 25, in spite of our hearty winters, icy commutes and occasional tornadoes. Those cold fronts have a way of immunizing Minnesota from some of the worst weather on Earth.
---
America's 10 Most Disaster-Prone States. This is one list you don't want to be on, and I'm happy to report that Minnesota is not on this list. US News has the report.
---
State of Emergency: The Most Disaster-Prone States in the U.S. Doug Whiteman at MoneyWise has more perspective on risk related to natural disasters: "It's a question raised by Americans thinking about relocating or retiring: Where can I go where I won't have to worry about disasters like hurricanes, earthquakes, tornadoes or wildfires? Here's an answer: Not any of these states. Though no place is completely safe, the states on this list get hit by nature more than others. They're the ones where presidents have declared the most major disasters. We've looked at Federal Emergency Management Agency (FEMA) records that go back 65 years and were current as of mid-July 2018. If you live in one of these states, make sure you have enough insurance..."
---
Is California Becoming Unlivable? The New Republic asks the question; here's an excerpt: "…California is already a fairly risky place to live compared to the rest of the country. It contains eight of the ten most air-polluted cities in the United States; air pollution can trigger asthma and premature death, and research published Monday shows it can reduce intelligence, too. California also ranks number one on U.S. News and World Report's list of disaster-prone states, with 281 major natural disasters since 1953. (Texas and Oklahoma are second and third, with 255 and 173 disasters, respectively.) The disaster ranking is due in part to the sheer diversity of catastrophes California regularly faces: earthquakes, wildfires, mudslides, flooding, and winter storms. And this summer alone has provided a case study on how disasters affect livability. The ongoing wildfire season has yet again broken multiple records—including California's largest blaze on record—affecting air quality in cities dozens of miles away…"
---
"Hunger Stones" Reveal Ancient Warnings in Europe. Big Think reports: "…Boulders inscribed with messages like "Wenn du mich siehst, dann weine" (If you see me, weep) are becoming visible as the Elbe's water line drops; it has reached stunning lows as a result of the current drought. The stones warn of bad harvests, starvation, and high food prices alongside lists of previous droughts going back to 1417. Another stone in Germany says "If you will again see this stone, so you will weep, so shallow the water was in the year 1417." A dozen of these rocks are becoming visible all over central Europe, warning those who see them of woe. Hunger stones are rocks marked to show when the water level in a river has gotten low enough to signify disaster is at hand…"
Photo credit: "A hunger stone made visible by a low water level." (Photo: Norbert Kaiser / Creative Commons)
---
Jaguar's New Electric SUV Demands a New Kind of Car Review. Yes, I'm a Tesla groupie, but I'm keeping my eyes wide open. There are some amazing, new (electric) options emerging, as highlighted at WIRED.com: "I'm 40 feet from the Jaguar, mint chocolate chip ice cream dripping down the cone onto my fingers, when I hear the purring from under the hood. Strange, I think. First off, the car is parked. Second, it doesn't have an engine. It's only after a moment that I realize the sound is the car defending itself against the brutality of a summer day in Southern California's Coachella Valley. The fast charger I've plugged into the car is ramming in electrons, heating up the battery pack. Add 100-degree weather on top of that, and you see why the fan is running at full pelt. It's making sure the I-Pace, Jaguar's first all-electric car and a serious challenger to Tesla's EV dominance, remains a cool cat…"
Photo credit: "Starting at $69,500, the all-electric I-Pace runs from naught to 60 mph in 4.5 seconds, with 394 horsepower and 512 pound-feet of torque going to all four wheels. But that's not what's important here." Jaguar.
---
Harley-Davidson Needs a New Generation of Riders. What do you think of an electric "Hog"? I stopped out at the Harley booth at the Minnesota State Fair on Thursday and the local salesguy mentioned that it's coming out in 2020; a few may be available by late 2019. Here's a clip from Bloomberg: "…In the next few years, Harley will release more than a dozen motorcycles, many of them small, lightweight, even electric. The new Harleys are intended to reverse years of declining sales and appeal to a new rider: young, urban, and not necessarily American. Harley wants international riders to be half its business in the next 10 years. "We are turning a page in the history of the company," says Matthew Levatich, chief executive officer. "We're opening our arms to the next generation..."
---
Logged Off: Meet the Teens Who Refuse to Use Social Media. Fluke or trend? The Guardian reports: "...It is widely believed that young people are hopelessly devoted to social media. Teenagers, according to this stereotype, tweet, gram, Snap and scroll. But for every young person hunched over a screen, there are others for whom social media no longer holds such an allure. These teens are turning their backs on the technology – and there are more of them than you might think. While many of us have been engrossed in the Instagram lives of our co-workers and peers, a backlash among young people has been quietly boiling. One 2017 survey of British schoolchildren found that 63% would be happy if social media had never been invented…"
Photo credit: "Mary Amanuel, who does not use social media." Photograph: Alecsandra Raluca Drăgoi for the Guardian.
---
Talk is Cheap: The Myth of the Focus Group. The Guardian has a fascinating story; here's a clip: "… If so, the focus group is a fitting ritual for our market democracy, in which political and commercial success accrues to those who can win our votes and our consumer dollars. It also teaches us to reveal just what the corporate and political elites need us to reveal for these specific persuasive projects, and helps us to play our assigned roles in a society where only a few people hold real power. But what if focus groups have also been part of a process in which citizenship has been reduced to consumerism – a set of choices made passively, under constraint? Focus groups reveal our desires – for a better life, for participation, for power, to be heard – but do they also limit them? Perhaps it is a process through which our aspirations become much smaller. We talk, we feel perhaps that someone has listened, and we demand nothing more..."
Illustration credit: Leon Edler.
---
Trump-Era Politics Creates Turmoil, Firings, and Sometimes Great Ratings For Entertainers. The Washington Post reports: "…Late-night TV viewers are "making their decisions based on what's happening in the White House," said Rick Ludwin, who ran NBC's late-night programming for years. A year and a half into the Trump presidency, entertainment companies are grappling with a fan base that is splintering into political factions as never before. Whether in regard to explicitly political entertainment or the rapidly multiplying number of entertainers who talk about politics, Americans appear to be increasingly figuring ideology into their Hollywood ­choices…"
Photo credit: "The Tonight Show" host Jimmy Fallon said in his June 25 monologue that President Trump "went after" him on Twitter." (Allie Caren/The Washington Post)
---
1 in 50 Odds of Finding Love on an Airline Flight? I'm just happy if I can find a little bag of peanuts and a 10 minute nap. Here are a couple of excerpts from CNN.com: "…A new study from British bank HSBC suggests that 1 in 50 airplane passengers meet the love of their life on board an aircraft. The other 49, presumably, just annoy the heck out of each other as they travel….However HSBC's study reveals that over half of airplane passengers have struck up a conversation with a stranger on a plane. It's not just romantic relationships that are born in the skies. The findings suggest that one in seven fliers makes a lasting friendship while flying while 16% add a new business connection to their network…Some 37% of people hate it when passengers take up too much space in the overhead locker, 32% get mad if someone uses the arm rest. Falling asleep on someone's shoulder (30%) and snoring (26%) are also buzz kills…"
---
Man Mauled by Bear, Bitten by Rattlesnake Now Attacked by a Shark. Remind me not to hang with this guy, as reported by KUSA and KXAN.com: "Dylan McWilliams is either the unluckiest guy in the world — or the luckiest.  "I don't know, I think I'm just lucky in unlucky situations," the 20-year-old Colorado resident says. McWilliams is currently in Hawaii, for what was supposed to be a two-week long vacation full of beach time and surfing. On Thursday, he said paddled out into the waters off the south shore of Kauai, then something hit his leg. "I was looking around and saw a lot of blood and I saw a shark underneath me," he said. "I started kicking at it… and swam as fast as I can to shore." He was several dozen yards out from the beach and by himself. Other surfers were in the water a distance away. "The scariest part was just swimming back," he said…"
---
76 F. high in the Twin Cities on Labor Day.
77 F. average high on September 3.
85 F. high on September 3, 2017.
September 3, 1970. During the early evening hours, in the midst of a severe hailstorm at Coffeyville KS, a stone 17.5 inches in circumference and nearly two pounds in weight was recovered. It was the largest measured hailstone in U.S. weather records. Average stone size from the storm was five inches in diameter, with another stone reportedly eight inches in diameter.
September 3, 1821. A hurricane made landfall at Long Island, near Kennedy Airport, then moved through western Connecticut. The hurricane produced a record tide at New York City.
September 4, 1992: Early morning storms result in 3/4 to 1 3/4 inch hail in Hennepin, Dakota, Rice and Goodhue Counties.
September 4, 1941: A batch of tornadoes hits Minneapolis, New Brighton, and White Bear Lake, killing six people.
September 4, 1925: The third consecutive day of 95 degrees or above occurs in the Minneapolis area.
---
---
TUESDAY: Heavy rain, storms. Minor flooding possible. Winds: SW 10-15. High: 77
TUESDAY NIGHT: More heavy rain. Lingering flood risk. Low: 62
WEDNESDAY: Damp start, then slow clearing. Winds: N 8-13. High: 72
THURSDAY: Partly sunny and comfortable. Winds: E 7-12. Wake-up: 55. High: 75
FRIDAY: Clouds increase – cool breeze. Winds: SE 7-12. Wake-up: 54. High: 74
SATURDAY: Sunshine north, few showers far south. Winds: SE 7-12. Wake-up: 57. High: 73
SUNDAY: Mostly cloudy, isolated shower? Winds: SE 7-12. Wake-up: 58. High: 75
MONDAY: Sticky again, stray T-shower. Winds: S 8-13. Wake-up: 63. High: 81
---
Climate Stories…
Hothouse Earth is Merely the Beginning of the End.
In case you missed the Jeff Goodell article at
Rolling Stone
: "…
In Lovelock's view, the scale of the catastrophe that awaits us will soon become obvious. By 2020, droughts and other extreme weather will be commonplace. By 2040, the Sahara will be moving into Europe, and Berlin will be as hot as Baghdad. Atlanta will end up a kudzu jungle. Phoenix will become uninhabitable, as will parts of Beijing (desert), Miami (rising seas) and London (floods). Food shortages will drive millions of people north, raising political tensions. "The Chinese have nowhere to go but up into Siberia," Lovelock says. "How will the Russians feel about that? I fear that war between Russia and China is probably inevitable." With hardship and mass migrations will come epidemics, which are likely to kill millions. By 2100, Lovelock believes, the Earth's population will be culled from today's 6.6 billion to as few as 500 million, with most of the survivors living in the far latitudes – Canada, Iceland, Scandinavia, the Arctic Basin…"
Photo credit: "A 747 Global Airtanker makes a drop in front of advancing flames from a wildfire Thursday, August 2nd, 2018, in Lakeport, California." Kent Porter /The Press Democrat/AP.
---
---
Climate Change Projected to Boost Insect Activity and Crop Loss.
New research highlighted at
Stanford University
: "…
But new research is showing that climate change is expected to accelerate rates of crop loss due to the activity of another group of hungry creatures — insects. In a paper published Aug. 31 in the journal Science, a team led by scientists at the University of Washington (UW) reports that insect activity in today's temperate, crop-growing regions will rise along with temperatures. Researchers project that this activity, in turn, will boost worldwide losses of rice, corn and wheat by 10-25 percent for each degree Celsius that global mean surface temperatures rise. Just a 2-degree Celsius rise in surface temperatures will push the total losses of these three crops each year to approximately 213 million tons. "We expect to see increasing crop losses due to insect activity for two basic reasons," said co-lead and corresponding author Curtis Deutsch, a UW associate professor of oceanography. "First, warmer temperatures increase insect metabolic rates exponentially. Second, with the exception of the tropics, warmer temperatures will increase the reproductive rates of insects. You have more insects, and they're eating more
…"
---
How Much Hotter Is Your Hometown Than When You Were Born?
The New York Times
has an interactive URL where you type in your town and when you were born to see the trends: "
As the world warms because of human-induced climate change, most of us can expect to see more days when temperatures hit 90 degrees Fahrenheit (32 degrees Celsius) or higher. See how your hometown has changed so far and how much hotter it may get
…"
---
NASA Discovers Bubbling Lakes in the Remote Arctic – A Sign of Global Warming
. Here's an excerpt at
Forbes
: "
NASA has released videos of bubbling lakes in the remote Arctic tundra, where warming continues to release greenhouse gases into the atmosphere at unprecedented rates. The international research team, funded by NASA as part of their Arctic-Boreal Vulnerability Experiment (ABoVE), recently published their results in Nature Communications. What they found are bubbling lakes as greenhouse gases are released from the previously frozen ground, leading to increased greenhouse gas emissions and a warming positive feedback. The Arctic is one of the largest natural reservoirs of organic carbon, trapped within the frozen soils. If a tree dies, say in the Amazon rainforest, it is quickly eaten (rot) away by bacteria, which respire the same as humans. As bacteria eat the tree they inhale oxygen and release carbon dioxide.
.."
Video credit
: "Greenhouse gases bubble from Arctic lakes.
" NASA.
---
Algae Bloom in Lake Superior Raises Worries on Climate Change and Tourism. The New York Times has more details: "In 19 years of piloting his boat around Lake Superior, Jody Estain had never observed the water change as it has this summer. The lake has been unusually balmy and cloudy, with thick mats of algae blanketing the shoreline. "I have never seen it that warm," said Mr. Estain, a former Coast Guard member who guides fishing, cave and kayak tours year-round. "Everybody was talking about it." But it was not just recreational observers along the shores of the lake who noticed the changes with concern. Lake Superior, the largest of the Great Lakes with more than 2,700 miles of shoreline, is the latest body of water to come under increased scrutiny by scientists after the appearance this summer of the largest mass of green, oozing algae ever detected on the lake…"
Photo credit: "Scientists collecting samples of the algae. Lake Superior is one of several major bodies of water where algae blooms have drawn scientific scrutiny." Credit: Brenda Moraska Lafrancois.