Nicest Weather in the USA? Amazingly – Not Here
No massive wildfires, floods, heat waves, earthquakes or volcanic eruptions are imminent close to home. I'm grateful for small favors. A little heat and humidity returning? Yes. But compared to much of the planet, Minnesota has gotten off easy this year – with the possible exception of that pesky mid-April blizzard.
Let's see how long our luck holds out.
Anchorage climate scientist Brian Brettschneider calculates the Twin Cities enjoy an average of 46 "nice days" every year (warm & dry with light winds). That compares with 39 nice days in New York City, 68 in Las Vegas and 182 in Los Angeles.
And yes, this is subjective. Many would argue that 30F, blue sky and fresh snow is the definition of "nice weather".
Thunder-wear remains optional into the weekend as a weak bubble of high pressure stalls over the Midwest. In fact I don't see any rain until a slight thunder risk next Tuesday.
Enjoy upper 80s to near 90F, because models are hinting at a real cool front the weekend of August 18-19, with highs in the 60s & 70s.
Enjoy these nice days. Not LA-nice, but nice enough.
---
Nicest Weather in America? We can debate this until the cows come home. Yes, it's subjective. Many Minnesotans fervently believe that 30F with fresh snow and light winds is "nice weather". Who am I to disagree? Brian Brettschneider, a climate scientist based in Anchorage, wrote a fascinating story at Capital Weather Gang: "…While it's admittedly hard for even two people to agree on what ideal weather is, we've made an attempt to set up some goal posts and determine what parts of the United States have the most days with nice weather and which have the least. The criteria we used make the assumption that people prefer days with moderately warm temperatures, at least partial sunshine, a light breeze, low humidity and no precipitation. In other words, we're highlighting comfortable days that don't require a jacket, when you don't feel like you're stepping into a sauna, and when you won't get poured on or blown away…"
---
Nice Weather Index. Not surprisingly, the far west and southeast scored best (if you like it mild, sunny and dry, with light winds). Map credit: Brian Brettschneider.
---
More Dog Days. A north breeze drops humidity levels a bit today, but ECMWF predicts highs at or just above 90F over the weekend in the metro area. Yesterday was the 14th day at or above 90F this year (average for MSP is 13 days) and more 90-degree days are likely. Graphic: WeatherBell.
---
Moderately Warm. The hottest air remains just south of Minnesota into the 3rd week of August; California's wildfire season will almost certainly worsen as we push into September.
---
Mosquito Risk Increasing With Warming Temperatures. A longer growing season sounds great. Mosquitoes tend to agree. Here's an excerpt from Climate Central: "…The number of days each year that are suitable for disease transmission by mosquitoes is rising in much of the U.S., as temperatures climb with climate change. This can increase the risk of mosquito-borne diseases such as Zika and West Nile. Following research from Stanford University, Climate Central analyzed the number of days in the spring, summer, and fall each year with an average temperature between 61°F and 93°F, which is the range for transmission of diseases spread by Aedes or Culex type mosquitoes. Of the 244 cities analyzed, 94 percent are seeing an increase in the number of these "disease danger days." Reno leads the list of cities with additional disease danger days, averaging an additional 52 days per year in that temperature range compared to a half-century ago…"
---
---
---
Invasive Algae Found in West Metro Lake. Here's an excerpt of a post at Patch.com: "The Minnesota Department of Natural Resources has confirmed the invasive algae starry stonewort in Hennepin County's Medicine Lake. This is the first new confirmation of starry stonewort in Minnesota in 2018. There are now 12 lakes in Minnesota where starry stonewort has been confirmed. A DNR-trained Three Rivers Park District watercraft inspector recognized starry stonewort on a boat propeller and notified the DNR… Starry stonewort has never been eradicated from any U.S. lake, but treatment can help reduce the risk of spread and provide nuisance relief for water-related recreational activities…"
---
---
---
Praedictix Briefing: Issued Wednesday, August 8th, 2018:
While Hurricane Hector will mainly pass south of the Big Island of Hawaii today, the northern side of the system could brush parts of the state with tropical storm force winds and heavy rain.
In the western Pacific, Typhoon Shanshan will bring Japan heavy rain and gusty winds

Thursday

, meanwhile, Tropical Storm Yagi could impact Shanghai early next week.
Wildfires continue to burn across California, with the largest being the Mendocino Complex and the Carr Fire. Fire Weather Watches are in effect across northern California

Thursday

through

Saturday

for the potential of wind gusts up to 35 mph.
---
Hector On Satellite. Hurricane Hector continues to be a powerful hurricane as of early Wednesday morning, with the center of circulation sitting 290 miles southeast of Hilo, HI. The system has sustained winds of 125 mph and was moving to the west at 16 mph.
---
Hector Path. Hector will continue to move to the west through the end of the week before turning more northwest. On this path, the center of Hector will pass south of the Big Island of Hawaii later today by about 150 miles, and south of the rest of the islands today and Thursday. Gradual weakening is expected to continue into the weekend, but Hector is expected to remain a major hurricane through Saturday.
---
Tropical Storm Warning. While the bulk of Hector will pass south of Hawaii, we will still see some impacts on the Big Island due to the northern fringes of the system. The impacts will mainly be in the form of gusty winds and high surf, although some pockets of heavier rain are possible. Due to the potential of gusty winds topping tropical storm force (39+ mph) a Tropical Storm Warning is in effect for the Big Island.
---
Tropical Storm Wind Probabilities. The highest probability of winds that could reach tropical storm force will mainly remain south of the Hawaiian Islands. However, there is the chance that at least a few wind gusts of 39+ mph will be possible today across the Big Island. Map: NOAA.
---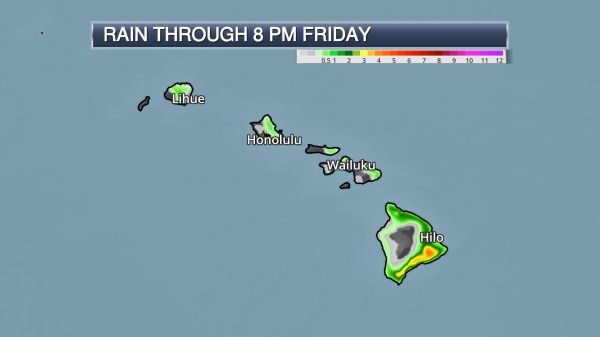 Rainfall Forecast. Generally rainfall amounts of 1-3" are expected across the Big Island of Hawaii as Hector passes south. However, some pockets of heavier rain are possible, and that could lead to localized flash flooding. The Honolulu office of the National Weather Service says that the best potential of heavy rain would be across the Puna, Kau, North Hilo, and South Hilo Districts.
---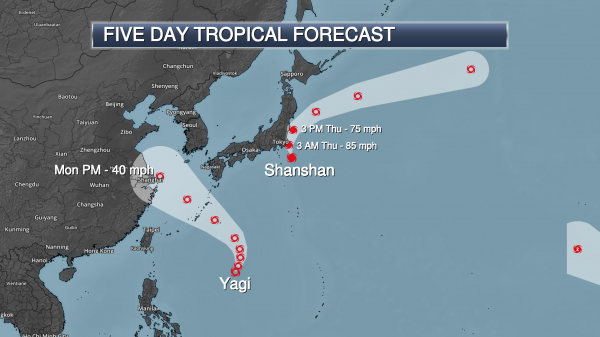 Western Pacific Troubles. We are also watching two systems out in the western Pacific – Shanshan and Yagi. Map credit: AerisWeather and Praedictix.
Typhoon Shanshan will bring parts of Japan – including Tokyo – the potential of gusty winds and heavy rain through

Thursday

local time as the system approaches the eastern Japan coast before turning back to the east. Tokyo could see wind gusts of 40-50 mph with rainfall amounts of 2-4".
Tropical Storm Yagi could approach Shanghai early next week; however, this system is expected to remain weak with winds only around 40 mph by

next Monday

.
---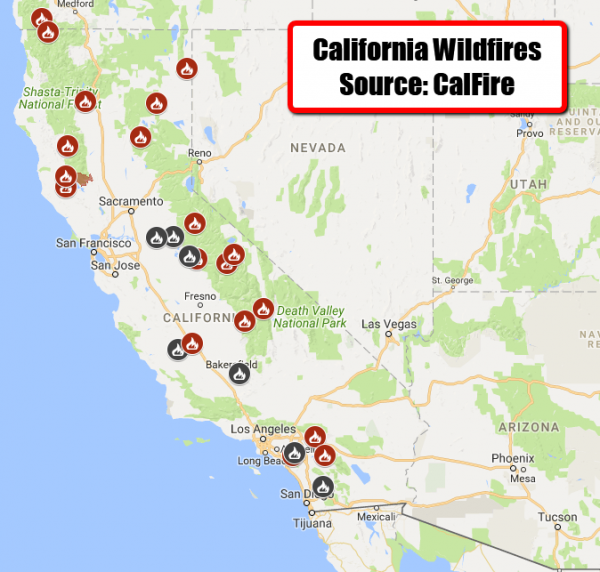 California Wildfire Update. Numerous wildfires continue to burn across the state of California as of Wednesday morning. While smoky skies helped firefighting efforts in some areas Tuesday, hot, windy and dry conditions will continue to pose issues for firefighters. Here's an update on some of the larger fires across the state:
Mendocino Complex: Burning east of Ukiah, the two fires that make up this complex (the Ranch and River Fires) now have burned a combined 300,086 acres and is 47% contained. The Mendocino Complex is now the largest recorded California wildfire in history, surpassing the Thomas Fire from last December. Just the Ranch Fire alone has burned 251,166 acres. Some new mandatory evacuations were declared yesterday. CalFire has more on the Ranch Fire and River Fire.
Carr Fire: Burning near Redding, the Carr Fire is now up to 173,522 acres and 47% contained. It is (so far) the 12th largest wildfire in California history. Repopulation efforts are occurring as conditions allow. CalFire has more on the Carr Fire.
---
Red Flag Warnings. Red Flag Warnings continue until 10 PM tonight over the Los Angeles County Mountains due to gusty north winds up to 30 mph (with the strongest winds expected during the afternoon and evening hours) and low humidity values. Any fires that form could quickly spread.
---
Fire Weather Watches. A new system will pass through northern California late this week, bringing an increased threat of wind gusts potentially up to around 35 mph. Due to the potential of strong wind gusts later this week Fire Weather Watches are in effect Thursday afternoon through Saturday evening for areas including the Mendocino Complex and Carr Fire.
D.J. Kayser, Meteorologist, Praedictix
---
WILDFIRES: Climate Nexus reports: "California fire now the largest in state history: 'people are on edge' (New York Times $, Washington Post $), as Trump tweets about California fires, his administration wants to expand logging (LA Times $), biggest blaze in California history challenges firefighters (AP), battling 18 blazes, California may face worst fire season (AP), Mendocino fire reaches record size as California faces 'long road ahead' (New York Times $), are devastating wildfires a new normal? "It's actually worse than that," climate scientist says (CBS), what these wildfires say about climate change (WBUR), milder temperatures help firefighters gain on massive California wildfire (Reuters), Trump says he is monitoring California wildfires (Bloomberg), biggest blaze in California history challenges firefighters." (LA Times $)
---
Towing Antarctic Icebergs to Sustain the World's Thirstiest Regions? A story at NBC News made me do a double-take: "From Miami to Bangalore, India, to Cape Town, South Africa, some of the world's biggest cities are facing a shortage of drinking water. But now an engineering firm in the Middle East is moving forward with an audacious scheme that has been discussed since at least the 1970s: tow icebergs thousands of miles from Antarctica to water-starved regions, where the ice would be brought ashore and used to produce huge amounts of fresh drinking water…"
File image: Wikimedia Commons.
---
Autonomous Sailing Drones Help Researchers Forecast Extreme Weather. A story at CNBC.com caught my eye: "Oceanic researchers are turning to autonomous sea drones to help them forecast extreme weather and understand the world's changing weather patterns. The 23-foot-long drones are made by Bay Area start-up Saildrone. Each Saildrone can be outfitted with a number of different sensors that it uses to gather and transmit real-time measurements on metrics including temperature, wind, humidity, solar radiation and weather patterns. The National Oceanic and Atmospheric Administration is gathering data from two Saildrones that are heading back to California from a voyage across the Pacific Ocean. The goal is to measure the accuracy of the data compared with conventional methods…"
---
World's Biggest Oil Exporter is Betting $2 Billion on Electric Cars. Smart to hedge your bets. Here's an excerpt of a post at ThinkProgress: "…The Financial Times reported Tuesday that Saudi Arabia has acquired an "undisclosed stake of between 3 and 5 per cent of Tesla's shares this year." The position is worth some $2 to $3 billion, making the Saudis "one of Tesla's largest shareholders." In other words, the world's biggest oil exporter — whose entire economy is built around more than $100 billion in oil and oil-related exports a year — has placed a massive bet on the company whose entire goal is transitioning the world off of oil. The investment came from Saudi Arabia's $230 Public Investment Fund (PIF), which is the Saudi's "sovereign wealth fund" — a state-owned investment vehicle..."
File image: Tesla.
---
---
It's American Wind Week. Let's Celebrate! Here's an excerpt of a good primer on why wind energy is an important and growing part of the energy sector in the USA from windonthewires.org: "…With our competitive resource advantage and innovative technologies, America is leading the world in powering our lives with clean, low-cost wind power. Wind energy is the cheapest source of new electric generating capacity in many parts of the country. It has emerged as a job-creating engine in our nation. Wind energy now employs over 105,000 Americans in farming, factory, and port communities across all 50 states. We're proud to help put America back to work, and even more proud to hire our nation's veterans at a rate 72 percent higher than the national average. Wind turbine technician is one of the fastest growing careers in the country. Wind turbines are made up of over 8,000 components, and a majority of these are made in one of 500 U.S. factories in the wind industry supply chain. These family-supporting careers have helped to boost the U.S. economy, too..."
File image: Xcel Energy.
---
Coal Consumption Reached Its Lowest Level in 35 Years in 2017. Daily Energy Insider has an update: "Coal consumption for the electric power sector demanded 661 million short tons (MMst) of coal in 2017, reflecting the lowest level since 1983, according to a report released by the U.S. Energy Information Administration (EIA). Further, 2017 was the fourth straight year that U.S. coal consumption, as well as coal shipments by all modes of transportation, dropped. Specifically, about 70 percent of the coal consumed in was shipped either entirely or in part by rail. The other 30 percent was a combination of river barges, trucks, and other methods. Coal consumption in 2017 was 36 percent lower than it was in 2008 when U.S. coal production reached its highest level..."
File photo: Matthew Brown, AP.
---
Young Athletes Should Stay Hydrated, but Too Much Water Can Be Deadly. Turns out too much water can be as dangerous as not enough. CNN.com explains: "When high school football player Walker Wilbanks died in Mississippi in August 2014 from overhydration, the doctor said that the cause of death was an "unpredictable freak occurrence." Two weeks prior, another high school football player from Georgia drank "two gallons of water and two gallons of Gatorade" after football practice to prevent muscle cramps and then died… Hyponatremia is caused by drinking too much water or sports drinks, which dilutes blood salt levels below the normal range. Any sudden drop in blood salt levels, from drinking more than the body can excrete, can cause all cells in the body to swell…"
---
Would You Consider Cloning Your Dog? Yes, but can they recreate my dog, Leo's, amazing personality? Apparently no guarantees there. Vanity Fair has the vaguely disturbing story: "Barbra Streisand is not alone. At a South Korean laboratory, a once-disgraced doctor is replicating hundreds of deceased pets for the rich and famous. It's made for more than a few questions of bioethics… over the past decade, the company has cloned more than 1,000 dogs, at up to $100,000 per birth. "Yes, cloning has become a business," says Wang. If a dog owner provides DNA from a deceased pet quickly enough—usually within five days of its death—Sooam promises a speedy replacement. "If the cells from the dead dog are not compromised," Wang explains, "we guarantee you will get a dog within five months..."
---
A Neuroscientist Who Studies Rage Says We're All Capable of Doing Something Terrible. Blame it on evolution, according to a post at Quartz: "…David Buss, professor of psychology at the University of Texas-Austin,  surveyed 5,000 people for his book, The Murderer Next Door: Why the Mind is Designed to Kill, and found that 91% of men and 84% of women had thought about killing someone, often with very specific hypothetical victims and methods in mind. The terrifying reality is that we're biologically predisposed to violence in certain situations. Douglas Fields, neuroscientist and author of the book Why We Snap, says our brains have evolved to monitor for danger and spark aggression in response to any perceived danger as a defense mechanism. "We all have the capacity for violence because in certain situations it's necessary for our survival," he says. "You don't need to be taught defensive aggression, because it's a life-saving behavior that's unfortunately sometimes required…"
Image credit: "Stress makes us more susceptible to rage." BEN SMITH/FLICKR/CC 2.0.
---
10 Years After the Crash, We Are Still Living in the World It Brutally Remade. Frank Rich has an eye-opening story at New York Magazine: "...The mood in America is arguably as dark as it has ever been in the modern era. The birthrate is at a record low, and the suicide rate is at a 30-year high; mass shootings and opioid overdoses are ubiquitous. In the aftermath of 9/11, the initial shock and horror soon gave way to a semblance of national unity in support of a president whose electoral legitimacy had been bitterly contested only a year earlier. Today's America is instead marked by fear and despair more akin to what followed the crash of 1929, when unprecedented millions of Americans lost their jobs and homes after the implosion of businesses ranging in scale from big banks to family farms. It's not hard to pinpoint the dawn of this deep gloom: It arrived in September 2008, when the collapse of Lehman Brothers kicked off the Great Recession that proved to be a more lasting existential threat to America than the terrorist attack of seven Septembers earlier..."
---
The Business of Too Much TV. What is "Peak TV"? Check out a post at Vulture: "…This is Peak TV. Not since the early 1980s — when cable became a serious challenger to the decades-old hegemony of Big Three broadcasters ABC, CBS, and NBC — has the television industry experienced such rapid growth: Between 2009 and 2015, the number of scripted shows nearly doubled, from just over 200 to an estimated 409 last year. Netflix alone says it will produce 600 hours of original television and spend $5 billion on programming, including acquisitions. This dramatic surge in TV production has touched nearly every aspect of the industry, from actors and showrunners to those responsible for production logistics for all of the new programming ordered from an ever-expanding roster of networks…"
Illustration credit: Greg Kletsel.
---
Owning a TV Could Put a Damper on Your Sex Life. Quartz explains: "Among young people, an invitation to "Netflix and chill" is understood as a euphemistic way to get someone into bed. But a lot of couples interpret "Netflix and chill" quite literally—and a new study suggests that watching TV may have a chilling effect on their sex lives. A new working paper, conducted by two researchers from the University of Delaware and Reed College, found that television ownership is associated with a more than 5% reduction in sexual activity in low- and middle-income countries… After controlling for factors like household income and sexual health education, the researchers found that individuals in households that owned a television had a 5.7% lower likelihood of having had sex in the past week, leading them to conclude that "while television may not kill your sex life, it is associated with some sex life morbidity…"
---
Nude Golfing is a Thing in Australia. I can't unsee this. But I am feeling a little better about my (fully-clothed) golf game. CNN.com reports: "On a golf course in northern Australia everything is swinging … not least because 30 players are in the nude. Well, not completely nude — these golfers strolling around the Humpty Doo golf course near Darwin have compromised by wearing golf shoes and a hat to protect them from the sun. Playing golf in the nude does present its challenges – a heightened risk of sunburn and chafing of the skin by carrying heavy golf bags..."
---
90 F. maximum temperature in the Twin Cities Wednesday.
82 F. average high on August 8.
84 F. high on August 8, 2017.
August 9, 1948: 7.72 inches of rain falls at Mankato.
---
---
THURSDAY: Sunny, a bit less humid. Winds: N 5-10. High: 87
THURSDAY NIGHT: Clear and mild. Low: 67
FRIDAY: Sunny and nice. Leave work early. Winds: NW 3-8. High: 88
SATURDAY: Bright sunshine, very lake-worthy. Winds: SE 5-10. Wake-up: 68. High: near 90
SUNDAY: Dog Days of August hang on – still sunny.  Winds: S 7-12. Wake-up: 70. High: near 90
MONDAY: Hanging on to this sunny streak. Winds: S 7-12. Wake-up: 69. High: 89
TUESDAY: Risk of a shower or T-shower. Winds: W 8-13. Wake-up: 70. High: 84
WEDNESDAY: Showers may linger over southern MN. Winds: E 5-10. Wake-up: 66. High: near 80
---
Climate Stories…
Climate Change is Making Wildfires More Extreme. Here's How. Here's an excerpt of a video and post at PBS NewsHour: "…Yes, so we're not saying that climate change is literally causing the events to occur. What we can conclude with a great deal of confidence now is that climate change is making these events more extreme. And it's not rocket science. You warm up the atmosphere, it is going to hold more moisture, you get larger flooding events, you get more rainfall. You warm the planet, you're going to get more frequent and intense heat waves. You warm the soils, you dry them out, you get worst drought. You bring all that together, and those are all the ingredients for unprecedented wildfires..."
File image: "In this Sunday, Aug. 5, 2018, file photo, a helicopter drops water on a burning hillside during the Ranch Fire in Clearlake Oaks, Calif. Authorities say a rapidly expanding Northern California wildfire burning over an area the size of Los Angeles has become the state's largest blaze in recorded history. It's the second year in a row that California has recorded the state's largest wildfire." (Josh Edelson, File/AP).
---
'Hothouse Earth': At some point feedback loops overwhelm any concerted effort to limit warming. Are we close to that? I sure hope not, but (some) climate scientists are voicing increasing concern. Headlines and  links via Climate Nexus: "A domino effect of climate feedback loops may kick in after Earth passes a certain temperature threshold, leading to uncontrollable climate change and an increasingly inhabitable planet, according to a new analysis from a group of leading climate scientists. In a paper published Tuesday in the journal Proceedings of the Natural Academy of Sciences, the scientists posit that triggering ten crucial climate processes, including release of methane trapped in permafrost, weakening carbon sinks, and the die off of boreal forests, could push the planet permanently towards a disastrous "hothouse Earth" state with 4 to 5 degrees C of warming and skyrocketing sea level rise. The paper questions whether humans can "park" warming at 2 degrees C as dictated by the Paris Agreement goals.  "I do hope we are wrong, but as scientists we have a responsibility to explore whether this is real," Johan Rockström, one of the report's co-authors, told the Guardian. "We need to know now. It's so urgent. This is one of the most existential questions in science." (The Guardian, CNN, Reuters, USA Today, Motherboard, BBC, Earther, Business Insider, New York Magazine. Commentary: Grist, Eric Holthaus analysis, The Guardian, Simon Lewis op-ed)
---
To Get People Talking About Climate Change, Publish Your Study During a Hot Summer. Because we are wired to react to weather, not climate. Even though a warming climate is amping up extreme weather. A story at Quartz explains: "…The risks of climate change have been clear to us since at least the 1980s, and the predictions of environmental destruction to hit Earth have mostly gotten worse. That said, there's still a sizeable population on the planet that doesn't care about climate change or, worse, denies it's real. To turn those people around, some of the world's most preeminent scientists have figured out it makes sense to publish global-warming studies when it's hot outside…Science is supposed to present reality as it exists. And, yet, what Hansen understood back then is that context matters as much as logical arguments. Weather is a localized phenomenon to which long-term climate trends contribute. One hot summer doesn't prove that global warming is here—but it opens people up to having a conversation about the possibility…"
---
---
The Sinking State. What happens when climate change and rising seas force an entire country to seek higher ground? The Washington Post reports: "…And so, in 2014, Kiribati purchased about eight square miles on the Fijian island of Vanua Levu for a little less than $9 million, potentially for the purpose of moving its population there one day. "We would hope not to put everyone on one piece of land," the country's then-president, Anote Tong, said. "But if it became absolutely necessary, yes, we could do it." Fiji would become the new home of the nation's inhabitants, known as the I-Kiribati. The relocation of people due to climate change isn't unprecedented. Papua New Guinea has already begun moving the population of the Carteret Islands, a group of low-lying atolls, to the mainland. But this would be the first time an entire country had to relocate because the land on which it was built no longer existed. This raises a new and frightening question: If a country no longer exists in physical form, can it still exist as a political entity? Can a nation just up and move?…"
---
Exodus: The Climate Migration Crisis. Which underscores the fact that a warming climate with increasingly disruptive weather isn't a theory – it's a reality – and the symptoms will become harder to miss. Kudo to The Weather Channel for hitting this hard in a new must-read series: "…The water comes slowly at first. The skies open up in the afternoon now. People start avoiding certain streets at high tide. The nuisances pile up. Houses get raised, then raised again. Insurance people are talking about "repetitive loss properties." Homeowners are worrying.
Or the water comes suddenly. In the high tide during a nor'easter that breaks records. Or in the sudden downpour that causes rivers to overrun their banks yet again. Or in the hurricane that floods neighborhoods that never flooded before. The city stops servicing some of the roads by the beach. And people start saying, "It's just not worth it."
Or the water doesn't come at all. The drought pushes people off their farms or out of their traditional pasturing lands. It pushes them into cities. Then protests start. Then the crackdown. Then people flee.
Or the drought pushes them to pasture their animals in unfamiliar territory. Or the island is swallowed by the sea inch by inch. Or the livestock cannot handle the heat. Or the permafrost melts under the house. Or they don't have money to rebuild.
This is climate migration. A recent World Bank study looking only at Latin America and parts of Africa and Asia sees up to 142 million people migrating within their own countries because of climate change impacts in the coming decades. And the Union of Concerned Scientists recently estimated that $117 billion of coastal real estate in the United States alone is at risk of inundation by 2045. But displacement and migration due to the effects of climate are already happening. They're happening in Syria, Somalia and Kiribati, true, but also in Florida, Texas and New York.…"
---
Check out The Weather Channel Exodus series here.
---
Domino-Effect of Climate Events Could Move Earth into a "Hothouse" State. Say what? A story at The Guardian explains: "A domino-like cascade of melting ice, warming seas, shifting currents and dying forests could tilt the Earth into a "hothouse" state beyond which human efforts to reduce emissions will be increasingly futile, a group of leading climate scientists has warned. This grim prospect is sketched out in a journal paper that considers the combined consequences of 10 climate change processes, including the release of methane trapped in Siberian permafrost and the impact of melting ice in Greenland on the Antarctic. The authors of the essay, published in Proceedings of the National Academy of Sciences, stress their analysis is not conclusive, but warn the Paris commitment to keep warming at 2C above pre-industrial levels may not be enough to "park" the planet's climate at a stable temperature…"
Guardian Graphic credit: Stockholm Resilience Centre.
---
Summer Warming Signal. According to NOAA NCEI the warming signal during meteorological summer since 1895 has been most pronounced over the Mid Atlantic, New England and roughly the western third of the USA, where temperatures are 1-2F warmer than they were at the end of the 19th century.
---