Meteorologists Are Always On The Clock
Yesterday the storms woke me up. Then my wife woke me up. "Honey, what time will it rain later today – I think I need to adjust the sprinklers". Uh, I'm still in bed. Would you like yesterday's forecast again, I groggily inquired?
I feel bad for doctors, lawyers and struggling meteorologists. An 8 to 5 job? Ha! The questions/demands come in when you are least prepared to answer them.
What has changed? The democratization of weather. Everyone can access not only Doppler radar, but weather models. We are, more than ever, a nation of armchair meteorologists.
We see a brief ration of sunshine today, before a troubled frontal boundary sparks more scattered T-storms tonight and Friday. The probability of bumping into something big, dark and wet increases Saturday as a cooler front approaches. Have a Plan B for part of the day. Sunday looks better; drier and cooler with
spurts of sunshine.
A few glancing swipes of chilly air are shaping up for late September but I don't see any frosty outbreaks anytime soon.
---
NOAA NAM Rainfall by Saturday Evening. Heaviest amounts stay (just) south of Minnesota, but some half inch rainfall amounts are predicted for much of the state; the best chance of heavier rain for southeast Minnesota and the Red River Valley. Map: pivotalweather.com.
---
---
---
---
Gradual Cool-Down. A series of cool fronts will bring temperatures back down closer to average for the third week of September. The Fall Equinox is Monday, and by late next week it will start to feel like autumn again. Map sequence: Praedictix and AerisWeather.
---
---
An Inevitable Cool-Down. Longer nights and sporadic snows over northern Canada will cool things down considerably in the next couple of weeks; by early October cooler (but not cold) air will begin leaking south of the border with greater frequency. No harsh cold fronts just yet, but stating the obvious, soak up the warmth while you can.
---
Praedictix Briefing: Issued Wednesday, September 18th, 2019:
Heavy rain in association with Tropical Depression Imelda continues to fall across portions of southeastern Texas and southwestern Louisiana this morning. NWS Houston says that portions of Matagorda County have received 10-19" of rain over the past couple of days in association with this system.
Unfortunately, this system will continue to linger across eastern Texas over the next couple days, bringing in more deep tropical moisture to the region. Downpours of 3"+ per hour are possible, with additional rainfall amounts of 4-12" possible from the Houston metro eastward.
These heavy rain amounts will continue to bring the potential of significant and life-threatening flash flooding along with it. A HIGH risk of flash flooding is in place across portions of southeastern Texas near the Houston metro today into tonight.
---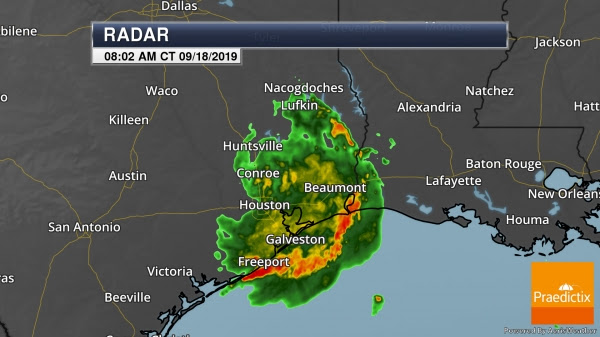 Heavy Rain Falling Across Eastern Texas This Morning. As Tropical Depression Imelda continues to move north at 5 mph this morning, heavy rain continues to fall across eastern Texas and into southwestern Louisiana in association with the storm. Rainfall rates of 3-3.5" per hour have been observed at times, especially along the coast, with 1-2" per hour rates into southeastern Harris County.
---
Rainfall Amounts So Far. Some of the hardest hit areas so far have been in coastal counties, where rainfall amounts of 5-19" have been reported. According to NWS Houston, "Particularly hard hit has been Matagorda county from near Midfield to near Bay City to Sargent – much of that area has had more than 10-19 inches." As of the 4:19 AM Public Information Statement from NWS Houston, the top rainfall amount was 10.85" in the San Bernard National Wildlife Refuge. In the past two days (through 7 AM) the Galveston airport had reported 7.38" of rain, with 7.12" in Angleton and 6.00" at Houston Hobby Airport.
---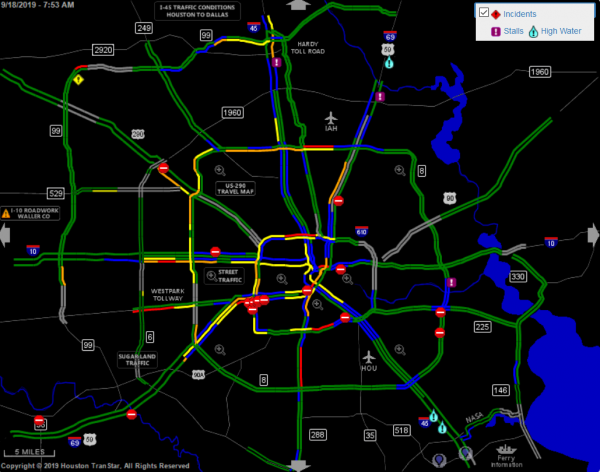 Houston Area Roads. There were some high water reports according to Houston Transtar on portions of IH-45 and IH-69 as of 7:55 AM CDT. You can view those locations here: https://traffic.houstontranstar.org/roadclosures/roadclosures.aspx?typ=hw#highwater
---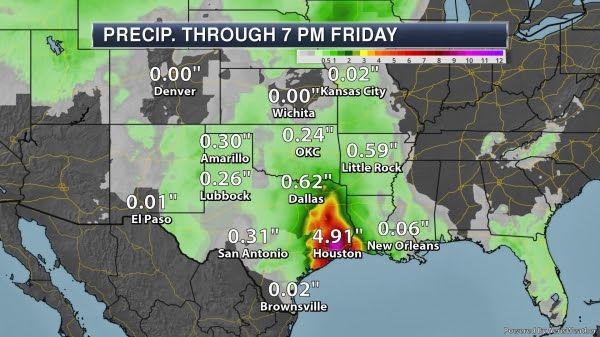 ---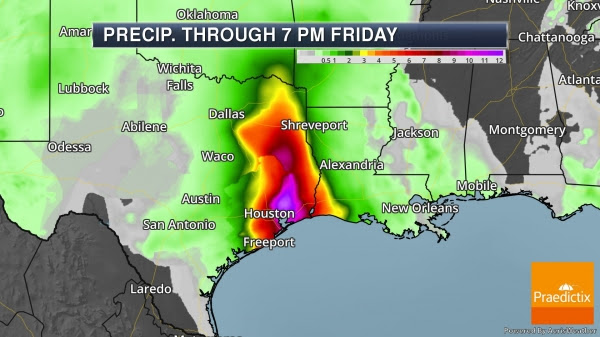 Additional Rainfall Expected. Heavy rain will continue through at least Thursday across the region, especially in, around, and east of the Houston metro as well as south toward Galveston and the Gulf Coast. Additional rainfall amounts of up to a foot will be possible, especially where the heaviest axis of rain sets up today into Thursday. Right now, that heaviest additional rain is most likely to set up just east of the Houston metro.
---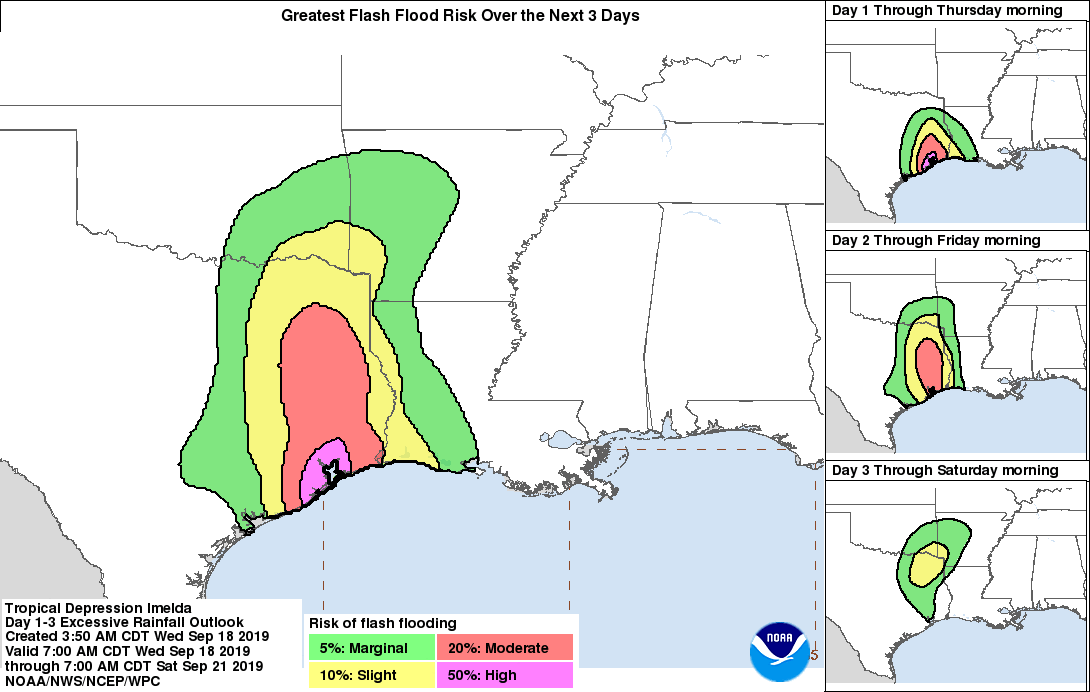 High Flood Threat Today. With continued heavy rain expected across the region – especially in eastern Texas – the threat for flash flooding will continue through the end of the week.
Today a HIGH Risk of flash flooding is in place across Southeast Texas, including near the Houston metro. Hourly rainfall amounts of up to 3" are possible with storms that merge, stall out, or move over the same areas over and over again today into tonight, which could lead to overall totals of 9"+ from this morning through Thursday morning. This heavy rain in areas that have already received heavy rain over the past day or so will cause potentially significant and life-threatening flash flooding across southeastern Texas.
On Thursday a Moderate Risk of flash flooding is in place across eastern Texas and the Texas Gulf Coast as the remnants of Imelda continue to slowly drift north and start to dissipate. Even with that occurring, tropical moisture will still stream into the region, with rainfall amounts of up to 3" per hour possible (especially near where the area of low pressure is situated). This could lead to additional rainfall amounts of 3-6" from Thursday-Friday morning. The greatest threat will depend where the heaviest bands of rain set up during the day.
---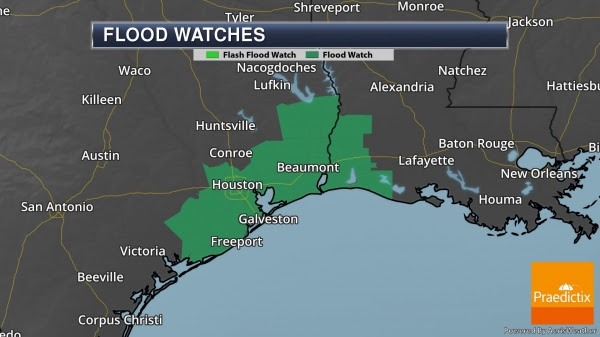 Flash Flood Watch. Flash Flood Watches are now in place into Thursday across portions of southeastern Texas and southwestern Louisiana due to the continued heavy rain and flood threat across the region with the remnants of Imelda.
D.J. Kayser, Meteorologist, Praedictix
---
---
Devastated by Dorian: Photos from The Bahamas. The Atlantic has a harrowing, almost surreal photo essay that brings the scope of disaster in full focus: "Two weeks have passed since Hurricane Dorian finally moved away from the Bahamas, after pummeling the island nation for days with sustained winds reaching 185 mph (295 kph). The official death toll has reached 50, but hundreds remain listed as missing, and search-and-rescue teams continue to comb through widespread wreckage. Thousands of residents evacuated in the days following the storm, but many remain on the hard-hit islands of the Abacos and Grand Bahama. Bahamian agencies are working with NGOs, foreign governments, and cruise and travel corporations to provide food, water, and supplies to those still in need. Gathered below, images from the past 10 days across the Bahamas, still reeling from disaster."
Photo credit: Loren Elliott / Reuters.
---
Record Rainfall Causes Erosion Problems in Southern Minnesota River Towns. Star Tribune has the story: "ZUMBRO FALLS, Minn. – With yet another storm looming, the mayor of this waterlogged southeastern Minnesota river town sat down last week with a roomful of state and federal officials looking for some financial help. A flood channel and a dike built years ago to protect this city of 207 residents from high water had been seriously damaged by erosion caused by a series of storms that had pounded southern Minnesota since spring, and Zumbro Falls needed nearly $200,000 for repairs. The Zumbro River carved a 300- to 400-foot slice off a dike that runs the length of town, and jostled loose a series of boulders in a coulee built after a 2010 flood swamped the city and destroyed 10 houses, including Mayor Bruce ­Heitmann's place..."
Photo credit: Dan Browning – Star Tribune. "Zumbro Falls Mayor Bruce Heitmann pointed out the erosion on a dike that protects his city of 207 residents from the Zumbro River. The city is seeking help to reinforce the dike after this year's heavy rains."
---
The Northern Hemisphere Just Had its Warmest Summer on Record. Capital Weather Gang has the post: "The Northern Hemisphere just had its hottest summer on record since 1880, according to National Oceanic and Atmospheric Administration data released Monday. NOAA found the average global surface temperature taken by thousands of thermometers, buoys and other sensors on land and sea tied with that of 2016 for the top spot, with a temperature anomaly of 2.03 degrees (1.13 Celsius) above the 20th-century average. In addition, August was the world's second-hottest such month, according to both NOAA and NASA, with unusually hot conditions seen from pole to pole and across every ocean. What's remarkable about 2019′s record warmth is that it comes in the absence of a strong El Niño event in the tropical Pacific Ocean. Such events tend to boost global temperatures by warming the seas and sending more heat into the atmosphere..."
Photo credit: "Children playing in a water fountain in Antwerp, Belgium, in July." (Virginia Mayo/AP).
---
---
---
It's a Myth That Tornadoes Can't Hit Cities. In light of the 3 EF-2 tornadoes that hit the south side of Sioux Falls, South Dakota, a story at Argus Leader is timely: "It's a question anyone living in Sioux Falls knows the answer to — but cities having nothing to fear from twisters remains a pervasive myth. Adam French, an associate professor at the South Dakota School of Mines & Technology, teaches in the school's Atmospheric and Environmental Program and said it's something he's heard many times before. "I think the biggest thing it boils down to is that a tornado is a small-scale feature," French said. It mostly comes down to a numbers game. The country gets an average of 1,253 tornadoes per year, but when only 3% of the country's land area is made up of urban areas, the odds of one being hit drop significantly. "The likelihood of a tornado hitting a given place is extremely small," French said…"
Image credit: "In video released by the City of Sioux Falls, damage done to multiple businesses and homes can be seen." Courtesy of City of Sioux Falls.
---
An All-Electric Pickup from GM? A story at CNBC caught my eye: "…GM's communications director Tony Cervone said he could offer "no details" about the planned battery-electric pickup but, since CNBC first reported that the truck was in development last winter, some specifics have begun to leak out. The new model will go into production in 2021, "most likely" as a 2022 model-year offering, said Sam Fiorani, head of global vehicle forecasting at industry market research firm AutoForecast Solutions. That's about the same time rival Ford will introduce its own all-electric truck, he said. It's a full year behind Rivian, the suburban Detroit- based start-up that plans to build its own electric pickup. Tesla has also confirmed plans for an electric pickup, CEO Elon Musk saying earlier this month a production version will "most likely" debut in November..."
Photo credit: insideevs.com.
---
112-Year-Old White Sox Fan Celebrates Birthday By Going to His First Game. CNN.com has a heartwarming story; here's an excerpt: "CP Crawford's been a Chicago White Sox fan for almost as long as he's been alive, but he'd never been to see them play — until he turned 112. The supercentenarian was born in 1907, just seven years after the Sox moved to Chicago. He religiously watched them on TV from his nursing home in Lansing, Illinois…"
---
Would You Stay at a Hotel at the North Pole? Another intriguing story from CNN; here's an excerpt: "Ever dreamed of spending the night in an igloo at the North Pole? For one month only, travelers will have the opportunity to do just that — provided they've got a spare $100,000.A temporary hotel site is opening at the northernmost place in the world in April 2020, offering a once-in-a-lifetime experience for adventurous explorers. South-facing window pretty much guaranteed! North Pole Igloos hotel will be made up of 10 heated domes in which guests can sleep under the stars in the frozen center of the Arctic Ocean…."
Photo credit: Luxury Action.
---
Whitney Houston Hologram Tour. Billboard has the vaguely creepy details: "BASE Hologram has also released the first rendering of the Whitney Houston hologram which can be seen above. "Whitney Houston was a talent beyond words, and her influence and artistry transcended all boundaries," said BASE Hologram and BASE Entertainment CEO and chairman Brian Becker in a statement. "What we are creating here is a new type of theatrical concert experience designed to capture that magic. When she performed there was an unmatched level of charisma and emotion to it – that's what we are going to bring to audiences and it's an honor to be able to help add to her legacy with this project..."
---
THURSDAY: Partly sunny and warm. Winds: SW 3-8. High: 83
FRIDAY: Unsettled, risk of a T-storm or two. Winds: SE 7-12. Wake-up: 65. High: near 80
SATURDAY: Showers and T-storms likely. Winds: S 10-15. Wake-up: 68. High: 79
SUNDAY: Mix of clouds & sun, a drier day. Winds: NW 8-13. Wake-up: 60. High: 74
MONDAY: Lukewarm sunshine, pleasant. Winds: SW 3-8. Wake-up: 57. High: 75
TUESDAY: Warm sunshine, a fine September day. Winds: SW 5-10. Wake-up: 59. High: 79
WEDNESDAY: More clouds with a cooler breeze. Winds: NW 10-15. Wake-up: 62. High: 72
---
Climate Stories….
September 20 Climate Strike. Details are here: "On September 20, three days before the UN Climate Summit in NYC, young people and adults will strike all across the US and world to demand transformative action be taken to address the climate crisis. Millions of us will take the streets to demand a right to a future, and we're inviting you to #strikewithus. Find a strike near you to attend on September 20 on the map below. If you don't see an event in your area, organize one! We'll provide everything you need to get started in planning something in your community so no experience is necessary…"
---
Global Climate Change Strike: When and Where You Can Join and Take Action. Here's an excerpt from a post at CNET.com: "…Thunberg has become the face of the new movement, inspiring students across the world to leave school and demand action on climate change. In March, students took to the streets in over 2,000 cities asking adults to take responsibility for the climate crisis. Smaller strikes occurred in May, June and August. The next series of strikes are set to be the biggest yet and will see students and adults walk out of their schools and workplaces to "demand an end to the age of fossil fuels..."
---
The New Face of Climate Activism is Young, Angry – and Effective. Here's a clip from Vox: "…Their methods are straight out of the playbook of the civil rights movement of the 1960s: Frequently, they sing protest songs. They stand quietly as police officers zip-tie their hands behind their backs and lead them into vans for civil disobedience. Their eyes pleading, they carry signs, including ones that say, "The Youth are Coming for You." The new face of climate resistance is young and diverse. It is scared, and it is loud. In a short amount of time, the Sunrise Movement's assertive tactics have brought about a profound change, forcing climate change and the Green New Deal — their vision to solve it — to become defining issues of the 2020 election…"
---
Climate Models Predict Bigger Heat Rise Ahead. Are we underestimating the degree of warming already in the pipeline? Here's a clip from Climate News Network: "Greenhouse gases are raising the Earth's temperature faster than previously thought, according to new climate models due to replace those used in current UN projections − meaning a bigger heat rise by 2100 than thought likely. Separate models at two French research centres suggest that by then average global temperatures could have risen by 6.5 to 7.0°C above pre-industrial levels if carbon emissions continue at their present rate, the website phys.org reports. Scientists − and most of the world's governments − finalised the Paris Agreement on climate change in 2015, undertaking to keep the warming increase to a maximum of 2°C, and if possible to only 1.5°C…"
Photo credit: "It's hot now – and it's going to get much hotter." Image: By Ankit Gupta on Unsplash
---
---
Climate Change is Having Widespread Health Impacts. Scientific American has a summary of recent research: "The climate crisis is making people sicker—worsening illnesses ranging from seasonal allergies to heart and lung disease. Children, pregnant people and the elderly are the most at risk from extreme weather and rising heat. But the impact of the climate crisis—for patients, doctors and researchers—is already being felt across every specialty of medicine, with worse feared to come. "There's research suggesting that our prescription medications may be causing harm because of changing heat patterns," said Aaron Bernstein, a pediatric hospitalist who is the co-director of the Center for Climate, Health and the Global Environment at Harvard University…"
Illustration credit: Sonny Ross The Guardian.
---
75% of Americans Now Believe Humans Fuel Climate Change. Here's an excerpt from Big Think: "A strong majority of Americans believe humans are fueling climate change, with roughly half of respondents saying action is urgently needed, according to two recent polls. The results come from a CBS News Poll, which was released as part of Covering Climate Now, and another unrelated poll conducted by The Washington Post and the Kaiser Family Foundation (KFF). The CBS poll found that, among Americans:
About 70 percent believe human activity contributes "a lot" or "some" to climate change.
About 56 percent believe humans should act on climate change "right now…"