One of the Wettest Starts to September On Record?
Well, that was as refreshing as a cold, wet slap across the face. It looks and feels more like early June than early September out there – waking up to monster-puddles and waterlogged yards.
1-3 inches of rain doused much of the area, with some 3-5 inch amounts; almost 2 month's worth of moisture.
With dozens of Flood Warnings from Nebraska to Wisconsin I can't remember a September that was this wet across the Upper Midwest.
While much of the East Coast swelters through 100-degree heat indices, and "Gordon" thrashes the Gulf Coast. The soggy remains of this tropical cyclone may spark flooding as far inland as Little Rock, St. Louis and Cleveland.
I'm happy to report a much-needed dry spell from today into the weekend, as heavy weather remains south of Minnesota. It's back to the 70s this week but models pull more 80-degree heat into Minnesota next week. We could enjoy another sweaty 90-degree day or two late next week. The Perpetual Summer of '18 limps on.
Nights are longer; it's just a matter of time before Canada exhales chilly air south of the border. But no time soon.
---
---
---
---
Praedictix Briefing: Issued Tuesday afternoon, September 4th, 2018:
The

4 PM CDT

National Hurricane Center update keeps Gordon at strong tropical storm strength with maximum sustained winds of 70 mph. The window of intensification is closing, though Gordon still has a short window ahead this evening where intensification into a Category 1 hurricane will be possible. Weather conditions are continuing to deteriorate for the Gulf Coast with tropical-storm-force winds and torrential rain expected. Tropical Storm Gordon will make landfall

tonight

on the Mississippi coast.
Torrential rainfall could lead to dangerous flash flooding and coastal flooding. Flash Flood Watches extend into southeast Arkansas and northern Mississippi. 4 to 8 inches of rainfall, with localized higher amounts, will be possible for the Lower Mississippi Valley and Gulf Coast.
---
Tropical Storm Gordon. Gordon continues to track northwest at 15 mph, approaching the Gulf Coast with maximum sustained winds of 70 mph. The outer bands have been feeding heavy rain and gusts into the Florida panhandle with more rough weather expected tonight. Tropical-storm-force and hurricane-force winds are expected to impact the central Gulf Coast.
---
Path Update. Little has changed in the overall path forecast regarding Gordon. The tropical storm will continue to track northwestward into the Mississippi River Valley, eventually turning north in Arkansas Friday. Heavy, tropical rains will feed into the central U.S. impacted states like Arkansas, Missouri and eventually Illinois, Indiana, and Wisconsin by the weekend. Of course, Gordon will lose much of its organization once over land and weakening is expected as it tracks into the nation's midsection, though the threat for heavy, tropical rains will need to be accounted for.
---
Tropical Warnings. Tropical storm conditions wil continue to spread onshore with active Tropical Storm Warnings and Hurricane Warnings (highlighted in the bright pink on the map). While most will likely experience mainly tropical-storm-force winds, Gordon will still have an opportunity to strengthen before landfall which could result in hurricane-force winds.
---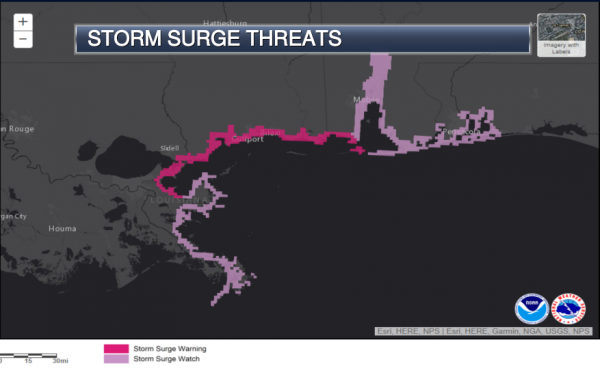 Storm Surge. Tropical Storm Gordon is expected to produce life-threatening storm surge conditions to the central Gulf Coast. Storm Surge Warnings are in effect with the highest storm surge expected along the Mississippi and Alabama coasts (from Mouth of the Pearl River to Dauphin Island) tonight and early tomorrow. High tide is expected between 6 and 8 AM Wednesday morning and water levels will be slow to recede as onshore winds will continue.
Mouth of the Pearl River to Dauphin Island…3 to 5 ft.
Navarre Florida to Dauphin Island, including Mobile Bay…2 to 4 ft.
Mouth of the Pearl River to the Mouth of Mississippi River…2 to 4 ft.
---
Flood Threat. Accumulations of 4 to 8 inches will be possible from the western Florida Panhandle, southern Alabama, southern/central Mississippi, northeastern Louisiana, and southern Arkansas. Localized higher amounts, up to 12 inches, cannot be ruled out. Torrential downpours could easily result in flash flooding. Flash Flood Watches remain in effect for the western Florida Panhandle, Alabama, Mississippi, Louisiana, and Arkansas.
---
Midwest Flood Threat Worsens. The Weather Prediction Center (WPC) has upgraded the flash flood risk to HIGH for the upper Midwest as torrential downpours are expected tonight and into tomorrow. A significant flash flood threat is ramping up with storms becoming more numerous. Hourly rain rates could reach or exceed 1 to 2 inches an hour with total accumulations reaching or exceeding 2 to 5 inches. The most favored location for flash flooding is northern Iowa and southern Minnesota with the risk expanding northeastward tonight/early tomorrow. Keep in mind that this heavy rain event is following a very wet pattern that has kept the ground very saturated. Thunderstorms will be slow moving.
---
Flash Flood Watches. The flood threat continues into Wednesday for many locations as heavy downpours impact saturated grounds in the Midwest. In some cases, only 1 to 3 inches of rain could result in dangerous flooding. Flash Flood Watches are in effect for Kansas, Nebraska, Iowa, southeast Minnesota, Wisconsin, and northwestern Illinois. This is a dangerous situation especially for those who are currently experiencing flooding.
---
Tornado Watch. Severe storms in the Midwest could produce tornadoes this evening. A Tornado Watch is in effect for northern and central Iowa, southeast Minnesota, and western/central Wisconsin through 10 PM CDT tonight. Supercell storms along with bowing segments are expected to occur. Damaging winds could also be produced by these thunderstorms with isolated damaging wind gusts up to 70 mph possible.
Susie Martin, Meteorologist, Praedictix.
---
---
Hurricane Lane Was the Second Wettest Tropical Cyclone on Record in the U.S. Here's a very good overview of Lane's impact on Hawaii at Forbes: "Hurricane Lane left its mark in Hawaii without ever making landfall. The hurricane now holds the notorious distinction of producing the second-highest rainfall total ever measured in a tropical cyclone in the United States. A rain gauge on Hawaii's Big Island measured 52.02" of rain during Hurricane Lane, cementing the hurricane's status in the record books. Hurricane Lane threatened Hawaii last weekend on a path that's extremely unusual for tropical cyclones in this part of the Pacific Ocean. While most hurricanes only graze Hawaii to the north or south, Lane approached the state from the south and stalled-out not far from the island chain. Despite the hurricane never making landfall, the storm's proximity led to several days of intense rains pummeling the islands…"
Image credit: "3-day rainfall totals in Hawaii from Hurricane Lane." NOAA/NWS Honolulu.
---
The Economic Impact of Hurricanes. The Houston Chronicle has a timely Op-Ed; here's a clip: "…Perhaps the most unexpected finding in the research was the impact on health care spending, even months after landfall in both Miami and Houston. During the week of landfall, spending at health care providers was 65 percent and 53 percent lower than baseline in Houston and Miami respectively. Twelve and 10 weeks after landfall, that number still had not recovered, with health care spending 5 percent below baseline in Houston and 4 percent lower in Miami. This raises a critical question with significant policy implications: Was the slowdown in health care spending caused by a drop in demand — as consumers sought less care and spent on more immediate needs — or by disruptions in health care supply, as a result of the hurricane?…"
Photo credit: "A neighborhood is inundated by floodwaters from Tropical Storm Harvey near east Interstate 10 in Houston on Tuesday, Aug. 29, 2017." Photo: Brett Coomer, Staff / Houston Chronicle.
---
How to Prepare for Extreme Weather. A post at care2.com has some good reminders: "…A recent Esurance survey found that the majority of U.S. residents have experienced at least one major weather catastrophe in the past 5 years. Taking steps to plan for extreme weather is important if you're a homeowner. While you're preparing yourself and your home for Mother Nature's worst, you can also do something good for the planet.
Bring along copies of important documents or store them in a water- and fire-proof safe at home.
Pack adequate food and water supplies for yourself, family members and pets.
Turn off electric, water and gas utilities to the home.
Check your homeowner's insurance policy so you know what weather-related damage is covered…"
---
Why You Can Smell Rain – Even Though Its Odorless
. The Conversation and
Popular Science
explain what's really going on: "
When those first fat drops of summer rain fall to the hot, dry ground, have you ever noticed a distinctive odor? I have childhood memories of family members who were farmers describing how they could always "smell rain" right before a storm. Of course rain itself has no scent. But moments before a rain event, an "earthy" smell known as petrichor does permeate the air. People call it musky, fresh—generally pleasant. This smell actually comes from the moistening of the ground. Australian scientists first documented the process of petrichor formation in 1964
…"
Photo credit: "Your nose knows what's on the way." Lucy Chian/Unsplash, CC BY.
---
Logged Off: Meet the Teens Who Refuse to Use Social Media. Fluke or trend? The Guardian reports: "...It is widely believed that young people are hopelessly devoted to social media. Teenagers, according to this stereotype, tweet, gram, Snap and scroll. But for every young person hunched over a screen, there are others for whom social media no longer holds such an allure. These teens are turning their backs on the technology – and there are more of them than you might think. While many of us have been engrossed in the Instagram lives of our co-workers and peers, a backlash among young people has been quietly boiling. One 2017 survey of British schoolchildren found that 63% would be happy if social media had never been invented…"
Photo credit: "Mary Amanuel, who does not use social media." Photograph: Alecsandra Raluca Drăgoi for the Guardian.
---
Trump-Era Politics Creates Turmoil, Firings, and Sometimes Great Ratings For Entertainers. The Washington Post reports: "…Late-night TV viewers are "making their decisions based on what's happening in the White House," said Rick Ludwin, who ran NBC's late-night programming for years. A year and a half into the Trump presidency, entertainment companies are grappling with a fan base that is splintering into political factions as never before. Whether in regard to explicitly political entertainment or the rapidly multiplying number of entertainers who talk about politics, Americans appear to be increasingly figuring ideology into their Hollywood ­choices…"
Photo credit: "The Tonight Show" host Jimmy Fallon said in his June 25 monologue that President Trump "went after" him on Twitter." (Allie Caren/The Washington Post)
---
Twin Cities Rank Low on America's Best Drivers List. Wait, we're bad drivers? Only during winter and road construction. Which leaves early October, when we drive very capably. Bring Me The News reports: "As Minnesotans, we're pretty confident that we can drive with the best of 'em, all that experience driving through big snowstorms and whatnot. But apparently all of our winter driving experience plays into a surprisingly low ranking in Allstate's best drivers in America report, which ranks Minneapolis 127th among the 200 largest cities in the country.  The average driver in Minneapolis goes 7.7 years between auto insurance claims, which is tied with cities like Memphis and Chicago, but ranks well below the best of the best..."
---
Man Mauled by Bear, Bitten by Rattlesnake Now Attacked by a Shark. Remind me not to hang with this guy, as reported by KUSA and KXAN.com: "Dylan McWilliams is either the unluckiest guy in the world — or the luckiest.  "I don't know, I think I'm just lucky in unlucky situations," the 20-year-old Colorado resident says. McWilliams is currently in Hawaii, for what was supposed to be a two-week long vacation full of beach time and surfing. On Thursday, he said paddled out into the waters off the south shore of Kauai, then something hit his leg. "I was looking around and saw a lot of blood and I saw a shark underneath me," he said. "I started kicking at it… and swam as fast as I can to shore." He was several dozen yards out from the beach and by himself. Other surfers were in the water a distance away. "The scariest part was just swimming back," he said…"
---
Pole-Dancing at Chinese Nursery Shocks Parents. BBC News has the jaw-droppping account: "A Chinese nursery has come under fire for having a pole dancer perform at its welcome ceremony, it's reported. According to the Southern Metropolis Daily newspaper, parents and children were invited to attend the opening ceremony of the Xinshahui Kindergarten in the southern city of Shenzhen on 3 September. As part of the program, families were invited to watch a number of female performers perform in skimpy clothing, including a pole dancer…"
Image credit: "Both parents and children watched a pole dancer perform at a Chinese preschool."
---
.76″ rain fell yesterday in the Twin Cities.
76 F. high yesterday at MSP.
76 F. average high on September 4.
76 F. high on September 4, 2017.
(Quick, buy a Lotto ticket. What are the odds of that?)
September 5, 1990: Nine inches of rain falls in Duluth by the end of the following day, washing out $1,000,000 worth of roads.
September 5, 1982: 77 mph winds are reported in Anoka County.
---
---
WEDNESDAY: Damp start, then clearing. Winds: N 10-15. High: 71
WEDNESDAY NIGHT: Clear and cool. Low: 53
THURSDAY: Sunny and comfortable. Winds: E 5-10. High: 73
FRIDAY: Plenty of sunshine, few complaints. Winds: E 5-10. Wake-up: 53. High: 75
SATURDAY: Lukewarm sun, a light breeze. Winds: SE 7-12. Wake-up: 55. High: 77
SUNDAY: Clouds increase, few showers north. Winds: SE 7-12. Wake-up: 58. High: 76
MONDAY: Some sun, a little stickier. Winds: S 5-10. Wake-up: 60. High: 79
TUESDAY: Summer returns, sweaty sunshine. Winds: S 10-20. Wake-up: 64. High: 83
---
Climate Stories…
AP Explains: Driven by Climate Change, Fire Reshapes U.S. West.
Here's an excerpt of a post at
Fox News
: "…
Scientists broadly agree wildfires are getting bigger in North America and other parts of the world as the climate warms. But still emerging is how that change will alter the natural progression of fire and regrowth. The time interval between wildfires in some locations is getting shorter, even as there's less moisture to help trees regrow. That means some forests burn, then never grow back, converting instead into shrub land more adapted to frequent fire, said Jonathan Thompson, a senior ecologist at Harvard University. "They get stuck in this trap of repeated, high-severity fire," Thompson said. "Through time we'll see the California shrub land shifting north." Similar shifts are being observed in Colorado, Wyoming's Yellowstone National Park and Glacier National Park in Montana, he said
…"
---
Climate Change Will Make El Nino/La Nina Impacts Stronger, Study Says
.
Houston Public Media
has a summary of new research: "
The recurring climate patterns known as El Niño or La Niña will lead to stronger storms and wildfires as the planet warms, according to a new study from the National Center for Atmospheric Research. In an El Niño period, Pacific Ocean temperatures are warmer than usual, bringing cooler, wetter weather to Texas. The opposite happens with La Niña, which leads to hotter, drier weather. The study, published in Geophysical Research Letters and led by John Fasullo, says those weather impacts will be amplified by overall global temperature increases. That means more chances for wildfires and, particularly on the Gulf Coast, flooding.
.."
Photo credit
: "
Flooding after Hurricane Harvey on I-45, north of downtown Houston
."
Gail Delaughter
---
---
Will Judges Have the Last Word on Climate Change?
Plenty of billable hours for aggressive lawyers in the years ahead, based on a story at
Bloomberg Businessweek
: "…
How have governments responded? They argue that judges should not be setting government policies. And they often say that the social and economic benefits from pollution sources outweigh the environmental concerns. That was the case South Africa made when it was challenged for building a coal-fired power station, since 16 percent of the population still has no access to electricity. What about energy companies? They point to the vast economic benefits created by their products. And they say that individuals, industries and governments willingly contributed to climate change through their use of fossil fuels. They deny seeking to mislead consumers about global warming and accuse plaintiffs' lawyers of demonizing them in search of a big bonanza
…"
---
Hothouse Earth is Merely the Beginning of the End.
In case you missed the Jeff Goodell article at
Rolling Stone
: "…
In Lovelock's view, the scale of the catastrophe that awaits us will soon become obvious. By 2020, droughts and other extreme weather will be commonplace. By 2040, the Sahara will be moving into Europe, and Berlin will be as hot as Baghdad. Atlanta will end up a kudzu jungle. Phoenix will become uninhabitable, as will parts of Beijing (desert), Miami (rising seas) and London (floods). Food shortages will drive millions of people north, raising political tensions. "The Chinese have nowhere to go but up into Siberia," Lovelock says. "How will the Russians feel about that? I fear that war between Russia and China is probably inevitable." With hardship and mass migrations will come epidemics, which are likely to kill millions. By 2100, Lovelock believes, the Earth's population will be culled from today's 6.6 billion to as few as 500 million, with most of the survivors living in the far latitudes – Canada, Iceland, Scandinavia, the Arctic Basin…"
Photo credit: "A 747 Global Airtanker makes a drop in front of advancing flames from a wildfire Thursday, August 2nd, 2018, in Lakeport, California." Kent Porter /The Press Democrat/AP.
---