Another Winter of Snowy No-Shows?
What do we have to do to get a legitimate snowstorm in this state? Who do I have to bribe? I may have just broken a toe from kicking the Doppler. Snow lovers are feeling perpetually frustrated. "Is this the way it's going to be – again?"
To date 5.1 inches of snow has fallen in the MSP metro, nearly 13 inches below average, to date. NOAA has crunched the numbers. Years with 5.1 inches or less as of December 20 go on to see an average of 35 inches for the winter vs. 49.5 inches, which is the 102 year average. That said I'm not writing off the winter just yet.
Our biggest snows often come immediately after an Arctic cold snap, when a fire hose of southern moisture rides up and over a dome of frigid air. Models are hinting at a period of accumulating snow next Thursday, but it's still much too early for details.
MSP missed the snow – we won't miss the cold. Expect single digit highs Christmas Day and Tuesday; another surge of subzero nights New Year's weekend. Numbing, but far from record territory.
A Pacific breeze kicks in the second week of 2018. We'll be ready for a January thaw.
---
Near-Miss. Close to 9″ just south of Bemidji? 5″ at Owatonna and Pipestone? It's snowing all around the Twin Cities, but we'll have to struggle to meet the defintion of a "white Christmas", which is 1″ or more of snow cover on the ground December 25. Map: NOAA.
---
Interesting Correlation. No, just because we've only picked up 5″ of snow in the metro doesn't mean we have NO chance of average snowfall this winter. But NOAA statistics suggest that winters where we have 5.1″ or less by December 20 go on to produce an average snowfall (30 winters) of closer to 35″ – vs. 50″, which is closer to the long-term average.
---
Twin Cities Snowfall Since 1994. The last time we had above-average snowfall was 4 winters ago – close to 70″ fell. In stark contrast only 22″ of snow fell during the meager winter of 2011-2012. Data: MN DNR.
---
Nippy Next Week – But Not Exactly Polar. We've seen (far) worse  in late December. Single digit highs with nighttime lows generally -5 to -10F? Cold enough to get your attention, but the governor won't be calling out the National Guard anytime soon. Twin Cities ECMWF numbers: WeatherBell.
---
---
Subtle Hints of Moderation. GFS model guidance is predicting more of a Pacific influence for much of the USA looking out nearly 2 weeks as the core of numbing air lifts northward. Again, the pattern is progressive – no sign of any extended blocking pattern capable of prolonging bitter cold.
---
Hints of a January Thaw. If you believe NOAA's GFS guidance we may hit freezing again by Saturday, January 6. Circle your calendar. I think it's likely we'll see 20s, maybe a few 30s by the second week of January.
---
---
Winter Solstice Factoids. Even though today has the least daylight of the year, the coldest temperatures of the season are probably 3-4 weeks away, as explained by Vox: "...It's true that the Northern Hemisphere gets the least direct sunlight on the winter solstice (which is officially the first day of winter). But the coldest months are yet to come — usually in January or February, depending on where you live. A big reason for this "seasonal lag" is that the Earth's massive oceans absorb much of the sun's energy and release it slowly, over time. So there's a delay between when there's the least sun and when the air temperatures are actually coldest. The same thing happens in summer — there's a delay between when solar insolation is at its maximum (the summer solstice in June) and when the hottest months are (usually July or August)..."
---
Ice Deaths in Minnesota at Highest Level in Years – It's Only December. With our recent warm temperatures the ice on many lakes is still far from safe. GoMN has the troubling details: "There have been more ice-related deaths in Minnesota this winter than in the previous two winters combined – and it's only December. Two women died in separate incidents in northern Minnesota over the weekend, when the ATVs they were riding broke through thin ice. Their deaths brought the total number of ice-related fatalities this winter to five. All of these incidents involved a snowmobile or ATV, the Minnesota DNR told GoMN, and includes the death of a couple who drowned on Upper Red Lake in November. The past two Minnesota winters have seen a total of two ice deaths, according to figures sent to GoMN by the Minnesota DNR..."
Photo credit: "An incident on Rice Lake in 2015 – the last winter in Minnesota to have at least five ice deaths." St. Louis County Rescue Squad, Facebook
---
---
Critical Fire Danger over SoCal. Thomas Fire 60% Contained.  Praedictix Briefing: Issued Thursday, December 21st, 2017
The Thomas Fire, currently the second largest wildfire in California history, continues to burn northwest of Los Angeles

Thursday

morning. The fire has burned 272,000 acres so far and is 60% contained. According to Cal Fire, over 5,700 personnel have been working on the fire, and containment isn't expected until

January 7th

.
Some parts of Santa Barbara and Ventura Counties are still under mandatory evacuations.
Both Ventura County and Santa Barbara County are keeping their local government pages updated with evacuation orders, road closures, and other relevant information like evacuation shelters.
Critical fire danger is expected today across southern California as strong winds and low humidity values are in place. This will allow any ongoing and new fires to quickly spread. An elevated fire danger will continue into

Friday

across the region.
---
Thomas Fire Update. Little change occured Wednesday with the Thomas Fire. As of Wednesday evening, the Thomas Fire had burned 272,000 acres and was 60% contained. This ranks as the second largest wildfire in modern California history, and is approaching the largest on record (the Cedar Fire back in October 2003, which burned 273,246 acres).
The map above is the area that has been burned by the Thomas Fire. A closer look at this map can be viewed at Inciweb.
---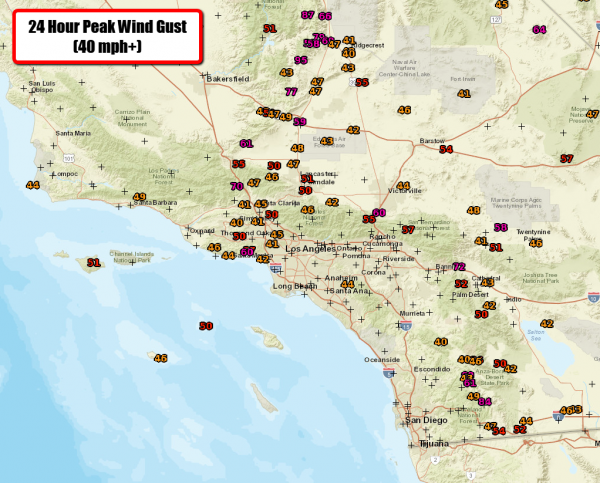 Wind Gusts Last 24 Hours. We have already observed wind gusts of 50-60 mph in the higher elevations of Los Angeles and Ventura Counties this morning, with strong winds expected to continue through the late morning to mid-afternoon hours across the region.
---
Critical Fire Danger Today. Strong Santa Ana winds will continue across southern California through the mid-afternoon hours. This, combined with low humidity values, will lead to critical fire weather conditions across the region. An elevated fire weather risk is in place from southern Nevada into the Lower Colorado River Valley as gusty northerly winds are expected behind a cold front today with low humidity values.
---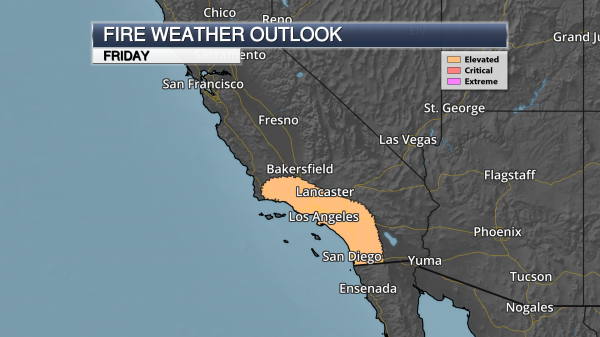 Elevated Fire Danger Friday. An elevated fire weather risk will continue across southern California Friday, especially during the morning hours due to gusty winds and low humidity values.
---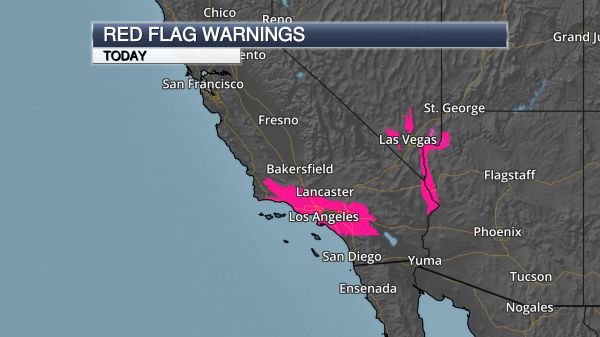 Red Flag Warnings. Red Flag Warnings continue across the region due to those gusty winds and low humidity values, which will allow the potential for extreme fire behavior.
For Santa Barbara County, the Red Flag Warning continues through

10 AM

this morning.
Across Los Angeles and Ventura Counties, the Red Flag Warnings are in effect from this morning through

10 AM

Friday

.
Across portions of Riverside, San Bernardino and Orange Counties, Red Flag Warnings are in effect from this morning through

6 PM

this evening.
Across parts of southeastern California, southern Nevada and western Arizona, Red Flag Warnings are in effect until

3 PM

today.
---
Wind Advisories In Effect. Wind Advisories continue today across portions of southern California due to the expected gusty northerly winds. At times, wind gusts are expected to be between 50-60 mph, especially at higher elevations. Winds will start to subside by the evening hours across the region. In the Los Angeles area, the wind advisories are in effect:
Through

10 AM

for the following areas: Los Angeles County Coast including Downtown Los Angeles, Ventura County Interior Valleys, Ventura County Coastal Valleys, Santa Clarita Valley, Los Angeles County San Fernando Valley, Ventura County Mountains, and the Santa Monica Mountains Recreational Area.
Through

3 PM

for the Los Angeles County Mountains excluding the Santa Monica Range.
Across southeastern California, southern Nevada and northwestern Arizona, Wind Advisories are in effect through 3 PM. That doesn't include parts of northern Nye County in Nevada, where the advisory goes through 10 PM. Wind gusts of 40-60 mph are possible in these areas.
---
Los Angeles Area Wind Gusts Today. Gusty winds are expected to continue throughout the day across the Los Angeles area, with wind gusts of 30+ mph expected for areas like Malibu, Pomona, Santa Ana and Riverside. Higher gusts of up to 50-60 mph will continue to be possible at higher elevations. These winds will slowly decrease by the evening hours.
---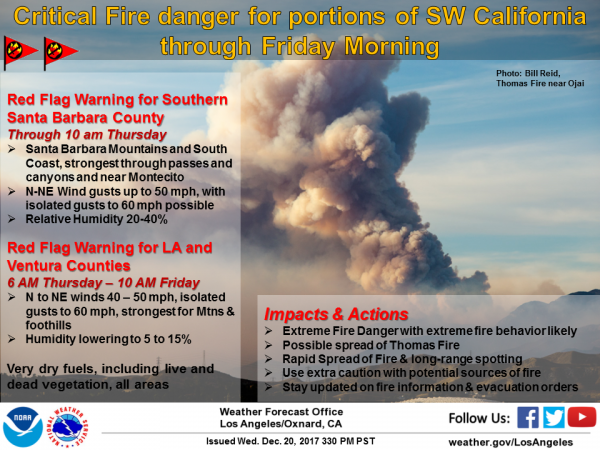 Latest Information From The National Weather Service – Los Angeles. Here's a good summary on the expected fire weather over the next couple of days issued Wednesday Night from the National Weather Service office in Los Angeles: "North winds will increase behind a passing low pressure system this (Wednesday) evening, with moderate to strong Sundowner winds expected across portions of Santa Barbara County tonight (Wednesday) through Thursday morning. A Red Flag Warning has been issued for 6 PM Wednesday through 10 AM Thursday for the mountains and South Coast of Santa Barbara County. Northwest to north winds will begin to increase over the southwest portion of Santa Barbara County during the evening hours, strongest in the Santa Ynez Range and through passes and canyons of the South Coast, west of Goleta. Later in the evening northerly winds will strengthen over the southeast portion of the county, affecting the mountains and foothills near Montecito and the Botanical Gardens. Gusts to 50 mph with isolated gusts to 60 mph will be possible during this time. By early Thursday morning, north to northeast winds will begin to increase over Los Angeles and Ventura Counties, with gusts 40 to 50 mph expected. A Red Flag Warning has been issued for these counties from early Thursday through Friday morning. Due to very dry vegetation in all areas, critical fire danger will be likely in the areas mentioned. The winds are likely to cause extreme fire behavior within the Thomas Fire area, and with any new ignitions that may occur. Extreme caution with any source of fire is encouraged during this time."
---
Fire Danger Sunday. Weak offshore to even afternoon onshore winds are expected this weekend across southern California, lowering the fire threat. There is still a critical fire weather danger outlined over southern California Sunday, however if the model trend toward weaker winds continue this risk will likely be lowered.
Meteorologist D.J. Kayser, Praedictix
---
WILDFIRES: From Climate Nexus Hot News: "Thomas Fire on verge of becoming the biggest blaze in state history (San Francisco Chronicle), as winds rise once more, firefighters fear 'flare-up' in massive Thomas blaze (NPR), Gov. Jerry Brown requests a major disaster declaration for SoCal wildfires (LA Times $), Thomas Fire 60 percent contained; 'significant wind event' expected (San Luis Obispo Tribune), residents sue utilities, city of Ventura over damage caused by the Thomas fire (LA Times $), what does 'containing a fire' really mean?" (NPR)
---
FEMA Overwhelmed by Hurricanes and Wildfires. CNN has the sttory: "Nearly 5 million Americans have registered for federal aid since Labor Day; more victims than Hurricanes Katrina and Wilma and Superstorm Sandy combined. But the man in charge of answering all those pleas is sounding his own cry for help. FEMA Administrator Brock Long, chosen by Donald Trump to be the nation's top emergency manager, wants everyone to understand three fundamental truths:
FEMA is broke.
The system is broken.
If this is the new normal, Americans can't rely on a federal cavalry when disaster strikes. They will have to take care of themselves..."
September 5 file image of Hurricane Irma courtesy of NOAA and AerisWeather.
---
Meet the Unlikely Hero Who Predicted Hurricane Harvey's Floods. Once again – tipped off by the ECMWF (European model). Well done, Eric. WIRED.com has the story: "…There is one model he has come to trust and rely on more than any other: the European Centre for Medium-Range Weather Forecasts' Integrated Forecasting System, more popularly known in the US as the European model. Funded by 22 EU members and 12 cooperating states, the European model is sometimes shockingly accurate, in part because it's so well financed and its computing power is stronger than most. With Harvey, it suggested that the storm would stall over Houston, dumping 25 inches of rain or more before eventually moving on. That synced with Berger's own analysis of the weather patterns in the atmosphere. He detected a troublesome absence of steering currents, the forces that push hurricanes to wherever they're headed next, and without those currents, the European model's forecast of a stall made a lot of sense. Given the sum of the evidence before him, Berger felt confident in one fearsome prediction, and he wrote as much: Big-time floods are coming to Texas..."
Photo credit: "Leisure-time meteorologist Eric Berger looked at the models and thought "Big-time floods are coming to Texas." Brent Humphreys
---
How a Severe Drought in Sicily in 1893 Created the Mafia. I was skeptical too, but read on, courtesy of Quartz: "Historical links between climate and political uprisings are well documented. A drought in France in 1788 resulted in widespread crop failure (pdf) and soaring food prices, which historians believe stoked the French revolution of the following year. More recently, four years of drought in Syria between 2006 and 2010 created mass unemployment, contributing to the civil war that rages to this day. A provocative new paper makes the case that a drought also created the world's most notorious criminal organization…"
Photo credit: "You can thank 19th-century weather patterns for today's mob." (Reuters)
---
Antarctica: Can Ancient Flood in Bible's Book of Genesis Explain Mysterous Fossilized Forest? Newsweek has an interesting story; here's a snippet: "A fossilized Antarctic forest, older than the dinosaurs, might hold evidence of the legendary biblical flood from the tale of Noah's Ark. Scientists announced the discovery of the fossilized trees in Antarctica's Transantarctic Mountains in November. They believe the forest is the oldest one known to exist in the southern polar region, according to Breaking News Israel. They proposed that the ancient trees preserved a record of a large-scale global die-off event, which raised the planet's temperature to dangerous extremes and turned its oceans acidic, and ultimately wiped out 95 percent of species on Earth. But they were left with the question of what exactly was the catalyst for those changes. At least one biblical scholar believes he has the answer: The die-off event was the Great Flood described in the Book of Genesis…"
---
Sun May Be Dimming: NASA to Confirm Declining Luminosity Using SpaceX's Payload. International Business Times has the article: "Due to a drop in number of sunspots and the resulting decrease in total solar radiance (TSI) values, NASA launched a new sensor to study the dimming sun. Data from NASA's Spaceweather website showed after a solar maximum 2012, which lasted till 2014, we have entered a solar minimum period in the solar cycle, which has caused the sun's electromagnetic output to drop by 0.1 percent. SpaceX  launched a new sensor to the International Space Station named  NASA's Total and Spectral Solar Irradiance Sensor (TSIS-1) on Dec. 15. It will add to the plethora of instruments dangling from the space station and help measure the TSI. It will also replace the aging SORCE spacecraft to aid in the study of the sun. All past data showed we are heading towards the 11-year minimum in the sun's cycle. In 2017, 96 days (27 percent) were without sunspots…"
Image credit: NASA.
---
Fueled by Drug Crisis. U.S. Life Expectancy Declines for Second Straight Year. Here's an excerpt from The Washington Post: "American life expectancy at birth declined for the second consecutive year in 2016, fueled by a staggering 21 percent rise in the death rate from drug overdoses, the Centers for Disease Control and Prevention reported Thursday.  The United States has not seen two years of declining life expectancy since 1962 and 1963, when influenza caused an inordinate number of deaths. In 1993, there was a one-year drop during the worst of the AIDS epidemic. "I think we should take it very seriously," said Bob Anderson, chief of the Mortality Statistics Branch at the National Center for Health Statistics, which is part of the CDC. "If you look at the other developed countries in the world, they're not seeing this kind of thing. Life expectancy is going up..."
---
A Female Programmer's Four-Decade-Long, Insider View of Silicon Valley. Lenny Letter has some good advice for women hoping to break through and move up: "Ellen Ullman's latest book, A Life in Code, relays her experience through many of our major cultural tech moments: Y2K, the rise (and fall, and rise, and fall) of artificial intelligence, the emergence of the Internet, and the runaway growth of Silicon Valley over the past two decades. Ullman insists she is only a programmer, but she is also a sharp observer of Silicon Valley culture. Ullman's view as a woman on the inside of tech is incredibly rare, but her ability to remain within the system for decades without letting it consume her is still rarer.While Silicon Valley abhors pessimism, Ullman reminds us that sometimes positivity about new possibilities is the result of an incredibly narrow view. It takes an expansive imagination or even just a willingness to explore different perspectives and walks of life, to see how good intentions can actually hurt without consideration for people who may lead different lives than the standard white, male tech-company founder..."
Illustration credit: Zoe van Dijk.
---
For First Time Ever, More Women Than Men Going Into Med School. Quartz has the numbers: "It's finally time to put the old stereotype about male doctors and female nurses away for good. According to new data this week from the Association of American Medical Colleges, female students outnumber male students in this year's entering class at US medical schools, for the first time in history—and enrollment trends overall suggest there may well be more women in the medical field than men in the near future…"
---
HMS Queen Elizabeth: Leak Found on New Aircraft Carrier. The BBC reports: "The UK's new aircraft carrier, HMS Queen Elizabeth, is leaking because of a faulty seal. The Royal Navy's future flagship, which was commissioned by the Queen earlier this month in Portsmouth, has a problem with one of its propeller shafts. The fault on the £3.1bn carrier was first identified during sea trials. A Royal Navy spokesman said the ship was scheduled for repair and the fault did not prevent it from sailing again early in the new year. According to the Sun newspaper, HMS Queen Elizabeth has been taking on up to 200 litres of sea water every hour because of the fault. BBC defence correspondent Jonathan Beale said the problem was "highly embarrassing" for the Royal Navy and just one of a number of snags still to be rectified..."
---
McDonald's Is Going Vegan. CNN Money explains: "The fast food chain plans to start selling a McVegan burger in hundreds of restaurants across Sweden and Finland starting on December 28. The sandwich, which has already been tested at a handful of McDonald's locations in Finland, consists of a soy patty, bun, tomato, lettuce, pickles, onion, ketchup, mustard, oil and an egg-less sandwich sauce.  "Like our other burgers, the McVegan is tasty and has a good texture," said McDonald's (MCD) spokesperson Henrik Nerell. The meatless burger, which was developed in partnership with a specialty Norwegian food company called Orkla, could help the American chain capitalize on increased demand for vegetarian and vegan foods…"
---
Mariah Carey's "All I Want for Christmas" May Become Most Popular Pop Song Ever. Quartzy explains: "All I Want for Christmas Is You" might be on its way to becoming the most popular US pop song of all time. I know, it's tough to believe, but hear me out. Mariah Carey's Christmas anthem is already among the 20 best-selling singles ever, with over 14 million copies sold. Among the most popular songs of all-time, it is the only one getting more popular. The song was released in 1994, and in December 2017, for the first time, it cracked the top-10 of the Billboard Hot 100, the music industry's standard for ranking current song popularity. Carey has already earned about $60 million in royalties on the song since its release, according to the Economist. The current best-selling single of all time is Bing Crosby's "White Christmas," which has a big head start on "AIWFCIY":" since it was released in 1942, the holiday classic has sold over 50 million copies. But in recent years Carey's song has become more popular than Crosby's..."
Photo credit: New York Daily News. "Just in time for Christmas, Mariah Carey's yuletide earworm has hit a new high note." (James Devaney/WireImage)
---
"The man who is truly forgiven and knows it, is a man who forgives." – Martyn Lloyd-Jones
---
2″ snow on the ground in the Twin Cities.
24 F. maximum temperature on Thursday.
25 F. average high on December 21.
41 F. high on December 21, 2016.
December 22, 2000: A chilly day in Minnesota, with a high of zero degrees in Minneapolis, and a low of 14 below.
---
FRIDAY: Clouds, flurries north. Winds: SW 3-8. High: 24
FRIDAY NIGHT: Few flurries. Low: 9
SATURDAY: Mostly cloudy and chilly – good travel. Winds: NW 8-13. High: 19
CHRISTMAS EVE: More clouds, tracking Santa. Winds: W 8-13. Wake-up: 8. High: near 20
CHRISTMAS DAY: Christmas present from The Yukon. Flurries, feels like -10F. Winds: NW 10-15. Wake-up: -2. High: 7
TUESDAY: More sunshine, feels like -15F. Winds: NW 7-12. Wake-up: -9. High: 4
WEDNESDAY: Nippy start, fading sunshine. Winds: S 5-10. Wake-up: -12. High: 13
THURSDAY: Chance of snow. Stay tuned. Winds: E 8-13. Wake-up: 5. High: 15
---
Photo credit: Harrison Jones, Hanover, Pennsylvania.
---
Climate Stories….
As Snow Disappears, A Family of Dogsled Racers in Wisconsin Can't Agree Why. Here's an excerpt from an explanation at InsideClimate News: "…Now the ideal image of dogs, humans and a sled careening silently across snow is facing a new challenge as the climate warms and the weather weirds. The Iditarod, a thousand-mile race across Alaska that is the most famous of sled dog races, had to be rerouted two of the last three years as its organizers chased snow-covered terrain. In Wisconsin, since 2001, about one-third of the sled races failed to happen, primarily because of lack of snow.  "I definitely see a trend where things are not like they used to be," said Jan Bootz-Dittmar, a champion sprint musher on snow and dry land who's been running dogs for 40 years. Last year, insufficient snowfall caused half of the snow races in Wisconsin to be cancelled. "That affects me," she said in the cafe as she munched on potato chips in lieu of lunch, "and it pisses me off…"
Photo credit: "With snow becoming less reliable, many dogsled racers have turned to dryland racing, with rigs on wheels replacing traditional sleds." Credit: Meera Subramanian.
---
HEATING UP: From Climate Nexus: "2017 will rank among Earth's top 5 warmest years (Mashable), scientists just presented a sweeping new estimate of how much humans have transformed the planet."(Washington Post $)
---
Moose May Be the Real Canaries in the Coal Mine. A story at Big Think explains: "…A team of ecologists from Michigan Technological University (MTU) in Houghton have recently released the first results of their study of Isle Royale moose as living, breathing manifestations of changing climate conditions. Moose thrive in the cold, and while the Keweenaw continues to be frigid by human standards, with roughly 300 inches of snow per year, it's not as cold as it once was. "The conditions you're born into have a massive impact on not only how big you are but also how long you're going to live," says Sarah Hoy, a research fellow of MTU's School of Forest Resources and Environmental Science. "This idea isn't new — what we're trying to do is establish how climate warming is affecting this iconic, cold-adapted species. We found evidence suggesting that moose experiencing a warm first winter tended to be smaller as adults and live shorter lives..."
Photo credit: "Moose on Isle Royale." (ALS PICTURES)
---
Should People Be Taxed Based on their Energy Footprint? Here's an interesting concept, explained in an Op-Ed at Quartz: "…So, if our current tax systems don't penalize damage to the planet and can be side-stepped by the nomadic, hybrid lifestyles unlocked by technology, one solution could be to shift from disconnected national taxation systems to a collaborative global regime, whereby individuals are charged on the basis of their personal energy footprint. Those eating and living locally, rarely traveling on airplanes, and using recycled or multi-purpose materials would be taxed less than high-living internationals fueling their lifestyle with imported products and jet travel. Equally, those whose job requires frequent travel and a high-energy footprint would pass the tax bill on to their employers, compelling companies to factor ecological impact into their bottom line..."
Photo credit: "An energy footprint-based tax system would accelerate our transition to a regenerative economy and help us fight climate change." (Reuters/ POOL New)
---
A Year of Climate Change in Photos. Bloomberg has a comprehensive photo essay: "From record-breaking wildfires, floods and hurricanes to innovations in energy, transport and agriculture, Bloomberg presents our climate photos of the year."
Photo credit: "An elevated home stands in Pointe a La Hache, Louisiana, on Jan.19, 2017. The state's 7,700-mile shoreline is disappearing at the fastest rate in the U.S." Photographer: Derick E. Hingle/Bloomberg.
---
McDowell: We Can't Afford Climate Change. Here's an excerpt of an Op-Ed from The Roanoke Times: "…We just had four hurricanes in a row. Many people lost their lives. Houston got 40 inches of rain in a couple days, more than most of the east coast gets in an entire year. Estimated damage — $150-180 billion. Florida escaped complete destruction but still has estimated damage of $50 billion. Hurricanes Maria and Irma destroyed much of the Caribbean Islands with Puerto Rico being without power for weeks and it may be months. Overall damages estimated at $40 to $80 billion. The western United States has had a decade of extreme fire seasons, each worst than the last. California is now on fire. Economic damage estimated at $85 billion. Total damages from storms in the past few weeks alone approximately- $300 — $400 billion. Here in the east, each fall day is still like summer. We've always had warm days in fall here in Virginia, but this is ridiculous…"
---
The Growing Movement to Take Polluters to Court Over Climate Change. Here's a clip from New Republic: "…Climate-related court cases have skyrocketed in the last three years. A May study by the United Nations and Columbia University found that the number of lawsuits filed across the world has tripled since 2014; out of nearly 900 cases, 654 were filed in the United States. Most of these suits seek to punish governments, not corporations, for not taking sufficient action to fight climate change—usually by arguing that public officials have denied citizens' rights to a clean and healthy environment. Some of these lawsuits have succeeded in other countries. In 2015, the Dutch government was forced to lower the country's greenhouse gas emissions in response to a class action lawsuit from its citizens. A judge in Ireland recently ruled that citizens have a constitutional right to a safe climate and environment. And last month, a climate liability lawsuit against Germany's largest power company was allowed to move forward…"
File image: Reuters.
---
Stop "Boring" Language to Spur Climate Action, U.N. Environment Chief Says. Reuters has the story; here's an excerpt: "…It shows people want to know about these things but when it comes to explaining why it's happening and what can be done to stop it, we're not speaking in language that everyone understands," he told the Thomson Reuters Foundation. "The language of environmentalists has been boring, so uninspiring … If we just speak a technical language, with many acronyms and politically-correct phrases, no one will listen," he said in an interview during a Bonn conference on landscapes. "You cannot bore people into action. They need to be excited and inspired to take action and change their behavior..."