Another Storm Slides South of Minnesota Today
I have an inexplicable urge to ski St. Louis. 9 inches of snow may fall at STL today, as a storm tracks well south of Minnesota. Half a foot may delight locals from Indianapolis to Cincinnati, with 2-4 inches for Chicago. While we twiddle our thumbs and take turns unplugging the Doppler.
It's quiet out there, and our midwinter snow drought should spill over into next week. This is probably a symptom of a weak, sloppy El Nino; a Pacificwarming trend forecast to spill over into spring of 2019.
Clouds camouflage the sun today, but the mercury hits 32F. Expect more sun tomorrow, and by Tuesday afternoon temperatures may brush 40F, for the 5th time this month.
When it stays dry, quiet and supernaturally mild for an extended period of time, I get nervous. The other shoe may drop in less than 2 weeks. Long-range guidance brings a (real) cold front south of the border with what may be the first subzero readings of winter for MSP.
Confidence levels are low – I still suspect El Nino will take the roughest edges off our winter, lowering the risk of a fierce multi-week polar plunge.
---
---
Colder Finish to January. We all knew that, at some point, the weather honeymoon would draw to an end. 30s and even 40s (above zero) in January? It's not sustainable. Sure enough, the pattern shifts 1-2 weeks out with more frequent volleys of fresh, clean, Canadian air – and probably the first subzero lows of winter for the immediate metro area.
---
Praedictix Briefing: Issued Friday, January 11th, 2019:
An area of low pressure moving across the southern United States over the next few days will bring an area of heavy snow and ice along with through the weekend from the Central Plains into the Mid-Atlantic.
Some of the heaviest snow is expected to fall around the St. Louis metro, where snowfall totals of 6-9" are expected.
Numerous winter weather alerts stretch from the Rockies to the Mid-Atlantic due to the snow and ice potential. Winter Storm Warnings are in effect for areas like St. Louis, Indianapolis, and Cincinnati.
---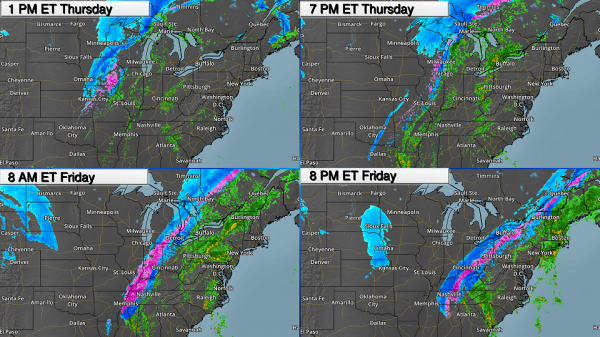 Snow And Ice Will Continue To Spread East. Already by the midday hours today snow and sleet is expected to spread into the St. Louis metro, with the potential of at least 1-2" of snow on the ground by the evening commute. Snow will continue to spread into the Ohio Valley tonight and into the Mid-Atlantic Saturday, with the potential of some ice Saturday Night in the Mid-Atlantic.
As this snow and ice impacts areas from the Central Plains to the Mid-Atlantic, the latest road conditions will be able to be found on the following local DOT websites:
---
Winter Weather Alerts. Due to the snow and ice potential, numerous winter weather alerts – including Winter Storm Warnings – are in place from Colorado into the Mid-Atlantic. Looking at some of the locations under winter weather alerts this morning:
Denver, CO: Winter Weather Advisory until Midnight Friday Night for 3-6″ of snow.
Goodland, KS: Winter Weather Advisory from 2 PM today to 5 AM Saturday for 3-4″ of snow.
Kansas City, MO: Winter Weather Advisory from 6 PM tonight to 6 PM Saturday for 3-6″ of snow.
Des Moines, IA: Winter Weather Advisory from 6 PM tonight to 6 PM Saturday for 3-6″ of snow.
St. Louis, MO: Winter Storm Warning from Noon today to Midnight Saturday Night for 6-9" of snow, up to around a third of an inch of sleet, and a light glaze of ice.
Indianapolis, IN: Winter Storm Warning from Midnight Friday Night to 7 AM Sunday for 5-7″ of snow and a light glaze of ice.
Cincinnati, OH: Winter Storm Warning from 4 AM Saturday to 7 AM Sunday for 4-6″ of snow.
Charleston, WV: Winter Weather Advisory from 1 AM Saturday to 7 PM Sunday for 1-4″ of snow and up to one-tenth of an inch of ice.
Roanoke, VA: Winter Storm Watch from 1 PM Saturday to 7 PM Sunday for a combined 4-6″ of snow and sleet.
Richmond, VA: Winter Storm Watch from Noon Saturday to Midnight Sunday Night for 3-5″ of snow.
---
---
Forecast Snow Totals. Some of the heaviest snow with this system (outside of the Rockies) is expected to fall across parts of Missouri into the Ohio Valley, including the St. Louis metro. In these areas, 5-9″ of snow will be possible over the next couple of days. Some areas of 6″+ of snow will also be possible across parts of eastern West Virginia into Virginia. This snow will impact roads across the region, leading to difficult travel conditions.
---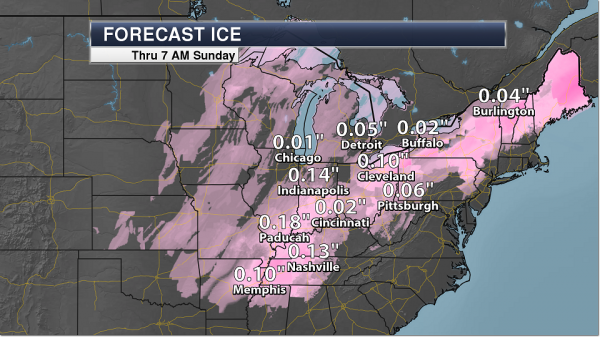 Forecast Ice Totals. While a light glaze to a tenth of an inch of ice is possible across parts of the Mid-Mississippi and Ohio Valleys with this system, the greatest potential of ice of at least a tenth of an inch will be across parts of western and central North Carolina into southern Virginia. This will have the potential to make roads slick late Saturday through the morning hours Sunday in the Mid-Atlantic.
– Meteorologist D.J. Kayser, Praedictix.
---
Heavy Snowfall in Swiss Alps Leaves 6 Dead and Strands Tourists. The pain and disruption extends from northern Italy into Austria and Germany; here's a clip from a New York Times update: "Once-in-a-generation heavy snowfall has paralyzed travel and tourism in parts of the Alps, with conditions that have left at least six people dead, Austrian officials said on Thursday. Heavy snowfall and strong winds are projected to continue in Austria and southern parts of Germany until at least Friday, bringing at least an additional 20 inches, or 50 centimeters, of snow over 24 hours to parts of the Alps that have already seen as much as 10 feet over the past week…"
Photo credit: "Heavy snowfall and strong winds are projected to continue until at least Friday." Credit: Lisi Niesner/Reuters.
---
The Weather Service is Open 24/7, Forecasters are Working Without Pay, and It's Taking a Toll. Angela Fritz reports for Capital Weather Gang: "…More than 4,000 National Weather Service employees are working day and night without pay this month. Some have already missed a paycheck — only a day's worth, if they happened to work Dec. 22. But they're going to miss a big one this week. "I can go a couple pay periods and be okay," Wright said. For others in his Nashville forecast office, though, "missing just one paycheck can be devastating." The federal government has three levels of shutdown for employees: furloughed, excepted and emergency. The furloughed employees aren't working, and they won't get paid. The emergency workers are called in only if something terrible happens. Excepted employees continue working without pay for the duration of the shutdown, until Congress passes a bill to pay them back..."
File image: National Weather Service, Norman, Oklahoma.
---
AccuWeather Developed a Hurricane Category Scale, and it Worries Some Meteorologists. The result may be meteorological anarchy, and serious confusion in the minds of consumers in the path of these storms. Here's an excerpt from Capital Weather Gang: "…Myers says that's kind of the point. No one is filling this need, so he and his business are stepping in, whether the rest of the community likes it or not. And he's no stranger to criticism, whether it be for 45-day forecasts, 90-day forecasts or issuing non-government tornado warnings to clients. "We're going to continue to innovate," Myers said, "and as all innovators, we're going to continue to be criticized." But there could be bigger issues than industry acceptance when two scales are being used to categorize a potential disaster: Confusion. Anxiety. Panic. Even AccuWeather's announcement listed several examples of where the RealImpact category would be significantly different from the Saffir-Simpson. In practice, having the NHC say a storm is a Category 2 while AccuWeather predicts it will be a RealImpact 5 might not go well…"
File image: Associated Press.
---
---
New State Annual Precipitation Record Confirmed. Dr. Mark Seeley has perspective on yet another Minnesota rainfall record in 2018 at Minnesota WeatherTalk: "Back in the very wet year of 2016 Waseca recorded 56.24 inches of precipitation, setting a new statewide annual precipitation record. Only two years later in 2018 five southeastern Minnesota climate stations reported 50 inches of annual precipitation and two of them broke the state record: Caledonia (Houston County) reported 57.97 inches; and Harmony (Fillmore County) reported 60.21 inches. At Caledonia the record total precipitation was greatly enhanced by an intense thunderstorm that delivered 8.10 inches there on August 28th. However at Harmony the new precipitation record was set because of more frequent heavy rains and not so much individual record-setting rainfalls. For example at Harmony they normally record about 7 one day rainfalls of 1 inch or greater per year, but this year they had 18 such days. Also they average about 2 days per year with 2 inches of rainfall, and in 2018 they reported 7 such days…"
File photo: NOAA.
---
Wettest Year on Record for 120 Midwest Towns. The Midwest Regional Climate Center (MRCC) has more information here.
---
Interactive Rainfall Record Data. Map courtesy of MRCC.
---
Tunnel Vision. How do cities, large and small, handle increasing runoff from super-sized rainfall events? Slate has a cautionary tale; here's an excerpt: "…In fact, far from building a catchall for Chicago wastewater until the end of time, the MWRD is now encouraging local projects—initiatives like rain barrels and green roofs and detention ponds—to keep water out of the system. The rainstorms are too big for the bottle. Much of the American landscape sits at the precarious intersection of sprawl and climate change. In August 2017, Hurricane Harvey flooded more than 150,000 homes in Harris County, home of Houston. Only half of them were in federally designated flood plains—the low-lying land, often along tidal bays, creeks, and rivers, which FEMA believes might be inundated during the heaviest rain. Of the rest, some flooded because Harvey was a once-in-10,000-year storm…"
Photo credit: "Construction workers lean in to discuss the project over the noises echoing throughout the Deep Tunnel." David Schalliol.
---
CFO's Should Provide More Insight Into Natural Disaster Risks, Analysis Says. Here's a clip from a story at The Wall Street Journal: "Finance chiefs world-wide could do a better job communicating the risks from natural disasters, according to an analysis of nearly 100 filings by FM Global, a mutual insurance company. Climate change exacerbates the need for CFOs to spell out the risks for their companies' operations, future cash flow and market valuations, said Eric Jones, global manager for business risk consulting at FM Global. "CFOs really need to think about how vulnerable their businesses are," Mr. Jones said. FM Global analyzed 94 regulatory filings covering the 2017 reporting period that were submitted by U.S. businesses to the Securities and Exchange Commission…"
Graphic credit: Wall Street Journal.
---
Just 5% of Earth's Landscape is Untouched. Axios has details: "Humans have a greater influence on the world's landscape than previously thought, according to a comprehensive new high-resolution analysis of human modification of the planet. The map, published in the journal Global Change Biology, is meant to guide conservation strategy in the coming years. Why it matters: The new study finds that just 5% of the Earth's land surface is currently unaffected by humans, far lower than a previous estimate of 19%. 95% of the Earth's land surface has some indication of human modification, while 84% has multiple human impacts, the study found…"
Image credit: NASA.
---
A New Cold War Has Begun. Focus your well-intentioned paranoia on China, much more so than Russia, argues a must-read post at Foreign Policy; here's an excerpt: "…That future has arrived, and it is nothing less than a new cold war: The constant, interminable Chinese computer hacks of American warships' maintenance records, Pentagon personnel records, and so forth constitute war by other means. This situation will last decades and will only get worse, whatever this or that trade deal is struck between smiling Chinese and American presidents in a photo-op that sends financial markets momentarily skyward. The new cold war is permanent because of a host of factors that generals and strategists understand but that many, especially those in the business and financial community who populate Davos, still prefer to deny. And because the U.S.-China relationship is the world's most crucial—with many second- and third-order effects—a cold war between the two is becoming the negative organizing principle of geopolitics that markets will just have to price in…"
---
What Makes People Happy? One Woman Walked 7,000 Miles to Find Out. Here's an excerpt from a story at The Today Show: "…Here are the top responses after the first half of the Happiness Walk:
Social connections: Life is all about family, friends and people we care about. It's by far the top answer Francis hears, shared by almost one-third of people she has interviewed.
Psychological well-being: Feeling content, connected and positive. Living a meaningful life where "bad things will (still) happen, but you are strong, clear and skilled enough to move through the bad stuff and still see the beauty in life," Francis noted.
Community vitality: Contributing to your town or neighborhood, making a difference and caring about one another..."
Photo credit: "Paula Francis is on a cross-country Happiness Walk: "I feel blessed because I get to experience things that fear would keep me from," she said." Courtesy of Paula Francis.
---
33 F. high yesterday in the Twin Cities.
23 F. average high on January 11.
37 F. high on January 11, 2018.
January 12, 2000: Snow falls in a narrow band over the Twin Cities. Maplewood receives 5.5 inches, while Chanhassen gets 12.
January 12, 1888: The infamous 'Blizzard of '88' occurs. It hit during a mild day when many children were heading home from school. They made up the majority of the 200 people that died. At the end of the storm the thermometer at St. Paul read -37.
---
---
---
---
SATURDAY: Mostly cloudy but dry. Winds: E 7-12. High: 32
SUNDAY: Intervals of sun, PM thaw likely. Winds: S 5-10. High: 35
MONDAY: Mix of clouds and sunshine. Winds: SW 7-12. High: 38
TUESDAY: Partly sunny, relatively mild. Winds: W 10-15. Wake-up: 26. High: near 40
WEDNESDAY: Clearing skies, cooling off. Winds: N 7-12. Wake-up: 15. High: 24
THURSDAY: Clouds increase, late flurries? Winds: SW 7-12. Wake-up: 15. High: near 30
FRIDAY: Gusty winds, feels like January again. Winds: N 10-15. Wake-up: 8. High: 15
---
Climate Stories…
Katharine Hayhoe: "A Thermometer is Not Liberal or Conservative". The Guardian has an interview with Dr. Hayhoe; here's a clip: "...It's a vicious cycle. The more doom-filled reports the scientists release, the stronger the pushback from politicians whose power, ideology and funding depends on maintaining the status quo, and who are supported by those who fear the solutions to climate change more than they fear its impacts. Opposition to climate change is a symptom of a society that is politically polarised between those who cling to the past and those who recognise the need for a better future. Fossil fuels have brought us many benefits – and I'm grateful for their contribution to my life – but the solution to our current crisis is to stop using them. That change can be scary, especially for those with most to lose financially from this shift. If you feel threatened, the instinctive reaction is to push back…"
Photo credit: "Katharine Hayhoe: 'Fear is a short-term spur to action, but to make changes over the long term, we must have hope." Photograph: Randal Ford.
---
Winter: Fastest-Warming Season for Most of USA. Climate Central reports: "But winter is the fastest-warming season in 38 states, where the changing climate is harming local economies and ecosystems. Climate Central has shown that more winter precipitation is falling as rain, affecting western snowpack and nationwide winter sports industries. According to a report using 2015-2016 data, the winter sports of downhill skiing, snowboarding, and snowmobiling contributed over $20 billion to the U.S. economy. Low snow years saw an average loss of 17,400 jobs and over $1 billion. In less snowy places like the Southeast, fruit trees are suffering with less natural chilling time, hurting a multi-billion dollar industry. With warmer winters, even the apples from Thanksgiving pies may be threatened…"
---
Ocean Warming is Accelerating Faster Than Thought, New Research Finds. Here's an excerpt from The New York Times: "…A new analysis, published Thursday in the journal Science, found that the oceans are heating up 40 percent faster on average than a United Nations panel estimated five years ago. The researchers also concluded that ocean temperatures have broken records for several straight years. "2018 is going to be the warmest year on record for the Earth's oceans," said Zeke Hausfather, an energy systems analyst at the independent climate research group Berkeley Earth and an author of the study. "As 2017 was the warmest year, and 2016 was the warmest year." As the planet has warmed, the oceans have provided a critical buffer. They have slowed the effects of climate change by absorbing 93 percent of the heat trapped by the greenhouse gases humans pump into the atmosphere..."
Access to the paper is here.
---
FROGS IN A POT: Climate Nexus has headlines and links: "The world's oceans are warming much faster than some earlier predictions estimated, new research has found. A study published Thursday in Science finds that oceans are warming about 40 percent faster than estimates made in the 2014 UN Intergovernmental Panel on Climate Change report. "The ocean is the memory of climate change, along with melted ice, and 93% of the Earth's energy imbalance ends up in the ocean," co-author Kevin Trenberth told CNN. "Global warming is close to ocean warming, and 2018 will be the warmest year on record, followed by 2017, then 2015." (The Guardian, Thomson Reuters Foundation, New York Times $, CNN, NY Mag, InsideClimate News, HuffPost, Axios, USA Today, The Hill; Commentary: Carbon Brief op-ed by the study authors).
---
Greenhouse Gases Blowing the Wrong Way for America. Here's an excerpt of an Op-Ed from USA TODAY's Editorial Board: "…Until last year, America had three consecutive years of declining carbon emissions, thanks in large part to regulations on vehicle emissions (something Trump seeks to reverse) and power companies turning away from burning coal.  A record number of coal plants closed last year because of cheaper natural gas and the pending Obama-era Clean Power Plan (which Trump seeks to scrap). But a combination of other factors — including a surging economy, heating demands, more trucking and air travel, and unregulated hikes in industrial pollution — caused carbon emissions in 2018 to rise an estimated 3.4 percent, according to a Rhodium Group analysis…"
---
---
Florida's New Republican Governor Softly Nudges the State Forward on Climate Change. The Miami Herald reports on encouraging shifts in rhetoric and policy in The Sunshine State: "…On Thursday, Florida's newly anointed Republican governor put his words to action, announcing plans to open a new resiliency office as part of a sweeping environmental rollout that includes an extra $1 billion for Everglades restoration and water cleanup — without mention of climate change or carbon emissions. In a state threatened by saltwater intrusion and suffering from red tide and toxic blue-green algae blooms, DeSantis' green platform received bipartisan applause. He's opposing fracking, creating a new office to integrate scientific research into the state's environmental policies and pushing to quickly begin the process of cleansing the state's distressed Lake Okeechobee…"
Photo credit: "Florida Gov. Ron DeSantis, two days into office, discusses executive orders he signed to address the red tide issues impacting the state."