Supernaturally Brown Out West – Drought Risk Grows
With all due respect to Billy Shakespeare, now really is the winter of our discontent, especially if you're a snow lover living in Willmar, Marshall or Montevideo. There's an awful lot of brown out there for February 10.
According to NOAA and USDA moderate drought has crept into far west central Minnesota. There are pockets of severe drought from Montana into South Dakota; extreme drought over the southern Plains. It's still a little early to fret about sufficient soil moisture for the growing season, but it's a trend we need to keep an eye on. It seems like all we do is flip-flop between flood and drought.
Here in the Land of Low Weather Expectations many of us will be positively THRILLED if the mercury reaches 20F Sunday afternoon, for the first time all month. A thaw is likely next Wednesday before another cold swipe. But here's the thing: the cold smacks aren't nearly as forbidding as they were in early January.
As the sun angle increases the storm track will begin to shift north; NOAA's GFS model hints at real snow in 10 days. March is coming.
Tournament storms!
---
Current Snow Cover
. Brown is an appropriate color for the map above, because there's plenty of brown ground from just west of the Twin Cities into west central and southwestern counties. Over 18″ of snow is on the ground from near International Falls to Grand Marais. Map:
Minnesota DNR
.
---
84-Hour Snowfall Potential. It's still too cold to snow (much), with the core of the storm track a few hundred miles too far south. Chicago and Detroit may pick up another 3-4″ – on top of what fell Friday. Not much chance of significant snow close to home into Tuesday morning. Map: tropicaltidbits.com.
---
Twin Cities Winter Misery Index Update
. More miserable than last winter, absolutely, but still not even close to the Pioneer Winter of 2013-14. Here's an excerpt from
The Minnesota DNR
: "…
As of February 7, 2018 the WMI for the 2017-18 winter is at 66 points: 39 points for cold, 27 points for snow. The 12.4 inches of snowfall on January 22 made up for lost ground. As of February 7 the winter of 17-18 has 30.6 inches of snow so far, 5.4 inches below normal. The WMI for the winter of 2016-17 finished with 49 points, enough for 2016-17 to be categorized as a "mild" winter. The total WMI points for the 2016-2017 winter were 23 for cold and 26 for snow: 49 points. The WMI for the winter of 2013-14 in Twin Cities was 207 points, or in the high end of the "severe winter" category.  This was the 9th most severe winter on record based on WMI points
…"
---
Moving in the Right Direction. Not exactly springlike, but once again you'll be impressed (and a little horrified) how good 20s can feel in mid-February. Next Wednesday looks like the mildest day in sight. Twin Cities ECMWF numbers: WeatherBell.
---
Zonal = Milder. Winds aloft are forecast to be primarily west to east the last week of February, hinting at a wind flow from the Pacific vs. The Yukon. That should mean (consistent) 20s and 30s as we end out the month.
---
Praedictix Briefing: Issued Friday morning, February 9th, 2018:
* Winter Storm Warnings continue for Chicago and Detroit this morning, as heavy snow continues to fall across the region. Already this morning 3-6" of snow has been reported across the Chicago metro, with an additional 3-9" of snow expected for Chicago and Detroit.
* This snow is causing travel issues across the region this morning, with snow-covered roads being reported from Iowa to Michigan.
* At least two more rounds of snow is expected for this region into the weekend, but each of those (one tonight into Saturday, another Saturday night into Sunday) will bring between 1-3" of snow each time.
* An icing threat will develop south of where this snow falls into the weekend, from Missouri to central Indiana. Widespread freezing rain totals from 0.05" to 0.20" are expected across the region.
---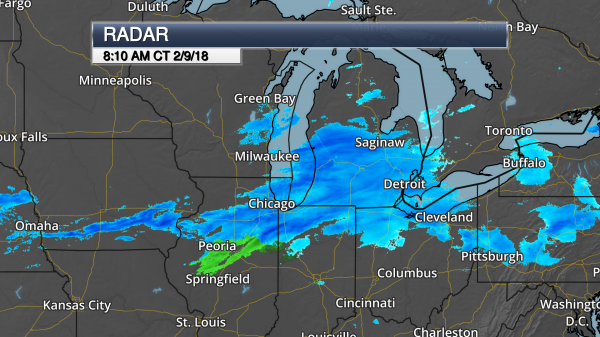 Morning Radar. Snow is continuing this morning from southern Iowa across the Chicagoland area and into southern and central Michigan. Snow will come to an end in the Chicago metro through the midday hours, with snow tapering off into the evening hours in Detroit. This snow has caused travel issues across the region this morning, with snow-covered roads being reported from Iowa to Michigan.
---
Local Department of Transportation Websites:
Iowa:  https://hb.511ia.org/
Illinois: https://www.gettingaroundillinois.com/WinterConditions/index.html
Indiana: http://indot.carsprogram.org/
Michigan: https://mdotnetpublic.state.mi.us/drive/
Ohio: http://www.ohgo.com
---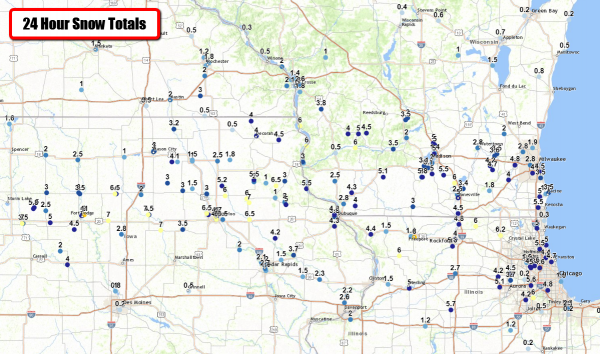 Snow Totals So Far. So far today 3-6" of snow has been reported so far this morning across the Chicagoland area. The heaviest overall totals so far have been reported across Iowa (where snow has come to an end) with up to 11" of snow reported in Fort Dodge.
---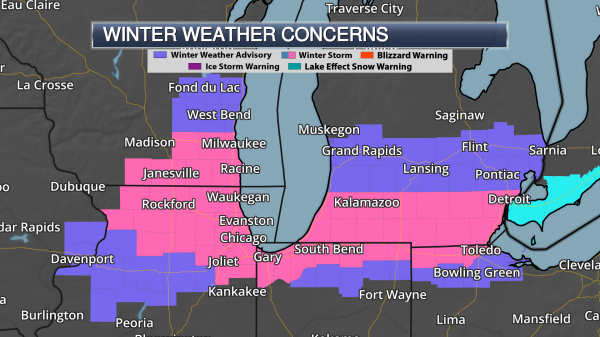 Winter Weather Concerns. Winter Storm Warnings and Winter Weather Advisories continue this morning from eastern Iowa to southern Michigan and northern Indiana and Ohio. For Chicago, the Winter Storm Warning is in effect through noon today. In Detroit, the warning is in effect through midnight tonight.
---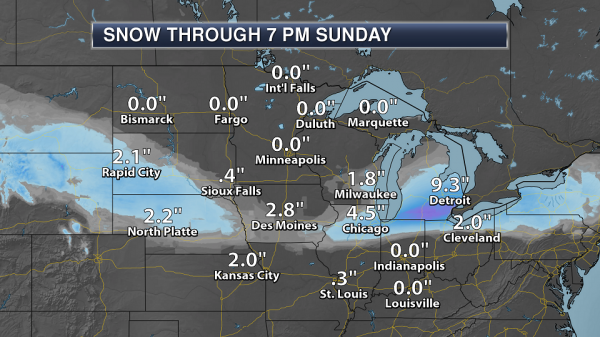 Snow Through The Weekend. Overall snow totals of 6"+ are likely from eastern Iowa into the southern Great Lakes through the end of the day today, with additional light snow chances across the region as we head into the weekend.
---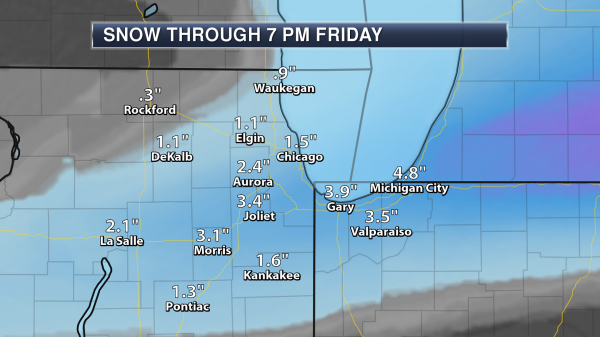 Additional Chicago Snow Through 7 PM Tonight. An additional 1-5" of snow is expected through the rest of the morning across the Chicagoland area, with snow tapering off throughout the day. Additional rounds of light snow (not pictured in this forecast) are expected late tonight into early Saturday (1-2" of accumulation) and again Sunday morning (1-3" of accumulation).
---
Additional Detroit Snow Through 7 PM Tonight. The heaviest snow will continue through 1 pm across the Detroit metro, bringing hazardous driving conditions and significant reductions in visibility, before snow slowly tapers off through the rest of the day. Overall snow totals in the Winter Storm Warning area of 6-9" are expected. Additional rounds of light snow (not pictured in this forecast) are expected late tonight into early Saturday (1-2" of accumulation) and again Sunday morning (1-3" of accumulation).
---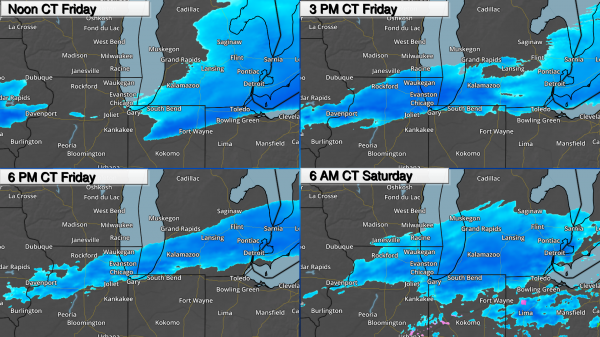 Timing The Snow. Snow will taper off through the midday hours in Chicago, but already another round of light snow will be moving in by the evening hours. Heavy snow will continue in Detroit through the midday hours, but light snow will continue into Saturday associated with both the ongoing round of snow and that second round racing in overnight.
---
Weekend Ice Threat. A band of sleet and freezing rain is expected to develop Saturday from western Oklahoma into the mid-Mississippi Valley and into the Northeast, continuing into Sunday across the Ohio Valley. Widespread ice accumulations of up to about 0.20" are expected across the region, with the heaviest falling from Missouri into central Indiana. Ice will accumulate on elevated surfaces, bridges and untreated surfaces, and we will watch the potential for tree damage and power outages.
Summary: Snow – heavy at times – will continue in Chicago through the midday hours, lasting into the evening across Detroit with a snowstorm moving through the region. This storm has already brought 3-6" of snow across the Chicagoland area, and up to 11" in Fort Dodge, IA. This is causing travel issues across the region, with snow-covered roads being reported from Iowa to Michigan. More rounds of light snow are expected throughout the weekend for Chicago and Michigan, but each system will bring only 1-3" along with it. South of the heavy snow, there is a widespread icing threat from western Oklahoma into the Ohio Valley and Northeast this weekend. The heaviest icing (0.10"-0.20") will occur from southern Missouri into central Indiana.
D.J. Kayser, Meteorologist, Praedictix
---
The Blizzard of 1978 Will Be Surpassed in New England – Just Not Yet. I remember it like it was yesterday.  Here's an excerpt of a walk down memory lane from NECN: "…So, to some extent, the Blizzard of 1978 may remain untouchable. The intensity and longevity of the event – or at least one of those facets – would be hard to miss from a day or two out with modern technology (though, admittedly, not impossible). I would suggest, however, that the horrific impact of the blizzard – stranding cars for days on Boston area highways, inundating coastal communities with frigid ocean water necessitating rescues, and the epic snowfall totals – certainly could repeat..."
File photo of Boston after the Blizzard of '78 courtesy of Wikipedia, which has a good summary here.
---
---
US Virgin Islands Facing Daunting Recovery: From Climate Nexus: "A lackluster disaster relief response from Congress could decimate a developing middle class in the hurricane-ravaged US Virgin Islands, the Washington Post reported Tuesday. Virgin Islands residents, many of whom profited from a tourism boom beginning in the '90s, say that Hurricanes Maria and Irma wiped out their homes and livelihoods, while a slow recovery and largely underinsured assets have made it nearly impossible to rebuild their lives over four months later. The Post reports that the territory's lack of voting representation in Congress "[reinforces] disconnect from the mainland" during recovery and worries officials who say the island needs $7.5 billion in aid from the federal government. NPR reported last week that even as tourists begin to return, hospitals and health services on the islands remain in a "critical state." (Rebuilding: Washington Post $. Healthcare: NPR)
---
Inland Flooding More Prevalent Than Coastal Flooding? At least in terms of Presidential Disaster Declarations. Flooding is the most common natural disaster in the USA, according to The Pew Charitable Trusts: "…Last year tied the record for the most billion-dollar natural disasters in the U.S. While no one knows what extreme weather will bring in 2018, Americans across the country should be ready for flooding, based on the frequency and magnitude of such events over the past decade. A look at the Federal Emergency Management Agency database of Disaster Declarations over that span reveals two particularly telling themes…"
---
Why Cape Town is Running Out of Water, and Who's Next. A story at National Geographic made me do a double-take: "…The situation seems to be worsening by the day. The city is prepping 200 emergency water stations outside groceries and other gathering spots. Each would have to serve almost 20,000 residents. Cape Town officials are making plans to store emergency water at military installations, and say using taps to fill pools, water gardens, or wash cars is now illegal. Just this week, authorities stepped up water-theft patrols at natural springs where fights broke out, according to local press reports. They're being asked to crack down on "unscrupulous traders" who have driven up the price of bottled water..."
---
Here's What Happens When a Plane is Struck by Lightning. Here's a snippet from an interesting article at TIME.com: "…Newer airliners like the Boeing 787 and the Airbus A350 are made with a higher proportion of composite materials like carbon fibers, resulting in a reduced electrical conductivity of the fuselage and wings, says Hansman. Manufacturers have also developed a workaround by adding more metal wiring into the composite material to ensure good conductivity on the aircraft's exterior. In short, lightning strikes are "not a severe problem from a safety standpoint," says Hansman. When air operators route around stormy areas, it is to prevent turbulence or possible external damage caused by things like hail rather than to avoid lightning…"
---
The World Spends $400 Billion Propping Up Oil Companies. Is That Bad? It may depend on who is writing the check, according to a post at The Atlantic: "…Every year, the world's governments spend hundreds of billions of dollars making it cheaper to extract and burn fossil fuels. Almost as regularly, their representatives get together and beg everyone else to stop doing that. Then they go home and keep doing it themselves. The pattern has worn on for more than two decades. Way back in 1997, the Kyoto Protocol—the first international treaty aimed at fixing global warning—called for governments to stop subsidizing all "greenhouse-gas-emitting sectors." That didn't happen, so, in 2009, the leaders of the G20 nations resolved anew to "phase out … inefficient fossil-fuel subsidies." Three years later, President Obama declared that "a century of subsidies to the oil companies is long enough." In 2016, when G20 leaders met in China, they again "reaffirmed" the need to end subsidies..."
File image: "Smoke billows from a controlled burn of spilled oil off the coast of the Gulf of Mexico on June 13, 2010." Sean Gardner / Reuters.
---
New Study Finds Cutting Oil Subsidies Will Not Stop Climate Change. Scientific American reports.
---
Is 100% Renewable Energy Realistic? Here's What We Know. Dave Roberts writes for Vox: "…The sources of carbon-free electricity with the most potential, sun and wind, are variable. They come and go on their own schedule. They are not "dispatchable," i.e., grid operators can't turn them on and off as needed. To balance out variations in sun and wind (both short-term and long-term), grid operators need dispatchable carbon-free resources. Deep decarbonization of the electricity sector, then, is a dual challenge: rapidly ramping up the amount of variable renewable energy (VRE) on the system, while also ramping up carbon-free dispatchable resources that can balance out that VRE and ensure reliability. Two potentially large sources of dispatchable carbon-free power are nuclear and fossil fuels with carbon capture and sequestration (CCS). Suffice it to say, a variety of people oppose one or both of those sources, for a variety of reasons..." (Image credit: Energy.gov).
---
AIs Have Replaced Aliens as our Greatest Fear of What Will Kill Us. Here's a clip from Quartz: "…The advent of artificial intelligence is increasingly bringing about the kinds of disturbing scenarios the old alien blockbusters warned us about. In 2016, Microsoft's first attempt at a functioning AI bot, Tay, became a Hitler-loving mess an hour after it launched. Tesla CEO Elon Musk urged the United Nations to ban the use of AI in weapons before it becomes "the third revolution in warfare." And in China, AI surveillance cameras are being rolled out by the government to track 1.3 billion people at a level Big Brother could only dream of. As AI's presence in film and TV has evolved, space creatures blowing us up now seems almost quaint compared to the frightening uncertainties of an computer-centric world…"
---
This May Be The Last Olympics Without Computerized (Artificial Intelligence) Judges. Quartz has another story that more or less confirms the story above: "While robot skiers are taking to the slopes alongside humans in Pyeongchang, an Olympics partner is readying artificial intelligence judges for the next summer games in Tokyo. Japanese company Fujitsu is developing software that uses data from 3D sensors to analyze gymnastics events like the pommel horse and floor routines, according to a video released by the company last year. Fujistu is reportedly introducing this technology at the Tokyo 2020 Olympic Games. To create the judging software, Fujitsu first captured 3D data of professional gymnasts' performances in 2016, in an effort to create a "bone structure model" for athletes…"
Photo credit: "Quantified." (AP Photo/Gregory Bull).
---
Why Denver Said No to the 1976 Winter Olympics. Now I Know has the fascinating tale: "In January of this year, the United States Olympic Committee decided that Boston would be the nation's applicant for the 2024 Summer Olympics. As of this writing, only one other city — Rome — has applied for consideration, and by early 2016, many others will similarly start on their quest to host the Olympic Games. Even though hosting the event can quickly become a financial boondoggle, it is still a much sought-after honor — one any city would gladly welcome. With one very notable exception…"
---
Fear of Sandwiches? Apparently It's a Real Thing. Epicurious fills us in: "Having phobia about sandwiches might seem absurd, but it's a real thing. It began with a video, filmed a few years ago, in which British pop star Jesy Nelson admitted that "the thought of slimy stuff on bread" makes her feel sick—and the Internet's reaction was less "what the hell?" and more "I'm not alone!" A common experience is being forced to eat something as a child (like not being allowed to leave the dinner table without finishing a food), says Dr. Goldfine. Maybe every sandwich-phobe had a sandwich pusher in his or her childhood?..."
---
5″ snow on the ground at MSP.
11 F. maximum temperature in the Twin Cities on Friday.
27 F. average high on February 9.
21 F. high on February 9, 2017.
February 10, 1965: A snowstorm dumps 15 inches of snow at Duluth over two days.
February 10, 1861: An ice storm impacts Elk River. Coatings of 1/2 inch of ice are reported. The ice broke off many large branches and saplings were bent to the ground.
February 10, 1857: Extreme cold at Fort Ripley. E.J. Baily, Assistant Surgeon notes: 'Spirit thermometer -50 at 6am. Mercury frozen in charcoal cup. Spirit thermometer at Little Falls 16 miles from the fort -56 at 6am. The lowest degree of cold on record in the territory'.
---
---
SATURDAY: Sunny and brisk. Winds: W 7-12. High: 14
SATURDAY NIGHT: Partly cloudy. Low: -1
SUNDAY: Clouds increase, no weather drama. Winds: SW 8-13. High: near 20
MONDAY: Plenty of sunshine. Winds: N 5-10. Wake-up: 3. High: 17
TUESDAY: Clouds increase, closer to average. Winds: SW 5-10. Wake-up: 9. High: 26
WEDNESDAY: Welcome thaw – hints of March. Winds: SW 8-13. Wake-up: 21. High: near 40
THURSDAY: Some sun, windy and cooler. Winds: NW 10-15. Wake-up: 15. High: 19
FRIDAY: Mix of clouds and sun. Winds: NW 7-12. Wake-up: 5. High: 17
---
Climate Stories…
America's Ski Trails Are Vanishing. This Olympian Has Taken Up the Cause. This story strikes close to home, courtesy of The New York Times: "…Before Diggins was an Olympic skier, before she had even taken her first steps, her parents strapped her into a babby carrier and took her cross-country skiing near her hometown, Afton, Minn. But she worries that future generations of American children might miss that opportunity. The risk is real. In the United States, the average time between the last frost of the spring and the first of the winter has expanded by 10 days since the first half of the 20th century. Winter is shrinking in places like Hayward, Wis., a town of 2,300 that swells to more than 12,000 people in late February during the American Birkebeiner, North America's largest cross-country ski race. Last year, organizers canceled the event for lack of snow..."
Image credit: Star Tribune.
---
Winter Olympics Future is Murky Unless We Get a Handle on Climate Change. Here's an excerpt of an Op-Ed at USA TODAY: "…For example, a study released last year found that by 2050, when my daughter will hopefully be putting my grandchildren on skis, the snow season across the U.S. could be cut in half. By 2090, when her children are raising their children, there could be as much as an 80% reduction in ski season length (costing the winter sports and recreation industry hundreds of millions of dollars). The story is the same across the globe. Recent analysis of 21 cities that have held the Winter Olympics found that nearly half won't be reliably cold enough to host them again by mid-century. Though snow machines have already proved able to take up some of nature's slack in keeping runs covered, before long many past host cities just won't be cold enough to sustain the snow and ice necessary to host again..."
---
What Will America's Iconic Parks Look Like in 2050? Here's an excerpt from CityLab: "…[The posters] are representative of a time during which we remember America being very great, and I wanted to take that symbol of greatness and examine what we are likely doing to it through our current actions," Rothstein said. Rothstein said it was important to her that the posters correctly represent the science of climate change. After reading government websites, academic studies, and news sources, she strove to accurately depict how each of these landscapes might actually change between now and 2050. For example, in her rendition of Great Smoky Mountains National Park in Tennessee and North Carolina (pictured above), trees are set ablaze as the result of the drought and rising temperatures that climate scientists believe will come to plague the Southeast…"
Image credit: Left: Original WPA poster; Right: Rothstein's 2017 poster.
---
More Shareholder Proposals Spotlight Climate Change. The Wall Street Journal reports: "Shareholder proposals seeking greater disclosure of specific climate-change risks will be more prevalent at annual general meetings this year and are likely to gain traction at non-energy companies. Investors in the U.S. so far submitted 66 resolutions about climate change in the 2018 proxy season, according to ISS Corporate Solutions, a consultancy unit of Institutional Shareholder Services. Of that total, 17 are seeking risk assessments based on the 2-degree scenario embedded in the U.N.'s Paris Agreement, which aims to limit the average rise in temperatures to below 2-degrees Celsius of pre-industrial levels. There were 18 2-degree scenario proposals for all of 2017, eight in 2016, one in 2015, said ISS…"
Photo credit: "The coal-fired Plant Scherer in the distance in Juliette, Ga., in this June 2017 photo." Photo: Associated Press
---
Climate Change Just Got a Little Less Terrible. According to a story at Bloomberg; here's a clip: "There are some 20,000 research papers listed on Google Scholar, a search engine for academics, that mention the worst-case scenario for climate change, one where an overpopulated, technology-poor world digs up all the coal it can find. Basically, it's the most cataclysmic estimate of global warming. This scenario is important to scientists. It focuses minds on the unthinkable and how to avoid it. According to a provocative new analysis from the University of British Columbia, it's also wrong. This is good news. The researchers contend that current goals of reducing coal, oil and gas consumption may be closer than we think, thus allowing us to set the bar even higher in our efforts to reduce pollution. The bad news is that this is good news in the way a destabilizing climate-shift is preferable to planetary extinction: We are still in a lot of trouble..."
---
EPA's Scott Pruitt Asks Whether Global Warming "Necessarily is a Bad Thing". Not an unreasonable question to ask. But most experts believe the negatives will far outweigh the positives of a warming planet, especially in the developing world. Here's a clip from The Washington Post: "As head of the Environmental Protection Agency, Scott Pruitt has repeatedly questioned the scientific consensus that rising levels of carbon dioxide from human-fueled activity are warming the planet. He's now taking a different tack: Even if climate change is occurring, as the vast majority of scientists say it is, a warmer atmosphere might not be so awful for humans, according to Pruitt. "We know humans have most flourished during times of what, warming trends," Pruitt said Tuesday during an interview on KSNV, an NBC affiliate in Las Vegas. "So I think there's assumptions made that because the climate is warming, that that necessarily is a bad thing. Do we really know what the ideal surface temperature should be in the year 2100, in the year 2018? That's fairly arrogant for us to think that we know exactly what it should be in 2100…"
Photo credit: "Environmental Protection Agency Administrator Scott Pruitt testifies before the Senate Environment Committee in January." (Pablo Martinez Monsivais/AP).
---
Troubled by Trump's Climate Denial, Scientists Aim to Set the Record Straight. InsideClimate News has details: "Even for the adamantly apolitical American Meteorological Society, President Donald Trump's fumbling disputations of climate change in a recent television interview were too much. So, on its collegiate, old-school letterhead, the society's executive director, Keith Seitter, wrote the president a polite but pointed message last week. "There is a wealth of comprehensive and accurate information on climate change available to you and your staff within government agencies, as well as from experts in academic institutions and other organizations," Seitter nudged, adding that the society "stands ready" to provide expertise to Trump and his cabinet…"
Image credit: "In a UK television interview, President Trump responded to a question about climate change by saying "there is cooling and there is heating" and talking about "the ice caps" setting records. The American Meteorological Society sent a letter politely reminding him "there is a wealth of comprehensive and accurate information on climate change available" and offering to share its expertise." Credit: ITV
---
How One State Bridged the Cultural Divide on Climate Change to Prepare for a Stormier Future. Here's a clip from Seattlepi.com: "…New Hampshire, however, is an exception. The state has passed legislation and made rule changes designed to better prepare the state for the damage from storm surge and rising seas. And several municipalities in coastal New Hampshire are integrating preparations for rising seas in their long-term master plans. This progress occurred despite divisive political views on climate change in New Hampshire. As one of the scientists involved in reviewing the science related to coastal flooding, I discovered that this seemingly intractable cultural divide over climate change can be bridged – if scientists show up and build relationships with local decision-makers. Some large coastal cities, including Boston, New York, Norfolk and Miami, have decided to act now to build resilience to current and future coastal flooding. Upgrades include installing flood walls, elevating roads, improving stormwater systems, and expanding open space…"