March Can't Decide: Winter or Spring?
"It was one of those March days when the sun shines hot and the wind blows cold: when it is summer in the light, and winter in the shade" wrote Charles Dickens in "Great Expectations". He captured the meteorological contradiction that is March.
Have you had quite enough? Tired of towering piles of snow, boots and grimy vehicles? You're not alone. A La Nina cool phase in the Pacific has helped to nudge steering winds out of Canada, keeping us a little colder than average; chilly enough for 48 inches of snow in the Twin Cities; 4 inches above average.
Snow lovers FINALLY have something to gloat about.
What a difference a year makes: March 6, 2017 brought 65F in the metro and 3 tornadoes statewide; the earliest twisters on record for Minnesota. No risk of tornadoes anytime soon, but models hint at 50s and a clap of thunder one week from Friday.
Let's hope for a nice, gradual meltdown without heavy rain in the coming weeks. With all this snow cover we need to keep an eye on the river flood threat.
Highs approach 40F this weekend; by late next week it should feel like spring.
---
Trending Milder. There may be a few more misplaced (and premature?) cases of spring fever late next week as the mercury flirts with 50F in the Twin Cities. Yes, we're done with subzero lows, at least in the MSP metro. ECMWF data: WeatherBell.
---
Cool Bias Continues. Which is probably a good thing, considering a sudden rush of warmth, coupled with heavy rain, might trigger moderate to severe river flooding across Minnesota and the Upper Midwest. With 2-5″ of liquid water tied up in the snow pack we can all hope for a nice, slow meltdown in the coming weeks.
---
A Toasty April? My confidence level is low, but I'm including this just in case NOAA's CFSv2 climate model temperature anomaly forecast for April verifies. Place your bets. Map: WeatherBell.
---
Praedictix Briefing: Issued Wednesday, March 7th, 2018:
* Snow is already falling this morning across parts of the Northeast with an associated coastal low that will be moving through the region the next couple days.
* The main story with this coastal low will continue to be heavy snow, with the potential of over a foot of snow in parts of the Northeast through Thursday. Some locations from northern New Jersey though parts of central and western Massachusetts into southern Maine could see totals approach 20" by the time the snow moves out. Philadelphia and New York City will see 6-12" of snow, meanwhile warmer conditions means only 1-3" of snow is expected in Boston.
* We're also watching gusty winds and the potential of coastal flooding with this storm.
---
Winter Storm Warnings. Winter Storm Warnings are in effect from northern Maryland to Maine, including Philadelphia (PA), New York City and Albany (NY), Burlington (VT) and Portland (ME). These areas have the greatest potential of receiving at least 6″ of snow throughout this Nor'easter. Surrounding the warned area is a Winter Weather Advisory, which includes Baltimore (MD). In these areas, snowfall is generally expected to be less than 6".
---
Northeast Snow Forecast. A wide area of 4-12"+ totals are expected across the Northeast over the next couple days, with some of the heaviest snow falling from eastern Pennsylvania to southern Maine. In this heavy band area, snow totals will have the potential of approaching 20", especially from northern New Jersey though parts of central and western Massachusetts into southern Maine. Across the region, snowfall rates of 2-3" per hour will be possible in the heaviest of the snow. There will be a sharp cutoff on the eastern side of the storm due to a mixture of rain and snow, including in the city of Boston. In Boston, only 1-3" of snow is expected in town and near the airport but if you go 40-60 miles to the west of downtown you could have a foot or more of snow.
Expected snow totals across the region:
Philadelphia: 8-12″
New York City: 6-12″, depending on location in town (lesser totals are expected toward JFK, with more snow toward Central Park)
Boston: 1-3″
Portland, ME: 12-16″
Burlington, VT: 6-10″
---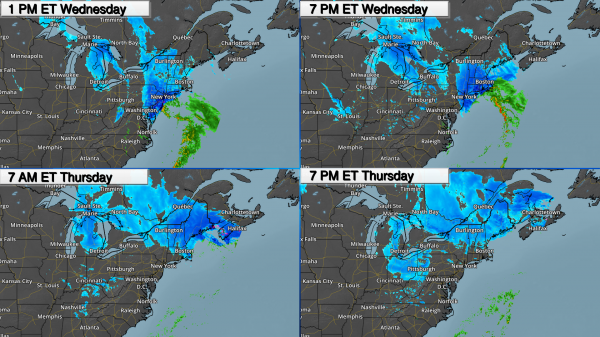 Timing The Precipitation. Snow will continue to spread across portions of the Northeast and intensify as we head throughout the day, with snowfall rates of 1-3" per hour possible. This will cause difficult travel as we head into the afternoon commute across the region. In Philadelphia, snow will come to an end during the evening hours, with snow continuing in New York City through the first half of the night before finally tapering off. In Boston, precipitation will remain all rain today before snow mixes in this evening. Overnight precipitation will transition to all snow in Boston, continuing into Thursday morning before changing back over to a mix of rain and snow. In Portland (ME), precipitation will gradually start as a mix of rain and snow later today before transitioning over to heavy snow tonight into Thursday. This system will gradually push out of New England as we go into Thursday Night.
---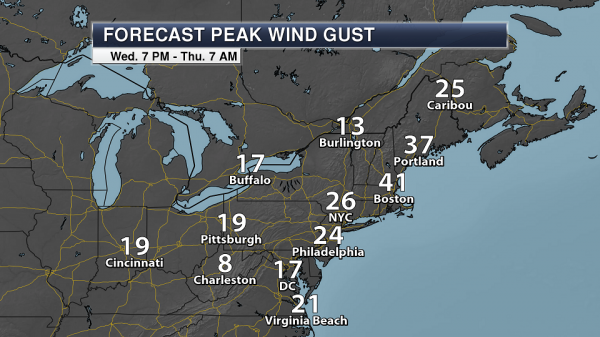 Strong Winds Near The Coast. The strongest winds associated with this system are expected to be near the coast, especially from eastern Long Island to eastern Massachusetts. In these areas, winds of 40-60 mph will be possible. Due to damage and weakened trees from the last storm additional tree damage and power outages will be possible.
---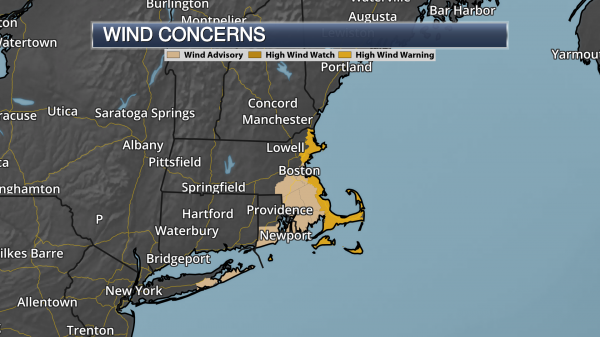 Wind Concerns. Due to these strong wind concerns, Wind Advisories and High Wind Warnings are in effect from eastern Long Island into eastern Massachusetts. The city of Boston is under a Wind Advisory from 1 PM this afternoon to 1 AM tonight.
---
Coastal Flood Concerns. Minor to moderate coastal flooding is expected today into Thursday along the coast due to this Nor'easter with the potential of 1-3 feet of inundation. The biggest concern will be along the Chesapeake Bay and Jersey Shore today, both today and tonight along southern and eastern Long Island, and early Thursday morning across the Massachusetts coast.
There is also a Flood Watch for Rhode Island and southeast Massachusetts into Thursday afternoon as 1-2″ of rain is expected to fall this afternoon. This could lead to river and stream flooding, as well as some street flooding.
Summary: The second coastal storm in less than a week is already impacting parts of the Northeast this morning, with snowfall reports of at least 3" already across parts of New York and Pennsylvania. Snow will continue to spread across the region today into tonight, with snow not pushing out of New England until Thursday night. At least 6-12" of snow could fall from Philadelphia to New York City, with heavier totals of up to 20" possible from northern New Jersey though parts of central and western Massachusetts into southern Maine. This snow, falling at 1-3" per hour during the height of the system, could have major impacts on the roads, including the Wednesday evening commute. In Boston, warmer temperatures will help keep precipitation as rain today, finally changing to snow tonight. That will limit totals in town to only 1-3". Strong winds gusts are also expected, with the strongest (40-60 mph) expected from eastern Long Island to eastern Massachusetts. We're also watching the potential of minor to moderate coastal flooding occurring with 1-3 feet of inundation possible at high tide.
D.J. Kayser, Meteorologist, Praedictix
---
Nor'easter Preview of Coastal Future: The damage caused by flooding during high tides during this past weekend's nor'easter are increasing alarm bells for East Coast residents as they prepare for another storm this week. The impacts were felt especially strong in the greater Boston area, as the city experienced its third-highest tide on record Friday and rescuers evacuated over 100 people from flooding in Quincy. NPR reports that an upcoming NOAA study scheduled to be released later this week will flag communities where flooding could be a "weekly event" in the future and shows how tidal flooding is accelerating in about a third of the places surveyed. The report demonstrates how the problem "is going to become chronic rather quickly," NOAA's William Sweet told NPR. "It's not going to be a slow, gradual change." (NOAA report: NPR. Storm impacts: InsideClimate News. Upcoming nor'easter: Earther)
---
41 Million Americans Live in Flood Zones – Three Times the FEMA Estimates. Is your flood insurance premium paid up? A story at Yale E360 made me do a double-take; here's a clip: "…Producing maps the FEMA way essentially misses a lot of flood hazard," Oliver E. J. Wing, a doctoral candidate at the University of Bristol and lead author of the study, told City Lab. "And these maps are what inform risk management decisions in the U.S. at the moment." One of the major problems, Wing said, is that FEMA's methods "tend to ignore smaller streams," which often run through heavily populated areas. The research — done by scientists at the University of Bristol in the U.K., The Nature Conservancy, and the U.S. Environmental Protection Agency — also looked at projected population and housing trends in the U.S. to map future flood risk. More than 13 percent of the U.S. population currently resides in the 100-year flood plain, but that number could rise to 15.8 percent by 2050 and 16.8 percent by 2100, the study found. Communities in South Dakota, Nebraska, and New Mexico could see a five-fold increase in flood exposure by 2100. Florida and Texas's flood risk could triple or quadruple…"
---
---
How a Woman You Never Heard Of Helped Enable Modern Weather Prediction. Dr. Marshall Shepherd explains at Forbes: "…Many people, particularly in meteorological or math circles, are familiar with John von Neumann. However, it is not as widely known that Klara (often called Klari) Dan von Neumann played a role in the pioneering process of weather prediction that we now take for granted. She was a Hungarian-born computer programmer that wrote the code for the machine called MANIAC used by her husband and colleagues at Los Alamos National Laboratory to support nuclear fusion research. MANIAC was an advance over ENIAC because it could store data. The details of the evolution ENIAC and MANIAC are captured in this website but strangely Klara Dan von Neumann is not mentioned. She's hidden just like the outstanding African-American mathematicians from the recent NASA-centered movie, Hidden Figures…"
File image credit: "ENIAC computer." Picture courtesy of U.S. Army website archive.
---
Why Don't Tornadoes Hit Cities More Often. A veteran meteorologist focused on tornado research explains at Scientific American: "…The glib answer for why tornadoes don't strike urban areas that often is: Cities are small. If you take a look at Google Maps and see what percentage of the U.S. urban and suburban areas cover, it's a pretty small fraction. The regions where you have peak tornado frequencies—from Texas up through Kansas, and even east toward Atlanta and the Southeast—are open country, so that's where most tornadoes spend the overwhelming fraction of their lifetimes. It's very rare that one encounters a city, as happened in Atlanta last weekend…"
---
List of Tornadoes Striking Downtown Areas of Large Cities. No, a few high-rise buildings and some concrete won't inhibit a tornado from striking, as this long list at Wikiwand seems to prove.
---
Understanding Tornadoes: 5 Questions Answered. Salon has a good primer on the dynamics that spin up tornadoes; here's an excerpt: "…The second key condition for supercell formation is wind shear — large changes in wind at different levels. Winds at different altitudes blowing at different speeds and/or from different directions is associated with horizontally spinning air, like a rolling pin. As this horizontally spinning air flows into the updraft, the spin is tilted into the vertical, creating a rotating updraft. Tornadoes are especially likely to be spawned by supercell thunderstorms when the lowest altitudes are particularly humid and possess exceptionally strong wind shear. These conditions are more likely to come together in certain locations, such as the U.S. Great Plains and Southeast..."
Measuring Hurricane Wind Speed From Space. Using GPS signals? EOS.org explains: "…With this goal in mind, Foti et al. demonstrate a new satellite remote sensing technique that uses reflected GPS signals to measure ocean wind speeds during hurricanes. The Global Navigation Satellite System–Reflectometry (GNSS-R) technique takes measurements of Earth surface conditions by reading GPS signals after they bounce off Earth's surface. This method can sense many surface properties like ocean roughness, wind speed, soil moisture, and sea ice. A previous study used this technique to record hurricane winds from an aircraft, but the new research shows that the same technique also works from satellite altitudes to sense ocean surface roughness in hurricane wind conditions..."
Hurricane Lee file image: NOAA.
---
Annual Monarch Account Shows Butterfly Still Threatened. Overdevelopment, a changing climate, pollution – a myriad of factors may be contributing to troubling trends highlighted at The Center for Biological Diversity: "…The yearly count of monarch butterflies overwintering in Mexico, released today, shows a decrease from last year's count and confirms the iconic orange and black butterfly is still very much at risk. Today's count of 2.48 hectares of occupied winter habitat is down from 2.91 hectares last winter. Overall monarchs have declined by more than 80 percent over the past two decades. "We could lose the monarch butterfly if we don't take immediate action to rein in pesticide use and curb global climate change," said Tierra Curry, a senior scientist at the Center for Biological Diversity and co-author of the 2014 petition to protect monarchs under the Endangered Species Act. Roughly 99 percent of all North American monarchs migrate each winter to oyamel fir forests on 12 mountaintops in central Mexico…"
---
Tracking Migration Patterns. If you're interested in tracking Monarch Butterflies, or robins, or worms, or Bald Eagles, check out this amazing site, courtesy of Journey North.
---
World's Tallest Offshore Wind Turbine Will Tower Over Iconic Buildings. Here's an excerpt from NBC News: "…GE says the Haliade-X will also be the world's most powerful offshore wind turbine, capable of generating 67 gigawatt-hours (GWh) a year under typical wind conditions. That's 45 percent more than any existing offshore turbine and enough energy to provide the needs of 16,000 households. The company says the new turbine will begin shipping in 2021 but gave no details about where they would first be erected. What explains the move to bigger turbines? Efficiency. The longer a turbine's blades — the Haliade X's will be 351 feet — the more wind energy they capture…"
---
Utah Accidently Sends Picture of Topless Woman to Every Lawyer in the State. You can't make this stuff up. Here's an excerpt from Fortune: "Members of the Utah State Bar got an unexpected surprise when they opened a note from the organization Monday. The state certification agency, in a note meant to advertise its annual spring convention in St. George, accidentally also attached an image of a topless woman—and the email was sent to every member attorney. According to the organization's website, more than 11,000 attorneys belong to the Utah State Bar. "We are horrified," John Baldwin, executive director of the Bar, said in an email…"
---
5″ snow on the ground in the Twin Cities.
29 F. high in the MSP metro on Wednesday.
37 F. average high on March 7.
49 F. maximum temperature on March 7, 2017.
March 8, 2004: A vigorous Alberta Clipper brings an intense snow burst across the Twin Cities from 9:30 am to noon. 2.5 inches fell, with most of it accumulating in an hour at the State Climatology Office on the University of Minnesota St. Paul Campus. Numerous crashes were reported across the metro area with I-94 closed at Highway 280 and also at White Bear Avenue. In a rare scene, television programming was interrupted to report on the snow situation. By early afternoon most of the snow had moved into Wisconsin and road conditions rapidly improved.
March 8, 1892: A blizzard hits Minnesota, with 70 mph winds recorded at Easton. Duluth was hit especially hard with 60 mph winds causing large drifts. Residents were able to walk out of their second story windows.
---
---
THURSDAY: Plenty of sunshine. Winds: NW 7-12. High: 29
THURSDAY NIGHT: Mostly clear. Low: 13
FRIDAY: Intervals of sun, light winds. Winds: SE 5-10. High: 34
SATURDAY: Clouds, a few flurries possible. Winds: SE 5-10. Wake-up: 21. High: 36
SUNDAY: Mix of clouds and sunshine. Winds: NW 8-13. Wake-up: 28. High: 39
MONDAY: Blue sky, a quiet day. Winds: N 8-13. Wake-up: 22. High: 36
TUESDAY: Bright sunshine, pleasant. Winds: E 5-10. Wake-up: 19. High: 37
WEDNESDAY: Sunny and milder. Winds: SW 10-20. Wake-up: 23. High: 43
---
Climate Stories…
A Promising Technology to Fight Climate Change is Finally Becoming a Reality. We'll see if it becomes cost effective – and scales. Slate takes a look at carbon sequestration technologies: "…Technologies already exist that can capture carbon emissions from all of these processes, and ongoing projects have shown carbon dioxide can be safely and securely stored in geological formations deep underground. The issue has not been capability—it has been cost and a lack of financial incentives. The fact that CCS allows for fossil fuel use while reducing carbon dioxide emissions enabled the practically unthinkable event of a Republican-controlled Congress passing strong climate legislation. A broad coalition, including Democratic climate hawks and Republicans from oil and gas-producing states, backed the legislation that significantly increases the "Section 45Q" tax credits for geologic storage of carbon dioxide…"
Photo credit: Brian Snyder, Reuters.
---
CLIMATE IMPACTS: Headlines and links courtesy of Climate Nexus: "Arctic not so chill this record warm winter (AP), mountain snow in the western US is declining because of climate change, a new study finds (Buzzfeed), 13 cities may exceed 2C temperature rise by 2020s, say scientists (Reuters), sinking shoreline threatens coastal communities in Indonesia." (Reuters)
---
At U.N. Summit, an Evangelical Christian Makes the Case for Climate Change. Reuters has the story; here's an excerpt: "…The marital episode and her subsequent engagement with faith groups have firmed up her views that the traditional conservative tenet of small government – not science – usually explains why some resist the issue. "(It's) not because they really have a problem with the science," she said. "It's because they have a problem with the perceived solutions." "Taxes, government legislation, loss of personal liberty … that's the real problem people have." Hayhoe did not field any questions from climate change skeptics during her talk at the summit in Edmonton. And her message struck particularly close to home in a province that is Canada's main oil producer. "The world energy system is undergoing an energy revolution … from old dirty energies that we have been using for hundreds of years to clean, endless sources of energy like wind," she said, in an interview after her speech..."
---
How Architecture is Tackling Increasing Floods from Climate Change. Here's an excerpt of a timely post at Forbes: "…The additional heating of the earth in this way is the main cause of global warming, and increasing floods. 93% of the extra heat trapped by manmade global warming pollution goes into the oceans, which make up 71% of the earth's surface. The additional heat increases:
the melting of the polar ice caps releasing more water into the oceans;
the warming of oceans expanding the volume these vast bodies of water occupy; and
the rates of water evaporation generating heavier and longer downpours of rain.
Since 1993 to 2017, global warming has contributed to an average sea level rise of 3.3 inches (84.8 mm), which is still rising at a rate of 0.13 inches (3.20 mm) every year, according to NASA..."
---
Potential for Damage Rises With Powerful Winter Storms Coupled with Rising Seas. InsideClimate News has the story: "…One possible solution now being considered to protect Boston—where the city's latest outlook says sea level rose about 9 inches during the last century and could rise 1.5 feet in the first half of this century—is the construction of a massive barrier across Boston harbor with gates that close to protect the region from storm surges. The project would likely cost billions of dollars to complete, money that Campbell said could be better spent on other solutions. "There isn't a wall that is going to be effective to protect all of the New England coastal areas that are at risk," he said. "We are going to have much more cost-effective solutions by improvements of design, by incorporating the need for sacrificial and buffer areas into design, and by updating standards for storm water management and runoff."