Happy Winter Solstice! Think Warm Thoughts
Good sleeping weather? I hope so, considering tonight is the longest night of the year. Welcome to the Winter Solstice, as the sun's direct rays pass over the Tropic of Capricorn at 10:28 today.
Expect a measly 8 hours, 46 minutes of daylight, compared with 15 hours, 37 minutes on June 21. Today is, in theory, the worst day of the year to get a suntan. Although as someone who just had a precancerous "actinic keratosis" removed from my forehead last summer, let me gently remind you that there is no such thing as "safe sun".
Today's feeble storm may squeeze out a quick coating, maybe an inch south metro; a better chance of slick roads over far southern Minnesota. Most spots will still get their white Christmas. Just barely.
Good news for travelers: no plowable or crippling storms are brewing on the horizon, although models do show a potential for accumulating snow Wednesday of next week. It's going to get cold, but not quite as cold as models were hinting at days ago. Single digits and teens on tap for next week with a run of subzero lows.
We've seen (much) worse. No, not exactly pioneer-cold.
---
Winter Solstice Factoids. Even though today has the least daylight of the year, the coldest temperatures of the season are probably 3-4 weeks away, as explained by Vox: "...It's true that the Northern Hemisphere gets the least direct sunlight on the winter solstice (which is officially the first day of winter). But the coldest months are yet to come — usually in January or February, depending on where you live. A big reason for this "seasonal lag" is that the Earth's massive oceans absorb much of the sun's energy and release it slowly, over time. So there's a delay between when there's the least sun and when the air temperatures are actually coldest. The same thing happens in summer — there's a delay between when solar insolation is at its maximum (the summer solstice in June) and when the hottest months are (usually July or August)..."
---
60-Hour Forecast. The animation above shows predicted snow (blue), ice (purple) and rain (green) looking out 60 hours with NOAA's 3km NAM model. The system is weak and disorganized; really no chance for moisture from the Gulf of Mexico to get involved before it's well east of Minnesota. Thus today's meager ration of snow. Animation: Tropicaltidbits.com.
---
Predicted Snowfall. An inch or two is still possible for far southern Minnesota, including Rochester and Winona, but it looks like a coating for much of the metro – with an inch or two over the northern third of Minnesota.
---
---
Not Exactly Pioneer Cold. Temperatures really aren't that far off average for late December through Christmas Eve before cooling down next week. Single digits and low teens for highs, a streak of nights below zero. But not even close to record-territory. That said, it will be cold enough to get your full, undivided attention. Twin Cities ECMWF numbers: WeatherBell.
---
In Search of the January Thaw. Will temperatures blip up in January? It's almost a given, and 2-week GFS 500 mb wind forecasts suggest a slightly more zonal flow evolving during the first week of 2018, implying slighly mellowing temperatures.
---
Ice Deaths in Minnesota at Highest Level in Years – It's Only December. With our recent warm temperatures the ice on many lakes is still far from safe. GoMN has the troubling details: "There have been more ice-related deaths in Minnesota this winter than in the previous two winters combined – and it's only December. Two women died in separate incidents in northern Minnesota over the weekend, when the ATVs they were riding broke through thin ice. Their deaths brought the total number of ice-related fatalities this winter to five. All of these incidents involved a snowmobile or ATV, the Minnesota DNR told GoMN, and includes the death of a couple who drowned on Upper Red Lake in November. The past two Minnesota winters have seen a total of two ice deaths, according to figures sent to GoMN by the Minnesota DNR..."
Photo credit: "An incident on Rice Lake in 2015 – the last winter in Minnesota to have at least five ice deaths." St. Louis County Rescue Squad, Facebook
---
---
---
---
Coldest Christmas Day High Temperatures. Do you remember December 25, 1996? A "high" of -9F in the Twin Cities that day.
---
Coldest Christmas Day Low Temperatures. We awoke to a crisp -22F on Christmas morning, 1996.
---
Fire Danger Increasing Into Thursday over SoCal. Thomas Fire Now Second Largest in California History. Praedictix Briefing: Issued Wednesday, December 20th, 2017
The Thomas Fire, currently the second largest wildfire in California history, continues to burn northwest of Los Angeles

Wednesday

morning. The fire has burned 272,000 acres so far and is 60% contained. According to Cal Fire, the fire has cost more than $150.3 million so far, and containment isn't expected until

January 7th

.
Some parts of Santa Barbara and Ventura counties are still under mandatory evacuations.
Both Ventura County and Santa Barbara County are keeping their local government pages updated with evacuation orders, road closures, and other relevant information like evacuation shelters.
Elevated fire danger returns to southern California later today as low pressure passes through the region. This will increase the winds out of the north, with Sundowner winds expected in Santa Barbara County this evening and

tonight

. Overnight and into

Thursday

morning, strong north to northeast winds will pick up across the region, leading to critical fire danger for

Thursday

.
---
Thomas Fire Update. The Thomas Fire has grown to 272,000 acres burned and is 60% contained as of Wednesday morning. This ranks as the second largest wildfire in modern California history, and is approaching the largest on record (the Cedar Fire back in October 2003, which burned 273,246 acres). Firefighters have been working the past few days to reduce fuel available for the fire, even setting some hillsides on fire according to the Los Angeles Times.
The map above is the area that has been burned by the Thomas Fire. A closer look at this map can be viewed at Inciweb.
---
Elevated Fire Danger Today. An elevated fire danger has been placed across parts of southern California today. Across the Sierra, dry and windy weather will bring the threat of elevated fire weather. By this evening, we are expecting a Sundowner wind event across portions of Santa Barbara County, with northerly wind gusts potentially as high as 60 mph. Overnight winds will be on the increase across the rest of southern California.
---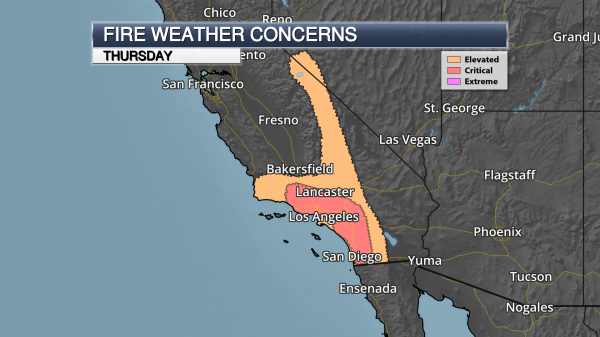 Critical Fire Danger Thursday. Strong offshore winds are expected across southern California throughout Thursday, with wind gusts up to 50 mph possible. This, combined with low humidity values, will lead to critical fire weather conditions across the region. The Los Angeles National Weather Service noted that "There is a stronger than usual northerly component to this wind event so it will not act like a typical Santa Ana."
---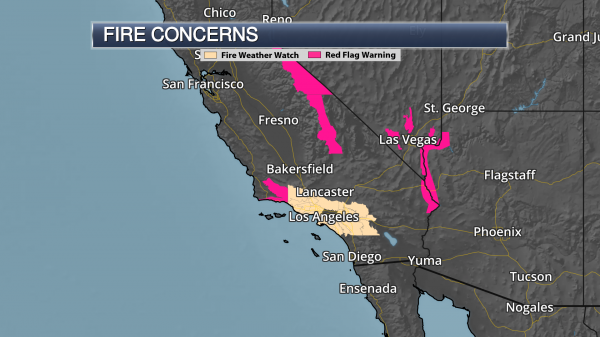 Red Flag Warnings & Fire Weather Watches. Due to the expected strong Sundowner winds tonight across parts of Santa Barbara County, a Red Flag Warning is in effect from 6 PM tonight to 10 AM Thursday. Across portions of Los Angeles, Ventura, Orange, San Bernardino and Riverside Counties, Fire Weather Watches are in effect Thursday for that increase in northeasterly winds. Fire weather is expected to be most critical during the late morning hours into the afternoon.
Elsewhere, across Mono and Eastern Alpine Counties and in Owens Valley, Red Flag Warnings are in effect through this evening with wind gusts up to 70 mph expected. In areas around Las Vegas, Red Flag Warnings are in effect from 1 PM today through 3 PM Thursday.
---
Wind Advisories In Effect. Wind Advisories are in effect today into Thursday across portions of southern California due to the expected gusty northerly winds. At times, wind gusts could approach 60 mph, especially at higher elevations.
---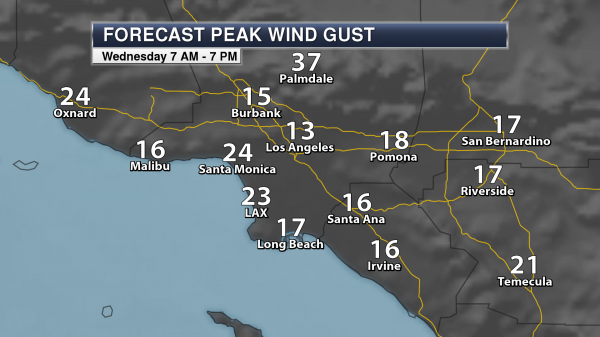 Los Angeles Area Wind Gusts Today. Winds will pick up into the afternoon hours across the Los Angeles area today, with peak wind gusts by 7 PM topping 30 mph in Palmdale.
---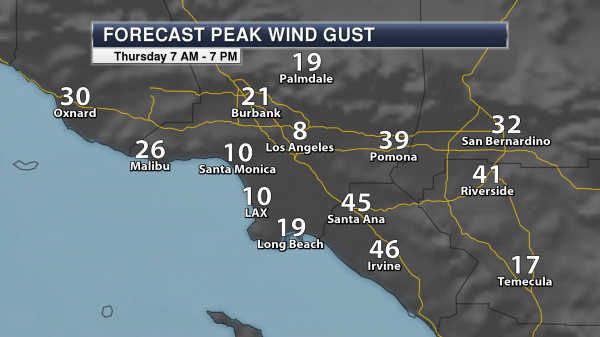 Los Angeles Area Wind Gusts Thursday. Gusty north to northeast winds are expected Thursday across the Los Angeles area, with wind gusts over 40 mph expected for Riverside, Santa Ana and Irvine. These strong winds, along with low humidity values, will allow any new or ongoing fires the ability to quickly spread.
---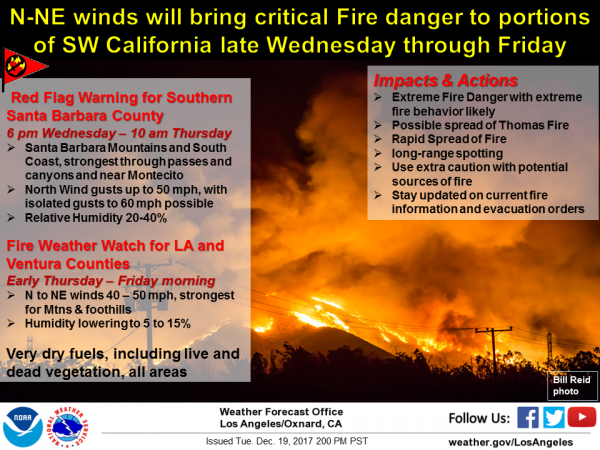 Latest Information From The National Weather Service – Los Angeles. Here's a good summary on the expected fire weather over the next couple of days from the National Weather Service office in Los Angeles: "North winds will increase behind a passing low pressure system on Wednesday, with moderate to strong Sundowner winds expected across portions of Santa Barbara County Wednesday evening through Thursday morning. A Red Flag Warning has been issued for 6 PM Wednesday through 10 AM Thursday for the mountains and South Coast of Santa Barbara County. Northwest to north winds will begin to increase over the southwest portion of Santa Barbara County Wednesday evening, strongest in the Santa Ynez Range and through passes and canyons of the South Coast, west of Goleta. Later in the evening northerly winds will strengthen over the southeast portion of the county, affecting the mountains and foothills near Montecito and the Botanical Gardens. Gusts to 50 mph with isolated gusts to 60 mph will be possible during this time. By early Thursday morning, north to northeast winds will begin to increase over Los Angeles and Ventura Counties, with gusts 40 to 50 mph expected. A Fire Weather Watch has been issued for these counties from early Thursday through Friday morning. Due to very dry vegetation in all areas, critical fire danger will be likely in the areas mentioned. The winds are likely to cause extreme fire behavior within the Thomas Fire area, and with any new ignitions that may occur. Extreme caution with any source of fire is encouraged during this time."
---
Fire Danger Sunday. While offshore winds will continue into the weekend across southern California, they are expected to be weaker for the most part. However, by Sunday another Santa Ana wind event will be possible across the region, leading to critical fire weather concerns again.
Meteorologist D.J. Kayser, Praedictix
---
FEMA Overwhelmed by Hurricanes and Wildfires. CNN has the sttory: "Nearly 5 million Americans have registered for federal aid since Labor Day; more victims than Hurricanes Katrina and Wilma and Superstorm Sandy combined. But the man in charge of answering all those pleas is sounding his own cry for help. FEMA Administrator Brock Long, chosen by Donald Trump to be the nation's top emergency manager, wants everyone to understand three fundamental truths:
FEMA is broke.
The system is broken.
If this is the new normal, Americans can't rely on a federal cavalry when disaster strikes. They will have to take care of themselves..."
September 5 file image of Hurricane Irma courtesy of NOAA and AerisWeather.
---
Warming Temps Help to Dump Snow on Alaskan Mountains: Climate Nexus reports: "Snowfall has more than doubled in an Alaskan mountain range since the start of the industrial age, according to new research. A study published in the journal Scientific Reports this week uses ice core data from the Denali mountain range to find that average snowfall levels in the Alaskan mountains have increased to 18 feet per year since 1840 versus 8 feet per year from 1600-1840. Researchers suggest that a warming atmosphere holding more moisture and increasing temperatures in the Pacific Ocean altering atmospheric patterns are linked to the increased snow. The research comes as Alaska experiences one of the warmest Decembers on record." (Snowfall study: Reuters, Washington Post $, Newsweek, EcoWatch. Temps: Washington Post $)
---
Antarctica: Can Ancient Flood in Bible's Book of Genesis Explain Mysterous Fossilized Forest? Newsweek has an interesting story; here's a snippet: "A fossilized Antarctic forest, older than the dinosaurs, might hold evidence of the legendary biblical flood from the tale of Noah's Ark. Scientists announced the discovery of the fossilized trees in Antarctica's Transantarctic Mountains in November. They believe the forest is the oldest one known to exist in the southern polar region, according to Breaking News Israel. They proposed that the ancient trees preserved a record of a large-scale global die-off event, which raised the planet's temperature to dangerous extremes and turned its oceans acidic, and ultimately wiped out 95 percent of species on Earth. But they were left with the question of what exactly was the catalyst for those changes. At least one biblical scholar believes he has the answer: The die-off event was the Great Flood described in the Book of Genesis…"
---
What Could Possibly Go Wrong in 2018? Let me count the ways. Here's an excerpt from a partial list at pressconnects.com: "…Sooner or later, someone is going to figure out how to bring large sectors of the American grid down — or, I should say, someone who already knows how is going to decide that they want to do so. 2018 just might be the year. People are talking about making the electrical grid more resilient. That means not only making it more reliable, so that it's less likely to fail, but also better at putting itself back together if pieces of it collapse. I think that this sort of thing deserves at least as much attention as cyberdefense efforts designed to frustrate hackers. All sorts of things besides hackers could bring down the grid: A massive solar flare, an EMP attack, a software "bug" rather than a hack. The better the grid is at recovering, the better it will be if any of them happen..."
File photo: Gerald Herbert, AP.
---
Sun May Be Dimming: NASA to Confirm Declining Luminosity Using SpaceX's Payload. International Business Times has the article: "Due to a drop in number of sunspots and the resulting decrease in total solar radiance (TSI) values, NASA launched a new sensor to study the dimming sun. Data from NASA's Spaceweather website showed after a solar maximum 2012, which lasted till 2014, we have entered a solar minimum period in the solar cycle, which has caused the sun's electromagnetic output to drop by 0.1 percent. SpaceX  launched a new sensor to the International Space Station named  NASA's Total and Spectral Solar Irradiance Sensor (TSIS-1) on Dec. 15. It will add to the plethora of instruments dangling from the space station and help measure the TSI. It will also replace the aging SORCE spacecraft to aid in the study of the sun. All past data showed we are heading towards the 11-year minimum in the sun's cycle. In 2017, 96 days (27 percent) were without sunspots…"
Image credit: NASA.
---
A Female Programmer's Four-Decade-Long, Insider View of Silicon Valley. Lenny Letter has some good advice for women hoping to break through and move up: "Ellen Ullman's latest book, A Life in Code, relays her experience through many of our major cultural tech moments: Y2K, the rise (and fall, and rise, and fall) of artificial intelligence, the emergence of the Internet, and the runaway growth of Silicon Valley over the past two decades. Ullman insists she is only a programmer, but she is also a sharp observer of Silicon Valley culture. Ullman's view as a woman on the inside of tech is incredibly rare, but her ability to remain within the system for decades without letting it consume her is still rarer.While Silicon Valley abhors pessimism, Ullman reminds us that sometimes positivity about new possibilities is the result of an incredibly narrow view. It takes an expansive imagination or even just a willingness to explore different perspectives and walks of life, to see how good intentions can actually hurt without consideration for people who may lead different lives than the standard white, male tech-company founder..."
Illustration credit: Zoe van Dijk.
---
Flu Season Is Here Early. Why Didn't We See It Coming? WIRED has the troubling story: "If you've been putting off your flu shot until the season really gets going, wait no longer. It's already here—and it's looking like it's going to be a doozy. Influenza viruses quietly circulate year-round in the US, but every winter they go big, triggering a seasonal epidemic of sniffles, sweats, and sore throats. And this year it's come earlier than usual, just in time for a potential peak over the holidays. Normally, infections start to increase around the beginning of January, peak in February, and then come down by the end of March. But according to data released by the Centers for Disease Control and Prevention on Friday, the flu is already widespread in 12 states, including California and New York. "We're seeing flu activity increasing around us," says Brendan Flannery, an epidemiologist in the CDC's influenza division..."
---
HMS Queen Elizabeth: Leak Found on New Aircraft Carrier. The BBC reports: "The UK's new aircraft carrier, HMS Queen Elizabeth, is leaking because of a faulty seal. The Royal Navy's future flagship, which was commissioned by the Queen earlier this month in Portsmouth, has a problem with one of its propeller shafts. The fault on the £3.1bn carrier was first identified during sea trials. A Royal Navy spokesman said the ship was scheduled for repair and the fault did not prevent it from sailing again early in the new year. According to the Sun newspaper, HMS Queen Elizabeth has been taking on up to 200 litres of sea water every hour because of the fault. BBC defence correspondent Jonathan Beale said the problem was "highly embarrassing" for the Royal Navy and just one of a number of snags still to be rectified..."
---
McDonald's Is Going Vegan. CNN Money explains: "The fast food chain plans to start selling a McVegan burger in hundreds of restaurants across Sweden and Finland starting on December 28. The sandwich, which has already been tested at a handful of McDonald's locations in Finland, consists of a soy patty, bun, tomato, lettuce, pickles, onion, ketchup, mustard, oil and an egg-less sandwich sauce.  "Like our other burgers, the McVegan is tasty and has a good texture," said McDonald's (MCD) spokesperson Henrik Nerell. The meatless burger, which was developed in partnership with a specialty Norwegian food company called Orkla, could help the American chain capitalize on increased demand for vegetarian and vegan foods…"
---
---
.1″ snow fell yesterday in the Twin Cities.
2″ snow on the ground at MSP International Airport
24 F. high temperature on Wednesday.
26 F. average high in the Twin Cities on December 20.
37 F. high on December 20, 2016.
December 21, 1993: Strong northwest winds gust to 35 miles an hour, causing near whiteout conditions over a wide area of southwest Minnesota from the late afternoon on the 21st into the early morning of the 22nd. Several car accidents occurred. A 30 year old man was killed when he lost control of his truck and slid into a ditch in the near blizzard like conditions. Counties affected include: Blue Earth, Brown, Chippewa, Faribault, Lac Qui Parle, Redwood, Renville, Watonwan, and Yellow Medicine.
December 21, 1939: This is the latest date on record for Lake Minnewaska to freeze over at Glenwood.
---
THURSDAY: 1-2″ of snow possible. Slick spots. Winds: N 7-12. High: 25
THURSDAY NIGHT: Flurries taper. Low: 16
FRIDAY: Mostly cloudy and chilly. Few flakes in the air. Winds: SW 5-10. High: 24
SATURDAY: Mix of clouds and sun, brisk. Winds: NW 8-13. Wake-up: 11. High: 18
CHRISTMAS EVE: Peeks of sun, few flurries around. Winds: W 8-13. Wake-up: 8. High: 19
CHRISTMAS DAY: Christmas clipper. Feels like -15F. Winds: NW 10-15+ Wake-up: -2. High: 8
TUESDAY: Brittle sunshine, light winds. Nippy. Winds: NE 5-10. Wake-up: -12. High: 4
WEDNESDAY: Potential for some snow. Winds: SE 7-12. Wake-up: -3.  High: 15
---
Climate Stories….
A Year of Climate Change in Photos. Bloomberg has a comprehensive photo essay: "From record-breaking wildfires, floods and hurricanes to innovations in energy, transport and agriculture, Bloomberg presents our climate photos of the year."
Photo credit: "An elevated home stands in Pointe a La Hache, Louisiana, on Jan.19, 2017. The state's 7,700-mile shoreline is disappearing at the fastest rate in the U.S." Photographer: Derick E. Hingle/Bloomberg.
---
McDowell: We Can't Afford Climate Change. Here's an excerpt of an Op-Ed from The Roanoke Times: "…We just had four hurricanes in a row. Many people lost their lives. Houston got 40 inches of rain in a couple days, more than most of the east coast gets in an entire year. Estimated damage — $150-180 billion. Florida escaped complete destruction but still has estimated damage of $50 billion. Hurricanes Maria and Irma destroyed much of the Caribbean Islands with Puerto Rico being without power for weeks and it may be months. Overall damages estimated at $40 to $80 billion. The western United States has had a decade of extreme fire seasons, each worst than the last. California is now on fire. Economic damage estimated at $85 billion. Total damages from storms in the past few weeks alone approximately- $300 — $400 billion. Here in the east, each fall day is still like summer. We've always had warm days in fall here in Virginia, but this is ridiculous…"
---
The Growing Movement to Take Polluters to Court Over Climate Change. Here's a clip from New Republic: "…Climate-related court cases have skyrocketed in the last three years. A May study by the United Nations and Columbia University found that the number of lawsuits filed across the world has tripled since 2014; out of nearly 900 cases, 654 were filed in the United States. Most of these suits seek to punish governments, not corporations, for not taking sufficient action to fight climate change—usually by arguing that public officials have denied citizens' rights to a clean and healthy environment. Some of these lawsuits have succeeded in other countries. In 2015, the Dutch government was forced to lower the country's greenhouse gas emissions in response to a class action lawsuit from its citizens. A judge in Ireland recently ruled that citizens have a constitutional right to a safe climate and environment. And last month, a climate liability lawsuit against Germany's largest power company was allowed to move forward…"
File image: Reuters.
---
Stop "Boring" Language to Spur Climate Action, U.N. Environment Chief Says. Reuters has the story; here's an excerpt: "…It shows people want to know about these things but when it comes to explaining why it's happening and what can be done to stop it, we're not speaking in language that everyone understands," he told the Thomson Reuters Foundation. "The language of environmentalists has been boring, so uninspiring … If we just speak a technical language, with many acronyms and politically-correct phrases, no one will listen," he said in an interview during a Bonn conference on landscapes. "You cannot bore people into action. They need to be excited and inspired to take action and change their behavior..."
---
Climate Change Hits Winter Olympic Preparation. The Denver Post has the story: "…Another subtle but telltale indicator of climate change's disruptive impact on winter sports: Many athletes — here 5,000 miles away from the Rockies and 3,500 miles from the Green Mountains of New England — had the letters "USA" emblazoned on their jackets. Americans once had little need to swap continents to guarantee offseason access to snow. But warming is forcing athletes to hunt farther from home for wintry conditions, particularly just months away from an Olympics. "Without the snow and the cold in the places in the States where it's normally cold, we have to travel over here and find a place on a glacier to get a couple of jumps off," said Jon Lillis, world champion in aerials skiing. "Something that terrifies every winter athlete daily is the fact that the conditions are not as good as they used to be. You see videos of people skiing on glaciers back in the '80s and '70s, and half of that glacier doesn't even exist anymore…"
Photo credit: John Leicester, The Associated Press. "This photo taken from a 4K video and dated Wednesday, Oct. 18, 2017 shows a skier performing a jump during training on the glacier above Saas-Fee, Switzerland. The glacier attracted skiers and snowboard athletes from an array of nations, who came hunting for snow on which to train early in the season ahead of the 2018 Pyeongchang Olympics."
---
NASA and NOAA Are Still Talking About Climate Change. That's Notable. The Washington Post takes a look at the policy disconnect: "…Meanwhile, in an odd bit of cognitive dissonance, scientists at NASA and NOAA have been able to carry on with their climate research — and to talk about it freely and publicly, even on government social media accounts. "Nobody has tried to interfere with anything we're doing. Nobody has made any comments on it," said Gavin Schmidt, director of NASA's Goddard Institute for Space Studies, and a prolific tweeter about climate change. "Nobody has told us to stop doing it, so we're just going to continue on doing the best science we can … and communicate those results to as wide an audience of interested people as we can." NASA employs more than 18,000 people across its nine centers and seven test and research facilities. NOAA employs another 12,000, more than half of whom are scientists and engineers "studying and monitoring our evolving planet," according to the agency..."
Image source: Scott Kelly, NASA ISS.
---
What Minnesota Can Do Now to Regain Leadership on Climate Change. Here's an excerpt of an Op-Ed at Star Tribune: "This week, 19 of 20 countries with the largest economies in the world met in France to discuss how bold, global action can prevent a climate catastrophe. The United States is the one nation missing from this vital conversation. This comes on the heels of the annual meeting of countries that are signatories to the Paris Climate Agreement. During that global summit last month, Syria joined the Paris Agreement, leaving the U.S. as the only national government in the world not working to prevent disastrous climate change. In contrast, Minnesota was well-represented at the global climate summit in Germany. Delegations from Climate Generation: A Will Steger Legacy, the University of Minnesota, Macalester College and Fresh Energy included legal and policy experts, political leaders, youth and business. We returned with a commitment to ensure that Minnesota is a climate leader. We're writing today because Minnesota needs to act now with specific policies to ensure that our leadership is more than mere words…"